What Do the New Anti-Strike Laws Mean?
The TUC says they're 'wrong, unworkable, and almost certainly illegal'.
6 January 2023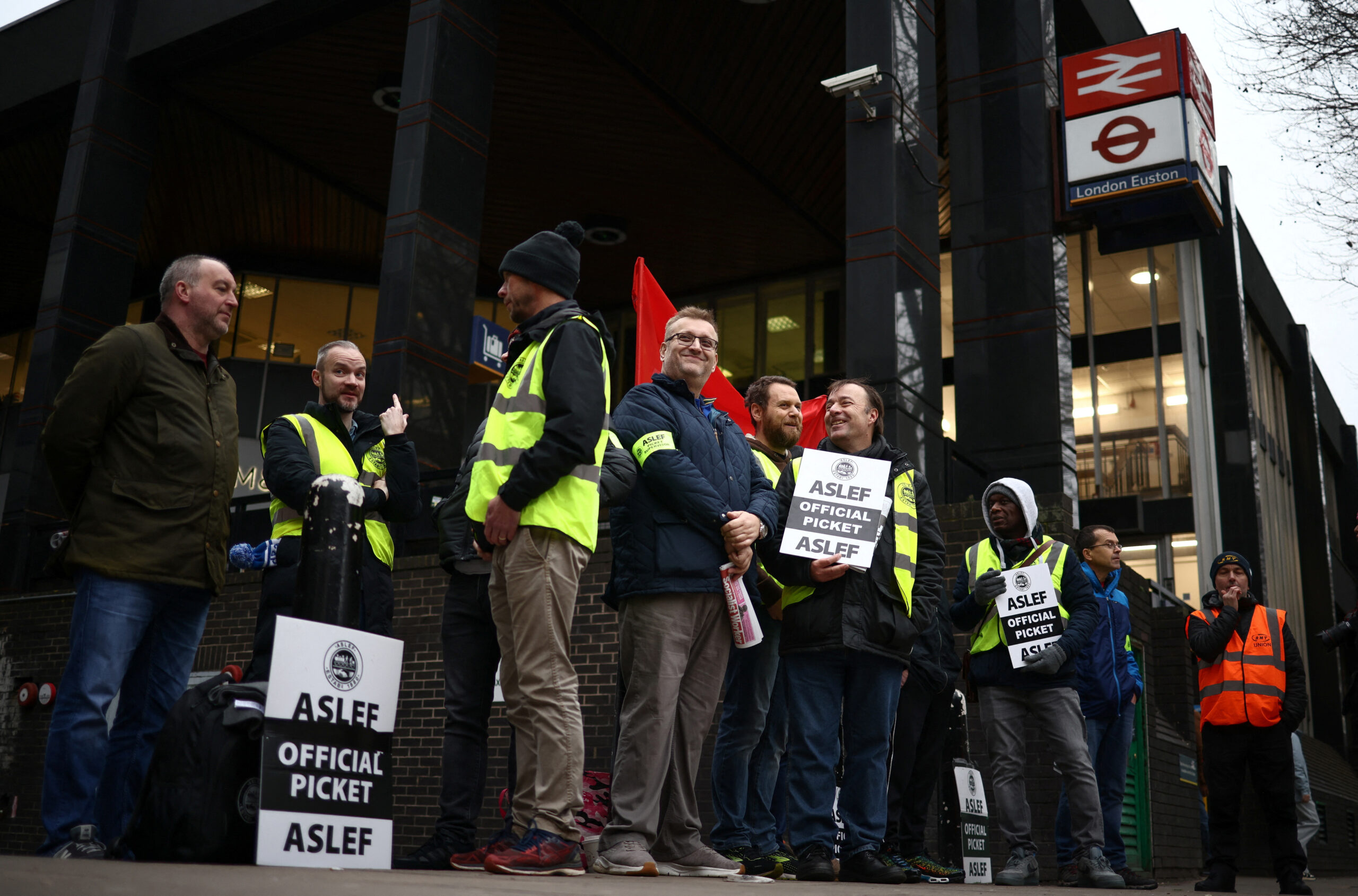 Rail workers at an ASLEF picket outside Euston station, London, January 2023. Henry Nicholl/Reuters
Ministers have announced new legislation that will enforce "minimum service levels" in key public services, including the NHS, in a major assault on the right to strike.
The Department for Business, Energy and Industrial Strategy said the bill would be introduced in "in the coming weeks" and will ensure "a basic level of service in some of our most crucial sectors when industrial action takes place."
Six sectors – health, rail, education, fire, border security and nuclear – are set to be covered by the legislation. If minimum service levels are not met, employers could sue unions and fire workers.
There is no singular right to strike in the UK, but workers taking industrial action have a number of legal protections. Union members who refuse to work but are told to do so by their employer under minimum service requirements risk losing their legal protection against unfair dismissal for taking part in a lawful strike and could be fired.
For trade unions, which are already required to meet stringent obligations for industrial action to be legal, failure to comply with minimum service levels would be unlawful and would "risk the employer bringing an injunction to prevent the strike from taking place or seeking damages afterwards."
The government also announced it will increase the amount of damages a court can award for unlawful strike action.
For fire, ambulance and rail services, the government will enforce minimum service levels following a consultation. The department claimed this wasn't "going as far as some countries", such as Canada and Australia, which ban strikes by "blue light" services.
The government expects the other sectors covered in the bill to reach voluntary agreements. However, it reserves the ability to impose minimum levels if a voluntary position is not reached, saying the right to strike has to be "balanced with the public's right to life and livelihoods."
In practice, reaching an agreed minimum service levels would require trade unions to negotiate with employers over which workers, doing which jobs, in which locations, would be made to work during strike action. As senior fellow of rightwing think tank Policy Exchange Andrew Gilligan said: "You can't operate a (say) 40% service simply by requiring 40% of the workforce to come in." For instance, more than 40% of signallers would be required for the railways to operate at 40%.
This means requiring trade unions to facilitate the strike-breaking of their own industrial actions, amounting to what RMT general secretary Mick Lynch has called "conscription."
BREAKING🚨| The government has announced anti-strike legislation.

When workers democratically vote to strike, they can be forced to work and sacked if they don't. This is wrong, unworkable, and almost certainly illegal.

— Trades Union Congress (@The_TUC) January 5, 2023
It's far from clear that minimum service levels will provide the panacea Rishi Sunak desires. A recent Department for Transport impact assessment on minimum service levels reported that new legislation risked "many months of protracted legal disputes between unions and employers."
The impact assessment noted that minimum service levels also risked increasing the frequency of strikes, as well as action short of a strike, such as an overtime ban or work to rule. In areas where services rely heavily on staff's willingness to work additional hours, this could have significant consequences. What's more, if "a material number of workers have their employment terminated" for refusing to work on strike days, then employers "may find that they are low on staff to run normal services." 
It's unclear whether other proposed reforms to "deal with the unions," such as increasing the ballot support threshold from 40% to 50% of eligible workers, increasing the notice period of strikes from two to four weeks, and limiting the ballot mandate to only one strike action, have been permanently dropped. 
This latest legislative attack by the government on the already highly curtailed right to strike has been met with condemnation across the trade union movement. 
Paul Nowak, the new TUC general secretary, called the government's proposed law "wrong, unworkable, and almost certainly illegal" and "an attack on the right to strike." 
Nowak continued: "It means that when workers democratically vote to strike, they can be forced to work and sacked if they don't.
"Our public services are already deep in a staffing crisis. But this government has gone from clapping key workers to threatening them with the sack if they take lawful action for a pay rise."
In December, the High Court granted permission for a legal challenge brought by 11 trade unions and coordinated by the TUC against the new legislation which allows agency workers to replace striking workers.
Public and Commercial Services Union general secretary Mark Serwotka said: "Just when you thought the government could go no lower, ministers say they're looking to deal with strikes by making them illegal, rather than negotiate with unions."
GMB general secretary Gary Smith said: "A government that has presided over 13 years of failure in our public services is now seeking to scapegoat the NHS staff and ambulance workers who do so much to care for the people of our country." 
The irony of the government mandating staffing levels wasn't lost on some trade unions, whose disputes with the government revolve in large part around the problems created by chronic staff shortages.
Royal College of Nursing general secretary Pat Cullen said: "Safe staffing levels that are set in law are what we want to see year-round, not just in these extreme circumstances. We've long campaigned for governments to be accountable for safe and effective staffing levels in the NHS."
Deputy chair of the British Medical Association Council Dr Emma Runswick said the government had "failed to ensure anything like minimum standards of patient care or service delivery in the NHS for many months, if not years," making it "laughable that ministers are now attempting to bring in anti-union and anti-worker legislation under the false pretence of improving patient safety."
Polly Smythe is Novara Media's labour movement correspondent.