The Tories Are Ripping Off Green Party Branding For Their Election Leaflets
Imitation is the best form of flattery.
12 January 2023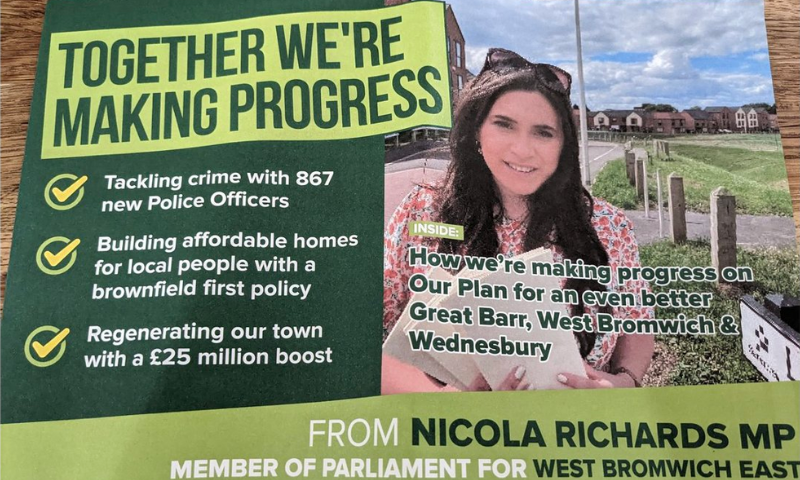 Tory MPs have previously been accused of "mimicking" Green party branding. Image/Twitter
At least six sitting Tory MPs, including the UK chancellor Jeremy Hunt, have been accused of replicating Green party branding and "greenwashing" in new electoral materials circulated in constituencies across England. 
Leaflets flagged by campaign group Reform Political Advertising (RPA) show leaflets issued by Tory MPs that "appear to have use[d] the Green party style guide", employing identical fonts, colours and messaging to pamphlets sent out by the Greens. 
The lack of regulation for electoral ads means that greenwashing is banned for business but permitted for politicians.

Read about this example from a Tory Cambridgeshire MP whose leaflet appears to even use the @TheGreenParty style guide.https://t.co/ayFuYIS3Ze#CPC22 #GPC22 pic.twitter.com/q3XilSYNMT

— Reform Political Advertising (@clearpolitic5) October 2, 2022
One example highlighted by RPA, a leaflet issued by Anthony Browne MP for South Cambridgeshire, informs local residents that Browne is "protecting our waterways and sewage from overdevelopment" and "delivering millions of pounds for improved roads and new hospitals". 
Fellow 'copycat' materials from the likes of Robert Largan, who represents High Peak in Derbyshire, and Hunt, the MP for South West Surrey, feature a similar focus on environmental messaging and promises about funding for healthcare infrastructure. The leaflets also don't appear to disclose any connections to the Conservative party. 
Updating this thread with more @Conservatives leaflets that we've been sent using @TheGreenParty brand guidelines.

The new leaflets are from @AnthonyMangnal1 @robertlargan and even Chancellor of the Exchequer @Jeremy_Hunt.

If you come across more please send them on. pic.twitter.com/RKBUiufnHZ

— Reform Political Advertising (@clearpolitic5) January 7, 2023
It's not the first time the Tories have done this. In April 2022, the party came under fire for distributing "unethical" leaflets that mimicked Green branding to "exploit voters" in North Tyneside. A month later, justice secretary Dominic Raab was mocked for similar leaflets the Green party called a "cynical and foolish attempt" at greenwashing.
Dan Kittmer, chair of Cambridge and South Cambridgeshire Young Greens, says that the Tories in rural areas are trying to "distance" themselves from their "poisonous" political national brand. 
"As far as I can tell a lot of these leaflets are in Lib Dem target seats, where Tories will want to firm up the vote by avoiding their own unpopularity," he told Novara Media. "The idea is to present rural Tory MPs as personally trustworthy, 'green' and not touched by their party being politically poisonous."
It is unlikely offending MPs will face any repercussions; the content of electoral campaign materials is only very broadly regulated, hence RPA's campaign to have the same rules applied to political communications that currently govern commercial advertising. 
When approached for comment, the Electoral Commission said they were unable to speak to specifics of the situation as it was outside their remit but encouraged "all campaigners to undertake their vital role responsibly and to support campaign transparency."
In Jeremy Hunt's South West Surrey constituency, Green party members are "seething" at the appearance of the materials. 
Cllr Steve Williams, the Green party's prospective parliamentary candidate there, said it was typical of Hunt's "hypocrisy" amid rising Green popularity in the area. 
"Jeremy Hunt started on this tack only after Greens started getting elected in his constituency," he said. "It has been accompanied by a feeble attempt to portray himself as favourable to green issues while consistently voting against measures that would make an actual difference in parliament."
"We see this pattern recurring on everything from the NHS to fossil fuels. He stood beside me and Lib Dem Cllr Paul Follows at a local protest against oil drilling in Dunsfold, then voted against banning fracking under Liz Truss. The greenwashing and hypocrisy of the Tories, particularly Jeremy Hunt, needs exposing for the limp attempt at fooling green-minded people that it is."
Hunt's office failed to reply to a request for comment from Novara Media.
Zac Larkham is a freelance journalist and student activist at Sheffield Hallam University.