Targeted or Indefinite Action? Here's What's Next for the Uni Strikes
'The clock is now ticking.'
19 January 2023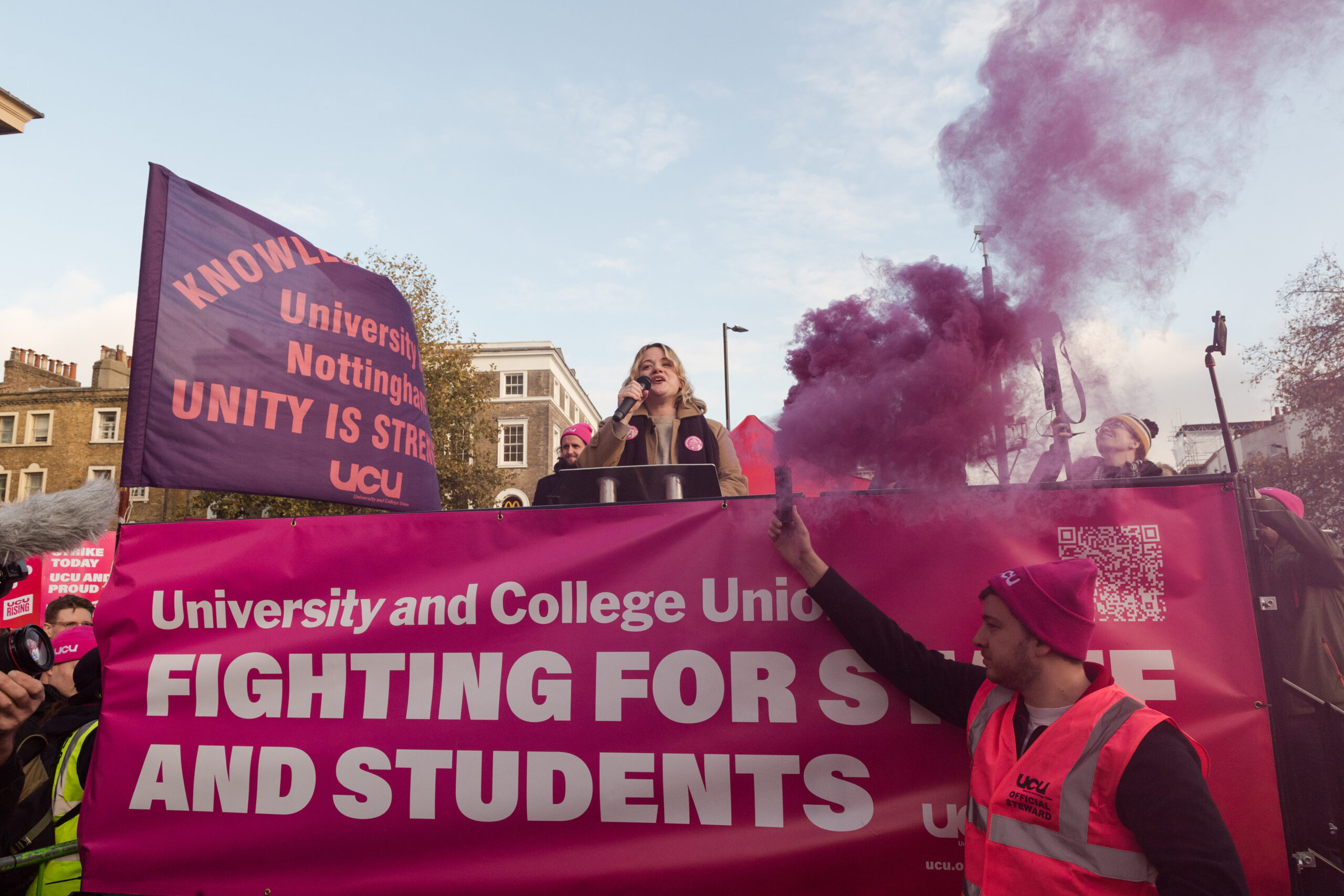 Jo Grady speaks to strikers on 30 November. WIktor Szymanowicz via Reuters Connect
Over 70,000 staff at 150 universities across the UK are set to strike for 18 days between February and March, in disputes over pay, conditions, and attacks on pensions. In April, they will hold a marking boycott. The fresh round of action follows a lively debate within the union over the direction of industrial strategy.
UCU also announced that it will re-ballot members at all 150 universities, meaning that it's possible that industrial action could continue into 2023.
As the UCU announced the decision, it also formally rejected the initial pay offer from the Universities and Colleges Employers' Association of an uplift of between 4-5% for 2023/24.
The decision comes after a debate within the union over the direction of industrial strategy, between those who want to take "targeted" action – where blocks of industrial action are planned to target higher education's timelines – and those who favour an "indefinite" strike – where no end date for strike action is given.
In November, the UCU Higher Education Committee (HEC) – a branch of the union's executive made up of elected UCU members working in higher education – voted for a marking boycott to begin in January, followed by an all-out indefinite strike in February.
This decision was communicated to members in December in a video posted on UCU's Twitter by general secretary Dr Jo Grady. Grady said that while she supported a marking boycott, she did not think an indefinite strike was "consistent" with debates had within the union.
Grady said: "an all-out strike in February could not only split our membership at a time when we need unity but also play straight into the hands of an employer who wants to see us crash and burn, not build towards a victory".
Grady instead proposed an alternative strategy of escalating strikes throughout February and March, an end-of-year marking boycott, and a re-ballot, with the possibility of escalating to an all-out indefinite strike in the summer term.
As indefinite action already had the approval of the HEC, Grady's intervention led to accusations of undermining union democracy. However, other members argued that the HEC's decision to back indefinite action without it being the clearly expressed wish of the membership was undemocratic.
Following Grady's reservations, individual UCU branches were instructed to canvass their members, ahead of a meeting of delegates on 10 January.
At the meeting, 57% of branches supported targeted "days of action" in February, March, and April, and 31% favoured an "indefinite strike". Delegates also voted by 56% to 26% to move the marking boycott scheduled for 23 January to April.
With the course of action now decided, Jo Grady has said the "clock is now ticking for the sector to produce a deal or be hit with widespread disruption."
In a video announcing the 18 days of strike action, Grady said the union would be "launching an engagement plan to build membership.
"I know that we are closer today than we have ever been to winning this dispute. But we need to stick together. Back your union, back this action, UCU and proud."
The debate came about in response to a perceived failure of the strikes to make progress so far.
Both sides of the debate agree that the marketisation of higher education means that universities see education as a commodity to be purchased by students, rather than as good in itself. Student's learning has been disrupted, but this hasn't stopped universities' ability to deliver their product – degrees. This means that strikes haven't hit universities where it hurts – their finances. Instead, employers have been pocketing the salaries of UCU members through strike deductions.
Mark, a PhD student who chose not to give his real name, said that: "Going back to the first action in 2018, a lot of the thinking was that universities would lose money through the strike. When the government said refunds aren't applicable for students when lecturers strike, the economic impact of the strikes became negligible."
Members who favoured taking indefinite strike action argued that during time-limited strikes, managers simply reschedule work to non-strike days, leaving staff financially worse off without having caused any lasting disruption.
Co-Chair of the Queen Mary University of London (QMUL) UCU Branch Zara Dinnen told Novara Media: "With indefinite action, you go all out straight away, so employers don't have a chance to mitigate the action. They can't just move this date around, or change that deadline, or encourage staff to reschedule their teaching. Nothing can happen. Our work stops, but our organising continues."
Dinnen, who co-authored an article for labour journal Notes from Below in support of indefinite action, said that an indefinite strike is not a 'forever strike.' Instead, it can be understood as "an uninterrupted strike of indeterminate duration."
"Not all our members teach, so it's not just teaching that will stop, it's the research that takes place in labs, it's administration, work on recruitment, the processing of examinations, marks.
"We have seen with previous strike action that universities are happy for students to miss learning by management waiting out strike days. Indefinite action stops everything in the university from happening."
However, not all UCU members believe that indefinite strike action is the solution to this.
Katy Fox-Hodess, an academic at the University of Sheffield, and Mariya Ivancheva, an academic at the University of Strathclyde, argue in a co-authored an article that a summer marking boycott and the blocking of new student recruitment and admissions provides the most leverage, as it disrupts employers' financial flows. They argue for what they call "targeted" action, rather than an indefinite strike.
Ivancheva, a member of the organised group UCU Commons, told Novara Media: "Universities are extremely lucrative. Our senior managers are enabling the process of commodification in a very straightforward way. Not only are they not ashamed of that, they're proud. They're proud to show their PowerPoints on growth."
"Universities aren't simply offering a service anymore of educating the public," Fox-Hodess told Novara Media. "They're selling a product, and that product is higher education degrees."
"What we've seen year after year is employers simply waiting us out," Fox-Hodess said. "From the employer's side, I don't see any real incentive for them not to wait us out, particularly when there's been very little pressure from the government to ensure students actually get the education that they paid for.
"We're making the argument that timing is everything with our disputes," she said. "What are the specific times in the school year when striking will have a bigger ripple effect?"
The UCU's current mandate is valid until April, meaning any marking boycott would fall before the critical summer term, which determines students' graduation and progression.
That means a summer boycott would require a re-ballot. The UCU's current mandate is the result of an aggregated ballot, instead of balloting branch-by-branch, meaning that all universities balloted could partake in the industrial action.
Neither Fox-Hodess nor Ivancheva oppose indefinite action in principle. Rather, they argue that indefinite action during the summer marking period – rather than starting now – provides workers with the greatest leverage in bargaining.
Rosie Hampton, the Glasgow University UCU graduate teachers' rep, told Novara Media she cautiously supported indefinite action. She said that just because previous UCU strikes "haven't been as industrially powerful as they need to be doesn't mean they don't work at all."
She said that cancelling classes is an opportunity to alert students to the effects of marketisation. "We get to ask them, 'do you think this is ideal anyway?' I think that is important. Particularly at Glasgow, we've seen the student support become a lot more prominent this year, because students are really seeing the effects of the marketisation of education."
Part of the debate has focused on whether the UCU's reserves can support indefinite strike action, and whether members are able to lose weeks of pay.
However, Hampton cautioned against assuming low paid workers won't support escalating action: "A positioning of casualised staff and precarious workers as the ones who would never be able to go out and indefinite strike action is bad faith assessment of the membership in general."
This is echoed by Dinnen's experience of working at QMUL. Last year, QMUL deducted 21 days of full pay from over 100 staff members after they took part in the UCU national MAB. The University has threatened to continue to dock 100% of academics' pay unless they reschedule all the classes they have cancelled as part of their legally taken strike action.
"The harder our employer has tried to punish us for using our legal rights to strike and for demanding better conditions across the sector, the stronger the branch of Queen Mary has grown.
"It is precisely because of the precarious employment situation of so many staff in higher education that action needs to be powerful and the dispute needs to come to a win soon."
While not indefinite, 18 days of strike action represents a serious escalation from the three days taken by the union in November. With some members describing the plan as a "middle way" the union will be hoping that it will unite the membership, while bringing employers to the table.
Polly Smythe is Novara Media's labour movement correspondent.