Damning Report Into Sexual Abuse Allegations at 'Mafia-Like' Trade Union
It's the third report of sexism in the trade union movement in recent years.
9 February 2023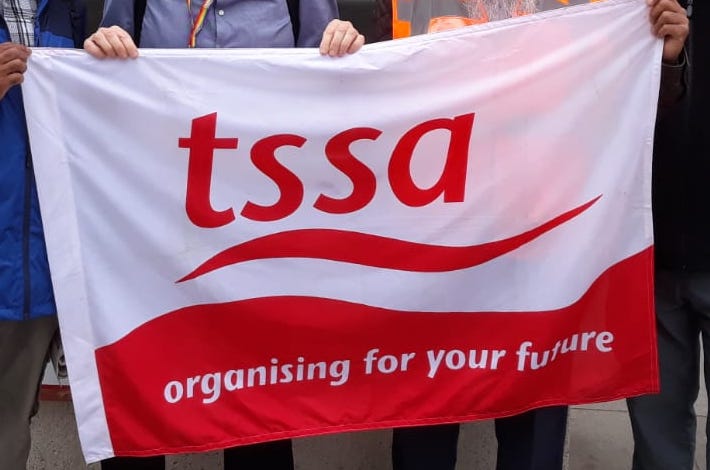 Photo: @TSSAUnion on Twitter
A damning report into a transport union has uncovered "sexual harassment, discrimination and bullying" and a leadership and culture that enabled these behaviours through "wilful blindness, power hoarding and poor practices."
The Transport Salaried Staffs' Association (TSSA) union, whose general secretary Manuel Cortes retired in September following specific allegations of sexual misconduct, is involved in the ongoing national rail dispute.
Cortes has vehemently denied the allegations but apologised for any hurt caused by his behaviour, according to previous reports.
Following advice from the TUC, Helena Kennedy KC established the independent inquiry after allegations of sexual harassment, discrimination and bullying within TSSA were made in May 2022.
Over 50 people spoke to Kennedy for the report, which discovered the "concentration of absolute power in a very small number of hands, with little or no scrutiny" and a "series of appalling incidents, alongside leadership and management failings."
Kennedy said the "track record of the deployment of leadership power has been disastrous for the TSSA." The union's membership has declined, and the report suggests its finances are "in a poor state."
Among the findings are "inappropriate and sexual touching, sexual assault, coercive and manipulative behaviour, violent and disrespectful language, humiliation and denigration of members of staff, reps and members of the Executive Committee."
"Some of this behaviour was actually witnessed – or heard – directly by me," Kennedy said.
Of the 50 individuals who spoke to Kennedy, only two had something positive to say, with one of those being a senior member of staff, who according to Kennedy was  "the subject of fear and distrust on the part of many." For the others who came forward, they described the TSSA's culture as "toxic, dysfunctional, worn down, vindictive, fearful, sexist, misogynistic, racist, homophobic, embarrassing, 'mafia-like' 'in freefall.'"
Cortes, who served as general secretary for 11 years, stepped down in September after Kennedy's inquiry was extended. In his final weekly TSSA column, he said that his time as general secretary was "the biggest privilege and honour of my life" and made no mention of the Kennedy report.
Kennedy said it would be a mistake to believe "matters relating to sexual harassment, discrimination and bullying are resolved" by the departure of Cortes.
The report said Cortes was paid a sum of money upon his retirement, the exact amount of which had been requested but not provided at the point of publication.
The report found specific instances of non-consensual sexual behaviour involving internal leadership, including the sliding of a hand in between the upper thighs of a woman from behind, sliding a finger up and down the thigh of a young woman, squeezing breasts, and repeatedly groping a woman from behind.
Kennedy added that persistent violent and sexualised language towards young women was frequent, such as, "you're off cockhunting are you?"
Leadership 'not fit for purpose'.
The report said that the Senior Management Team – a group of internal senior staff who run the TSSA day to day and are led by the general secretary – was not the true "locus of power." That instead lay with a group referred to in the report as the "internal leadership".
This group consisted of Cortes, assistant general secretary Frank Ward and his wife Lorraine Ward, Luke Chester, and Val Stansfield, the HR manager.
The report concludes that this internal leadership is "not fit for purpose" and that "none of the internal leadership should remain in the organisation."
The report said there was a "common understanding in the organisation that Luke Chester has been 'groomed' to be the next general secretary." Luke Chester – a member of TSSA staff – had "put his hat into the ring" for the post until Kennedy requested elections for a future general secretary be delayed until the report's publication. Novara Media understands that significant internal disquiet from TSSA staff also contributed to the postponement of elections.
The inquiry came about following an allegation from Claire Laycock, who worked as an organiser at TSSA in Yorkshire for several years. She claimed last spring that she was harassed by Cortes in a pub at a work Christmas party in 2018. Laycock claimed Cortes put "his arm over my front and asked to kiss me." The general secretary allegedly then asked if Laycock "wanted to go outside."
In a video Laycock made recounting her allegations, she said "we need to speak about it, and do what we would tell our members to do."
This allegation was handled internally twice, with her claim not upheld either time. Kennedy's report said, "anyone internal considering the complaint was – inevitably – lower in the hierarchy to the General Secretary." Given this potential conflict of interest, Kennedy concludes, "I cannot see how justice could have been done in these circumstances."
The TSSA enforced a non-disclosure agreement (NDA) to prevent Laycock from publicly discussing the allegation.
The report found that staff who raised concerns were labelled by members of the internal leadership "whingers," "rats coming out of the woodwork," "circling vultures," and "disloyal" to the trade union movement.
The report said that alcohol played a significant role at the TSSA. Staff would drink during working hours, do "business in the pub," and fall asleep in pubs and bars through excessive drinking. In one instance a drug dealer was summoned to a party attended by staff.
It was an "open secret" that Cortes had a "habit of drinking too much and becoming 'over familiar' with female staff", the report said. So open was this secret that women joining the TSSA were warned never to be alone with Cortes.
TUC General Secretary Paul Nowak has asked the TSSA to meet with him and the TUC President to discuss next steps. He said, "today's report reveals a shameful and unacceptable culture of bullying and sexual harassment at the TSSA. The TUC believes the women who came forward to share their experiences."
The report makes a series of recommendations, including the introduction of a new reporting template, the appointment of a Crisis Administration team, routine reporting on staff morale and insights into the culture, and the introduction of a code of conduct for the general secretary.
In a statement, the TSSA said it "accepts the report and its recommendations," and accepted that the union has "not followed the values we aspire to for our members."
The statement said that the "TSSA is committed to implementing widespread change." With immediate effect, the president and treasurer have stood down and an interim president and interim treasurer have been appointed.
While general secretary, Cortes oversaw an attempted merger with the US-union the International Brotherhood of Boilermakers. Cortes argued the merger was necessary, given the union's "financial crisis" and "growing deficit." TSSA are now in talks with the GMB union about a proposed merger.
Findings 'no surprise' to survivors.
Laycock told Novara Media: "Today's report is no surprise to those of us who were abused at the TSSA. We are vindicated and relieved that the individuals named and their enablers are no longer in the position to do harm.
"This is not over and there is still work to be done but today it is made demonstrably clear that what we experienced was real and extremely damaging."
Hayes told Novara Media: "Today, I feel relieved, I feel proud and I feel sad. I'm relieved that it has been made demonstrably clear that we weren't wrong – all the times we were called too sensitive, liars or a betrayal to the movement – we weren't perpetuating harm.
"I feel proud of those of us who have fought for this. And I feel sad for younger Maggie and other excited passionate trade unionists who got her dream job, doing what is crucial for our class, and had her world fall apart."
MeTu, a grassroots movement tackling sexual harassment within the trade union movement, said: "In this critical period of heightened industrial struggle, when trade unions most need to be fighting fit, working class organisations are being undermined by internal power politics, misogyny, harassment, sexual violence, widespread structural inequality and the silencing of victims and survivors.
"Those who have been complicit in the current culture of abuse, harassment, and silencing must have no more involvement in TSSA or the trade union movement and members' money should not be spent on expensive pay-outs or legal costs."
Kennedy's report follows two others which have exposed sexism in the trade union movement in recent years.
In September 2020, the GMB was described as "institutionally sexist" following a damning independent report. A highly critical inquiry into the internal culture of the Royal College of Nursing, released in October 2022, uncovered "division, dysfunction and distrust" within the union's senior leadership, and exposed bullying, misogyny, and a lack of diversity.
Sarah Woolley, general secretary of the Bakers, Food and Allied Workers' Union, said: "There are now three damning reports about sexual harassment in Trade Unions in the public domain and I suspect many more are being dealt with quietly, internally.
"Women in our movement have gone through hell, then have been disbelieved and/or silenced when they try and speak out about it."
Polly Smythe is Novara Media's labour movement correspondent.