Neoliberal Politicians Are Destroying Glasgow
£50 to collect your garden waste? A joke.
6 March 2023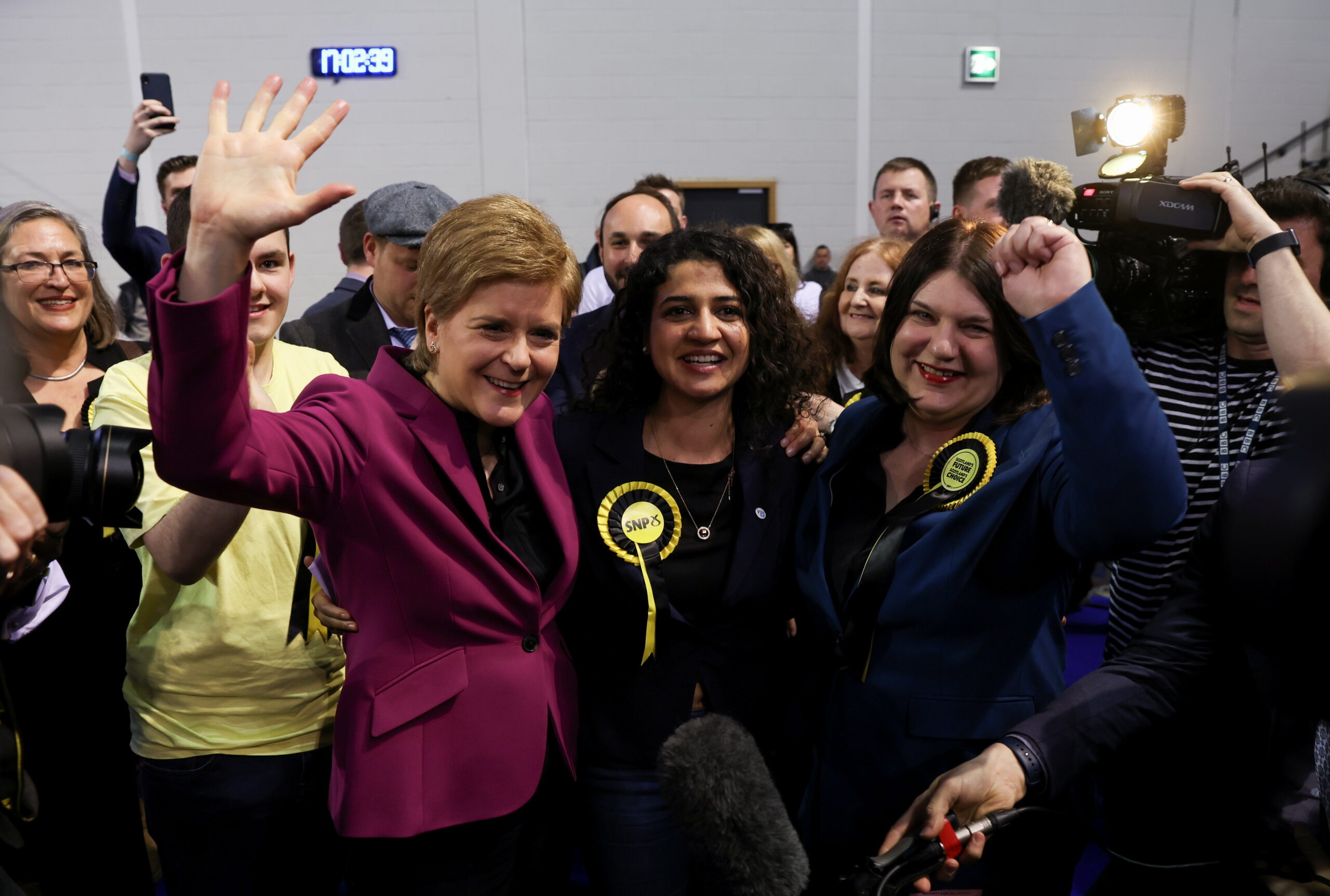 Nicola Sturgeon and Glasgow city council leader Susan Aitken celebrate with newly-elected councillor Roza Salih – the first refugee to be elected to office in Scotland, and who sits to the left of Sturgeon and Aitken – during the local council elections in Glasgow, May 2022. Russell Cheyne/Reuters
There is no euphemising the situation in Glasgow: the city faces a crisis in the wake of the latest council budget. The scale of the cuts planned by the SNP-led council is staggering.
Under the plans passed in February, Glaswegians will have to pay £50 to have their brown garden waste bins collected; there will also be a new charge to access the iconic botanic gardens glasshouses; nursery fees above the statutory cap of 1,140 free hours per year will increase; swimming pool opening hours will be slashed; sports programmes will lose almost half a million pounds; a further one million will be cut from the city's already dilapidated cleansing department, reducing staff from 800 to 300; a scheduled week of free events at the Kelvingrove bandstand will be cancelled. Meanwhile, council tax, which the SNP pledged to scrap in 2007, will rise by 5%.
To understand how these cuts, which together represent an estimated £100m, will impact the daily lives of Glaswegians, I spoke to GMB trade union organiser Chris Mitchell. He told me the result will be a dirtier, more dangerous city. "This is a public health crisis," Mitchell said.
Yet the problems presently facing Glasgow are not reducible to these shocking cuts – but also to Glasgow's post-industrial landscape and the problems attendant to the failing economic orthodoxies which have come to dominate Scottish political life across the parties.
An epicentre of industry.
Glasgow's population grew substantially during the industrial revolution​​ – from less than 32,000 in 1750 to over 147,000 in 1821 – including arrivals from the Scottish Highlands and Ireland. The city's main artery – the river Clyde, famed for the quality of its shipbuilding – served as its major economic hub.
With this industrial intensification came a culture of trade unionism and a well-organised workers' movement that wove itself into the fabric of the city and indeed the country; figures like Jimmy Reid, who led the Upper Clyde Shipbuilder's work-in of 1971-72, are part of the history not just of Glasgow, but of Scotland. Today in Govan, in Glasgow's southwest, you'll find a statue of Mary Barbour, leader of the historic 1915 rent strikes in which around 20,000 Glaswegians participated. It's the same area where in 1961, a young toolmaker named Alex Ferguson led an unofficial strike for better pay. The city is rich with a history of workers taking action – and winning. At the same time, Glasgow has been subjected to the logic of neoliberal economic and political restructuring which "reimagines" city space as a conduit for the interests of big developers, the profits of multinational corporations and the transient consumption habits of tourists
All that glitters.
This process often takes place through marketing campaigns and promotional materials which depict the city as investor friendly. In this vein, Glasgow has prioritised "event-led" urban renewal as the central component of its post-industrial strategy. In recent years, the city has alternately served as Europe's city of culture, hosted sporting mega-events and served as the location for major transnational summits such as COP26. The promises made about the "regeneration" and "legacy" these flagship affairs are supposed to bring about are often divorced from the reality of working-class life.
In reality, without a serious manifesto for social renewal, schemes conjured by the advertising industry and the corporate lobby achieve little to improve the lives of many who live in the city. Nearly 30,000 Glaswegian children live in poverty, a figure that has increased by almost 9% since the start of the pandemic. One-quarter of Glasgow's households were in fuel poverty even before the 2022 energy price crisis; this figure is predicted to rise to nearly 40% in the next few months. 311 people in Glasgow died in drug-related incidents in 2021, the highest on record. 13 years of austerity have increased the death rate among men in Glasgow's poorest areas by 23%. It is against this backdrop that we can be certain the latest round of cuts will exacerbate the long-standing socio-economic issues which scar the city.
Rather than providing clear-sighted leadership for the city, whether that be concrete action to oppose Tory austerity and Scottish Government centralisation, or to devise an approach to city planning which is both democratic and transformational, politicians present inauspicious credentials.
A parliament of fools.
The SNP's Susan Aitken has led Glasgow city council since May 2017, replacing the Labour-led administration that was widely criticised for its handling of the women council workers' equal pay battle. Despite marshalling the radical energies built up during the independence referendum, in which Glasgow voted yes, Aitken represents the continuation of an agenda focused on privatisation and good PR.
Aitken's response to seismic cuts to the council's cleansing department encapsulates her approach. In 2021, her council launched a "community clean up" in partnership with Mcdonald's. Shortly afterwards, when bin collectors went on strike during COP26, Aitken threatened to utilise Tory anti-union laws to ship in agency workers to break the strike.
As the city's politicians lead it towards disaster, Mitchell argues that local people must forge an alternative path: "The Scottish government must be held to account because you can't cut your way out of a crisis. We are heading for a crisis worse than we see now. In truth, people are not ready for this, and many have come to us saying they can't cope anymore. The public and service workers need to stand together and fight back."
Jonathon Shafi is a columnist for Novara Media and socialist campaigner, based in Glasgow. He writes the weekly newsletter 'Independence Captured'.