How Israel's Pro-Democracy Protests Sold Out Palestinians
'We're in a worse position than before.'
4 April 2023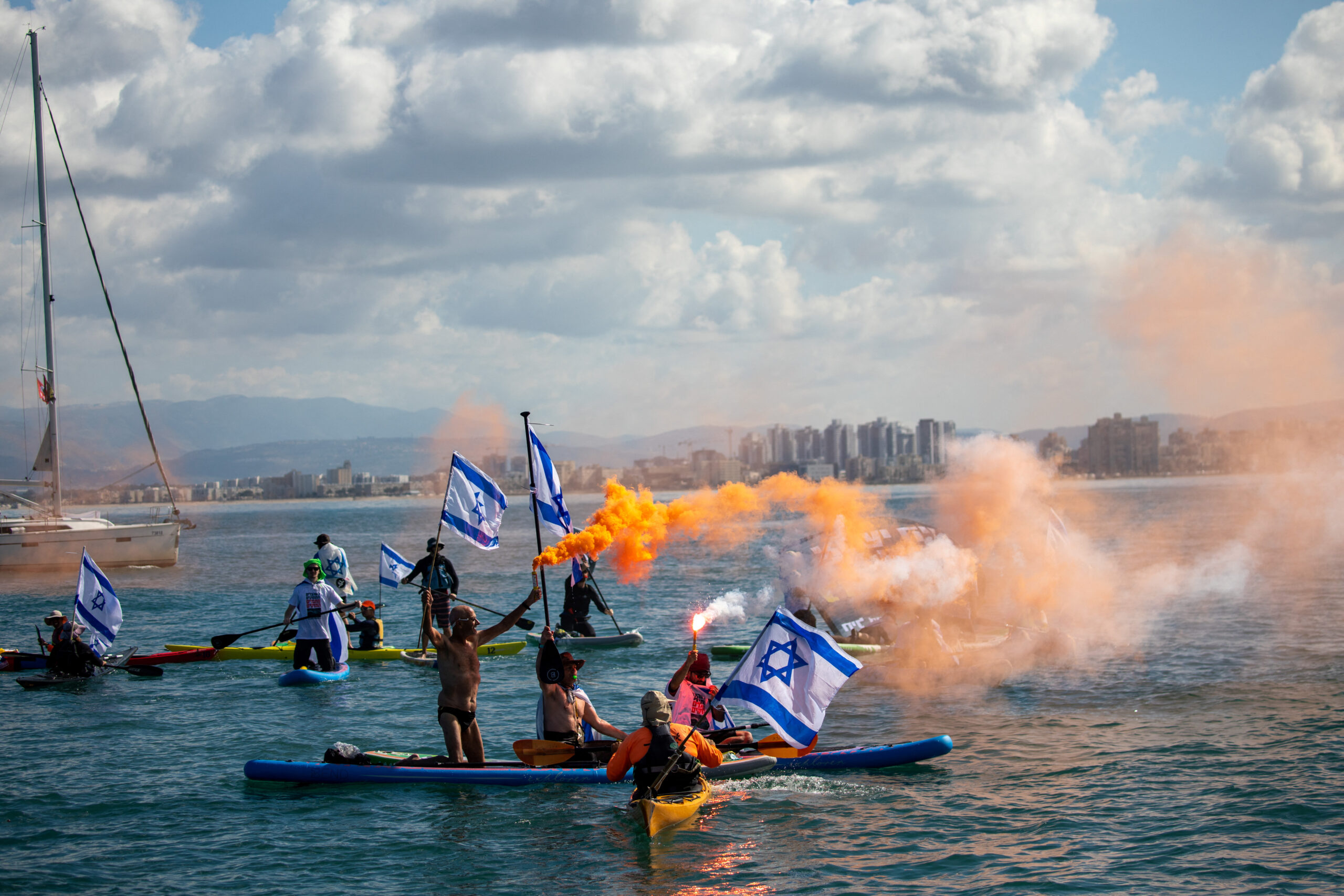 A flotilla of Israeli naval reservists on kayaks disrupt operations at Haifa port in protest against judicial reforms, 9 March, 2023. Photo: Reuters/Shir Torem
Israeli police prevented pro-Palestine protesters from joining an anti-government demonstration in the city of Haifa on Saturday, claiming the group was "inciting" people to "violate public order" simply by carrying Palestinian flags.
The weekend before, police stormed an anti-occupation bloc, ripping flags from people's hands and tearing their signs apart. "Anything that had a Palestinian flag they took and confiscated," said Reem Hazzan, secretary of leftwing party Hadash's Haifa branch.
For months now, hundreds of thousands of Israelis have taken to the streets across the country to protest the far-right government's plans to reform the judiciary. Protesters say these reforms would severely undermine the country's democracy by weakening the judicial system and giving the government new powers over the courts. But despite sharing in fears of an increasingly fascist Israeli state, Palestinians have been largely absent from the protests, due to both alienation and active exclusion. 
The slogan galvanising anti-government protesters has usually been just one word: "democracy" – it is chanted in the streets and emblazoned across banners and signs. Many Palestinians, who have witnessed Israel systematically undermine principles of democracy and equality throughout its 56-year-long military occupation, see a stark hypocrisy in this. As the confiscation of flags shows, even at demonstrations democracy is disregarded. 
Early last week, Palestinians were vindicated in their distrust of the democracy movement. Amid growing dissent within his own party and among military reservists, who said they would refuse to report for duty if the reforms weren't scrapped, prime minister Benjamin Netanyahu announced a delay to the changes. Israeli protest leaders have vowed to keep the pressure on until plans to reform the judiciary are shelved entirely, but updates this week suggest they may be headed towards a win.
To get the delay approved, however, Netanyahu has cut a deal with Israel's national security minister Itamar Ben-Gvir, promising to give him a national guard. Effectively, in doing this Netanyahu has handed a fascist, who has spoken of wanting to "crush" Palestinians "one by one", his own private militia. Any temporary 'win' for Israeli Jews will now come at the cost of Palestinian safety. 
Defending a system that oppresses Palestine. 
"The protests are a parade of delusion," said Adnan Barq, a 23-year-old Palestinian activist and content creator living in East Jerusalem. "Now they want to come and seek democracy, after seeing the Israeli government clashing with Israelis' interests. But whenever that government oppresses and kills and bombs children who are on the Palestinian side, no one cares. What kind of democracy are they trying to achieve under apartheid?"
Amjad Iraqi, a Palestinian policy analyst at Haifa-based think tank Al-Shabaka, believes Israeli protesters are missing the point. "This idea that the supreme court either defends democracy or is blocking government policy are both wrong," he said, pointing to a 2017 study that shows the high court rarely intervenes in petitions brought against the government.
The protests place Palestinians in a bind, Iraqi said. "Palestinian citizens can't come out to defend the court that constantly approves their second-class status. At the same time, we can't say, 'get rid of it', because we know that a government that has no checks and balances is even more dangerous for Palestinians."
Many Palestinians see the protests as a defence of the existing system – one that oppresses and discriminates against Palestinians. It's unsurprising, then, that few anti-occupation activists have attended demonstrations. Meanwhile, those that have report finding them exclusionary and hostile. Sally Abed, a Palestinian citizen of Israel who works for activist group Standing Together, said the militaristic, flag-waving nature of the first protest she attended put her off going again. 
"It would have been much more impactful if Palestinians participated in [the protests]" she said. "[But] if Palestinians actually went on the streets right now and did what the current protesters are doing, we would have probably been met with violence."
Barq agreed. "Who said we have the right to protest? If we even think about it, we get arrested and beaten by the soldiers," he said.
Hazzan, however, has been attending protests since the start. In addition to the aggression she experienced from police who snatched her flag and banners, she said she's been censored by protest organisers. In March, Hazzan was invited to address a rally in Haifa by a group called "the people's protest". The group claims to be proud of its "inclusive approach", boasting of regularly inviting Arab speakers to its main Saturday night demonstrations.  
Hazzan was asked to submit her speech before the event – she later discovered she was the only speaker asked to do so. The organisers let Hazzan know that her calls for "peace and equality" and an end to "racism and discrimination" were beyond what she was allowed to say and that she needed to submit an amended text to be allowed to speak. She decided not to submit a new text, and was subsequently bumped from the line-up. 
"They claimed that I wanted to make this protest something that it is not. I think that they were right," Hazzan told Novara Media. "I want to make this protest what it should be, so Palestinians and real life can be part of this."
The fight ahead.
Iraqi is unsure if Netanyahu's promise to allow Ben-Gvir his own private militia will come to fruition any time soon – but it has given legitimacy to this policy idea, he said. "It could outlive Ben-Gvir […] in other words, if it doesn't happen in the next weeks or months or whatever, this is something that is now there on the table as an acceptable prospect."
Abed hopes that the decision will galvanise Palestinian youth who may previously have been indifferent to the government's proposal. "We're in a worse position than where we were before," said Abed, speaking the morning after Netanyahu's announcement. "This decision is much more real and immediate to Palestinians." Standing Together is already organising protests in four cities, she said.
But without clear leadership, engaging Palestinian citizens is not something that will happen overnight. "The answer is going to be a very long-term effort to organise Palestinian youth here […] to give them politics that is relevant, and empower them and build the organisational infrastructure and leadership needed for them to build an authentic resistance," Abed said.
Hazzan is determined to continue bringing an anti-occupation presence to the protests – the bloc is growing every week, she said. People at demonstrations have approached her to ask what pro-Palestine protesters are doing there, and what the occupation has to do with the movement.  It is crucial, Hazzan said, to answer these questions, to point out the connection between a fascist government and the occupation, and to "challenge some of the people's conscience". 
"We have a mission," she said.
Daisy Schofield is a freelance journalist.