Is Extinction Rebellion Still 'Beyond Politics'?
'You don't have to be a genius to see that this movement is on the left.'
18 April 2023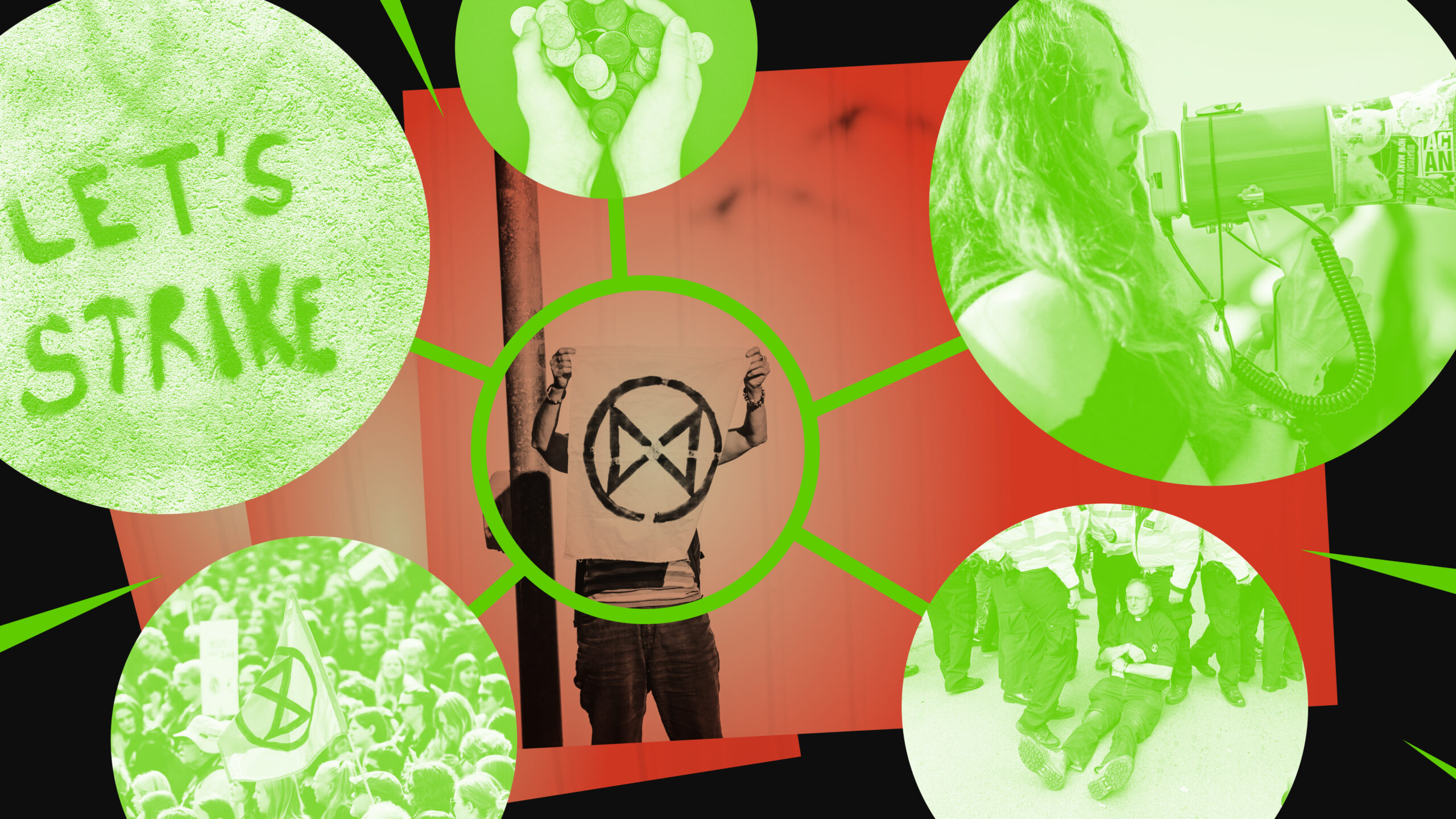 XR has never subscribed to a particular ideology – but it does seem to be aligning itself more and more with the left. Design: Pietro Garrone
"Just to be clear, we are not a socialist movement. We do not trust any single ideology, we trust the people[…] A banner saying 'socialism or extinction' does not represent us."
This was a statement posted on Twitter by Extinction Rebellion UK on 1 September 2020. It didn't go down well, according to some of the climate group's past and present activists, given that XR is meant to be a home to people of all political persuasions.
"This was just one person on Twitter, right?" said Hester*, a current activist with XR London. "They would have gotten so much shit from so many directions because […] no one agrees [politically]."
The word 'ideology' seems taboo within XR, and has since its inception. First founded in 2018, the group has sought to compel governments to climate action through non-violent civil disobedience. Although the mainstream view has shifted in recent years such that the climate crisis is widely understood to be deeply political, through its third demand of going "beyond politics", XR has attempted to make the environmental emergency a non-partisan issue. Instead, XR calls for citizens' assemblies to give greater political power to people.
Its most recent statements, however, are its most political yet. On 31 December 2022, the group announced plans for 'The Big One': a 100,000-strong gathering outside of the Houses of Parliament 21-24 April. While not explicitly named, the statement was a glaring critique of capitalism. "Emissions continue to rise and our planet is dying at an accelerated rate. The root cause? A financial system prioritising profits over life," it read. It also went after the UK government, which it says is "entrenched in corruption and suppress[es] the right to protest injustice," and called on "all social, environmental and justice movements" to work together to force change. Is XR still beyond politics?
A ragtag coalition.
"From the beginning, XR's politics was almost deliberately ill-defined," says Sam Knights, who helped establish XR in London in 2018 and left in late 2019. He says that there was consensus that limitless growth on a finite planet was impossible, which seemed to satisfy people temporarily – but that was about it. This, he argues, "helped to mobilise quickly and form a broad coalition across the climate movement."
As such, XR grew into "this strange, ragtag coalition of people," says Ben*, who joined XR in April 2019 and left in 2020. "It was an awkward alliance of people in the Momentum wing of the Labour party, the Green party sort of activist, political radicals – some Trots and some anarchists – and then you had people who were politically quite odd."
But without a clear or outlined ideology, in 2019, the movement began coming apart at the seams, says Knights. This was particularly the case over the question of climate justice. "I and others in the movement were writing articles and giving speeches about how capitalism needed dismantling and how climate justice is fundamentally integral to our activism […] We were approaching it from a systemic critique," Knights explains. "Yet there were also people using a liberal lens to talk about climate, or indeed – in some cases – a capitalist lens." 
This unsteady coalition gave rise to disagreements over the movement's messaging and demands – from narratives around mass migration to calls to "lovebomb the police". These disagreements often fell along demographic lines. Younger activists – as well as people of colour and those from local groups – were often "much more politically radical and placed more emphasis on climate justice," says Knights, "whereas the older generation […] might say they were straightforward environmentalists." Notably, when younger activists called on the movement to highlight how climate breakdown is affecting people now in the Global South, they were often met with resistance from older core organisers. 
In the summer of 2019, these tensions grew as calls to incorporate climate justice as a fourth demand were met with pushback. As such, October saw the formation of the Global Justice Rebellion, an XR subgroup that openly identifies as anti-capitalist and anti-racist. The same month, XR Scotland unveiled banners reading "Climate Struggle = Class Struggle" and "Decolonise XR" outside Westminster Abbey – the latter a call for XR to centre the impacts of the climate crisis on communities in the Global South, as well as a response to the negative experiences of people of colour within the movement. 
Around the same time, these tensions led to what many see as a key strategic misstep for XR, when a small group of activists disrupted transport systems in working-class areas of east London. The protest involved activists climbing on a train and causing delays and cancellations, which angered commuters. "Canning Town was emblematic of what happens when those of us on the left aren't participating in social movements," says Sam.
As a result, many people of colour criticised the movement. Some even departed, feeling it wasn't for them. "The majority [of those in XR at the time] were white, privileged people who could set their own agenda, [and] they didn't really have any accountability because there weren't enough people of colour in the movement", says Alva*, a person of colour who got involved in XR in 2019, reflecting on the movement's evolution.
Evolving politics. 
As Covid-19 hit, XR was forced to put its activities on hold. Not only did this impact XR's strategy (without rebellions, it struggled to raise funds and was forced to downscale its operations), but it also heavily influenced the movement's politics. 
During this time, new online support groups emerged. People from around the world called in and listened to one another. "I'd be talking to people in Ghana, Kenya and Colombia, and it really felt like I was part of something," says Hester, reflecting on how the pandemic forced the movement to think more internationally.
It was in the summer of 2020, however, that XR got a real wake-up call about the need for anti-racism in its movement. "After George Floyd was murdered, people seemed to be like: 'We haven't really addressed racism'," says Hester. "There was a general understanding that the most vulnerable [in society] need to be put first, and that the climate crisis is racist." As Black Lives Matter protests erupted across the world, XR apologised for its approach to the police and for how its "behaviour and attitudes fed into the system of white supremacy". 
In the summer of 2020, XR formed a Justice Steering Group to "help the movement to remove structural and practical barriers so that marginalised people can participate in XR UK as fully as they wish". A 'Transformative Conflict' team began focusing on interpersonal conflict resolution and problematic behaviour. New activists were also encouraged to do an Oppression, Movement Building and Our Relationship As Activists workshop, addressing the importance of understanding the structural nature of different types of oppression.
"A bunch of us [XR] folks ended up supporting the Kill the Bill campaigns; we ensured people were attending those marches and supporting the Black Lives Matter protesters," says Hester. "By no means is that work finished […] but after forming the Justice Steering Group, we were intent on changing the culture and trying to do loads of education."
That September, XR's rebellion focused on an "intersection of global crises" including racial injustice and economic inequality. However, it was also that September that XR UK tweeted that it wasn't a socialist movement. Change was happening, but clearly, internal conflict over ideology remained.
Apolitical – or just non-partisan?
As XR prepares for The Big One, these questions remain. But as part of its strategy for achieving such an ambitious turnout, XR seems – perhaps more than previously – to be aligning itself with the left. 
These attempts have taken a few forms. One is XR's recent anti-government messaging around issues beyond just the climate emergency – from opposition to the government's anti-strike laws to the cost of living crisis. Another is through building a formal coalition with over 70 social justice groups and trade unions, as well as NGOs, in its mobilisation efforts.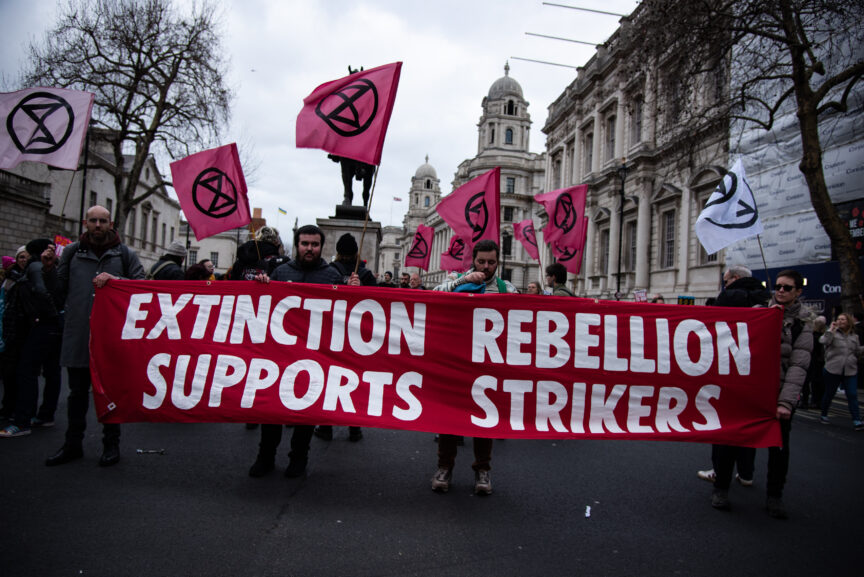 "You don't have to be a genius to see that this movement is on the left," says Nick Anim, who organises with XR Lambeth. "In targeting not just fossil fuel companies, but also financial institutions and the lobbies that have enabled fossil fuel companies, and highlighting the colonial histories of these banks tied to exploitation, to greed, to inequality around the world, you see that this movement is solidly left." 
For Anim, there's an important distinction to be made here. "XR isn't ignoring politics – it's trying to be non-partisan, and that's very different from being apolitical or post-political," he explains. XR doesn't prescribe to a specific ideology because it wants to let the people make informed decisions in citizens' assemblies via deliberative democracy.
By refusing to sign up to a pre-existing ideology – socialism or otherwise – XR will likely come up against internal conflict over strategy and messaging again and again. But the hope is that by continuing to engage in democratic decision-making processes, the movement will keep evolving together. "It's about failing better each time," says Hester. 
Alva agrees. "That's why XR is still here – it's because of the wisdom of the entirety of the movement going: 'Oh you've brought this idea, that's a good one' or saying 'we're not doing that'," they explain. "There's something really beautiful about that mindset."
*Some people asked to be referred to by their first names only, or for their names to be changed.
This piece is part of a Novara Media mini-series looking at Extinction Rebellion's changing tactics, politics and structure.
Diyora Shadijanova is a multimedia journalist and an editor at gal-dem magazine.