The Public Supports Palestine. Why Don't Our Politicians?
It couldn't be more clear-cut.
13 July 2023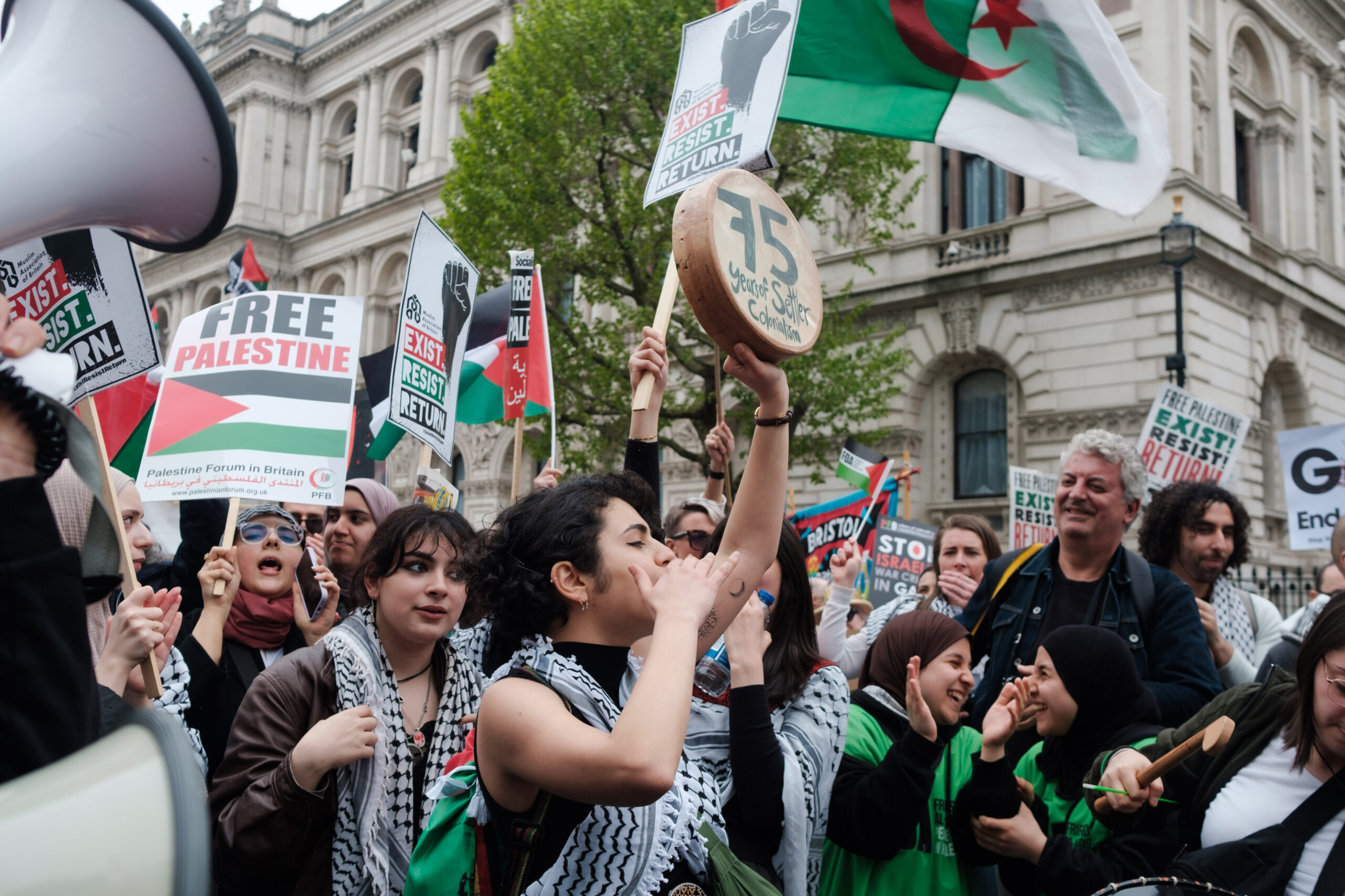 A protester speaks at a demonstration on Whitehall commemorating the 75th anniversary of the Nakba, May 2023. Joao Daniel Pereira/Sipa USA
Last week, Israeli forces attacked the Jenin refugee camp in the occupied West Bank, killing at least nine Palestinians including two children while forcing 3,000 others to flee. While both the UN secretary general and EU envoy to Palestine condemned the attack, in the UK, both major political parties reaffirmed their wholehearted support for the aggressors.
Prime minister Rishi Sunak stated that "we support Israel's right to self-defence", while Labour's shadow Middle East minister argued that "Israel has the right to defend itself against militant groups". It has almost become an iron law of British politics that when Israel does something inexcusable, you can be certain that British politicians will fall over themselves to excuse it. Who are these politicians actually speaking for? It isn't the British public.
Asked by YouGov in May whom they feel most sympathetic towards, more than double the number of voters said Palestine (23%) than Israel (10%); the rest were either unsure (48%) or backed both sides (19%). The same poll shows that no demographic views Israel favourably, not even Tories (-6). How spectacularly out of touch this makes Britain's political class appear – perhaps most of all, Keir Starmer.
The Labour leader's backing of Zionism "without qualification" – in fact, he has previously suggested that to be anti-Zionist is inherently anti-semitic, and punished MP Kim Johnson after she called Israel an apartheid state governed by fascists – could not be further from the feeling of Labour voters, a massive 41% of whom support Palestine, versus a negligible 3% who are pro-Israel. It just so happens that the faction that has Starmer's ear, among them NEC member and We Believe in Israel director Luke Akehurst, belong to this vanishingly small minority.
What's more, the public is only becoming more pro-Palestine as time goes on. Back in 2006, Brits felt more sympathetic to the Israeli cause by a two-point margin, but a series of Israeli military operations – such as the 2014 assault on the Gaza strip, where Israel killed 2,300 Palestinians – have caused British support to plummet. In 2019, net support for the Palestinian cause was +9 – but after the Gaza border protests and the 2021 conflict, it rose to +15.
Similarly, Israel's approval rating has plunged following a series of brutal military operations. Following the border protests in 2018, in which Israel killed 223 Palestinians, the state's net favourability fell from -24 to -32 in the space of just six months. During the 2021 conflict, when Israel killed 256 Palestinians, it plunged from -14 to -41 in only four months. Meanwhile, then-PM Boris Johnson was vocally opposing an international criminal court investigation into Israeli war crimes, while Starmer was busy condemning those who boycott Israel .
Indeed, the unified opposition from Labour and the Tories to the Boycott, Divestment and Sanctions (BDS) movement is notable for being thoroughly detached from the electorate. Starmer has consistently made clear that Labour opposes BDS, evidenced recently by the fact that when the Tories brought a bill to ban public bodies from engaging in BDS, Starmer instructed his MPs to abstain (95% of them dutifully did). Yet polling in 2017 showed that most people view BDS as an entirely reasonable response to Israel's occupation, including 51% of Labour voters and 40% of Tory voters.
In fact, voters want the UK to recognise Palestine as an independent state, a proposal that the Tories have said will only happen "when it best serves the object of peace" and that Labour looks set to drop from its manifesto. Despite the apparent cross-party consensus on opposing recognition of Palestine, just 8% of British voters oppose it, with 40% in support (including 52% of Labour voters). Brits also think (by 34% to 7%) that the Israeli government should not be allowing settlers to build settlements in the West Bank.
Foreign policy is rarely considered by mainstream commentators to drive electoral choices, but the May YouGov poll found that over a quarter of Brits (27%) feel that the Israel/Palestine conflict matters to them. This rises to 35% amongst 18-24s and 40% amongst Labour voters. All of these data indicate that Britons' support for Palestine goes beyond a vague dislike of Israel – a plurality of voters is actively pro-Palestine. While Britain's political leaders may have their fingers in their ears, the popular call for Palestinian liberation may soon be unignorable.
Ell Folan is the founder of Stats for Lefties and a columnist for Novara Media.