Fossil Fuel Companies Are Paying Influencers to Do Their PR
Unfortunately, it's working.
27 July 2023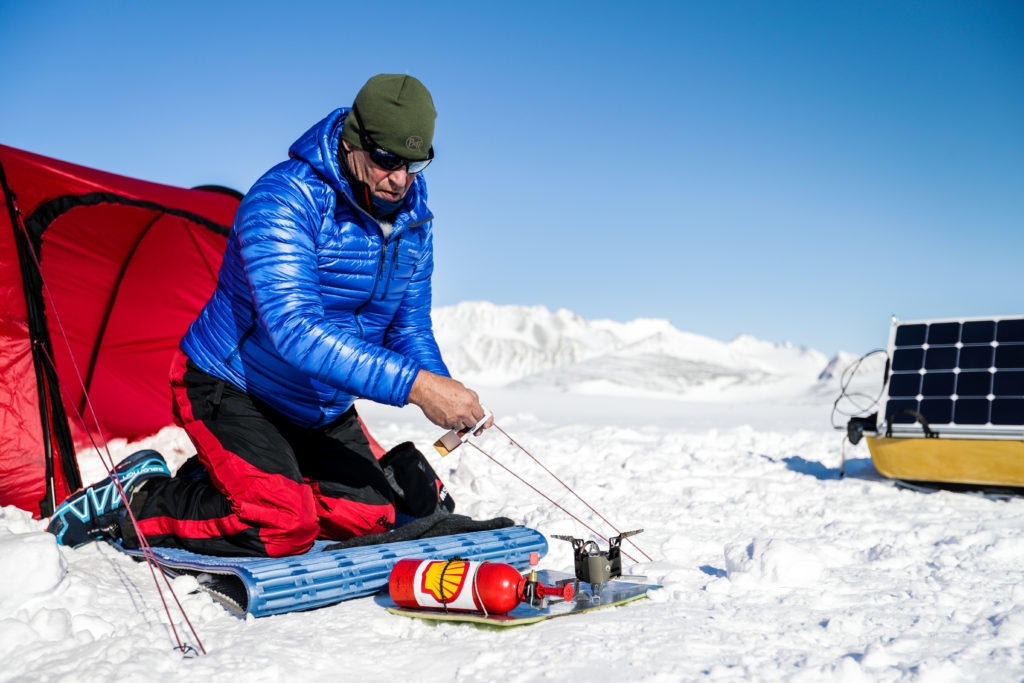 Explorer Robert Swan OBE was the first person to walk to both poles. Shell then sponsored Swan and his son Barney to travel to the south pole and promote its "renewable" biofuels. Photo: Edelman
Earlier this month, the world recorded its hottest-ever day – three times in the same week.
Greek islands rammed full of tourists are now being evacuated due to wildfires that have seized at least nine Mediterranean countries. Dozens have died as a result of blazes in Algeria.
It's hardly surprising, then, that oil and gas giants are becoming increasingly determined to deflect blame away from their actions, and their record profits – a strategy that now includes the use of influencers.  
After a months-long trawl through the inner depths of the internet, DeSmog has discovered hundreds of examples of fossil fuel giants paying influencers, in an attempt to convince millennials that oil and gas companies are not "the bad guys".
This was BP's concern in 2020, when it organised an internal summit to address its poor public perception. In a document from the conference, initially leaked to and published by Amy Westervelt, the company stated its desire to become "more relatable, passionate, and authentic beyond our current centre of influence." 
"What is meaningful empathy in a world where we're seen as one of the bad guys?" the document lamented. 
The solution, it seems, was not to urgently transition away from fossil fuels towards green, renewable energy. Rather, BP said that it needed to change its PR strategy to help "win the trust of the younger generation".
Our investigation found that both BP and Shell have been major sponsors of influencers in recent years, funding campaigns that have reached billions of people. 
This includes a YouTube campaign launched in April this year hosted by former BBC presenter Dallas Campbell, who touts Shell's investments in green energy and conducts softball interviews with the company's senior executives. 
Fossil fuel companies have deep reserves to deploy on digital advertising. While Shell last year advertised for a new staff member to manage its TikTok campaigns, oil and gas supermajor ExxonMobil has been the highest advertising spender on Facebook and Instagram in the last five years, shelling out $23.1 million since June 2018.
The total combined following of all the influencers who have been paid for fossil fuel partnerships since 2017, in posts analysed by DeSmog, is nearly 60 million.
'Giving millennials a reason to connect emotionally.'
In the UK, one of the most climate-conscious countries in the world, these companies appear to have targeted a particular type of influencer in an attempt to greenwash their image.
These individuals tend to be technology and innovation enthusiasts – often with a zeal for environmentalism – who are public figures in their own right, beyond their social media presence. 
Take Robert Swan OBE, an explorer who was honoured in 1995 for being the first person to walk to both poles. In late 2017, Swan and his son Barney were sponsored by Shell to travel to the south pole and promote its "renewable" biofuels, with Shell touting the campaign across social media. 
It was a PR jackpot for the world's seventh largest emitter of CO2 – or at least that's according to Edelman, the PR firm that ran the campaign. 
View this post on Instagram
Edelman said Shell had tasked them with "giving millennials a reason to connect emotionally with Shell's commitment to a sustainable future." The PR firm boasts on its website that the Swan & Son expedition was so successful that "positive attitudes towards the brand [Shell]" increased by 12%, made Shell's audience "31% more likely to believe" that the oil company is "committed to cleaner fuels", and appealed to a younger demographic.
When we reached out for comment, Barney Swan explained to DeSmog that he has "definitely copped a lot of criticism for [working with Shell]," but that he believes the "industry needs people who give a shit." Both Barney and Robert stressed that Shell's support was valid as it was helping to test biofuels.
A greenwashing strategy.
Fast forward to 2021, and Shell's online advertising efforts ramped up even further. Its Pitch the Future campaign, run by the agency EssenceMediacom, won the top spot at the World Media Group annual awards ceremony. 
The idea behind the campaign was to challenge students to solve real-life energy problems, with the best innovations handed prize money by the fossil fuel giant. The campaign was fronted by a couple of recognisable faces: British inventor Colin Furze, who has 12.5 million followers on YouTube, and US influencer Astronaut Abby, a Gen Z science enthusiast who has over 300,000 followers on Instagram and 52,000 on TikTok. 
As World Media Group acknowledged, the success of the campaign was astounding, generating 127 million views and nearly one billion impressions. EssenceMediacom boasted that Shell-branded content "actually outperformed" Furze's "own organic content benchmarks, achieving 59% more interactions than the norm for posts on Colin's own channels." 
View this post on Instagram
A 2022 Harvard study analysed 2,325 social media posts from 22 major European polluters. It found that 72% of posts from oil and gas firms tried to communicate a commitment to green innovation. Yet, as the Harvard study also pointed out, the fossil fuel firms included in its analysis had invested just 1.7% of their annual capital expenditures in low-carbon technologies between 2010 and 2018.
"These public messaging efforts form part and parcel of a broader greenwashing strategy of which the objective is to portray Shell as a global champion in the energy transition," Gregory Trencher, an associate professor at the graduate school of global environmental studies, Kyoto University, told DeSmog. "Yet this is far from the reality, as despite having a goal in place to reach net zero emissions, Shell has abandoned its plan to reduce its production of oil by 1-2% each year up to 2030 and it has reaffirmed plans to grow its gas production."
This obfuscation of reality seems particularly dangerous when carried out by influencers. Shell's dubious claims are easy to spot when they are disseminated by corporate suits and beige press releases. They are harder to identify and debunk when they are sprinkled into our feeds by people who specialise in captivating armies of online admirers. As Timothy Snyder wrote in On Tyranny: "The biggest wallet pays for the most blinding lights". And fossil fuel giants have a tonne of money to burn.
A spokesperson for Shell said: "People are well aware that Shell produces the oil and gas they depend on today. However, what many don't know is that we are also investing billions of dollars in low- and zero-carbon solutions globally as part of our efforts to support the energy transition.
"No energy transition can be successful if people are not aware of the alternatives available to them. Making our customers aware – through advertising or social media – of the low-carbon solutions we offer now or are developing is an important and valid part of our marketing activities."
This piece was amended on 18 September 2023 to include details about the source of the leaked document.
Sam Bright is DeSmog's UK deputy editor, and the author of Fortress London: Why We Need to Save the Country from Its Capital.