Aged 82, Patricio Guzmán Is Still Making Revolutionary Cinema
'You must be ready at the place where the first flame will appear.'
18 October 2023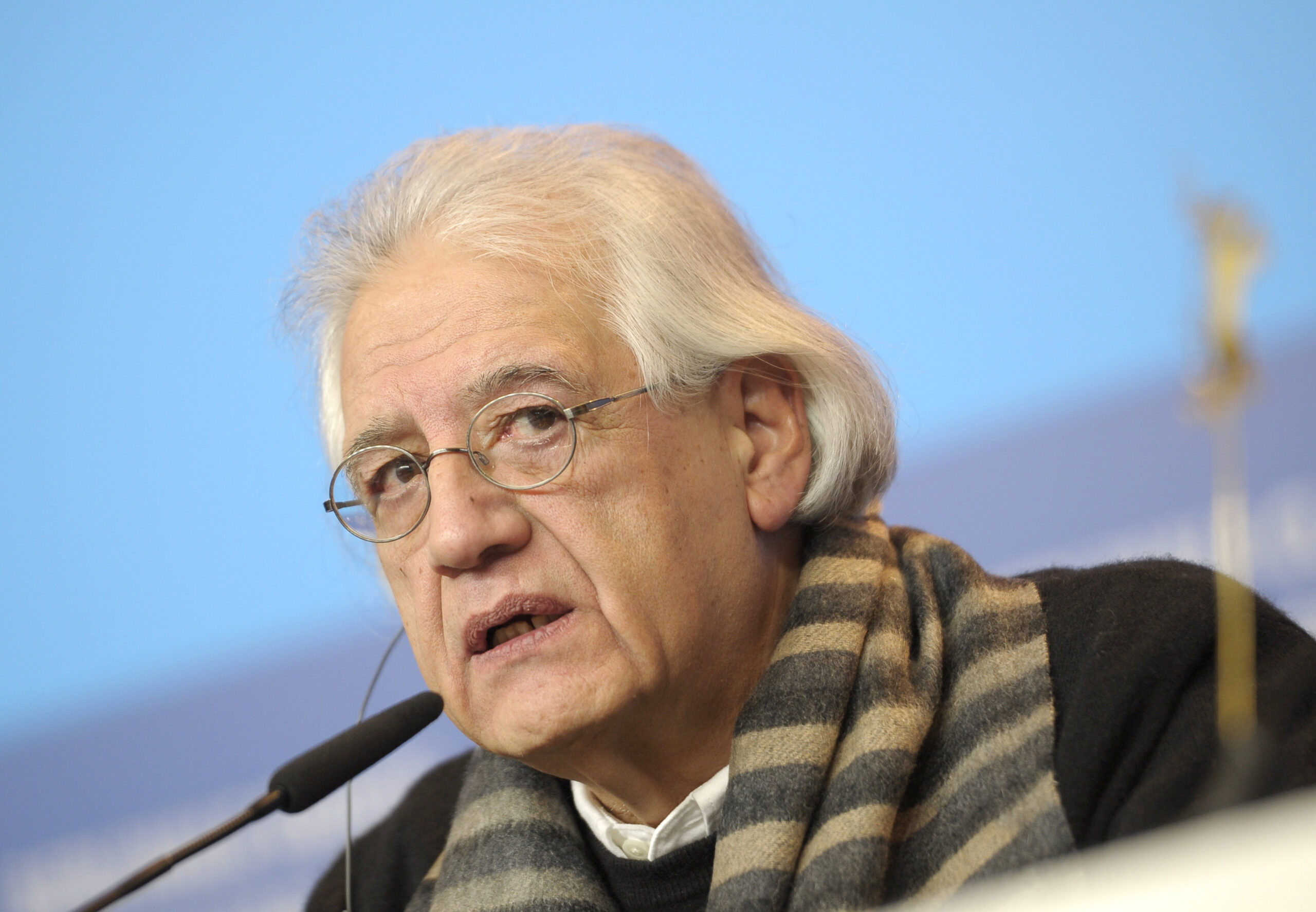 Director Patricio Guzmán attends a press conference to promote his film The Pearl Button, February 2015. Photo: Stefanie Loos/Reuters
At the end of The Cordillera of Dreams (2019), director Patricio Guzmán laments that it has been 46 years since he left Chile for France, having briefly been imprisoned for his opposition to Chile's military regime. During his exile, Guzmán, now 82, has made 20 documentary films about his country. By far the best known is The Battle of Chile (1975-79), a three-part, six-hour documentary about Popular Unity leader Salvador Allende's re-election as president in March 1973 and the CIA-backed coup that assassinated him, alongside the poet Pablo Neruda and many others, and installed the far-right General Pinochet.
Documenting dictatorship.
The film established Guzmán as a director who would bear witness to the destruction of Allende's democratic socialist government, and the violence of its reactionary replacement. He produced more internationally acclaimed works on the subject than any other director from Chile, and more about the Pinochet regime than anyone living under the military dictatorships of Argentina, Brazil or Paraguay at the same time. He has created several models for how filmmakers might react to such regimes, bravely documenting Pinochet's installation, patiently waiting to assist the search for justice after the dictatorship's end, and advocating for a new government that could pick up where Allende was interrupted.
Guzmán returned to prominence during the 2010s with another trilogy, this time about the search for the remains of the 3,000 people who disappeared during Pinochet's 17 years in power, and for justice for them. Nostalgia for the Light (2010) establishes a poetic, autobiographical style, as Guzmán draws together his childhood love of astronomy and his adult exile against a backdrop of the vast Atacama Desert, famed for its thin, clear skies. There, a new observatory was opened in 2002, less than 30 years after Pinochet built concentration camps for political dissidents in the desert. The films weave the stargazers' search for new constellations and galaxies with Chilean women's attempts to locate the remains of their loved ones.
Guzmán looks at how both the landscape and human beings have shaped his country, moving on to an examination of how the dictatorship used its incredible topography in its cruel treatment of dissidents. The Pearl Button (2015) focuses on the sea on Chile's border, into which the Pinochet regime dumped numerous opponents from helicopters to their deaths. The Cordillera of Dreams, meanwhile, looks not just at how the Andes seemed indifferent to the horrors that unfolded below them. It also examines how their grandiosity and permanence served to inspire people to uphold their resistance – to Pinochet, but also to the neoliberal constitution introduced in 1980, which mostly survived the end of the military regime in 1990. The constitution, introduced after a referendum to lend its sweeping changes a veneer of democracy, guaranteed the provision of services such as social security and healthcare by private companies as a fundamental right – one of Pinochet's legal advisors explicitly stated that the aim of the constitution was to constrain a government "if our adversaries are able to come back to power".
The pink tide rushes in.
Guzmán's most recent film, My Imaginary Country (2022), looks at a younger generation in Chile, struggling to write a new chapter in its history by changing the constitution and moving beyond the neoliberal settlement that survived Pinochet's regime. It focuses on the protests against inequality, unemployment and privatisation that began in Santiago and spread across Chile in 2019. Initially without programme or ideology, made up of younger people suspicious of political parties, the protests gradually coalesced into a movement against the constitution, culminating in the election of 35-year-old former student activist and Broad Front coalition leader Gabriel Boric in December 2021, as part of Latin America's pink tide.
Aware that the 50th anniversary of the coup was approaching, Guzmán opens My Imaginary Country by looking back at the radical ferment of the early 1970s. "You must be ready at the place where the first flame will appear," Guzmán says of documentary-making. In this film, he certainly gives the impression of being there when the sparks of revolt are starting, clearly invigorated by the possibility of witnessing the far-right's economic model finally overturned. His protest scenes will be familiar to anyone who has ever taken on the dominant order: masked people facing off against police with shields and batons amid a hail of smoke and projectiles before the water cannon disperses the crowds. Guzmán expresses wonderment that this uprising was sparked by something so apparently small as a 30-peso rise in Santiago's subway fares and that it escalates to centre-right president Sebastián Piñera declaring a state of emergency (Piñera's decision to send in the army, Guzman says, "reminds me of the [1973] coup d'état").
Stylistically, My Imaginary Country is more straightforward than Guzmán's films of the 2010s. The film ditches poetic allegories about the Chilean landscape, which felt more calibrated towards an international arthouse cinema audience, for a mixture of street footage of the protests and talking-head interviews with participants. Staying firmly in the present, Guzmán makes a point of featuring only women, who know not only about the brutality their predecessors endured under Pinochet, including rape and sexual assault, but can also highlight the injustice and misogyny they continue to face. The interviews give a strong sense of how apparently minoritarian or identitarian demands can provide the foundation for a universalist campaign against inequality. In one scene, we see huge crowds waving flags and singing Bella Ciao in central Santiago as we hear about how women will be "the face and voice of this movement" before we meet the intersectional and trans-inclusive feminist group Colectivo LasTesis, whose songs and choreography continue Chile's tradition of bringing the arts into radical politics.
The film progresses naturally from the protests against the rising cost of living to demands to rewrite the constitution, taking us from the streets to the national congress and closing with Boric's victory speech. "History doesn't start with us," Boric tells the crowd. "Our project is the heir of a long historical trajectory." In his closing narration, Guzmán recounts his hopes for a new "imaginary country" – one that can finally move on from Chile's role as a brutal test lab for the Chicago School economists, who believed that free markets were the best way of allocating resources in a national economy, and that government intervention should be kept to a minimum – and there, My Imaginary Country ends.
Camera as weapon.
Capturing Chile in moments of rebellion, if not revolution, My Imaginary Country and The Battle of Chile bookend 50 years of cautious optimism and brutal defeat. A slower and less urgent film, My Imaginary Country feels more televisual than The Battle of Chile, which emerged out of the febrile Third Cinema movement that opposed capitalism, neocolonialism and Hollywood film as entertainment. Inspired by the Imperfect Cinema of post-revolutionary Cuba, which used handheld cameras and rapid cutting to capture its audiences' everyday lives, Third Cinema aimed to use newly available technology – such as simpler cameras with film that could shoot in normal light – not just to capture political tumult, but to intensify it.
Works such as Octavio Getino and Fernando Solanas' Hour of the Furnaces (1968), subtitled Notes on Neocolonialism, Violence and Liberation, chronicled the leftwing Peronist resistance in Argentina. With the Peronists banned by the military dictatorship installed in Argentina in 1966, the film was mostly shown in underground clubs, split into segments with audience discussions after each one. Similarly, The Battle of Chile was screened around the world but not in Chile until the 1990s, when Guzmán discreetly showed it to a small group of friends and students. Guzmán captured their shocked reactions in Chile, Obstinate Memory (1997) – again borrowing from the Cubans, who sometimes recorded the impact of villagers seeing moving images for the first time.
Guzmán looks at how that historical memory came painfully alive for the survivors in The Pinochet Case (2001), about the former dictator's arrest in London in October 1998 and attempts to extradite him to Spain to stand trial for human rights violations. A straightforward, televisual-style documentary, it opens emotively, with a reference to popular singer-songwriter Víctor Jara, killed days after the military coup, and women talking about when they last saw their missing children. A lawyer talks about the lack of retribution, with no one condemned for murder, none of the disappeared found nor anyone released after being imprisoned by the military (this forms a stark contrast with neighbouring Argentina, which tried its junta almost immediately after its collapse).
Another simple, hard-hitting combination of recent footage and interviews, The Pinochet Case sees Guzmán ask women about how they were tortured and their sons killed, before showing us Pinochet on an annual trip to London, invited by British Aerospace, where he had tea with Margaret Thatcher. Soon after, Pinochet was taken ill, arrested in hospital and put under house arrest (Thatcher visited him there, saying: "You have brought democracy to Chile. I'm glad you're comfortable here"). We see Chilean exiles demanding justice, before counter-protesters – likely paid, Guzmán suggests – chant in favour of Pinochet outside Bow Street magistrates' court.
A ladder to the stars.
Guzmán also speaks to two British MPs – one far better known than the other at the time, though the roles have since reversed. Norman Lamont, the first chancellor of John Major's government, says Pinochet should have immunity on diplomatic grounds, suggesting there will be "chaos" if one country can indict another's leader after leaving office. In favour of the extradition is Jeremy Corbyn, who tells reporters, in Spanish, that he is "very happy" that the Lords ruled that Pinochet could be tried for crimes committed after 1988 (when the UK ratified the UN convention against torture). Corbyn said the sight of Pinochet with a blanket over his head to thwart photographers of his arrest was "a form of justice" – it seemed like that would be the only justice he would face, as New Labour's home secretary, Jack Straw, ruled Pinochet should not be extradited on health grounds. However, the film ends with Pinochet under house arrest in Chile, and the sense that finally, he will be forced to answer for his crimes.
Seeing Corbyn reminded me of being at the final Labour rally before the 2019 election, when he ended his address by talking about Popular Unity and quoting Víctor Jara, on "the ladder we're building to reach the stars". We know how that election went, and how the Labour left has since been crushed by the upholders of Thatcherism and neoliberalism, boasting about how "business" has "nothing to fear" from them. Our attempts to overturn the defeats of the 1980s and 1990s failed, and Gabriel Boric's referendum on a new, progressive constitution last year resulted in a disastrous defeat with a new constitutional council dominated by conservatives.
I wonder if Guzmán will make a documentary about this, or if he will pass the baton to younger filmmakers raised not with underground film, television or periods of revolution but in the post-Cold War, social media age. Either way, the message of his work is that movements can be defeated but from generation to generation, we cannot stop fighting for change – and that the arts are an essential part of the struggle.
Juliet Jacques is a writer, filmmaker, broadcaster and academic.