Former Amnesty Official Arrested for Satirical Placard
A farce.
8 November 2023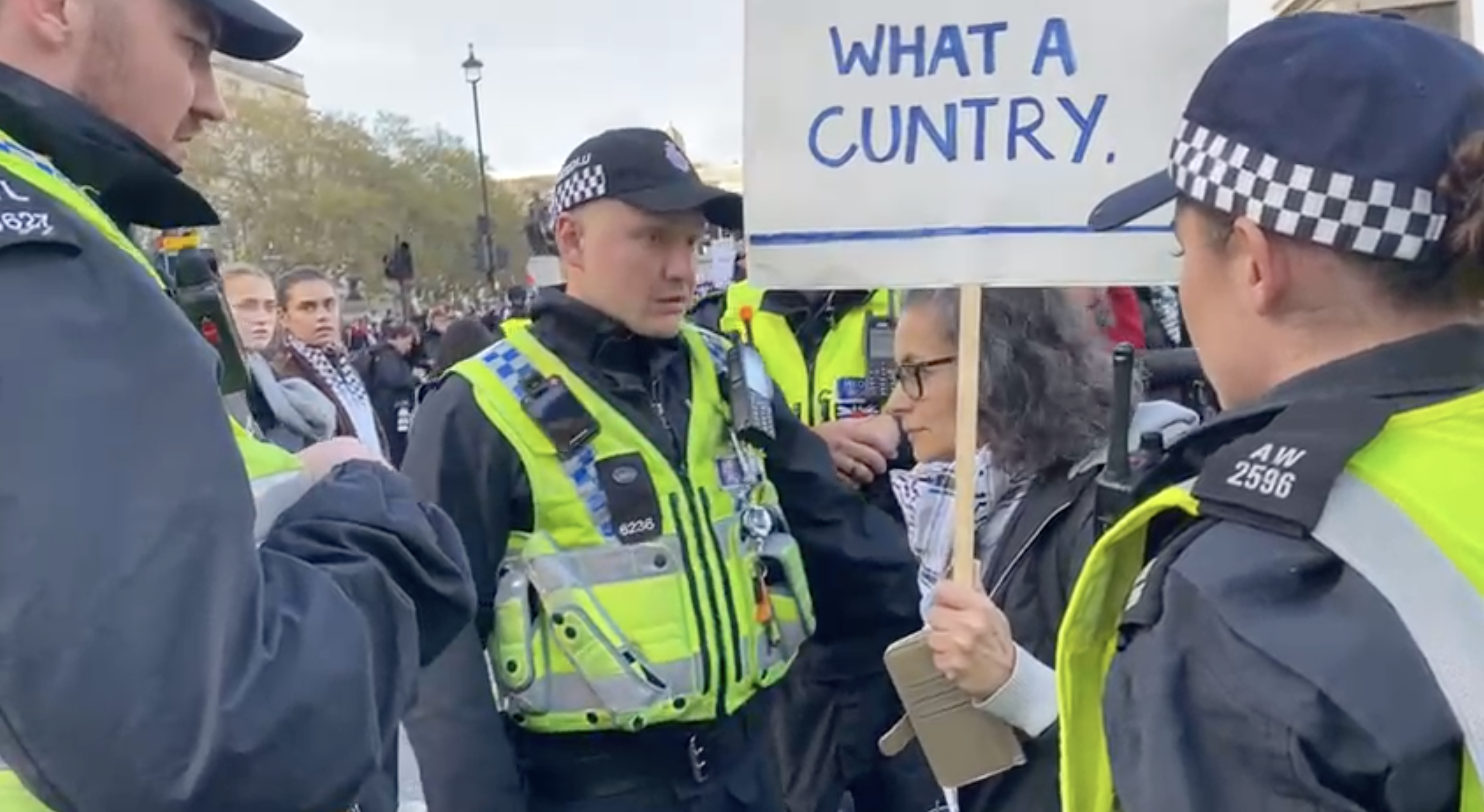 Photo: Aisha Jung
A former senior official for Amnesty International has been arrested on suspicion of breaching public order laws for carrying a humorous anti-Israel sign.
Aisha Jung, who worked for Amnesty for 17 years, was stopped by a group of police officers on Saturday shortly after arriving at a pro-Palestine demonstration in central London with her husband and two young sons, while holding a sign which said "Apartheid Israel – What a cuntry".
An officer told Jung that her poster may be offensive, and asked her to consider taking it down. She asked what legislation would require this. The officers conferred then returned to make an arrest.
BREAKING: A former senior @amnesty official has been arrested under the public order act for holding a satirical placard describing Israel as an "apartheid c*ntry".

Aisha Jung was arrested on Saturday while attending a pro-Palestine demo in London with her husband and sons. pic.twitter.com/HFvLhXTxvi

— Rivkah Brown (@rivkahbrown) November 7, 2023

The officers arrested Jung under section 5 of the Public Order Act 1985, which prohibits the displaying of "threatening or abusive" signs. She was driven over an hour to a southeast London police station where she was interviewed and then held for a further six hours before being released on bail at 4.30am the following morning.
"Because of how I'm able to present – which is middle-aged, middle-class, fair-skinned, educated – I was treated in a certain way," said Jung, who is of mixed Indian and Irish heritage, in a voicenote to Cage and shared with Novara Media. The group was established in 2003 to advocate for those impacted by the war on terror, and is supporting Jung in her case.
"I call it 'polite fascism'," Jung said.
Today Jung attended a police station to find out whether she would be charged. Police extended her bail conditions by two weeks, leaving her in limbo.
In a voicenote to Cage, Jung said: "I'm trying to teach my children to speak up when they feel in their gut that something's not right.
"My sign was using satire as well as fact to try and get our voices heard, to try to influence our potentially war criminal leaders to influence – because we all know that they can – a ceasefire, and to express our individual and collective rage … in a legal and peaceful way."
In a statement, Cage's head of campaigns Naila Ahmed said:
"Aisha Jung should be celebrated for acting courageously and compassionately by protesting against the slaughter of 10,000 lives. The police are reacting to political pressure from rightwing interests led by the home secretary. As a result, they have dropped any pretence of neutrality. We are witnessing not only the oppression of Palestinians in Gaza and the West Bank but also of those who have the courage to stand in solidarity with them.
"We are witnessing excessive police overreach, bolstered by a hostile political and media environment that enables the Israeli war crimes and genocide of Palestinians."
Jung's arrest comes amidst an escalating police crackdown on pro-Palestine solidarity, in particular the marches that have taken place each Saturday in the capital since 7 October.
Home secretary Suella Braverman has referred to pro-Palestine demonstrations as "hate marches"; many believe she is pressuring police forces around the UK to ban them. Under section 13 of the 1986 Public Order Act, the police can apply to the home secretary to prohibit public processions.
So far the police have imposed smaller-scale section 14a restrictions, including on a sit-in at King's Cross station in London, but no blanket bans.
That restraint may not last long. On Monday, the Metropolitan Police appeared to be edging towards a ban, issuing a statement requesting that organisers of this weekend's central London march consider postponing their event, saying "it is not appropriate" to march over armistice weekend.
On Tuesday, the Met U-turned. Commissioner Mark Rowley announced that the force had insufficient intelligence of a "real threat of serious disorder" needed to ban the march, which would be permitted to go ahead. Leaders of three of Britain's largest trade unions have stated they will be in attendance.
The Metropolitan Police did not respond to Novara Media's request for comment.
Update, 8 November 2023: This article was updated to reflect the extension of Mrs Jung's bail.
Rivkah Brown is a commissioning editor and reporter at Novara Media.