Labour Conference Belongs to Members, so Why Are Police Allowed to Shut Activists Out?
23 September 2019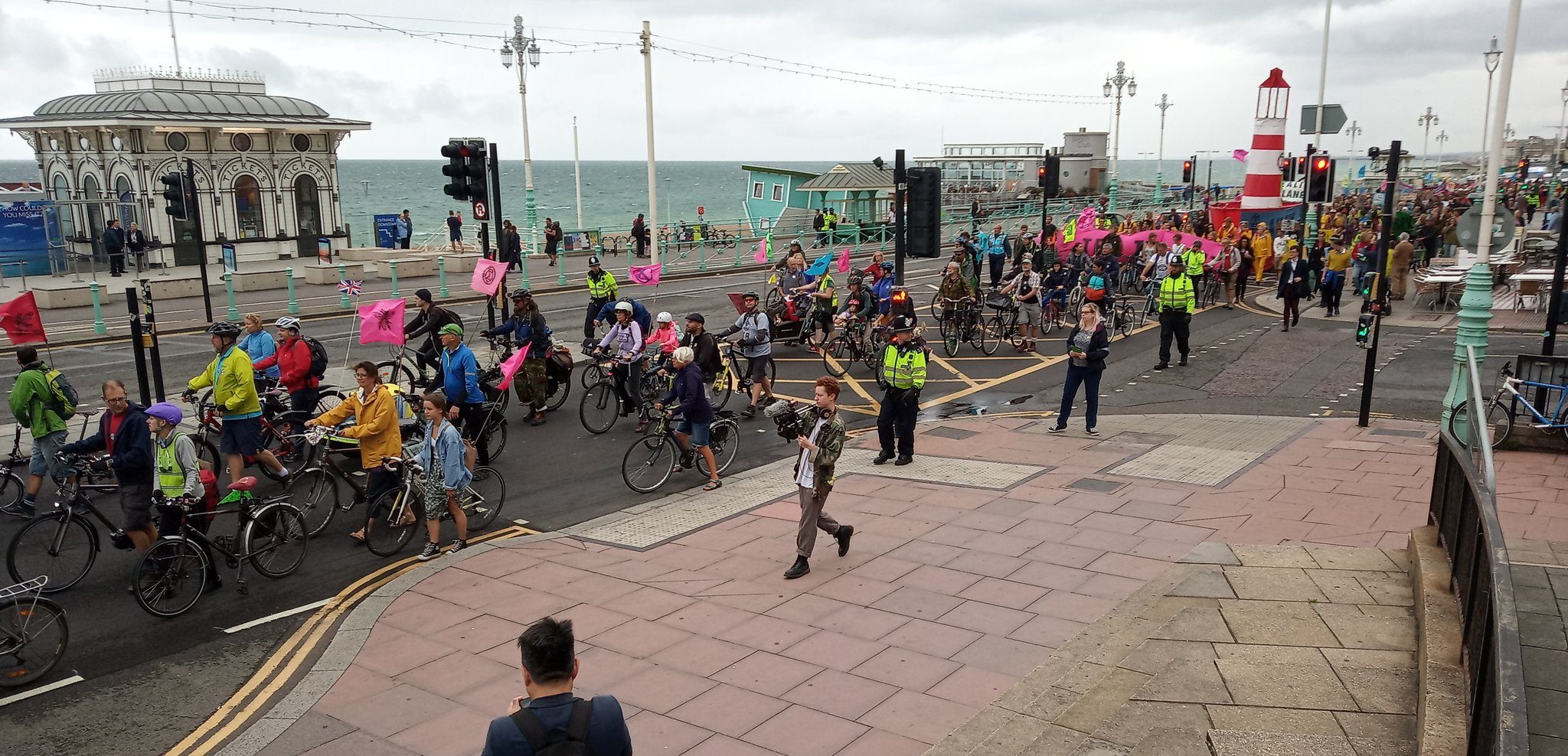 [XR Brighton]
Police have attempted to stop party members who are also climate activists, like me, from attending Labour conference this year – despite already having been sued for barring a member in 2017.
On Saturday morning, I was informed that my application for a pass had been denied, because it had "not passed the necessary police security checks". After initiating legal action overnight, the police retracted their decision and I was accredited on Sunday morning.
This is one in a series of bans levelled at party members by the police at this year's conference. The unifying theme appears to be our participation in environmental direct action or civil disobedience. Sam Knights, a conference delegate and Extinction Rebellion activist, was also denied entry before his own legal challenge successfully overturned the decision.
The police have decided to ban me from the Labour Party conference, despite the fact I am an elected delegate.

I suspect this is because of my work with Extinction Rebellion. If so, it has worrying implications for democracy and the policing of peaceful protest.

— Sam Knights (@samjknights) September 19, 2019
I myself have organised with direct-action network Reclaim the Power to resist fracking in the UK. In July 2017 I received a conditional discharge for obstruction of the highway after blockading the Preston New Road fracking site. I wrote about why for Novara Media at the time. The wave of direct action I participated in has left the fracking industry dead before it could be born – and Labour supports a ban. I would put my body on the line to stop that industry again and again.
As well as participating in direct action, I have been a fully paid up Labour Party member since 2016 and am active in my constituency Labour party (CLP) as youth and students officer. I was also recently selected as Labour candidate to run in the May 2020 Oxford City Council elections, in the ward that I live in. Any suggestion that I am a security threat to the conference of my own party is absurd.
In March 2019, I co-founded the campaign Labour for a Green New Deal to create a platform for Labour members and trade unionists to organise around climate and economic justice. Our organising has led to 128 CLPs submitting our motion to conference as the Green New Deal looks set to dominate. There is an irony to banning climate activists in the year that climate justice takes Labour conference by storm.
The ban would have jeopardised my ability to speak at Young Labour's day inside Labour conference, where I was invited to discuss the transformative potential of a Green New Deal. The further irony here is that BP, a fossil fuel company which continues to profit from climate breakdown and business-as-usual, has been welcomed into conference with open arms. They have a stall inside the building and are co-hosting an event on decarbonisation with New Statesman, which Labour for a Green New Deal has pledged to protest.
This is not the first year that activists have been barred from entering Labour conference by police. In 2017, journalist Michael Segalov was labelled a left-wing extremist and barred. When Segalov  challenged the case in the courts, it was ruled that Sussex police had acted unlawfully. His case set the precedent for overturning the bans placed on me and Sam Knights' this year.
That Labour members are forced to fight in the courts to attend their own party's conference is a disgrace. The day after Labour made it clear we support the youth strikers leading the largest climate mobilisation the UK has ever seen, what precedent do these exclusions set for other young climate activists? Labour should be encouraging those inspired to take action for climate justice to join our party, not pushing them away.
It is not acceptable that the police continue to decide who is allowed to attend Labour conference. Going forward Labour must review its security arrangements and ensure the police are not afforded powers to veto party members for putting radical climate politics into action. Labour conference belongs to its members, not the police.
Chris Saltmarsh is a co-founder of Labour for a Green New Deal.