Predatory, Poisonous, Vacuous. To Understand Boris Johnson Start With the Spectator
4 December 2019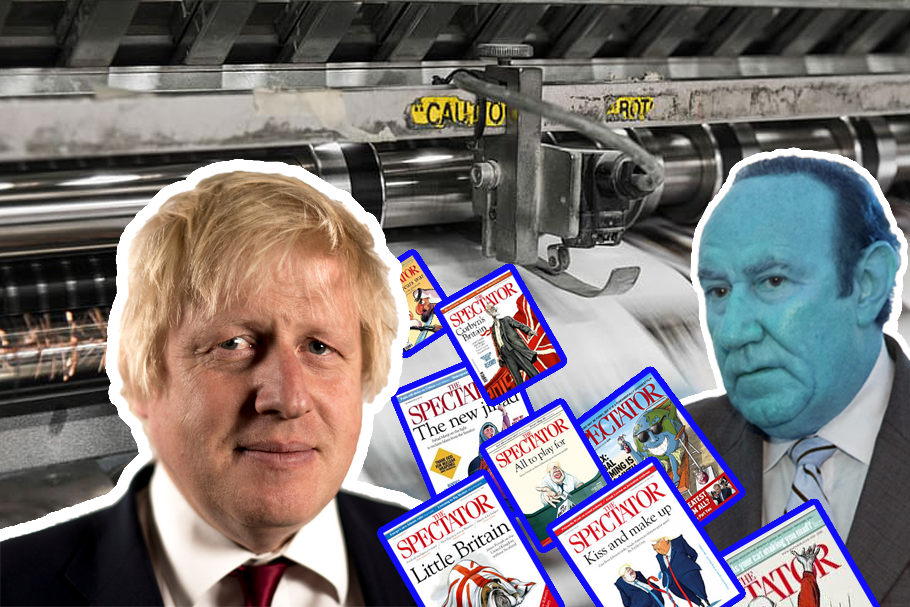 Britain's media is erratic, biased and often hysterical. But while most people are familiar with the country's billionaire-owned newspapers, from Viscount Rothermere's Daily Mail to Rupert Murdoch's Sun and Times, less frequently mentioned are periodicals like The Spectator – in print since 1828 and a bastion of conservatism from the start. 
While the magazine's provenance precedes the Great Reform Act, its current proprietors – the Barclay Brothers – are conspicuously 21st century. Making their money in property, hotels, shipping and retail they are worth £3bn and enjoy non-dom status on their privately-owned enclave of Brecqhou in the Channel Islands.
When the Barclays purchased The Spectator, alongside both Telegraph titles in 2004, its editor was one Boris Johnson – a rising political celebrity at the magazine's helm since 1999. Elected as MP for Henley in 2001, Johnson's diary was divided between parliamentary and constituency business, his editorship, a column with the Telegraph and increasingly high profile TV appearances. A seemingly impossible set of commitments you might think – which explains why, when offered the role five years earlier, Johnson promised to demure from pursuing political ambitions. As would prove so frequently the case thereafter, he eventually thought it best to break that vow and mumble something about Winston Churchill doing it.
Understanding Johnson's politics, and the kind of party he now leads, requires a certain familiarity with The Spectator – particularly under his tutelage. The man and magazine operate at the interface of Westminster media and politics – centrifugal forces in a landscape shaped not only by elite interests but a terrifyingly small clutch of people based in London. Similarly, both publication and persona exhibit a decades-long disregard for honesty and decency – and yet both are given a free pass by the establishment. 
During Johnson's stint as editor, from 1999 to 2005, The Spectator more closely resembled a political satire than a serious publication. The staff's output, and behaviour, was unprofessional by instinct, this being most obvious in the racist and sexist comments which frequently peppered the magazine's pages. Here the outlet's most consistent performer was Taki Theodoracopulos, whose High Life column had featured since 1977. In 2003 Taki wrote, "boy, oh boy was Enoch (Powell) – God rest his soul – ever right!" Elsewhere he referred to himself as a "soi-disant anti-Semite" and said he'd rather "be a Turk than a Paki". He once even wrote how "orientals… have larger brains and higher IQ scores. Blacks are at the other pole" and how "Britain is being mugged by black hoodlums". All of the above statements, remarkably, were written while Boris Johnson was his editor.
While undoubtedly the worst offender, Taki was closer to the norm than exception. Indeed Johnson himself, writing in 1999, claimed British youngsters had "an almost Nigerian interest in money" – the kind of rhetoric that would become his signature as he frequently deployed words such as 'piccaniny' (a small black child, and used by Enoch Powell in his 'Rivers of Blood' speech) and 'coolie' (a south Asian labourer). More than just bigoted bombast Johnson would even explicitly lament the end of empire – something he most memorably did in 2002 writing, "the problem is not that we were once in charge, but that we are not in charge any more".
None of this ended with the departure of Johnson as editor. More recently Taki penned a piece titled "In Praise of the Wehrmacht" (this was rapidly amended online) while last month Rod Liddle denigrated an MP, Labour's Rosie Duffield, after she spoke of her own experience in an abusive relationship. Unsurprisingly Liddle managed to include some Islamophobia for good measure:
"It was principally the student vote that won Canterbury for the sobbing and oppressed Rosie '#MeToo' Duffield. Please don't let that happen again. My own choice of election date would be a day when universities are closed and Muslims are forbidden to do anything on pain of hell, or something."
While Tory MP David Lidington called Liddle's piece "a serious lapse of judgement" by the magazine, it was anything but. The Spectator, for many years, has been the crucible for the mainstream right's collapse – and for much of it Johnson was either the conductor-in-chief or its baritone in the spotlight.
The behaviour of the magazine's journalists was often as ugly as its prose. It's no surprise Liddle should diminish 'Me Too' – after all this is a man who cheated on his wife (within days of their marriage) with a member of staff who, while heavily pregnant with his child, he would then assault – subsequently accepting a police caution. Johnson himself had an affair with Petronella Wyatt, also at the magazine, who became pregnant twice while they were together with Johnson allegedly promising her he would leave his then wife Marina Wheeler. There was Kimberley Fortier, whose affair with David Blanket meant the Labour Home Secretary had to resign from his position, as Johnson did from his in the shadow cabinet. These shambolic events would even inform a play, predictably written by Toby Young, titled Whose the Daddy?
Despite this state of feverish chaos the Spectator's purchase by the Barclays, alongside the Tories being firmly ensconced in opposition, meant it provided fertile ground for the right to re-compose. In 2004 the BBC's Andrew Neil became the magazine's Chairman – a position he retains today. When Johnson left in 2005 the BBC heavyweight remarked, how the "editorial breadth and quality under his editorship has been unrivalled" and that "in many ways, he will be irreplaceable".
Johnson quickly moved to the heart of the Tories, joining David Cameron's inner sanctum, before being elected as London Mayor in 2008. Wider currents were now shifting in British politics: in a digital age legacy media was increasingly a plaything for billionaires – Alexander Lebedev purchased The Evening Standard in 2009, while LBC was purchased by Global Media in 2007. Meanwhile individuals who dominate today's party – Dominic Raab, Priti Patel, Liz Truss, Jacob Rees-Mogg, Nadhim Zahawi and Michael Gove were elected to parliament (all but Gove took their seats in 2010). While Cameron and Osborne were in sharp focus at the front, in the background – alongside the rise of UKIP – was a eurosceptic party increasingly at odds with modern Britain. Boris Johnson, with his connections to the billionaire press and senior figures in the BBC, was their tribune. The twin events of the global financial crisis, which decimated Labour, and the Brexit vote, which upended Cameron's government, meant the court jester became the leading man.
While Michael Gove was a leader writer at The Times, and Johnson was editing The Spectator, Dominic Cummings – who would later work for both men – was in a relationship with Mary Wakefield. The two were married in 2011 and today Wakefield is a commissioning editor for The Spectator. What Johnson's circle represents, then, should be viewed as nothing less than the complete integration of media, propaganda and electoral politics, less 'rotating door' than self-service checkout.
Emblematic of this supposedly acceptable state of affairs was Andrew Neil's BBC interview with Jeremy Corbyn. Neil, as already mentioned, is chairman of The Spectator and openly praised Johnson on his departure as editor. The Scot is a fine interviewer, easily the BBC's best, but he is also a former editor at The Sunday Times who wears an Adam Smith Institute tie on air. Imagine a senior BBC journalist wearing an RMT or Fire Brigade Union tie in a similar setting. There's a strong argument that both are permissible, of course, but I wouldn't hold your breath regarding the latter. Neil interviewing Corbyn is as fair as Paul Mason having the opportunity to interrogate Boris Johnson. But alas that prize went to Andrew Marr, a person so professionally distant from the corridors of political power that the launch party for his 2014 novel Head of State was in 10 Downing Street.
Every Summer the leading lights of British conservatism congregate for the Spectator's Summer party. Alongside Tory MPs, think-tankers and journalists from places like the Telegraph, Mail and Times are senior BBC staff – like Laura Kuenssberg, Andrew Neil and Andrew Marr. Impartiality? I'll believe it when all three are spotted supping beer at the Durham Miner's Gala.
In truth The Spectator, like Johnson, reveals much that is wrong with British politics. Elite capture by the billionaire class; the disintegration of any barrier, and thus accountability, between media and politics; the evacuation of any core values beyond opportunism and self-enrichment; a predatory disposition to the public at large. And meanwhile, while the right was brutally honest about what it believed, BBC editors ate the amuse-bouche and laughed.
But it's no joke, this decadent descent is the future of British politics – or at least that's the plan.
Aaron Bastani is a Novara Media co-founder and contributing editor. For more from Aaron, sign up to his newsletter here.