How the US Far Right Are Trying to Interfere in Labour's Leadership Election
24 February 2020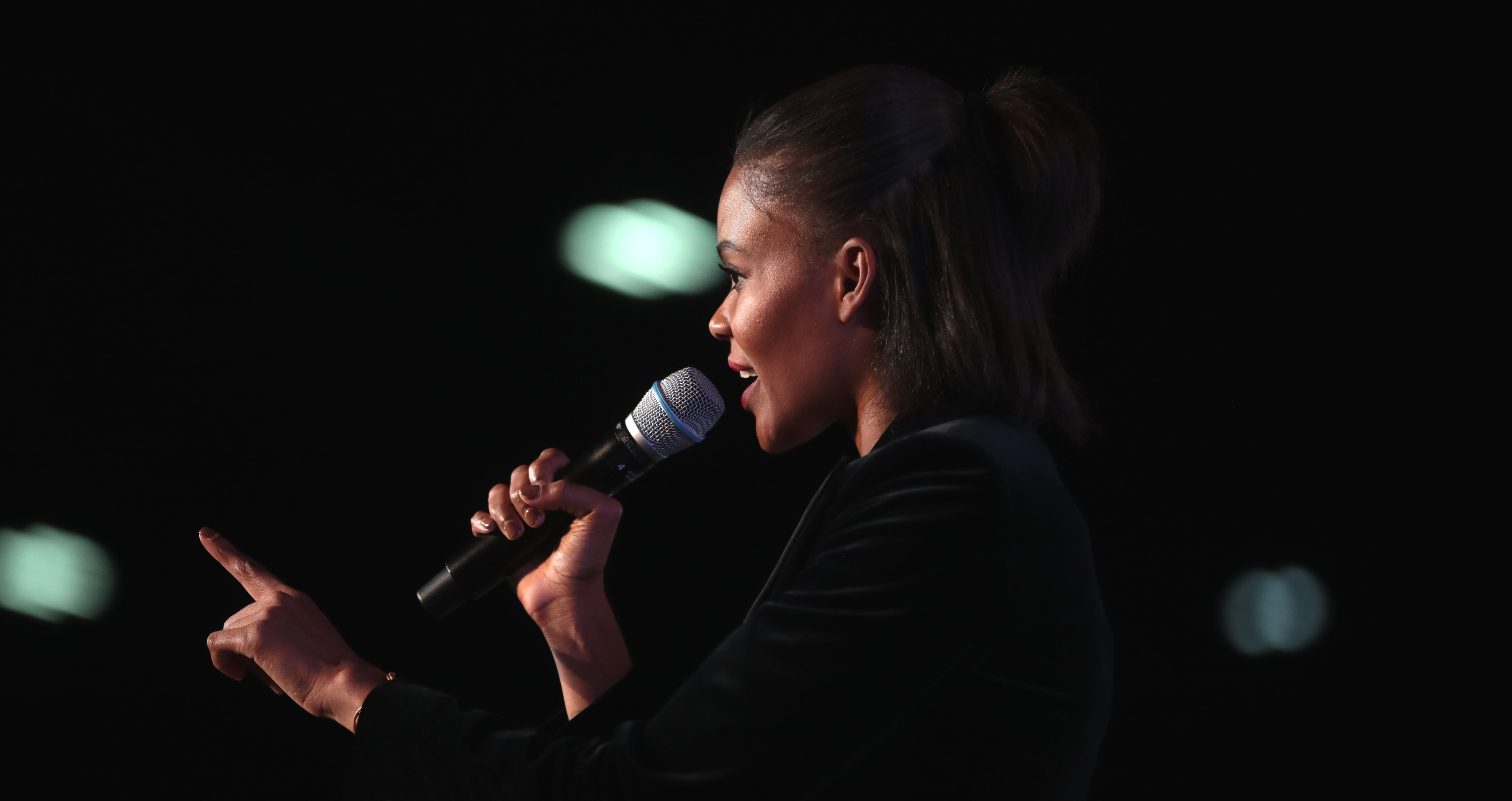 (Gage Skidmore, Flickr)
A conservative group which started in the United States has spent around £15,000 on Facebook ads attacking the Labour party and leadership candidate Rebecca Long-Bailey, Novara Media can reveal. 
Turning Point UK – an offshoot of a US group with extensive links to the far right – is attempting to influence the outcome of what is supposed to be a democratic process for choosing the party's next leader.
Active since 2012, Turning Point USA is a conservative 'student organisation'. Despite its connections to the Republican party, its politics can be described as 'alt lite' – somewhere between the country's overtly racist alt-right and its conservative mainstream. The group has faced repeated controversy, from having to fire racist staff members to one of its leading figures, Candace Owens, saying that the only problem with Adolf Hitler was his attempt to impose fascism beyond German borders. 
In December 2018 she said:
"Whenever we say 'nationalism', the first thing people think about, at least in America, is Hitler. You know, he was a national socialist, but if Hitler just wanted to make Germany great and have things run well, OK, fine. The problem is that he wanted – he had dreams outside of Germany. He wanted to globalise."
For one of America's rising political stars, Kristallnacht and Dachau would have been fine, it seems, just so long as the politics underpinning them remained within Germany.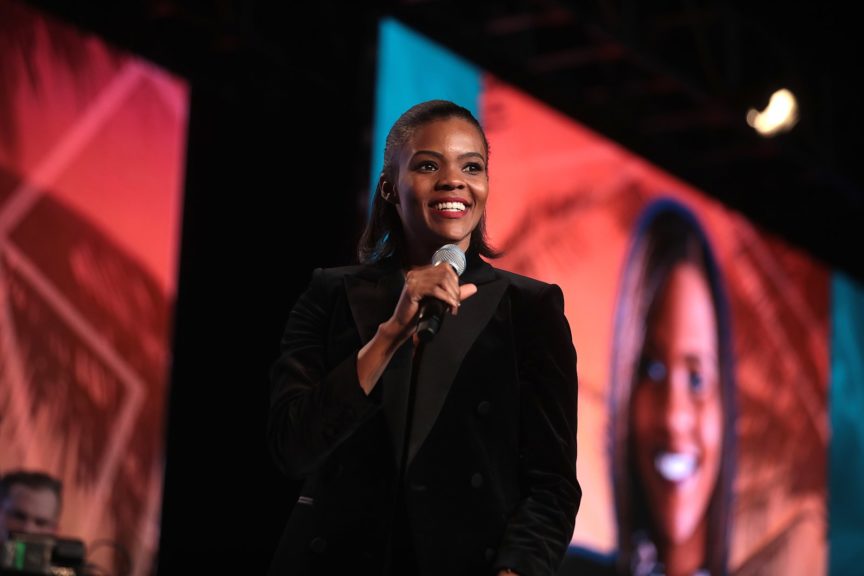 Turning Point UK, the Tories and the Brexit Party.
Owens' defence of Hitler was made at the launch of Turning Point UK. An examination of those present at the event is instructive in understanding its political complexion: Nigel Farage was there, as well as Arron Banks, and Andy Wigmore, who ran the Leave.EU campaign; Steven Edgington, previously of the Brexit party and now at Guido Fawkes, was also in attendance, as was his colleague Tom Harwood; then there were Darren Grimes – formerly with Be Leave and now at the Institute of Economic Affairs – and YouTuber Paul Joseph Watson, who ran conspiracy theory website InfoWars. Among other things, InfoWars claimed the Sandy Hook shooting was faked and that the Democratic party ran a paedophile ring out of a New York pizzeria.
While many of these people regularly appear on the BBC as 'respectable commentators', this was a veritable who's who of Britain's very own alt lite. Tom Harwood, for instance, recently defended the comments of Andrew Sabisky on race and IQ as requiring 'context' to be properly understood.
At the event Owens also spoke, in a rather fanatical way, of an ongoing conflict akin to a world war, "we very much believe that we are in the midst of world war three… it is an ideological war we are fighting for western values," she said.
Such rhetoric has already had catastrophic consequences. In his 'manifesto' the Christchurch shooter credited Owens with helping to "push me further and further into the belief of violence over meekness". Owens' repeated statements regarding the 'Great Replacement' conspiracy theory put her firmly on the extreme right. Her response to being named in the manifesto of someone responsible for killing dozens of people? "Lol".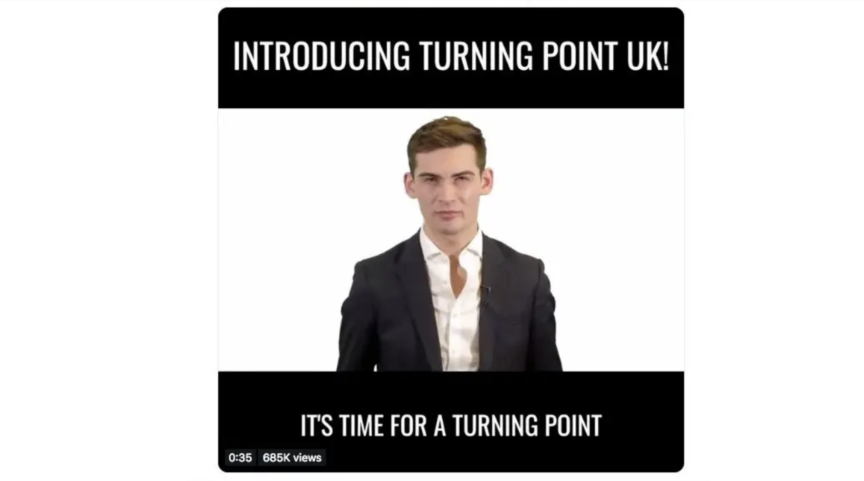 The overt connections between Turning Point UK, the Tories and the Brexit Party illustrate the collapse of mainstream conservatism in Britain. Owens' husband is George Farmer – son of former Tory party treasurer Lord Michael Farmer. Farmer junior ran as a Brexit Party candidate in last May's European elections.
While he failed to win a seat his colleague, Lance Forman, succeeded, with the climate change denier – who claims islamophobia in the Tory party is "made up by the left" – becoming an MEP for the London region. Forman's son, Oliver Ansfield was previously Turning Point UK's CEO (Farmer was its chair) and is the founder of Media & Activism Ltd, which is legally responsible for the organisation's data and website. 
Here, in short, is how the extreme right now interfaces with the Conservative party. Two years ago neither Turning Point UK nor the Brexit Party existed, now both operate as part of an increasingly organised ecology on the extreme right not only of Britain's politics but its cultural conversation. 
Dark ads.
Turning Point UK's ad campaign is not without precedent. During the 2019 election, Tory activists set up Facebook pages that were not officially connected to the Conservative campaign, yet clearly pushed Boris Johnson's agenda, spending hundreds of thousands of pounds between them on targeted ads.
Three of these groups alone – Working4UK, set up by Tory councillor Suraj Sharma; Campaign Against Corbynism, run by Tory activist and Daily Express journalist James Bickerton; and Parents' Choice, headed by former Tory MP Richard Patrick Tracey -spent more than £160,000 between them in November and December 2019.
While all three technically complied with Facebook's rules around advertising on the platform (although another similar group, Tory activist Alex Crowley's Fair Tax Campaign, seemingly didn't) and registered with the Electoral Commission, the source of their funding remains elusive. Neither Sharma nor Bickerton responded to questions from Novara Media about where their money came from. 
This compounds recent revelations by Open Democracy, which found that as much as half a million pounds was channeled to target seats by "secretive Tory groups and anonymous donors" during the election.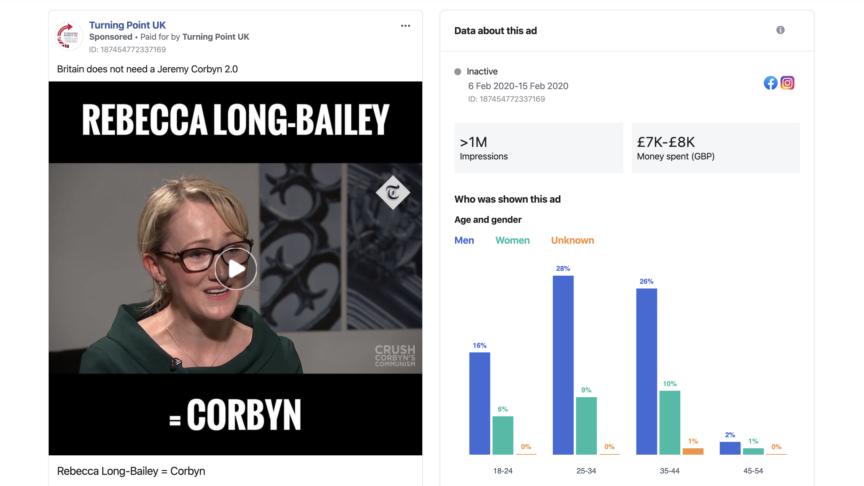 Interfering in Labour.
Turning Point UK – perhaps surprisingly – chose not to spend significant sums on Facebook advertising last December. That has changed over the last month, however, with the organisation spending approximately £15,000 on Facebook ads – primarily to attack Long-Bailey.
These messages have been highly effective, with one advert enjoying more than a million impressions. Aimed overwhelmingly at younger men in England, it is unclear whether they were also targeted for political affiliation to the Labour party.
It is only because of recent changes by Facebook that we know about these adverts at all. What remains unclear is whether the organisation is also deploying 'dark social', like backchannel WhatsApp groups, or the widespread use of anonymous Twitter accounts. This is possible given both are key tactics within the alt lite activist repertoire – from Reconquista Germanica in the 2017 German elections to the use of Telegram and WhatsApp in the 'Unite the Right' protests that same year.
Precisely who is funding Turning Point UK also remains a mystery. After the launch, Farmer told the BBC it wouldn't identify its donors because to do so would make them targets for abuse. Given the organisation is now intervening in the internal election of a political party this seems woefully inadequate.
It's not difficult to imagine what would happen if Momentum spent thousands of pounds on targeted advertising in an attempt to skew a Tory leadership contest, and all without disclosing where its money came from. There would be uproar. Yet when the alt lite do precisely that, it barely merits mention. 
When approached for comment, Turning Point UK didn't respond to Novara's questions about who funded its targeted posts. 
The Rebecca Long-Bailey campaign did however, saying such interference in a political campaign was of grave concern.
"Turning Point UK would much rather Labour became less of a threat to the status quo, both in their economic offer and in terms of electability," a spokesperson said. "Interference such as this should concern everyone, whoever they intend to support. Transparency around funding should be a pre-requisite for political advertising on Facebook." 
Culture wars.
The desire of Turning Point UK to protect the privacy of its donors stands in contrast to its Education Watch initiative – inspired by the US version, Professor Watchlist, where conservative students operate as a freelance Stasi, censoring the views of lecturers and monitoring the content of course reading lists.
This has become a key part of the 'culture war' in the United States with at least 250 professors being targeted by rightwing campaigns because of their research – with some even losing their jobs. For all the right's talk of free speech, this is what Turning Point UK, along with dark money in politics, wants to bring to Britain.
Whether it's Germany, America or the United Kingdom, the extreme right are highly accomplished when it comes to the tactics of information warfare, not to mention the creation of 'alt-tech' platforms of their own. This is before even mentioning that some of the most powerful people in legacy media, like Rupert Murdoch, hold certain views not dissimilar to theirs.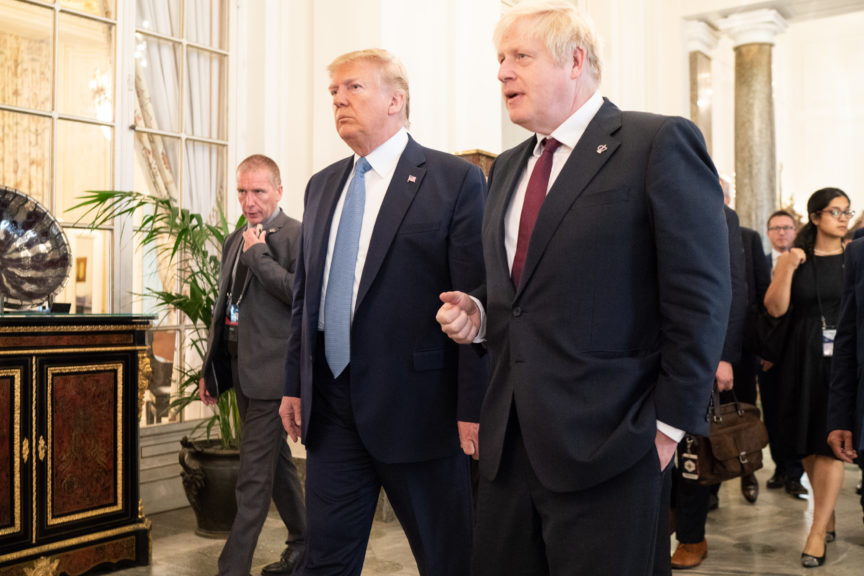 What is perhaps most concerning about the targeted, toxic adverts from Turning Point UK is that this is now so normal as to be considered mundane when a decade ago it was unthinkable. Such a shift should not be viewed as distinct from a prime minister who is incapable of saying whether he disagrees with an adviser who suggested black people are mentally inferior; the far right are coordinating a project to remake British politics, and Brexit was just the first step.
The question now is whether we accept Donald Trump style politics, and rhetoric, on issues like abortion, gay rights and race. That is, after all, the project of the sophisticated rightwing network of which Turning Point UK is just one part. Far from isolated, the attacks on Rebecca Long-Bailey have even been amplified by many in the political centre, and even some supporting the Keir Starmer campaign. What they must understand, and quickly, is that he will be next.
Regulations and the law must adapt, but so too must those who care about equality and social justice. The field of political campaigns and persuasion is changing, as is the technology underpinning it. But rather than just being poorly prepared, much of the institutional left is unaware it is even happening. 
Aaron Bastani is a Novara Media contributing editor and co-founder.