Beyond Bernie: Down-Ballot Races to Watch in August and September
by Freddie Stuart and Aaron White
4 August 2020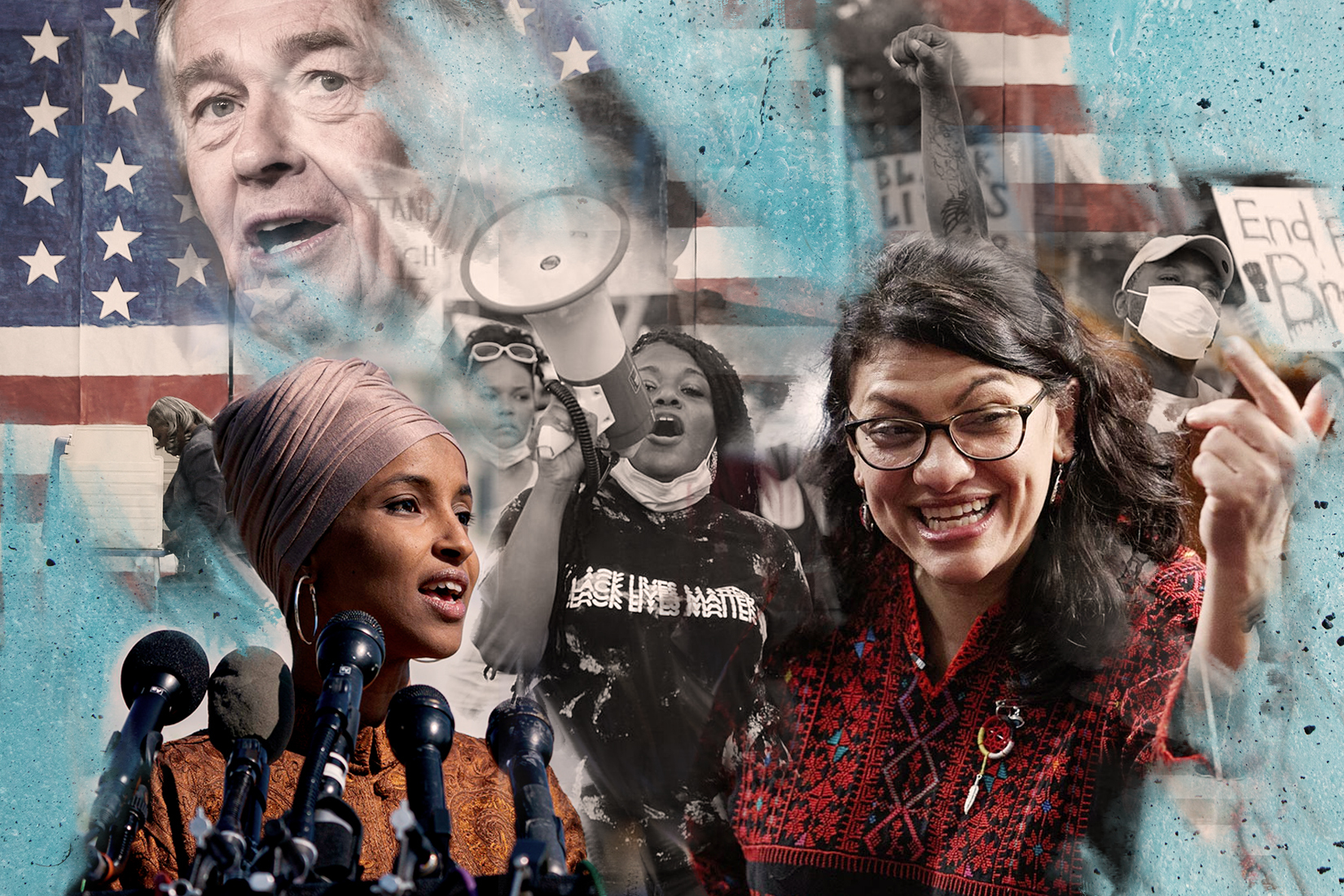 After a turbulent year in US politics, the progressive movement enters the final months of primary season with high-hopes of adding to its tally of down-ballot victories.
It is now well over a month since the New York State elections and the full results are finally in. 
In an unprecedented sweep of NYC, all five candidates endorsed by the Democratic Socialists of America (DSA) won their races. With trailblazer Julia Salazar winning the nomination for a second term to the State Senate, fellow DSA organiser and public educator Jabari Brisport is on his way to join her in Albany. 
🌹 Five @nycDSA-endorsed candidates.

🌹 Five campaigns for NY state legislature.

🌹 Five victories.

Congratulations to Marcela, Jabari, Phara, Zohran and Julia! pic.twitter.com/8gfISJxnEW

— NYC-DSA 🌹#DefundNYPD (@nycDSA) July 23, 2020
In elections to the state's lower chamber (the Assembly), socialist candidates Marcela Mitaynes, Phara Souffrant Forrest and Zohran Mamdani all triumphed in tightly contested races. 
Victory in these local elections compounds the headline wins in congressional districts NY-16 and NY-17, where progressive candidates Jamaal Bowman and Mondaire Jones outperformed expectations to dispatch their centrist opponents with relative ease. 
These results, combined with a reelection landslide for Alexandria Ocasio-Cortez (AOC), mean that the seeds of New York's political revolution, which were sown in 2018, are now well and truly in bloom. 
Elsewhere, Charles Booker narrowly lost out to establishment-backed Amy McGrath in his bid to be the Democratic nominee for Senate in Kentucky and Dr Arati Kreibich was amongst a host of insurgents to fall short in New Jersey against a state-specific ballot alignment system that ensures maximum support for incumbents.
In Texas, the progressive wave saw hard-fought victories in congressional races, with both Candace Valenzuela and Mike Siegel declaring victory after strong early leads against moderate opponents in Republican-held suburban districts.
They join Kara Eastman in Omaha, Nebraska, and Dana Balter in Syracuse, New York, as progressives who have won contested primaries in GOP seats this year. That's as many progressive wins against centrist opponents in Republican districts as there were in the entirety of 2018.
Following these high-profile successes, the upcoming primaries in August and September provide the final opportunity for the progressive movement to shift the Democratic Party to the left ahead of a momentous general election on November 3.
August 4.
The first major round of primaries this month take place today  – August 4 – with elections being held in Arizona, Kansas, Michigan, Missouri and Washington.
Rashida Tlaib, one of the members of the so-called squad, is up for reelection in Michigan's 13th congressional district. Two years ago, Tlaib won the open primary by one percentage point and this time around is set to face Detroit City Council president Brenda Jones in a rematch of their close 2018 showdown. With a high national profile and Jones' relatively weak fundraising, Tlaib should be in decent standing to retain her Detroit seat. 
But the most high profile race of the day will be that of Cori Bush in Missouri's first congressional district. 
Bush is primarying the long-serving incumbent Lacy Clay. With the backing of Bernie Sanders, Sunrise, Justice Democrats and Jamaal Bowman, this race marks the next contest in the Democratic proxy war of progressives versus the corporate establishment.
A Black Lives Matter activist and nurse who rose to prominence during the Ferguson uprising in 2014, Bush uniquely meets the current zeitgeist. 
Bush first challenged Clay in 2018, losing by a 20 point margin. This time around, however, she has raised her profile significantly. In 2019, she appeared alongside Alexandria Ocasio-Cortez in the Netflix documentary Knock Down the House, which highlighted the daunting experience of progressive working-class women running for congressional office. 
Bush's opponent, Lacy Clay, is the heir to a St Louis political dynasty. His father, Bill Clay, served in Congress from 1969 until his retirement in 2000, when the seat was passed down to his son Lacy. 
Clay has been a reliable Wall Street ally throughout his tenure. In the midst of the Great Recession, he notably used his leadership position on the House Financial Services Committee to advocate against a proposed fiduciary rule to prevent predatory lending guidance from financial advisors. Rewarding this fidelity to corporate America, nearly every major Wall Street firm is contributing to Clay's re-election campaign.  
With recent fundraising drives from all corners of the progressive movement – including Bernie Sanders, Bush has the opportunity to send another summer shockwave through the Democratic establishment in tonight's Missouri primary. 
Have you seen our latest campaign video? Nurses, firefighters, grocery store workers, and local elected leaders are all on Team Beth! Watch here: ⤵️ pic.twitter.com/GOVNhVcYZQ

— Beth Doglio (@BethDoglio) July 9, 2020

Another race to keep an eye on is that of Beth Doglio in Washington's open 10th congressional seat. Washington has a non-blanket primary system, meaning the top two candidates, irrespective of party, will face off in the November general election. 
A state representative and long-time environmental activist, Doglio supports the central tenants of the Bernie agenda such as Medicare-for-All and a Green New Deal. She is seeking to shift the seat to the left, as it is currently represented by the retiring incumbent Denny Heck – a member of the 'third way' New Democrat Coalition. 
Progressive strategists view this seat in a similar manner to that of Mondaire Jones, who ran as the clear left choice in an affluent suburban New York district. Like Jones' bid, the Congressional Progressive Caucus is spending big to support Doglio with over $140,000 in ads.  
Doglio has consolidated progressive support with the backing of Bernie Sanders, Elizabeth Warren and fellow Washingtonian Pramila Jayapal – and has worked to contrast herself as the one true left voice in a crowded primary field.  
August 11. 
A week later and all the attention is on the reelection of 'squad' member Ilhan Omar. Like Rashida Tlaib, Omar is set to fight off a challenger from the right of the Democratic party.
Having spent her first two years in the House of Representatives pushing for a raised federal minimum wage, Medicare-for-All, student loan forgiveness and the abolition of Immigration and Customs Enforcement (ICE), Omar now returns to a unique electorate in Minnesota's fifth congressional district. 
Encompassing the city of Minneapolis, the scene of George Floyd's murder by police at the end of May, Omar's seat is significantly more progressive than many of her colleagues. With a local city council that is planning to abolish the Minneapolis Police Department, Omar's brand for fiery left politics and outspoken calls for racial justice aligns well with the local electorate. 
Nevertheless, this is not a race to be complacent about. Antone Melton-Meaux, Omar's opponent, has raised an absurd amount to fund his challenge. With nearly $4m collected in total, including contributions from reputable state officials, even the most established politicians would be uneasy. And when taking into account that Omar, like AOC, has had over a million dollars in GOP Super PAC funds lined up against her, it will come as somewhat of a relief to progressives if Omar safely accepts her renomination on August 11. 
August 18.
Two other congressional races to keep an eye on are taking place on August 18. 
In Florida's 23rd congressional district, outsider Jen Perelman is running a campaign somewhere in the vast expanse to the left of current Democratic incumbent Debbie Wasserman-Schultz. 
Wasserman-Schultz has an infamous record in Congress. In 2016, she was forced to resign from her post as the head of the Democratic National Committee, after WikiLeaks released emails that showed her and other DNC staff members,colluding against Sanders' presidential campaign and in favour of Clinton. 
Four years later, Wasserman-Schultz is still in Congress. The chairwoman of the House Appropriations Subcommittee on Military Construction, and the second-largest Democratic House recipient of Police PAC funds, she is also assigned to the House Appropriations Subcommittee on Energy and Water Development and accepts major donations from the Big Sugar industry – one of Florida's largest polluters. Whilst resisting commitment to Medicare-for-All, Wasserman-Schultz takes millions of dollars in campaign contributions from the private healthcare industry.
Despite her egregious record, it does not appear that Perelman's campaign has garnered enough attention to put Wasserman-Schultz under any serious threat. Despite receiving endorsements from former presidential candidates Andrew Yang and Marianne Williamson, major progressive backers have thus far shied away from this race.
The results, however, will be interesting to watch. If Perelmen can close the gap from the 13 point margin seen four years ago, it could signal that Wasserman-Schultz's time as a big-money puppet in Washington may soon be coming to an end. 
September 1.
September 1 is primary day in key races across the state of Massachusetts. Amongst those running for reelection is Ayanna Pressley, a member of the 'squad' and a champion of the progressive agenda in the House of Representatives. 
Given Pressley's all but certain reelection, progressives in the state have turned their political attention to the race of incumbent Senator Ed Markey.  
Sen. Ed Markey is this 🤏🏽 close to dropping a Green New Deal streetwear line during quarantine https://t.co/CB820ZWN9k

— Alexandria Ocasio-Cortez (@AOC) April 16, 2020
Markey is facing a competitive primary challenge from Joe Kennedy (III), a current House Representative and the grandnephew of President John F Kennedy. 
Although a more moderate leftist, Markey has often proved an important ally in championing progressive causes in Congress across his first six-year term. Where AOC introduced the Green New Deal resolution to the House of Representatives in February 2019, Ed Markey led the same resolution in the Senate.  
Kennedy is a comparatively young opponent with a more moderate record, seeking to flip this Senate seat away from its progressive incumbent. In a dynamic that is in many ways the inversion of Ocasio-Cortez's 2018 success, Kennedy is being backed and funded by established resources including none other than Joe Crowley, himself a former House Representative and victim of AOC's win in the Bronx and Queens. 
This is a race that progressives all over the country are beginning to mobilise behind, with former Warren and Sanders partisans uniting to form a guard around Markey's seat. Indivisible, the Sunrise Movement and Planned Parenthood have all endorsed Markey's bid, and recent local support from the Massachusetts Teachers Association and the Boston Globe will surely be a boost to his reelection prospects. 
The most recent polling – from early May – indicates that Kennedy is leading by anywhere between two and 16 points, but with creative new adverts like the one below coming in from a base of predominantly young supporters, it's sure to be a close race come September 1. 
— Ed Markey (@EdMarkey) July 28, 2020
Another key primary to watch in Massachusetts is that of Alex Morse. 
At the age of 22, Morse was elected as the youngest mayor of the small city Holyoke and is currently serving his fourth term. Now, with the full weight of Justice Democrats behind him, Morse is seeking to unseat long-serving Democratic incumbent Rep. Richard Neal in the race for Massachusetts 1st congressional district. 
It's official: I'm running for Congress in #MA01. We deserve a leader who'll put our community first—*not* the DC status quo.

Join the team: https://t.co/wINfpNdHkp
Chip in: https://t.co/kpZfCUrbRq pic.twitter.com/3NToNCuugy

— Alex Morse (@AlexBMorse) July 22, 2019
Neal is the chairman of the House Ways and Means Committee and one of the most powerful Democrats in DC politics. As such, he represents an immediate obstacle to the execution of any significant progressive agenda. 
The only one of the nine congressional Democrats in Massachusetts who has refused to sign on to the Green New Deal, Neal was also the chief negotiator and architect of the recent United States Mexico and Canada Trade Agreement (USMCA), which has been universally condemned by environmental activists and organizations because of its failure to impose any significant cap on carbon emissions (or even mention climate change). 
In contrast, Morse's vocal backing of a transformative investment-led Green New Deal agenda has seen the Sunrise Movement endorse his campaign.
Beyond his climate focus and advocating for a single-payer Medicare-for-All healthcare system, Morse is also seeking to push the political discourse on less familiar progressive policies such as the decriminalisation of sex work. 
This primary on September 1 may provide an important indicator of voting patterns ahead of the coming general election. It is a district at the intersection of key electoral constituencies; a significant Puerto Rican diaspora who settled in Massachusetts after the devastation caused by Hurricane Maria, a post-industrial area and relatively rural in its make-up.
The outcome of this race, and its vote breakdown, may give key clues as we approach the presidential election on November 3. 
A final race to keep tabs on is that of Ihssane Leckey in Massachusetts fourth congressional district; the seat currently held by Joe Kennedy III. A democratic socialist born in Morocco, Leckey has the support of Ilhan Omar, Boston DSA and Brand New Congress. If she is victorious in this packed primary field, Leckey would be another powerful left immigrant voice in DC's halls of power. 
With an epoch-defining general election set to take place in less than 100 days, these final primaries of the campaign season mark the last window for the left to prove the electoral durability of the progressive agenda in 2020.
Freddie Stuart is the producer of the ourVoices podcast at openDemocracy. Aaron White is the North America Editor of the ourEconomy section at openDemocracy. He is based in New York. Their recent work covering the US elections can be found here. 
This article is the fourth instalment in Beyond Bernie, a series tracking the US 2020 elections. 
Part one is here: Beyond Bernie: Amidst National Unrest, Can Progressive Candidates Salvage the Democratic Party?
Part two is here: Beyond Bernie: Down-Ballot Races to Watch in June and July
Part three is here: Beyond Bernie: Is Jamaal Bowman the Next AOC?