In Suspending Jeremy Corbyn, Did the Labour Leadership Ignore the EHRC's Key Recommendation?
12 November 2020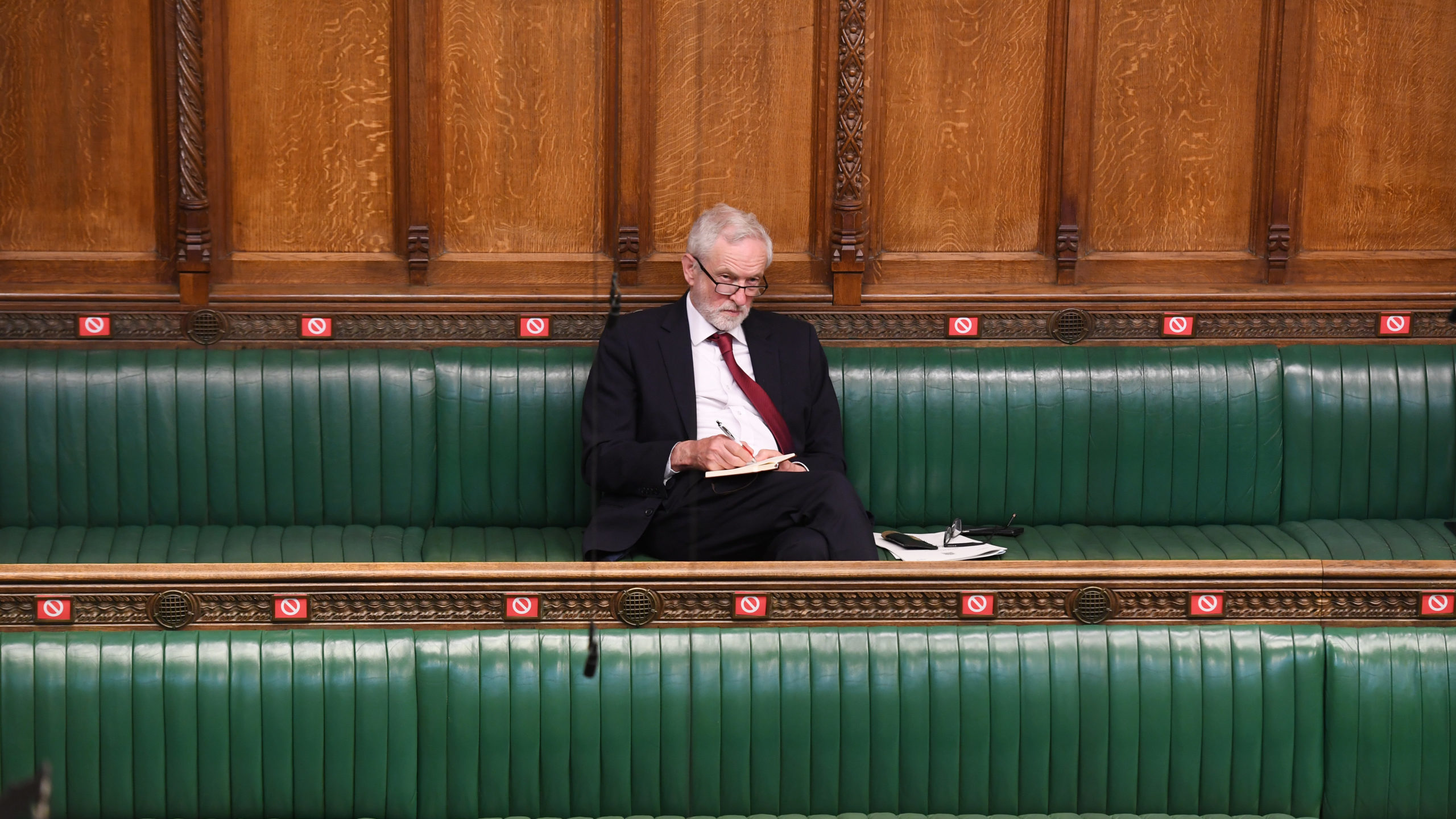 During Keir Starmer's bid to become leader of the Labour party, his campaign spent an estimated quarter of a million pounds on a single mail-out. The A3 poster, sent to hundreds of thousands of members, listed three core values the candidate claimed to embody: integrity, authority and unity.
The intended message was clear: a Starmer leadership would offer relative continuity with Jeremy Corbyn on policy, while the man himself would lean into his establishment credentials to nullify the kind of attacks that ultimately destroyed his predecessor.
Yet when the Equality and Human Rights Commission (EHRC) published its report on antisemitism in Labour at the end of last month, Starmer was quick to condemn Corbyn, in a move many saw as reneging on promises he made during that campaign. The party suspended the Islington North MP for a statement in which he said he didn't agree with everything in the report, and that the issue of antisemitism under his leadership had been exaggerated in the media. Less widely mentioned is how he simultaneously expressed his hope that all of the report's recommendations would be implemented. Labour chose to brief journalists on the suspension before informing Corbyn himself.
Initially, Starmer sought to distance himself from the decision, which was briefed to journalists as having come from general secretary, David Evans, but the party leader later appeared to claim credit for the move in a radio interview.
Keir Starmer took the decision to suspend Jeremy Corbyn. Labour claimed the General Secretary did in a flawed attempt to evade the charge of political interference—the very thing the EHRC condemned. But Keir couldn't resist boasting about his "difficult decision" on the radio. pic.twitter.com/fhkHr40p1u

— Alex Nunns (@alexnunns) November 1, 2020
A debate ensued over both the wisdom of the former leader's comments and the party's decision to punish him so harshly. But far less time has been spent considering something far more important: how the manner of Corbyn's suspension starkly deviated from recommendations made in the report. Far from an abstract point of process, this is a salient issue that could have profound implications for both Starmer and Evans.
Within minutes of promising to implement the EHRC's recommendations, Labour appears to have done the precise opposite, bypassing the usual systems to instead suspend Corbyn via the general secretary, in a move that, by the terms laid out in the report, could amount to political interference in the complaints process. Furthermore, sources say that the manner in which Corbyn was suspended was so haphazard as to represent a major step backwards from recent improvements in the party's processes – progress noted in the EHRC report.
'Unlawful indirect discrimination'.
One of the report's key recommendations was for Labour to adopt a fully independent complaints process. While Starmer has repeatedly made it clear in media appearances that he is in favour of this, Labour sources say nobody at the top of the party really knows what it entails. Furthermore, the adoption of such a process would render Labour unique among Britain's political parties – nowhere else has outsourced the function of determining who can, and can't, be a member.
It is also strange given that other parts of the report stress how the party's own complaints department, the governance and legal unit (GLU), has improved since 2018 (largely during Corbyn's leadership, under then general secretary Jennie Formby).
But what the report is getting at is clear: political interference by the leadership in antisemitism complaints is problematic – so problematic that it amounts to 'unlawful indirect discrimination' against the party's Jewish members.
This is made clear in Annex 1 of the report (p.102), as the EHRC makes an 'unlawful act notice' against Labour:
"The Labour party's practice or policy of Political Interference[…]in antisemitism complaints amounted to unlawful indirect discrimination against its Jewish members, contrary to section 101(2)(a) and / or (d) of the Equality Act 2010."
It adds:
"As explained in the Report, the Labour party operated two separate relevant unlawful practices or policies: first, the overall practice or policy operating from March 2016 to May 2019 in which LOTO [the office of the leader of the opposition] or the leadership was involved in 'politically sensitive' complaints; and secondly, the specific and formal practice or policy of referring all antisemitism complaints to LOTO in March–April 2018."
Just minutes after accepting this finding in a press conference at party HQ, Starmer was reportedly 'consulted' on the decision to suspend Corbyn for antisemitism – which was made not by the disputes team, as it should have been, but by Evans, reportedly with additional input from Alexander Barros-Curtis, the party's executive director for legal affairs.
Appearing the following day on BBC Radio 4, Starmer proceeded to highlight how one of the report's major findings was that the Leader's office should not interfere in disciplinary cases. Yet moments later, in reference to Corbyn's case, he added: "I'm not going to shy away from difficult decisions. That's what leadership is, we made a very difficult decision yesterday".
It is clear the decision to suspend Jeremy Corbyn didn't adhere to the normal process and, in addition to the general secretary, the party leader appears to have been involved. Otherwise who constitutes this 'we'? In any case the general secretary is, according to the EHRC, a 'political organ'. As the section headed "Our findings on political interference in antisemitism complaint handling" makes clear:
"Whatever the exact meaning of the phrase 'political oversight' in the 13 April 2018 email referred to above, the evidence shows that Thomas Gardiner (then head of GLU) carried out functions within the complaint handling process and reported on that process to the Party's political organs (the GSO, Party Chair and LOTO)."
'We are back to amateur hour'.
Indeed the process of suspending Corbyn was so amateurish that, according to several Labour sources, the former MP's status on the party's database, membersnet, was left unchanged until 7pm the day after he was suspended. As one party staffer put it: "Things have been reversed – we are back to amateur hour and how things worked under McNicol".
Further emblematic of the slide in standards and the active politicisation of the party's disciplinary processes relating to antisemitism is how Corbyn's letter of suspension – reportedly emailed to his personal account some hours after journalists were told he had been suspended – did not come from the Labour 'disputes' team, as it should have, but from the general secretary's office. Again, this would appear the dictionary definition of political interference by the EHRC's own logic.
A key issue for sources within the party is that Evans, and Barros-Curtis, are believed to have no real knowledge of the party rulebook or training in disputes.
When the party's national executive committee (NEC) pressed Evans on the matter the day following Corbyn's suspension he refused to divulge what rule the former leader had actually broken. "The fact is Evans didn't trust disputes to suspend Corbyn," one source told me. "The point was to get him out and work out any actual rule being broken later."
Sources familiar with the party's disciplinary apparatus told me they have concerns about the handling of complaints that extend beyond the Corbyn case. Where Formby is recognised as having made substantial improvements, many feel these are now being reversed. A party insider told me: "The leadership is boasting about more people being expelled and suspended but anyone familiar with this knows it has nothing to do with them, it's because Jennie Formby simplified the process by mid-2019 and it's now showing progress – meanwhile she gets no credit." The source added: "They aren't serious about this [the professional handling of complaints], journalists know things before staff members do."
One rule for Corbyn, another for Starmer.
The report's recommendations on political interference can, and probably should, be considered in more detail. Labour sources say it is not uncommon for the party leadership to get involved in serious complaints – there's precedent for this that extends far beyond Corbyn's leadership. Furthermore, when Corbyn's office got involved in antisemitism complaints it was often in order to expedite suspensions, sometimes at the behest of other high-ranking Labour figures.
But the problem here is a glaring inconsistency between Starmer's assertions that the conclusions of the report are beyond question and his involvement in the decision to suspend Corbyn. It is in the fact that one rule seems to apply to Corbyn, while another applies to Starmer – and apparently to other MPs too.
As late as February 2019, the deputy leader of the party at the time, Tom Watson, told the BBC that Corbyn would have the support of the party's NEC "if he says these people [antisemitic members] need to be thrown out. And that's the only solution now". By the EHRC's reasoning, this sentence – from an outspoken critic of the former Labour leader – appears to be encouraging him to act unlawfully. For many, that may seem absurd, but if Corbyn is to be held to account for 'political interference' in the complaints process, then surely everyone who urged him to get involved should be investigated too.
Furthermore, if Starmer and Evans are serious about accepting the entirety of the report, that must mean admitting they have acted improperly – and potentially unlawfully. If Corbyn's office being consulted on the suspension of Ken Livingstone (in order to expedite it) is deemed political interference then how is Evans consulting Starmer on Corbyn's suspension any different?
If anything Starmer and the general secretary appear guilty of a more serious instance of interference here, which chimes with a broader politicisation of the party's disciplinary processes since Evans took over.
The involvement of Barros-Curtis, once described by Starmer's own team as his 'management enforcer', is concerning. As I wrote earlier this year, Barros-Curtis worked on Starmer's leadership campaign. His involvement in Corbyn's suspension speaks to a more general problem regarding transparency, and his function – effectively as a bridge between GLU and the leader's office – appears to consist in the politicisation of the party's disciplinary process, something the leadership claims to so strongly oppose.
On top of all of this, Starmer himself appears to have repeatedly prejudiced any potential investigation. Speaking on BBC Breakfast he mischaracterised what Corbyn had said in response to the report's findings, seeming to imply his predecessor had denied there was a problem with antisemitism in Labour at all. Not only is that not the case – one need only read Corbyn's actual statement for evidence of that – but there is certainly an argument to say that influencing the public in this way is in itself a form of political interference.
Meantime, Friday morning, Starmer made a further breach. Instead of not commenting on Jeremy's specific case, he mischaracterised what Jeremy said and branded it "denial." That could itself constitute political interference. It could prejudice an investigation. pic.twitter.com/ybDwdZiPAr

— Alex Nunns (@alexnunns) November 1, 2020
While the leader is allowed a free hand to comment on the matter, the rest of the party is not, with regional executive and Labour-union link committees, as well as ordinary party members, prohibited from even passing motions in solidarity with a man who has been a party MP for 37 years.
Also raised on today's Unison-Labour Link committee was why Unison hadn't joined likes of Unite & CWU in signing letter in support of Jeremy Corbyn. I'm told the chair refused to discuss it.

The labour movement, & party, have to improve on transparency and accountability.

— Aaron Bastani (@AaronBastani) November 5, 2020
For the past fortnight Starmer, and the circle around him, have repeatedly stated they agree with the EHRC report in its entirety. If they really mean that, they must examine their own actions, step up and admit they acted against its findings – and all within minutes of its publication.
Aaron Bastani is a Novara Media contributing editor and co-founder.