Is Coronavirus Incubating a New Student Movement?
26 November 2020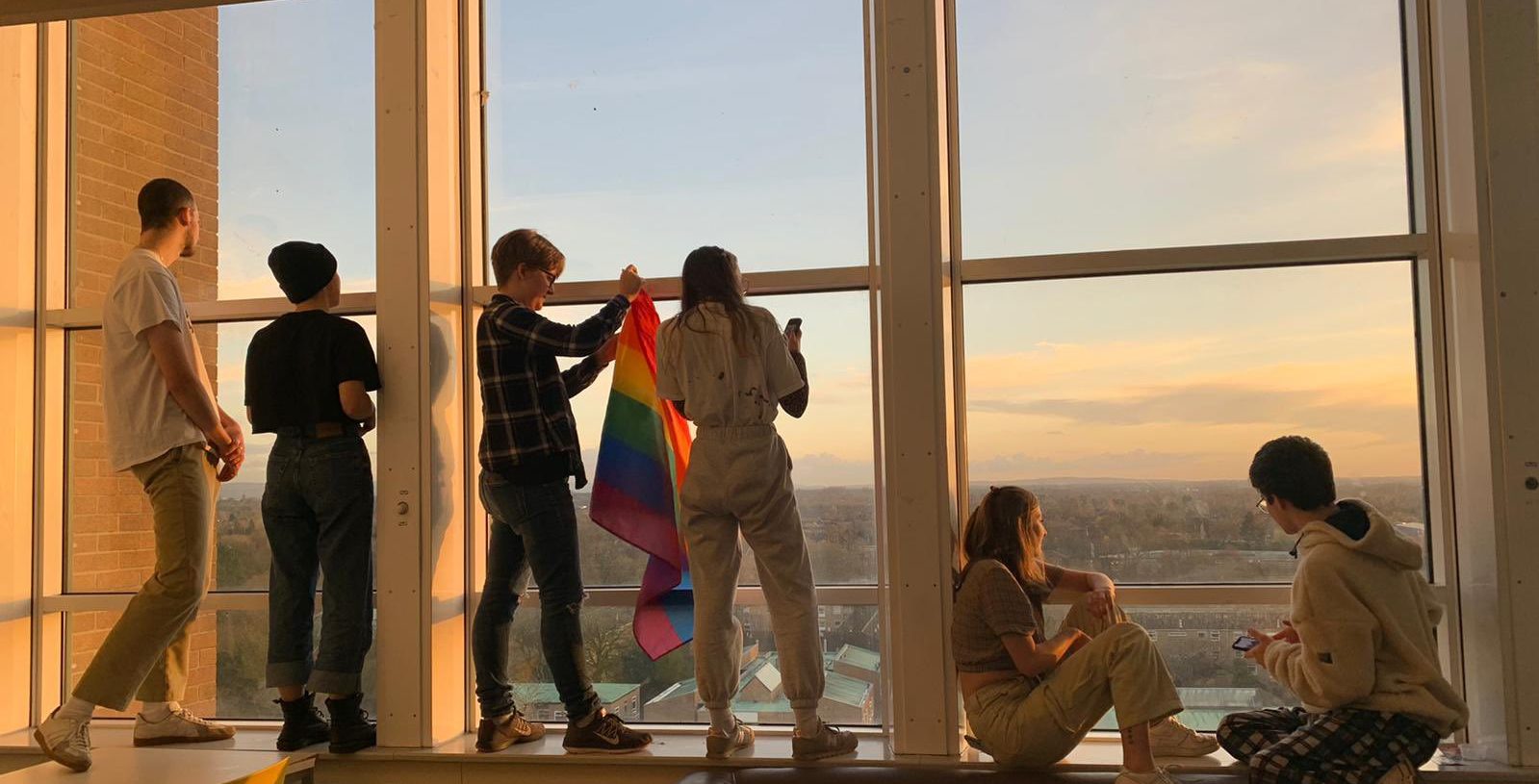 Ben McGowan
"If people are waiting for my hot takes on Millbank," tweeted National Union of Students (NUS) president Larissa Kennedy earlier this month, referring to a major protest during the 2010 student movement, "I'll remind ppl I was 12." 
A decade on from mass protests against rising tuition fees, a new generation of students told Novara Media that most of them don't know much about what happened in 2010. Since then, the accelerated marketisation of education has firmly positioned undergraduates – now paying £9,250 a year – as consumers, and the student movement that took to the streets ten years ago has all but dissolved. 
if ppl are waiting for my hot takes on millbank, I'll remind ppl I was 12🥴

but I will say-
the legacy of the foundations laid for grassroots organising is echoed in the student rent strikes + direct action today

the vision for free, democratised education still burns strong💥

— Larissa Kennedy #StudentsDeserveBetter (@Larissa_Ken) November 10, 2020
"Today there are movements of students but little sign of a student movement," said Matt Myers, author of Student Revolt. Myers attributes this to "the hyper-marketisation of education" and the "increasingly pervasive market logic governing all aspects of the student experience," from teaching to housing.
But in recent months, a wave of student protests – including rent strikes, direct actions and occupations – suggest the pandemic could be radicalising a new generation, either reigniting a dormant movement or creating a new one. So far, it seems, with startling success: on Thursday, students in Manchester celebrated an impressive victory, ending a two-week occupation of a university building after winning a 30% rent reduction.
Owens Park Tower is officially de-occupied after today's victory 💥@OfficialUoM this ain't over yet though. January Rentstrike is still going ahead, today proved the strength of solidarity can overcome greed and we'll be fighting even harder for a victory in semester 2. pic.twitter.com/mZ1PUE7h12

— UoM Rent strike (@rentstrikeUoM) November 25, 2020
Starting university in the midst of a pandemic has been disappointing, distressing and disillusioning for many students. The circumstances and conditions that students have experienced so far this academic year are unprecedented, and many have been left feeling duped by universities into moving on to campus. 
Izzy Smitheman, a first-year student at the University of Manchester, said she felt the institution had "lied to us and told us it would be safe so they could take our money for rent and take our money for tuition".
Students across the country have been forced to isolate in university accommodation which is often substandard, with few facilities. Studying online, they have only been able to socialise with their flatmates – if at all. There have been frequent Covid-19 outbreaks and many universities have failed to provide sufficient support. Students report being provided with inadequate – often inedible – food supplies while self-isolating and offered little, if any, mental health support. Some universities have hired security guards to enforce lockdowns, whilst failing to communicate directly with students about what is going on. In Manchester, the university management literally fenced students into their halls.
THIS IS NOT OKAY-WE PAY TO LIVE HERE YET WE'RE BEING TERRORISED BY BARRICADES OF POLICE ISSUING FINES TO SUPPRESS SIGNS OF PROTEST. ABUSE OF POWER AND MONEY TO DISTRACT FROM THE FACT THEY CARE MORE ABOUT PROFIT AND REPUTATION THAN OUR WELLBEING! @rentstrikeUoM @OfficialUoM #ACAB pic.twitter.com/eoa4wUT6J9

— Izzy Smitheman (@ISmitheman) November 13, 2020
Lauren Corelli, student union president at Goldsmiths in London, described the university's treatment of students during the pandemic as "diabolical". Student halls are often "public health disasters, that you would never see senior management living in," she said. Some students haven't been able to get food while isolating, she said, and many reported deteriorating mental health. "We've had some quite shocking calls from people who are very much at the lowest ebb," she told Novara Media.
Finn Kitson, a first-year student at Manchester University, was found dead last month after experiencing severe anxiety while in isolation. Even after such a tragedy, Smitheman said, she feels the university failed to properly safeguard students' wellbeing. In one case, she said, a student was housed alone in an otherwise uninhabited tower block, with no hot water. "It's just disgusting," she said, "the idea that the university – during this mental health crisis – would house a student, isolated, in an entire building… it's shocking".
Living through the pandemic alone and unsupported by their universities, has forced young people to mature, Smitheman said: "Having to deal with a global pandemic [has] made people grow up a lot faster."
Many students have also experienced a political awakening of sorts, she added. "I think seeing the government's incompetence at every step of the way [during the pandemic] broke the trust that a lot of young people have in their country and in their government."
Last summer's grades scandal, she continued, ignited the anger of many young people. Not only did the situation demonstrate that the state "sees us as numbers on a page," she said, "but it showed that when you protest, fight back, you can actually make changes".
Now, Smithesman said, those same young people are angry and hurt at having been tricked into travelling to campuses, often far from their homes, purely because universities want them to pay accommodation fees.
At the same time, coronavirus has also forced students to become more organised. At Goldsmiths, Corelli said, the university's inaction over Covid necessitated a "community-driven response" to meeting people's needs during the pandemic. "A lot of the time people have felt quite lost, angry, exhausted – and they've had to rally around each other for answers," she said.
Anger, combined with a newfound ability to organise, has led naturally to resistance on several campuses. In Manchester, around 300 students started a rent strike in October, demanding a rent reduction of 40% for the remainder of the academic year, no-penalty early release from tenancy contracts for this year and next, and better support for students in halls of residence.
The university met this resistance by inviting police on campus, hiring racist security guards, and attempting to fence students inside their halls, but far from crushing dissent, Smithesman said, this disproportionate and hostile response further radicalised protesters, sending "the message that it's us against them, that they want us for profit, that they don't actually care".
We were lied to and brought onto unsafe campuses, forced to pay insane rent for facilities we can't even access. We've tried protests, we've withheld our rent and we're being ignored! So we're occupying the tower until they respond to us! #uomrentstrike #occupytoweruom pic.twitter.com/CJ1SIwMhrb

— Izzy Smitheman (@ISmitheman) November 12, 2020
In early November, students occupied a tower on campus and began hosting open online meetings and workshops for other students across the country –  including a webinar on the history of student revolt. They created a TikTok account, which now has almost 18,000 followers and 173,000 likes, to share both educational political content and moments of collective joy, from building duvet forts to getting matching occupation tattoos.
This week, Manchester University suddenly changed tack and conceded, offering students a 30% rent cut. Occupiers left the building victorious on Thursday.
Meanwhile, at the University of Bristol, student organisers have built the biggest rent strike in recent history, having signed up over 1,300 people to demand no repercussions, no penalty-contract releases, a 30% rent reduction, outdoor access, dietary-appropriate food boxes, regular mental health check-ins, and transparency regarding security staff's role and powers.
Saranya Thambirajah, a first-year student who helped organise the strike, said the high take-up could be seen as "evidence of the fact that a lot of students are becoming politicised through [the pandemic and the way universities have handled it] and want to stand up for their rights". She added: "We're in this situation where students have been incredibly pushed to the side and scapegoated at every turn, it's a really good opportunity to get into activism." 
a decade on, one thing that's more than a little sad is how far the old slogans (education for the masses) have been replaced by the question of value for money (this isn't *worth* 9k) even among supposed radicals

— Amelia Horgan (@joan0fsnark) November 10, 2020
But Nazifa Zaman – an ethnic minorities officer at the University of Warwick students' union and chair of the university's Labour society – said organising students at her university has been an uphill struggle. 
The current resurgence of student action nationwide is going against the tide of a market logic which has, until recently, all but decimated the student movement. Zaman said she had felt the force of this market logic – whereby students see themselves as consumers waiting to enter the job market – in her attempts to build a socialist resistance at Warwick. 
"The way university is sold to a lot of students, and especially working-class students, is that it's a necessary step to further your career," she said, "and that sort of internalises the market logic, so people don't really bat an eyelid or see the historic significance of paying tuition fees". She has also found "Zoom fatigue" to be a barrier to organising during the pandemic.  
Corelli, too, sees marketisation as an issue when organising. It has "seeped into people's consciousness," she said. Marketisation has become "normalised" since 2010, so students have to "unpick it and understand it, before they can fight against it". Otherwise, students tend to focus on "value for money and consumer rights," as opposed to demanding systemic change. 
Myers agreed. "Students are today more likely to [try to] change their universities' policies by appealing to their structural position as consumers [rather] than [by making] appeals to the public and [focusing on the] social function of their education for society as a whole."
The tide, however, appears to be turning. "It feels like there's this energy around the country," said Thambirajah. 
At Manchester, occupiers have "had messages flooding in from […] students from York, Bristol, Lancaster, Nottingham, Sheffield – saying they really admire what we're doing and they're sending solidarity and support," Smithesman said, adding that she believes this occupation could be the first of many. 
Many politicised students today began their journeys in youth climate strikes, supporting the Labour party in elections, or, more recently, by joining Black Lives Matter protests. Though the 'student movement' is not what it was in 2010, students and young people today are beginning to mobilise powerfully around systemic issues. First the grades scandal and now the pandemic appear to be renewing solidarity and catalysing action.
Many students today also work in the service, retail and care industries – the sectors most affected by the pandemic – whilst paying high rent for poor quality accommodation, making them more acutely aware of injustices beyond university campuses.  
"The interlinked climate, economic, and political crises which have emerged over the past ten years have further undermined the discreteness of the student experience from waged work and rent-seeking," said Myers – young people are organising "as human beings", not just as students.
And while most current students know too little about the student movement of 2010 to draw detailed parallels, the example it provided has not been entirely forgotten. 
NUS president Kennedy concluded her tweet about Millbank: "The legacy of the foundations laid for grassroots organising is echoed in the student rent strikes + direct action today. 
"The vision for free, democratised education still burns strong."
Sophie K Rosa is a freelance journalist. In addition to Novara Media she writes for the Guardian, VICE, Open Democracy, CNN, Al Jazeera and Buzzfeed.