The Home Office Doesn't Care Who It Deports – the Jamaica Flight Proved This
3 December 2020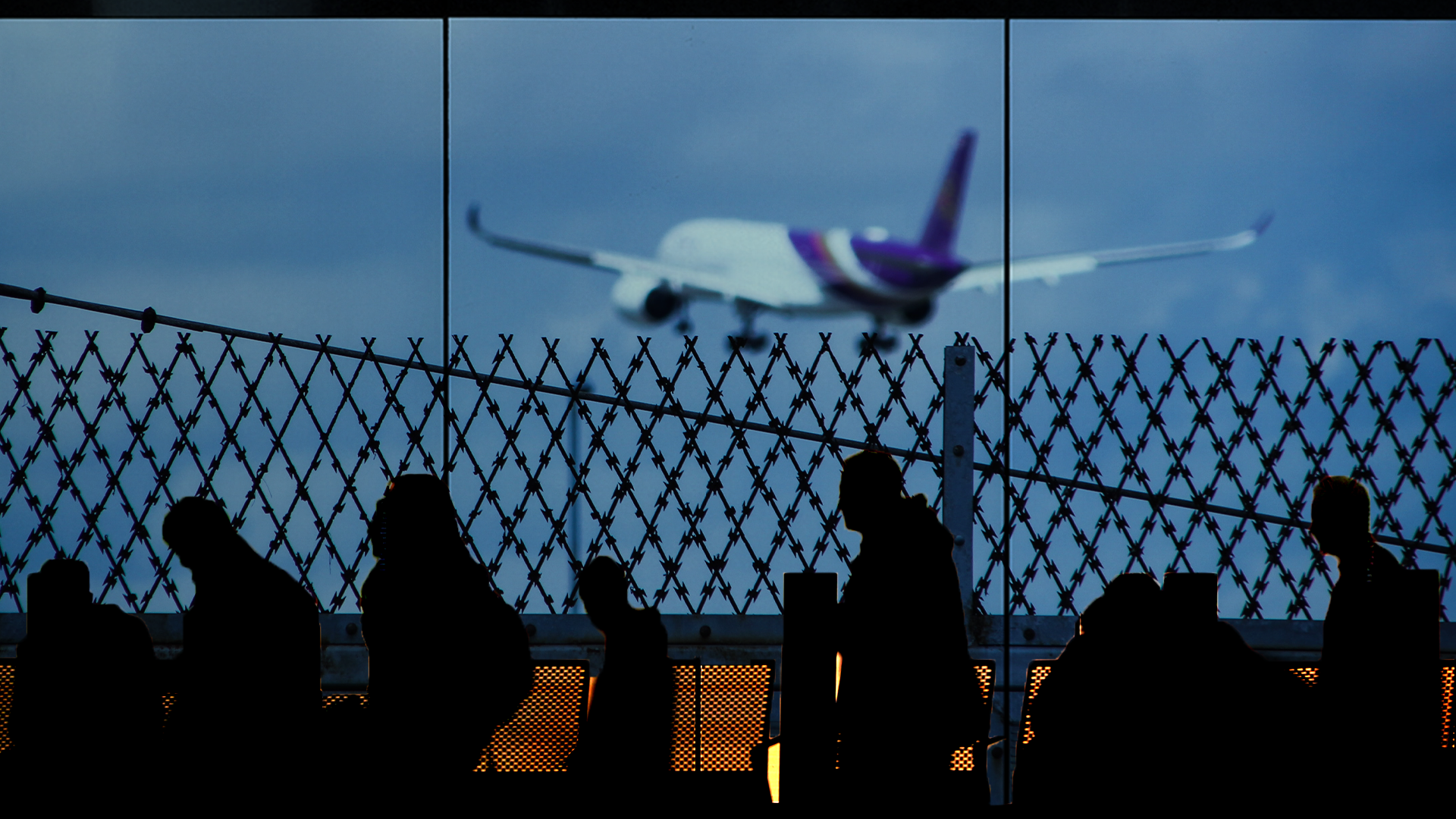 Composite by Bronte Dow
At 2am on 2 December, just two hours after the end of lockdown, a deportation charter flight carrying 13 UK residents left for Jamaica. Families were torn apart. Children lost their parents. People who had built their lives in Britain were taken away from their homes and their communities and sent to a country where they might well not know anyone.
"I love my dad… If he gets sent to Jamaica I might not be able to see him again… If my dad could stay, we could share my birthday and be together," said a widely shared letter from a 10-year-old boy, posted on Twitter by Detention Action. "People are making decisions about my dad. When they grew up they probably had a dad. The decisions they make mean I won't have a dad with me. Please let my dad stay with me." The boy's dad was one of the 13.
Initially, the plane was due to carry 50 passengers. However, 37 of them were kept off the flight at the last minute, thanks to the immense collective work of volunteers, activists and legal teams. Among them were people who arrived in the UK as small children, who the Home Office agreed to keep off the flight in a secret deal with Jamaica, as well as likely victims of trafficking, who found out just hours before the plane took off that they would not be flying.
It speaks volumes about the current immigration system that only an eleventh-hour legal challenge helped prevent wrongful deportations. It's not the first time either. Before the latest deportation flight to Jamaica in February, a last-minute ruling prevented the forced removal of more than 20 people, after it emerged that phone outages in detention stopped them from accessing legal advice. Of the people whose deportations were prevented by the Stansted 15, eleven are still in the UK, and some have been granted the right to indefinite stay. More than half of all appeals against the Home Office's immigration and asylum decisions are successful. But for every person who wins the right to remain, there are countless others who, without access to legal aid, are denied justice.
"It is disappointing that specialist immigration law firms continued to use last-minute tactics to remove a significant number of offenders from this flight," said Home Office and justice minister Chris Philp, parroting Priti Patel's rhetoric. What the minister describes as 'tactics' are simply ensuring people's basic access to justice, and that government decisions are lawful.
By criticising the work of "activist lawyers", the Home Office sends a clear message that it simply is not bothered if the people it deports have a legal right to stay in the UK. It would rather not know if they might be victims of gangs, if they were forced to commit crime, if they have life-threatening health conditions or UK-born children whose welfare could be severely affected if left without a parent. They're black, they're poor, they have a foreign passport and they're easy to demonise in the media – for the Home Office, that's enough to fast-track them out at all costs.
It was this attitude that gave us the Windrush scandal. We've now had seven reports exposing the carelessness – and callousness – of the Home Office, which has over and over again prioritised its political objectives – appearing "tough" on immigration – over the rights and wellbeing of the people it targeted. Only last month, the EHRC found out that hostile environment (now rebranded "compliant environment") policies broke the law and enabled racial discrimination.
As a result, the Home Office will need to launch a review of its hostile environment measures to ensure they comply with equality legislation, especially with regard to race. One immediate demand should be to halt all deportations while this review is underway.
A second (and, indeed, one of the recommendations of the Windrush Lessons Learned review) would be to end all deportations of people who have lived in the UK since they were children. These people are British nationals in every way except for their documents. People like Osime Brown, a young autistic man who arrived in the UK aged 4, who was failed throughout his life by the UK education, social care and criminal justice systems, and is now facing deportation to a country he has no memory of.
However, we also need a more fundamental conversation about the role that deportations play in criminal justice.
On Monday, over 60 MPs and peers wrote to Priti Patel calling for the flight to be cancelled. Her response was unapologetic: deportations are part of a government's duty to keep people safe. "This flight is about criminality, not nationality", the letter read.
But if this is the case, why are we treating foreign-born offenders differently to domestic ones? Why are British citizens who served their time in prison deemed safe to be released into society, while migrants who committed the same offence are not? Why should the latter be punished twice – and with them their families, dependents and loved ones? In the current political climate, these aren't easy questions to raise – but it is vital that we have the courage to do so.
The left cannot keep compromising on immigration or avoiding the topic, while the Tories adopt increasingly aggressive rhetoric, produce increasingly barbaric policies, fall foul of the law, and continue to shift the Overton window rightwards.
It remains one of the proudest moments of my political life to have been part of the Labour Campaign for Free Movement team that passed at Labour Party Conference 2019 a motion to end the hostile environment. We called for the abolition of all detention centres, equal access to the NHS, an end to "no recourse to public funds," and notably for migrants to have the right to vote, a pledge that Keir Starmer committed to in his leadership election. The motion was backed by an overwhelming majority of members and trade union delegates alike.
Our movement stands with migrants – and so should its representatives in parliament. I'm proud of my many colleagues, like Bell Ribeiro-Addy, Clive Lewis and others, who have used their position to speak out against the flight. This is the moment to push for a radical overhaul of the UK's immigration system. We must ensure that Labour stands ready and on the front foot to show leadership, inside and outside parliament, on facing down every rotten part of the hostile environment and structural anti-black racism.
Nadia Whittome is the Labour MP for Nottingham East.