Student Rent Strikers Don't Just Want a Refund – They Want to Smash Capitalism
13 January 2021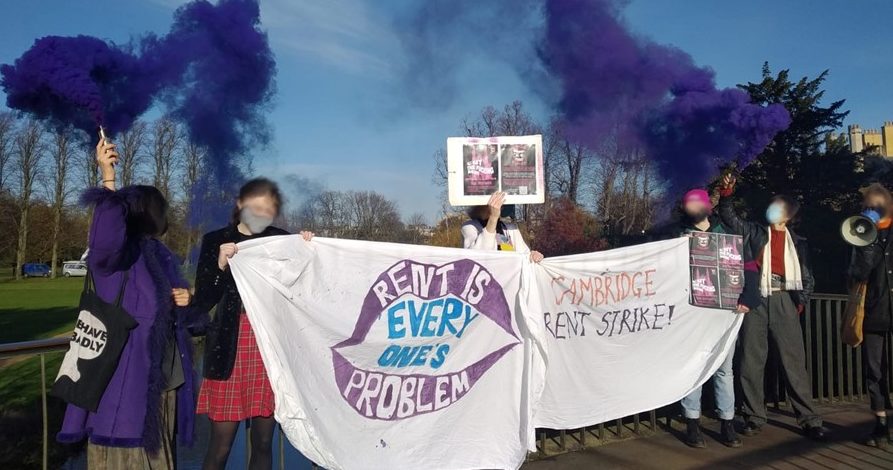 Via Twitter @RentStrikeCam
When universities resumed teaching in September, many institutions encouraged or even demanded that students return in person, despite Covid-19 restrictions making much of student life impossible. While the first and second lockdowns saw students trapped in university accommodation, now, in the third, they are unable to even enter the rooms they've paid to rent. Students realise what is happening – that they are being made cash cows for universities and corporate landlords – and are fighting back by organising Britain's biggest rent strike in almost half a century.
Last term, strikers at the University of Manchester (UoM) staged an occupation and won a 30% rent reduction, worth £12m, on their first term's rent. It is the largest win in UK student rent strike history.
Now UoM, along with numerous other universities, has said students will not have to pay rent for the duration of the current lockdown. Students have welcomed this concession, but note that most of their demands – which include no repercussions for striking; no-penalty contract releases; rent cuts and rebates; improved facilities, services and mental health support; tuition fee refunds; changes to campus security and policing; and no staff redundancies or cuts to terms – remain unmet.
They're going to be continuing with the strike this term; the Manchester rent strike campaign currently has 500 pledges and counting. "There's still a lot to fight for," says Izzy Smitheson, a first-year Manchester organiser.
Biggest university rentstrike victory ever! Here's how we got here and what's next… pic.twitter.com/yXMf4U4InH

— UoM Rent strike (@rentstrikeUoM) November 25, 2020
A number of universities have been galvanised by successes in Manchester and elsewhere; almost 50 UK universities now have rent strike groups. "I saw the rent strikes popping off in Manchester and Bristol in October and I was like, 'well why can't we do one here at Queen Mary?'" says Symran Saggar, a first-year student at Queen Mary University of London (QMUL), whose rent strike campaign currently has 300 student sign-ups.
Meanwhile, the intercollegiate University of London (UoL) rent strike group, which was set up in early December, already has over £300,000 in rent pledged to be withheld. "We're charged some of the highest rents in the country – between £200 and £300 a week – for what is essentially a box and a shared toilet," explains Emerson Murphy, a first-year at the London School of Economics, who is organising with the UoL campaign.
"People are really struggling," continues Murphy, "but the university is… just insisting on extracting rents out of vulnerable students, whilst threatening evictions… and neglecting student mental health along the way." 
💥 MORE THAN 45 UNIVERSITIES (and counting!) WILL BE RENT STRIKING THIS JANUARY 💥

This is the biggest national student rent strike in history! If you are a student at any of these unis please get involved! ✊ pic.twitter.com/7jT43weVKc

— RENT STRIKE (@rentstrikenow) January 6, 2021
With most students now no longer in halls as a result of the current lockdown, organising this term's rent strike has been more challenging than it was last time. UoM organisers have adapted quickly to this changing terrain, however, substituting flyering, stalls and door-knocking for targeted online organising.
"We've learned where to place our efforts," says Smitheman. Whereas previously, WhatsApp group chats would go on late into the night, organisers have realised that a quick video call is usually more effective. Smitheman also notes that growing the organising team has led to a more "horizontal" approach, which has helped to build power. 
another great guide to rent striking, check it out if you're organising a strike! 👇 https://t.co/TZdmfBMphR

— RENT STRIKE (@rentstrikenow) January 11, 2021
In fact, lockdown has in some ways been a boon to the rent strikers' recruitment strategy, given that students were initially being asked to "literally pay for nothing," Smitheson explains.
Finn Carr, a first-year at Manchester, says that he was "a bit scared of what repercussions people would face for rent striking" during his first term. Like many universities, Manchester had threatened students with fines for participating in the strike, which students claim would be illegal. But after experiencing such poor treatment from the university, and seeing the positive impact of rent strikes first-hand, Carr became convinced of the power of collective action, and has pledged to withhold his rent this term. "There's such solidarity in numbers," he says.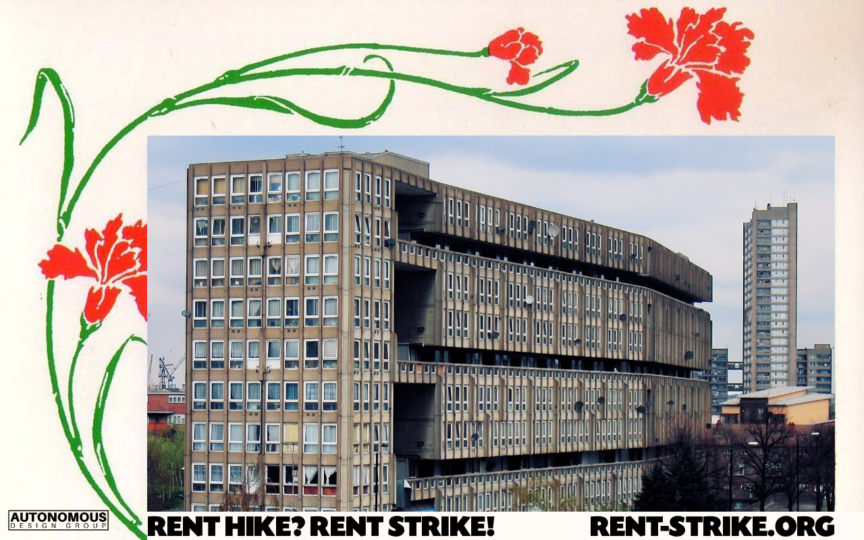 Since the 2010 student movement demanding free education, universities have become increasingly marketised and financialised institutions. This has led to a reconceptualisation of higher education in which students are cast as customers purchasing a very expensive service – a view that most rent strikers are keen to dispel.
"I have reservations about the '9k 4 what?' movement," says Laura Hone, a second-year rent strike organiser at the University of Cambridge. "We don't want to be playing into the logic of marketisation and we also don't want to be excluding international students, who are… some of the worst affected by the pandemic… because obviously, a lot of them aren't paying £9000, they're paying a lot more."
Rosa Porter*, a housing activist who founded the rent strike network and was part of the 2010 student movement, argues that the rent strike movement must refuse universities' positioning of students as customers if it wants to create radical and lasting change. 
Porter stresses that students must be cautious to distinguish between "tactical demands" and "structural demands". For example, since most university courses have been taught online this year, some rent strikes are calling for tuition fee reductions on this basis. She acknowledges that while such short-term demands are important, "the structural demand has to be free education". 
Indeed, Murphy says that the movement is prompting "the light in which people see education [to change]". He describes how his own opinions have changed through his involvement in the rent strike campaign, explaining that while he initially saw university as "[a service] that you pay for … that helps you find a job in the future," he now sees it as "something that should be valued as a social good, a right, and something we shouldn't be paying for because it benefits the whole of society".
‼️STUDENTS MUST RECLAIM THE NARRATIVE‼️ this wave of rent strikes has the capacity to demand an entire remodelling of university finances, and by extension an economic model where education and housing are not commodities. pic.twitter.com/2VYeGIAHp4

— Rent Strike Cambridge (@RentStrikeCam) January 6, 2021
One of the biggest successes of the Cambridge rent strike campaign so far, explains Hone, has been insisting upon an explicitly anti-capitalist framing: "We're calling for an entire reorganisation of university finances, and by extension, an entirely different economic model." Some students come to university believing the institutions are "benevolent homes" when in fact, under the current model which relies upon individual students' tuition fees and rents, they are "landlords and bosses". 
In fighting for this broader vision, the rent strike movement has been something of a political awakening for some students, who have been made to realise where their universities' interests really lie. "[They] wouldn't be forcing you to come back in a pandemic [as they did last term] if they didn't [put] profit motives ahead of…looking after students and staff," says Hone. She adds that the national wave of student rent strikes has been "extremely effective in bringing home," the fact that the marketisation of higher education is responsible for the conditions students are facing.
Murphy echoes this, arguing that the last year has politicised a generation of students. "It's not just a case of 'this uni is being shit, this uni is being shit,'" he says, "It's a fundamental problem about how universities are funded". 
In keeping with their radical framing, many student rent strikes are also resisting police and security guards on campus. Jones says his Newcastle rent strike group is collaborating with a group at Northumbria University to fight 'Operation Oak', the universities' partnership with the police which he says is being used to "harass" students.
"Cops off campus is a really essential demand to maintain autonomy and freedom of movement for the rent strikes," says Porter. "If the rent strike[rs] are intimidated or harassed by the police in any way, [there] needs to be an immediate counter-response, in terms of calling 'cops off campus'… otherwise the tactic is going to be to intimidate and suppress the fuck out of any demonstrations or rent strikes." 
Key to the strikers' success so far has been collaboration. "You can literally get support from everyone," says first-year Harry Jones, who helped set up Newcastle University's strike group. If one group is "stressing over something," he says, another will offer support. "It's so interconnected."
These networks are also transhistorical. Many of the strikers see drawing on the wisdom of housing campaigners of the past as integral to their strategy: at QMUL, the strike group has been working with other unions in Tower Hamlets and east London, "because housing has been an issue in east London for decades," explains Saggar. As part of its organising, the group is holding a political education session for students about the history of rent strikes in London's East End. "Without those struggles, our struggle wouldn't be as relevant," she says, adding that the students are inspired by the historical use of rent strikes as a tactic "against racism, classism and capitalism".
RENT STRIKING HAS AN ANTI-RACIST, ANTI-CLASSIST AND ANTI-CAPITALIST HISTORY. 1/3

This history is unique to QMUL's rent strike campaign. The East End Bengali community used the same tactics that we are using right now, in the same place as us.

We are mindful of this legacy. pic.twitter.com/zllns8gPv0

— QMUL Rent Strike (@qmulrentstrike) January 8, 2021
This generation of student activists has grown up with austerity, climate catastrophe, and now a pandemic that has exposed universities' hyper-marketisation. Gen Z has already demonstrated their militancy in both the climate strikes and grades scandal protests – and the rent strikes are no exception. "Basically management is freaking out because they didn't know what a nightmare [our generation is]," says Saggar. 
Students who spoke to Novara Media see the current wave of rent strikes as far more than a tactic to demand their dues for a disappointing year at university because of the pandemic. They want free education; they want to abolish landlordism; they want to topple capitalism. 
Well aware that they will likely never be able to afford to buy property, many rent strikers are looking beyond their time at university and thinking about alternative housing models, such as housing co-ops and squats – "more democratic spaces where you don't have to pay extortionate rents to landlords," as Smitheson puts it.
"At a time when landlordism has never been stronger in the UK, I think it is really important that we're seeing the uni as a microcosm of this," says Hone.
Porter is hopeful for the movement's potential beyond the university: "Today's students are tomorrow's renters. So I think … if [the movement] picks up in the way we [want], it could really explode…I think you could see quite a lot of that militancy transfer over to the housing movement generally."
"Since the destruction of the Corbyn project, there's… an absence of anything to really draw young people into anti-austerity politics, like Keir Starmer is not going to do that, is he?" says Hone. "What I really hope is that the rent strike … turns into a broader movement."
Sophie K Rosa is a freelance journalist. In addition to Novara Media, she writes for the Guardian, VICE, Open Democracy, CNN, Al Jazeera and Buzzfeed.