Alexei Navalny Is a Complicated Figure – But a Gift to the Russian Left
A political chameleon he may be, but one that has re-energised a stodgy opposition.
25 February 2021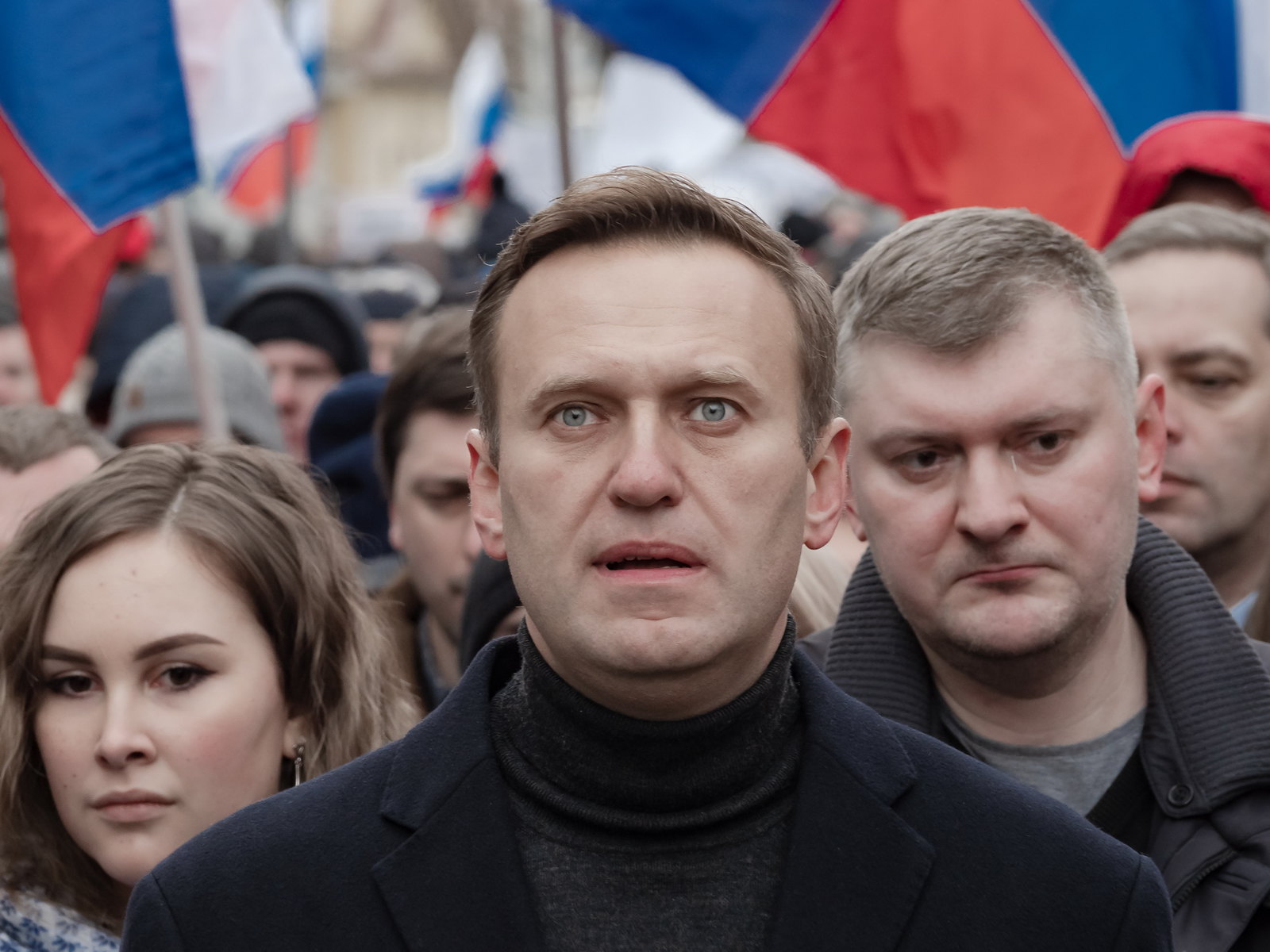 Michał Siergiejevicz / Flickr
On 31 January, Russian authorities put Moscow in a chokehold. Swathes of the city were cordoned off; seven central metro stations shut. Riot police and the national guard flooded the streets. This show of force was the state's answer to the anti-Putin movement – comprised of numerous groups in a loose and uneasy coalition – mobilising tens of thousands of protesters in dozens of cities across the country that day. Though these weren't the biggest protests against Putin, they were historic in their geographic spread. By the day's end, more than 5,000 people would be arrested. This face-off between Putin's regime and his opponents was perhaps the most dramatic in the current chapter of Russian politics, one whose protagonist is Alexei Navalny.
Putin has detained so many protesters in the past few days that prisons in Moscow are struggling to handle the influxpic.twitter.com/E3QYKgu18L

— Alfons López Tena (@alfonslopeztena) February 4, 2021
The opposition politician – leader of the Russia of the Future Party, although party allegiances are often less significant in Russia, where small parties are frequently banned and replaced by new ones – had just returned to his home country after spending several months in Berlin recuperating from a near-fatal poisoning. The attempt on his life in August last year shocked many in Russia, but did not lead to any major protests at the time. Things heated up in the autumn, however, as investigative journalists uncovered evidence strongly suggesting that the botched assassination had been orchestrated by the Federal Security Service (FSB); Navalny even managed to get one member of the hit squad to incriminate himself in a bizarre prank call.
In mid-January, Navalny further raised the stakes: he flew home. This was a gutsy move, since the authorities had made it clear that he'd be arrested immediately (as he was). Then, two days after his return and arrest, Navalny pulled one last ace out of his sleeve. On 19 January, he released the self-made documentary film Putin's Palace. History of World's Largest Bribe. on his popular YouTube channel. A two-hour-long hybrid of biopic, investigation and agitprop, it corroborates rumours that the Residence at Cape Idokopas, which Navalny calls "the largest private house in Russia" and he estimates cost over $1.35bn to build, belongs to the Russian president. The film instantly went viral; at the time of writing, it has been watched over 113 million times.
While Navalny has cemented his position as the Putin regime's main challenger, he remains politically hard to define. A lawyer by trade, he launched his political career in the early 00s as an anti-corruption activist, investigative blogger and member of the social-liberal Yabloko party. However, Russia's marginalised liberal camp soon proved too cramped for the ambitious jack-of-all-trades, and in the mid 00's, Navalny started fishing for supporters in the country's then-vibrant nationalist scene. He became an early adopter of YouTube, where he caused a stir with at times viciously racist content – as a result of which, Amnesty yesterday stripped Navalny of his "prisoner of conscience" status, to vocal opposition.
I'm Kyrgyz. So I take Navalny's past ethno-nationalist and xenophobic statements personally. But Amnesty's decision is wrong, and I don't like the cynical misapplication of western liberal standards of debate around racism and hate speech. 1/x

— Bermet Talant (@ser_ou_parecer) February 24, 2021
By 2011, when rigged elections precipitated the biggest wave of anti-Putin protests yet, Navalny had established himself as one of the leading spokespeople of the fragmented opposition. After coming second in Moscow's 2013 mayoral election, Navalny took yet another ideological turn. His investigations into Russia's corrupt elite began putting heavier emphasis on their obscene wealth and the dire poverty of ordinary Russians. In 2018, when Putin implemented a shock raise of the country's retirement age, Navalny allied with the left, and organised protests.
It is this political ambiguity, his unwillingness to nail his colours to the mast, that has made Navalny such an effective spokesperson of the disparate anti-regime movement, appealing to anti-Putinists across the political spectrum. The Russian left is understandably sceptical of Navalny, but they also need him. For although Navalny is a populist chameleon, driven more by contempt for Putin than by any clear political programme, he is also a profoundly successful political organiser – something the Russian left has been decidedly lacking.
There is massive latent and local support for the left in Russia: the majority of Russians favour a strong welfare state, for example, and are often ready to militantly defend their rights in their cities and towns. On a national level, however, the country's progressive movements are organisationally weak. The conservative, Soviet-nostalgic Communist Party of the Russian Federation (KPRF), technically the biggest opposition force, hardly puts up a fight, despite being the main victim of systemic electoral fraud.
In #Russia, in the past month, opposition politician @Navalny became the most mentioned domestic politician on the social media (left chart).

In media (right chart), he was second only to president Putin.https://t.co/ZTsQWFXH38 pic.twitter.com/R5UymPddGx

— Alex Kokcharov (@AlexKokcharov) February 18, 2021
Navalny has the potential to unify and organise these groups under a single banner – or at least Ilya Matveev, associate professor and deputy dean of the Department of International Relations and Politics at the Russian Presidential Academy of National Economy and Public Administration in St Petersburg, thinks so. "The majority of leftist activists joined the recent [Navalny-led] protests to try and create a left centre of gravity, with its own ideology, platform, positions and leaders," Matveev explains on a video call. This tactic is showing signs of success: in Izhevsk, a city around 1,000km east of Moscow, the extra-parliamentary Russian Socialist Movement has been prominent at the recent protests. The left has taken the momentum Navalny generated, and run with it.
Navalny himself will likely be behind bars for the foreseeable future. While this will certainly strengthen his symbolic status within the opposition, it presents a challenge for organisers. Not everyone is willing or able to emulate the charismatic, spectacle-driven leadership style which earned Navalny his influence. "There's a shortage of people prepared to play this very dangerous game," says Matveev. "If you become too popular, whether you're a liberal or a leftist, you will be harassed, and you'll spend time in prison. This is part of the reason for the opposition's organisational weakness." The question now is whether others will come forward to fill Navalny's shoes.
The next bout in the Russian political arena is set to take place around the Duma (lower house) elections in September. In contrast to Putin personally, his party, United Russia, has little support among voters. Its dominance has long been secured by Russia's managed democracy, which permits parties to participate in elections only if they are either marginal, like Yabloko, or loyal to the system, like the KPRF; the latter is part of the so-called "systemic opposition" that provides a phoney counterweight to state power while never criticising Putin or his inner circle.
look I want KPRF to be cool too but it's simply not the case

— tier four operator OBE (@AliceAvizandum) January 23, 2021
Meanwhile, the state has thwarted Navalny's own ability to contest elections by throwing up administrative hurdles – illegible signatures, missed deadlines, party and candidacy bans – forcing him to refocus his attention on attacking the regime's parliamentary monopoly by advocating for what he calls "smart voting". Half of the Duma's seats are determined in local, first-past-the-post races; Navalny's plan is to consolidate oppositional support behind whichever candidate is best positioned to beat Putin's, regardless of affiliation. In the majority of cases, this candidate will belong to the KPRF. Even as Gennady Zyuganov, the KPRF's leader since time immemorial, dutifully attacks Navalny as a Western puppet, Navalny urges voters to support KPRF candidates if doing so will destabilise Putin.
Looks like United Russia has lost majorities in Novosibirsk and Tomsk city councils – both targeted by @navalny's Smart Voting. Navalny associates have also won seats

— Henry Foy (@HenryJFoy) September 14, 2020
This has another convenient side effect for the left: by encouraging KPRF candidates to vie for his endorsement and the protest votes he can hand them, Navalny hopes to draw the party closer to his project and further from the regime. It appears to be working: several KPRF politicians, including Moscow party head Valery Rashkin, have voiced support for Navalny; in January, party activists were arrested in multiple cities after participating in Navalny-led protests. "Navalny has re-energised the KPRF," says Matveev. "He tells them [KPRF politicians] that they can win elections, but only if they become anti-Putin. He wants to radicalise the KPRF."
On the one hand, Matveev cautions, harbouring hopes that the KPRF could consolidate Russia's left and genuinely challenge Putin may be naive, given its enmeshment in the state apparatus. But by provoking more radical elements within the party to challenge its sluggish leadership, Navalny may be doing the left a favour. For the past few decades, the KPRF's main achievement has been to stymie the emergence of an organic left, by monopolising much of the space where one might grow. The prospect that sections of the party, thanks to Navalny, may now be fired up to actively mount actual resistance to the regime and make radical demands of it is a hopeful one.
Volodya Vagner is a freelance journalist based in Sweden, covering culture and politics.