Royal Mail Wants to Close Its Workers' Nursery During the Pandemic
The Childsplay nursery has been a lifeline for Royal Mail parents since 1989, and particularly during the past year. Now the company plans to rip it away, just when workers need it most.
1 March 2021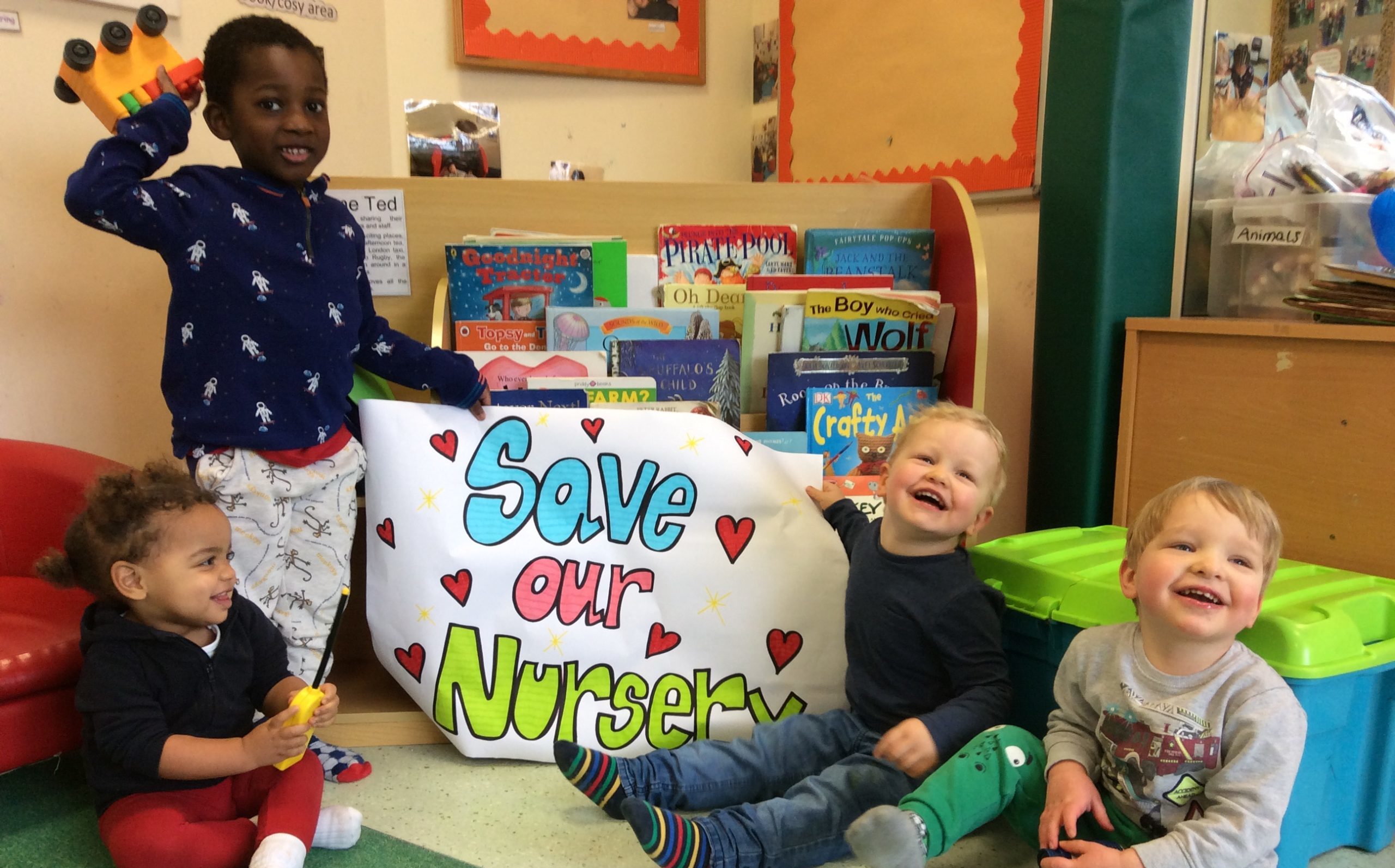 Kiddycare
Sarah* has worked at Royal Mail's Mount Pleasant centre for seven years. She says she couldn't have worked for the company so long had it not been for its on-site nursery, which enabled her to go back to work whilst still breastfeeding her daughter, who's now two. "Having a nursery at work has helped me overcome a lot of the fears and doubts I had when I came back to work as a new mum," she says, "knowing that I'm only five minutes away from my daughter." The nursery has been a lifeline for Sarah and other parents at the Mount Pleasant centre – one that may be about to be ripped away.
The Childsplay Nursery has been at Mount Pleasant since 1989, offering full-time childcare to up to 30 children between the ages of six weeks and five years. The site is run by a private small company (SME) called Kiddycare, but subsidised by Royal Mail; families pay around £150 per week for full-time care, compared to an average of £340 per week elsewhere. Not only does it offer reduced fees, it also offers longer opening times (between 6am and 10pm), so that workers can build childcare around their shift patterns. Now, Sarah is one of a number of Royal Mail workers who now face the prospect of having to find alternative childcare in the middle of a pandemic.
In January, Royal Mail announced that it plans to close down the nursery on 31 March, citing cost; the site, which between eight and 10 Royal Mail parents use at present, costs around £150,000 to lease. Yet while Royal Mail has suffered losses in the past year, its revenue and growth remain strong, especially in recent months, raising questions about whether the nursery really is affordable to the company. A full statement from Royal Mail is below.
This isn't the first time Royal Mail has threatened to close the nursery. In November 2011, CEO Moya Greene, best known for overseeing the privatisation of Royal Mail in 2013, attempted it. Greene gave parents a year's notice, but after vocal opposition from workers, unions and the local Labour MPs Emily Thornberry and Jeremy Corbyn, she backtracked – though subsequently, the cost to workers increased from £112 to £122 per child per week, while 10 of the 29 nursery spaces were opened up to the general public at a non-subsidised rate.
Greene was succeeded in June 2018 by Rico Back, who further inflamed tensions between bosses and workers by selling off parts of Royal Mail to competitors, and bringing in a greater casualisation; he ended up quitting not two years later. Though the relationship between Royal Mail bosses and workers has since improved under Keith Williams and now Simon Thompson, it has not been entirely uncomplicated.
According to sources at the Communication Workers' Union (CWU), there have been a number of unofficial walkouts at Royal Mail over the past year – including in Chatham, Southampton, Stoke-on-Trent, Warrington, Didcot, Edinburgh, Alloa and Fife – over health and safety concerns, such as the lack of social distancing and personal protective equipment (PPE). With the proposed closure of Childsplay, employee relations could be about to sour even further.
Plans to cut off nurseries to London key workers' kids is "unfair and unnecessary", CWU say.

👉 Read more & sign our petition: https://t.co/qZIVsU6hKq

— The CWU (@CWUnews) February 8, 2021
The pandemic has hit parents, particularly those of younger children, hard: three out of 10 parents of primary school children reported they are feeling more worried and anxious during this lockdown; researchers at Oxford University have found that parents of children under 10 reported "particularly high stress" during the first one. This stress will only be exacerbated by the nursery sudden closure; Sarah has been looking at others in the local area, but they're either unaffordable or booked up until September.
Like Sarah, Sam* finds himself in a difficult position. Speaking to Novara Media, he says he, his partner and four-month-old son have built much of their life around the nursery. "Had we thought that the nursery was at risk of being made unavailable to us," he says, "we would have spent the last year making a move out of London to take advantage of family support and cheaper childcare." He's now worried that he or his partner will have to work unsociable hours or take time off work, which they can't afford to do, in order to fit childcare in. He says the closure "feels like a kick when we're already down, after having our first baby without the benefit of support from family and friends."
With the CWU in their corner, Mount Pleasant workers are confident they can kick back against the closure. The CWU became involved in the campaign at the end of January, organising an online petition that at the time of writing has garnered over 1,100 signatures. Last week, Emily Thornberry endorsed the campaign. These efforts have already seen some effect: Royal Mail recently extended the nursery's closing date to September 2021. But the fight isn't over. Negotiations between CWU and the Royal Mail are ongoing, with a spokesperson from the union saying that while they're "hoping the issue can be resolved by a meeting of the minds and by cool heads prevailing," the union is "prepared to turn this over in every possible way, and by every campaigning method."
Thanks to @EmilyThornberry for backing the campaign to save Kiddycare Nursery in Mount Pleasant sorting office.

Read and share: https://t.co/toGxXMd7YA

— The CWU (@CWUnews) February 15, 2021
For parents like Sarah and Sam, it's vital the campaign succeeds. Sarah says that her daughter has developed strong relationships with the Childsplay staff; she still hasn't figured out how to break the news to her: "It's just heartbreaking to think about how sad she will be having no choice but to say goodbye to the nursery." Sam is more hopeful: "During a pandemic when families are already having a really tough time, I really hope that something can be done so that we don't get left out in the cold."
*Some identifying details have been changed.
A Royal Mail spokesperson said:
"Royal Mail understands the importance of supporting parents in the workplace. We offer a range of flexible working and childcare initiatives to help them.
We heavily subsidise Kiddycare Limited, a third-party supplier, which provides paid-for childcare at our Mount Pleasant Mail Centre in London. We have been in discussions with Kiddycare since 2019 about alternative arrangements, and offered them a new commercial lease. This was not accepted. We have therefore offered Kiddycare a further six months accommodation at Mount Pleasant, free of rent and all associated property services, to the end of September 2021, so that they can find alternative accommodation for their business.
We are in discussions with the estimated 8-10 Royal Mail parents who use this service and will be supporting them through the transition to another childcare provider, where appropriate. We will also be offering continued support and advice to these colleagues throughout this process."
Shahed Ezaydi is a freelance journalist who has written for Vice, openDemocracy, Tribune and gal-dem.