Tired of Greedy Landlords, Students Are Setting Up Housing Co-ops
After a wave of rent strikes, growing numbers of students are giving up on the private rented sector altogether.
12 March 2021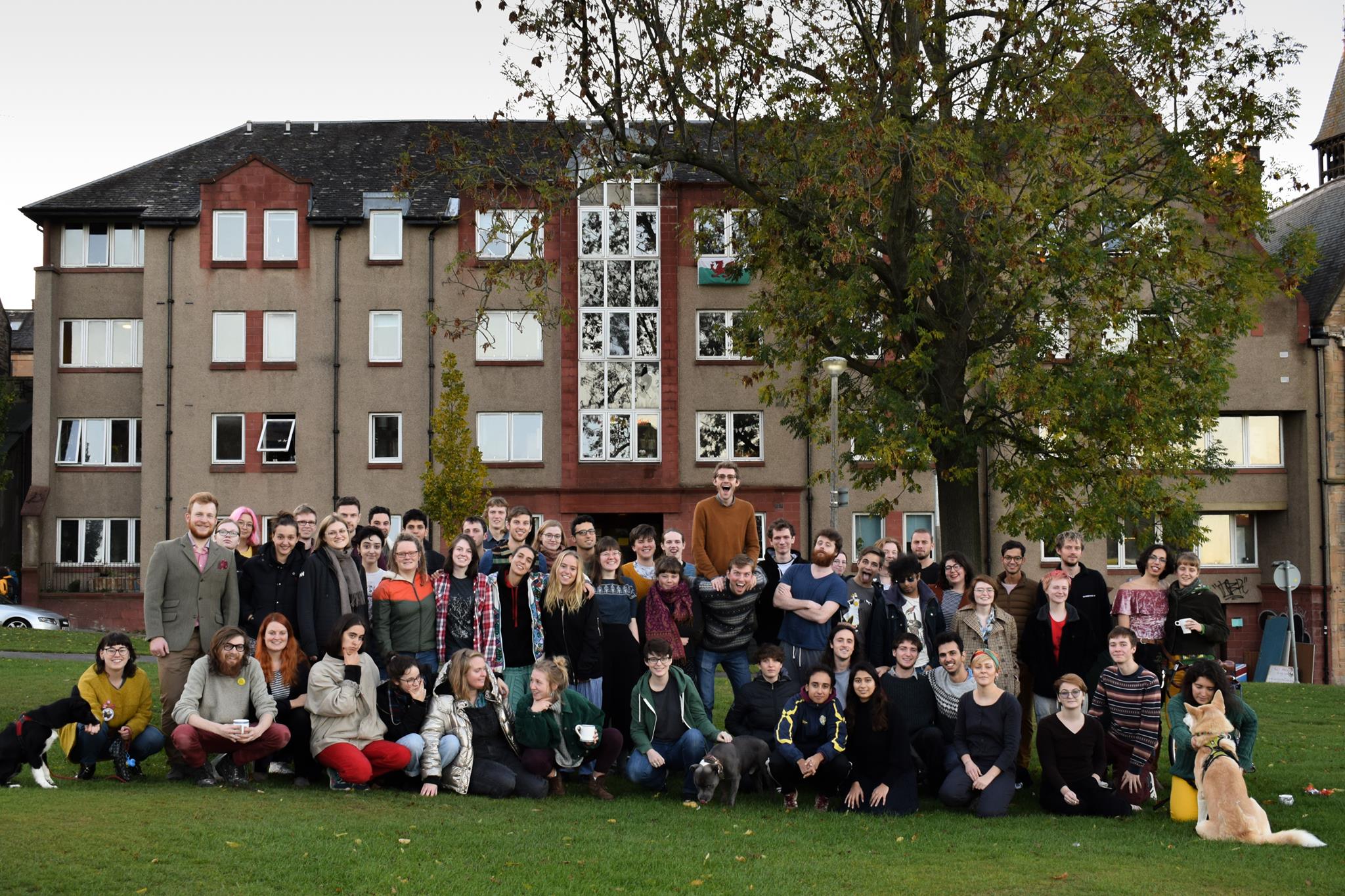 Edinburgh Student Housing Cooperative/Student Coop Homes
Students have long faced sky-high rents and poor-quality housing. Since the start of the pandemic many students' problems have gotten even worse, with a record number of young people losing their jobs, thousands forced to isolate in substandard university halls, and almost £1bn spent on accommodation they haven't even been able to access. 
Yesterday the University of Manchester joined the growing list of UK universities whose students are going on rent strike during the pandemic. @RivkahBrown reports on the student movement the pandemic has restarted. https://t.co/jYzl7RpPgP

— Novara Media (@novaramedia) October 21, 2020
Consequently, the past year has seen students nationwide coordinate the largest wave of rent strikes in recent history. But a growing number are now going one step further: breaking away from the private rented sector altogether and setting up their own housing co-operatives.
According to Tom Green, a member of SEASALT Housing Co-operative in Brighton, the financial impact of the pandemic has highlighted the need for good quality, affordable student accommodation.
"The government and universities have shafted students in the past year, especially in terms of rent rebates," he tells Novara Media. "Half my disposable income has gone on rent for a house that's mouldy and damp. It made me think: is there a way I can live that's fairer and more affordable?"
The student housing co-op sector in the UK is relatively new, with the first set up in Birmingham in 2014. The movement is now expanding fast, however – and by the end of 2021 over £600k will have been invested in at least six student properties.
SEASALT, which was set up in 2018 in response to the particularly bloated housing market in the south-east, is currently in the process of acquiring its first house. "In Brighton," Green tells Novara Media, "students pay £150 a week for mouldy houses with broken appliances." 
Matt Baldwin, another member, was drawn to the co-op movement after his experience working for a housing law clinic. "I saw firsthand the state that people were being left in", he explains. "Joining SEASALT was a natural progression for me to improve housing access and justice within the Brighton and Hove area."
Scott Jennings, a former student at the University of Nottingham, decided to set up a UK-wide organisation to "provide student co-operatives with a supportive structure to instil confidence in mortgage lenders." Inspired by North American Students of Co-operation (NASCO) – a successful student co-op network in the US – Jennings launched Student Co-op Homes in 2019.
In 2019-2020, Student Co-op Homes raised over £300k through a community share issue which offered 4% interest. Many of the initial investors were former co-operators or university lecturers who were keen to rejuvenate the co-op model. Student Co-op Homes used the money to buy a property in Nottingham to lease at an affordable price to members of Nottingham Student Housing Co-operative. One member now pays £360 per month – a significant saving on the £600 he shelled out for private rental. 
Rather than lining landlords' pockets, rent payments are reinvested into the co-op, funding maintenance, training opportunities, and ensuring the longevity of the venture. "By the end of our tenure," says member Glen Peacock, "we will leave a property that is of a really good quality and works well for the needs of future tenants."
Reviving a history.
Although student housing co-ops are a relatively new phenomenon in the UK, co-owned housing is not. The co-op movement began in Britain in the 19th century in response to the economic instability workers faced during the industrial revolution. In 1844, the Rochdale Society of Equitable Pioneers established the 'Rochdale Principles' on which the co-op movement would be based, including democratic control, autonomy, open membership and anti-discrimination.
The popularity of co-operative housing in the UK fluctuated during the early 20th century, and after WW2 public housing policy was characterised by private home ownership or state-controlled council housing. The countercultures of the 1960s and 1970s, however, saw the emergence of a new wave of alternative housing models, with over 40,000 co-ownership homes built in the period.
The major shift in the political, cultural, and economic climate in the 1980s threatened to destroy the co-op movement. After introducing the infamous right-to-buy policy to the social housing sector, Margaret Thatcher's government gave co-op members the right to dissolve their organisations and transfer the property to private ownership.
Now, members of student housing co-ops believe austerity has been a catalyst for the renewed interest in the co-op movement. According to Peacock, the economic policy has "widened the generation gap" precipitated by housing inequality. "We're left in a situation where an awful lot of people have very little, and an awful lot of people have an awful lot," he explains. "More often than not, our interests are pitted against one another."
For Jennings, the current wealth gap provides the opportunity to "repair and undo" the dispossession of the co-op movement. "My grandparents would've known their co-op membership number off by heart," he explains. "Housing is showing our generation the need to re-collectivise […] in this way." 
'A political project'.
For many students setting up co-ops today, including Anna Windsor from Green Wood Housing Co-operative, a mixed student-worker community in Leeds, the politics of the co-op movement is a big part of its appeal.
"The ideological motivation was to take private property into collective ownership," Windsor explains. "My housing is part of a political project – something bigger than myself."
Whereas landlords are "extractive by nature," says Jennings, housing co-ops contribute to "a cyclical, sustainable economy that doesn't exist just to take money out of people's pockets." What's more, in student co-ops, decisions about properties are made on a one-person one-vote basis. This, according to Windsor, removes the "hierarchical power structure between landlords and tenants – we have complete control."
Co-op members explain that the collective ownership of properties is also beneficial for the environment. Housing stock is a big contributor to the UK's overall carbon emissions, and co-ops are using a portion of members' rent on retrofitting properties to make them more energy efficient. This, says Baldwin, is unlikely to be a priority for you "if you're approaching property from a perspective of ownership and profit margins."
Collective responsibility benefits students on a more personal level too. The pandemic has pushed the student mental health crisis to tipping point, with 73% of students reporting that their mental health deteriorated during lockdown. Consequently, rent strike movements across the UK have included regular mental health check-ins on their list of demands.
FOUR DAYS TO GO before our share offer closes! Today's students face increasing mental health challenges. Student housing #coops can help by providing supportive communities. Invest now: https://t.co/aFkU2JU7eU Find out more: https://t.co/0L15A2PVOv #coops #comshares pic.twitter.com/EZGS2w5rAe

— Student Co-op Homes (@NoMoreLandlords) January 31, 2020
Jamie White, a member of Nottingham Student Housing Co-operative, has felt particularly supported in this regard by the co-op set-up. "Landlords don't have a motive to take care of students in the same way that other co-operative members do," he says. "There's more of a culture of understanding people's needs."
This experience is supported by research which found that people who live in democratically owned or managed housing feel a greater sense of belonging, identity and ownership. Green Wood Co-op hosts regular meetings for members to reflect on and air any grievances. While Windsor says she was initially daunted by this prospect, she now appreciates the value of "open and direct communication" in shared accommodation.
The collective care model within many student co-ops also extends to the local community. In Lenton, the student area in Nottingham, tensions between locals and students are fraught. Jennings argues that the private rental model has removed students' sense of collective responsibility: "With private accommodation, you move in, you transact, and then you move on. It's highly transient." 
Mutual ownership, however, incentivises students to establish roots in their neighbourhood, co-op members argue. SEASALT will allow members to stay up to one year after graduation, giving them four years to make the house their own. Green particularly looks forward to the "long term stability" that the property in Brighton will provide members, removing the annual stress of finding a new house.
Building the movement.
Student Co-op Homes is looking to the future – but setting up new co-ops won't always be easy. Despite being the epicentre of the UK's inflated housing market (and its students paying the highest rent in the country – up to £260 a week), of the eight housing co-ops currently registered with Student Co-op Homes, none are based in London. 
While acquiring a co-operative property in the capital will be certainly difficult, says Jennings, the demand for affordable student housing is palpable. Unable to return to campus during lockdown, the intercollegiate University of London rent strike movement has withheld over £300k in rent since December.
Students across the UK are staging the biggest rent strike in almost half a century. Despite the new challenges posed by this lockdown, the strikers are only growing, both in numbers and anticapitalist vision. @sophiekrosa reports.https://t.co/7C3XZ5r2pb

— Novara Media (@novaramedia) January 13, 2021
Student Co-op Homes' ambition is to use equity from current properties as leverage for future properties. The co-op plans to mortgage the Nottingham property to purchase another in Glasgow. Over time, Student Co-op Homes could build a large enough portfolio to purchase a property in the capital, like Australian student co-ops in Sydney and Canberra.
While Covid-19 has been tough for students, many argue it has also been a catalyst for change. "Students have been locked in halls and they've lacked community and support – these are the exact things housing co-operatives provide", says Jennings. "The current cohort of students will be reassessing what they want from their university experience."
Eloise Barry is a freelance journalist who has written for Vice, The Guardian and The Independent.