Erdogan's Attempt to Ban Pro-Kurdish Parties Will Only Fuel the Resistance
The HDP, Labour's sister party in Turkey, faces its most extreme threat to date. But the broad coalition it has convened isn't going anywhere.
24 March 2021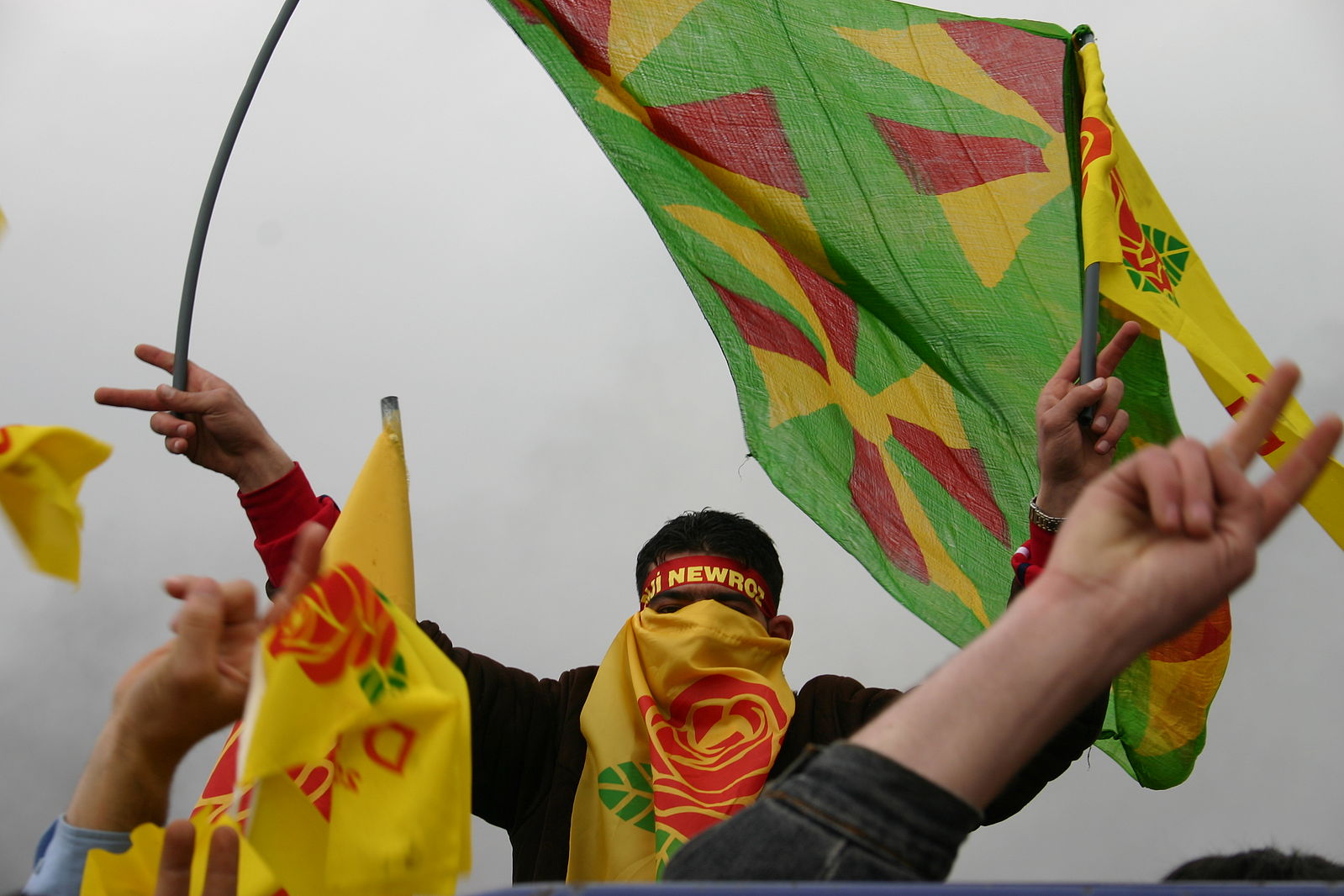 Bertilvidet / Wikimedia CDommons
Given the recent outbreak of police violence across the UK, we might be forgiven for missing the Turkish government's latest crackdown on the leftwing Peoples' Democratic Party (HDP), UK Labour's sister party in the country. After all, the HDP has faced repression for years, and particularly since its 2016 electoral breakthrough, when it denied the rightwing President Erdoğan a parliamentary majority. Is this really anything out of the ordinary? And even if so, why should the British left take an interest?
Whilst the HDP has faced numerous threats in the past, its present one is existential, as the Turkish authorities aim to ban it entirely. The Turkish state's claim is that, by advocating for recognition, equality and justice for Turkey's Kurdish minority, it must be a proxy for the banned Kurdistan Workers' Party (PKK) and its armed wing, the HPG. This ban would make the HDP the latest in a long line of pro-Kurdish parties that have faced the same fate; the constitutional court has banned six such parties since the 1990s. Yet the party, which holds 59 or almost 11% of the seats in the Turkish parliament, is unique in its challenge to the status quo.
The HDP's success lies in the fact that it is not merely a pro-Kurdish party, but an alliance between the Kurdish liberation movement, the Turkish left, trade unions, women's rights groups, LGBTQ+ groups and minority rights groups. The party therefore appeals to sections of society that may have otherwise been hostile to the Kurdish movement due to deeply-ingrained conservatism and nationalism amongst even progressive forces in Turkey. This broad coalition the HDP convenes makes the party a particular threat to the ruling Justice and Development Party (AKP) – a threat the government is intent on extinguishing once and for all.
The latest attacks started at the beginning of this month, when the chief public prosecutor launched an inquiry into nine HDP MPs over the 2014 protests in support of the popular anti-ISIS resistance in the Syrian-Kurdish city of Kobanî (the HDP is one of the few political forces in Turkey to oppose the state's military incursions in Syria). Then on 17 March, HDP MP Ömer Faruk Gergerlioğlu, a doctor turned human rights campaigner, was stripped of his parliamentary privilege after the Court of Cassation upheld his 2018 conviction and two-and-a-half-year prison sentence in February for a 2016 tweet, in which he echoed a call by the PKK for peace. Four days after being stripped of his parliamentary membership, on Newroz, the Kurdish New Year, he was arrested as he prepared for morning prayers. According to the HDP, Gergerlioğlu was "brought out… [by] nearly 100 police officers", still in pyjamas and slippers.
A Statement from 'Democracy in Europe Movement 2025' @DiEM_25 #SolidarityWithHDP https://t.co/zrn4czOVvE

— HDP Europe (@Hdp_europe) March 24, 2021
Over the last five years, thousands of HDP members and politicians have been attacked, arrested and prosecuted, including former party chairs Figen Yüksekdağ, a Turkish communist, and Selahattin Demirtaş, a popular Kurdish politician. Like Yüksekdağ and Demirtaş', his broad-based popularity represents a threat to President Erdoğan's façade of liberalisation; particularly because Gergerlioğlu is ethnically Turkish, so attempts to foment anti-Kurdish anger amongst Turks are less effective.
Early on in his tenure, Erdoğan attracted support from many European politicians as a moderniser. But as time has gone on, the prime minister-turned-president has begun to display increasingly authoritarian tendencies: he has ordered military attacks on Kurdish towns; suppressed civil society, imprisoning academics and shutting down newsrooms; invaded northern Syria and supported Islamist rebels against Syrian Kurds International opinion has failed to keep up with this volte-face.
Despite its human rights abuses, Erdoğan's Turkey retains the support of its NATO allies: according to the Campaign Against the Arms Trade, the UK has exported £1.3bn worth of arms to Turkey since the 2013 Gezi Park uprising that left 22 dead and over 8,000 injured. Even Labour MPs have played their part. In 2017, a year after he introduced a state of emergency in order to arrest his political opponents and purge tens of thousands of public sector employees, the Guardian gave Erdoğan column space to argue that Turkey was a beacon of human rights and democracy. Labour MPs have played their part. In December of that year, John Woodcock made a visit to Turkey funded by Bosphorus Global, a think tank closely connected to Erdoğan's son-in-law, named by Wikileaks as instrumental in ISIS' oil smuggling operations. Rather than stand with the Labour's imprisoned sister party leaders, Woodcock praised the Turkish government.
Gergerlioğlu meanwhile was busy puncturing Erdoğan's façade, vocally advocating for human rights and attracting support from those in Turkey who might not naturally be sympathetic towards HDP. Indeed, it was public outrage at Gergerlioğlu's arrest that forced his release a few days ago.
Tens of thousands of people celebrate Newroz in Istanbul, many carrying flags and banners from the Peoples' Democratic Party (HDP), Turkey's main pro-Kurdish opposition party, which is facing attempts by the government to be shut down.

📸: Photo: Murat Bulut/ Rudaw pic.twitter.com/2RBPk5Capj

— Rudaw English (@RudawEnglish) March 20, 2021
Like many despots, Erdoğan's AKP framing of the HDP as a threat to the Turkish people is aimed at shoring up support among nationalists. Yet by shutting down the legal political means by which Kurds and leftwing forces can operate in Turkey, he will only fuel the resistance. Despite this latest iteration in Turkey's long war on Kurds, Newroz celebrations continued in full force. Meanwhile, the HDP promised they would continue in their fight, until Turkish democracy is restored, and the country becomes one for all its people. "The oppression of the government on the HDP and other democratic forces will surely intensify in the months ahead," said the party in a statement, "and so will our struggle.
Rosa Gilbert is secretary of the Kurdistan Solidarity Campaign.