Who Dreamt Up the Police Bill? The Police, Of Course
It is the result of years of lobbying by the police, helped by an authoritarian state, rightwing press and pliant opposition.
25 March 2021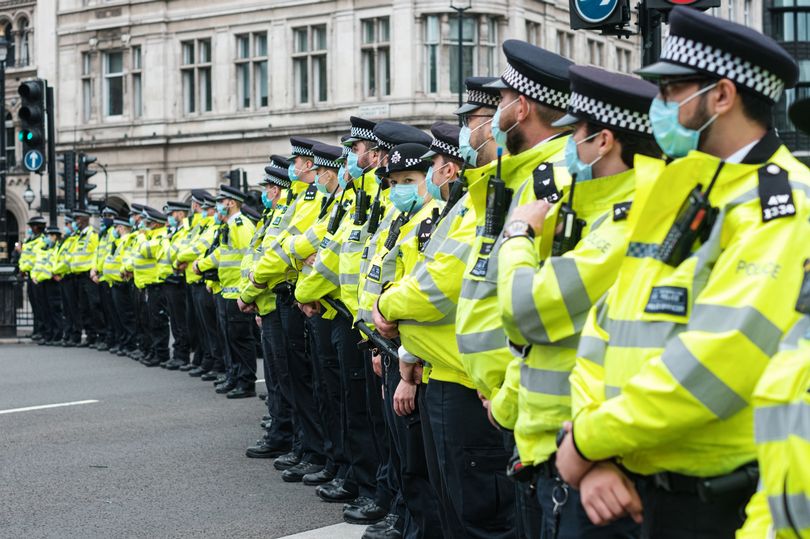 Last week, a controversial new policing bill had its second reading in the House of Commons. If passed into law, the Police, Crime, Sentencing and Courts Bill will hand the police even more powers to control and suppress peaceful protest. Amongst the draconian measures included in the bill, police will soon be able to stop activists from protesting outside parliament and shut down any protest for causing "serious annoyance". The bill also includes an attack on Gypsy, Roma and Traveller communities and expands the stop and search powers already used by police officers to target people of colour.
When first announced, the bill surprised many commentators; it was, after all, intended to be rushed through parliament without sufficient time for scrutiny. But it came as no surprise to grassroots campaigners, for whom the right to free assembly has never been guaranteed. The right to peaceful protest is and always has been a contested political ideal.
At the last general election, the Conservatives campaigned to "make intentional trespass a criminal offence" and supported legislation targeting Gypsy, Roma and Traveller communities. They also pledged to increase the use of stop and search. They told us these measures were coming, and the warning signs were already obvious.
In 2009, newspaper vendor named Ian Tomlinson died after being struck by a police officer during the G20 protests in London. The police had previously told the press that they were preparing for a "very violent" protest and insisted they were "up for it, and up to it". It later emerged that, moments before the death of Ian Tomlinson, police commanders had ordered officers to clear the streets of protesters using "reasonable force". Even after footage of the violence emerged, the Metropolitan Police claimed their tactics were "proportionate and worked".
I think a lot about Simon Harwood, the police officer who was found to have used excessive and unlawful force which resulted in the death of Ian Tomlinson.

Is it just 'a few bad apples', or an institution which facilitates angry men to abuse their power with impunity? pic.twitter.com/bwlNjEdFzS

— Ash Sarkar (@AyoCaesar) March 21, 2021
Following a public outcry at the policing of the G20 protests, there were numerous attempts to reform the policing of protest in general. The prison inspectorate inquiry into the 2009 protests recommended that all forces be issued with new guidance; that there be radical changes to public order training; and the "minimum use of force" be practised at all times. The coalition government subsequently decriminalised "insulting" language, repealed controversial "stop and search" powers and relaxed rules for protests near parliament.
It was a humiliating moment for police chiefs – but on the ground, little changed. In 2013, the UN Special Rapporteur on rights to freedom of assembly, Mr Maina Kiai, criticised the police's handling of the 2009 protest, in particular their use of pre-emptive arrests, undercover officers and their designation "domestic extremist". Kiai concluded that the police's behaviour was less befitting of a democracy than a "banana republic".
Once again, the police took little notice. That same year, Nottinghamshire Police colluded with EDF against a group of climate activists, sharing their personal data with the energy multinational. The following year, a solicitor described police officers as "out of control" at anti-fracking protests; one woman was arrested so violently that she had to go to hospital.
While brutally quashing protests in the streets, the police also sought legal means of suppression. For years, police chiefs have believed that the right to peaceful protest is being taken advantage of by campaigners; in 2018, the National Police Chiefs Council published a report claiming that some protesters seek to "abuse their rights to the detriment of others". The protesters they had in mind at the time were primarily members of one group: Extinction Rebellion (though they would soon have antiracist and feminist protesters in their crosshairs, too).
In April 2019, two weeks of rolling protests had culminated in the United Kingdom becoming the first country in the world to declare a climate emergency. Climate activists had organised a hugely successful protest, leading to a substantial shift in the political discourse. "Extinction Rebellion protesters caught us out", Cressida Dick later admitted. She would not be fooled twice, calling for protest laws to be strengthened as a "deterrent" against further direct action from the group.
First, however, the police attempted to take matters into their own hands. In October 2019, the Met imposed a blanket ban on all Extinction Rebellion protests in London. However, their ban was later ruled "unlawful" in the High Court. Realising that their power to act autonomously was constrained, the police turned to the legislature.
THREAD: So where did the Police, Crime, Sentencing and Courts Bill come from?

Answer: the police… and their friends.

— Sam Knights (@samjknights) March 17, 2021
In October 2019, the Metropolitan Police made a submission to the Home Office demanding more powers to suppress peaceful protest. Four months later, in February 2020, Cressida Dick admitted that she had also been lobbying the government directly. "Ever since the first large-scale Extinction Rebellion protest in April last year," she told the London Assembly, "I have been talking publicly and with the government about the potential for change to powers and to legislation." By October 2020, Stephen House, Dick's second-in-command, announced the force was making headway. He hoped to see new legislation "fairly soon, to be honest, because we have been asking for a while".
The Police, Crime, Sentencing and Courts Bill is everything the police chiefs could have asked for and more. But they did not act alone. The entire apparatus of the state and media worked hard to legitimise their campaign.
In January 2020, LBC's Nick Ferrari interviewed Cressida Dick. During their conversation, Dick outlined a number of changes the police wanted to see to the Public Order Act. "My officers need the powers to be able to police protests," she said, claiming that Extinction Rebellion protests had distracted police officers who "would otherwise have been out in boroughs stopping youngsters from being knifed". A month later, Ferrari launched Enough is Enough. The central demand of the public campaign, which Ferrari claimed had the personal support of Cressida Dick, was that the government "give police greater powers when dealing with protests". On its first day, Ferrari said he wanted to raid the homes of climate activists.
Climate activists, meanwhile, continued their work undeterred. In September 2020, XR activists blocked a Murdoch printing press in Hertfordshire. Yet now that the police, state and media were in lockstep, the backlash was intense. Priti Patel described the peaceful protest as an "attack on capitalism", while her Home Office minister Kit Malthouse promised police "powers required to deal with the disruption". The government told the Daily Mail that they were now looking at classifying Extinction Rebellion as an "organised crime gang", and wanted "new powers under the Public Order Act to protect critical national infrastructure". Even Labour leader Keir Starmer joined in, calling the action "wrong" (his response being in keeping both with his non-oppositional approach to opposition and his lifelong role in the police state).
Days after the XR action, Nick Ferrari interviewed a man named Richard Walton, who described climate protests as "organised criminality on a large scale". As well as being a retired senior police officer, Walton is also the co-author of 'Extremism Rebellion', a report published in July 2019 by the rightwing, Conservative-tied think-tank Policy Exchange. LBC wasn't the only station with an interest in Walton and his report: the ex-cop was also given a primetime slot on The Today Programme, where he described Extinction Rebellion as a "hardcore anarchist group which want to break up our democracy" and might some day "engage in violence". Interestingly, neither Walton's LBC nor his Radio 4 interviewers asked how the report was funded; Policy Exchange refused to deny it was paid for by an oil and gas company. Nor did they ask Walton why he stood down as head of the Metropolitan Police's counter-terrorism command after the Independent Police Complaints Commission found he had a case to answer for misconduct.
With the police, media and even official opposition firmly behind her, Priti Patel expected her new police bill to attract little fanfare. She may have been vindicated, had the murder of Sarah Everard and its fallout not happened. After appalling scenes on Clapham Common, police violence seemed suddenly indefensible. Suddenly, the coalition of groups that brought this bill into being – the police, politicians and press – have attempted to distance themself from it. The Home Secretary has publicly criticised the Metropolitan Police for their handling of the vigil for Everard, despite privately telling the police to stop it going ahead. In a remarkable U-turn, the Association of Police and Crime Commissioners now says that new powers to crack down on protests are not needed and go "too far". The Labour party that was initially planning to abstain on the bill now argues that it "takes away our freedoms". LBC presenter James O'Brien describes the policing bill as a government attack on "freedom of speech", despite his colleague having helped bring it into being.
As a result of public pressure maintained primarily by Sisters Uncut, the police bill has now been delayed until later in the year. Yet as multiple groups attempt to wash their hands of it, we must not forget who is responsible. This dangerous and authoritarian bill was dreamt up by an overpowerful police force, abetted by an authoritarian state, fleshed out by rightwing think tanks, promoted by billionaire-owned press and shooed in by a complicit opposition.
Sam Knights is a climate justice activist and the editor of This Is Not A Drill: An Extinction Rebellion Handbook.