Scramble for the Arctic: How Greenland Became the Frontier of a New Trade and Tech War
With its vast deposits of rare earth minerals, the island is a key battleground in a new great power contest over essential raw materials.
21 April 2021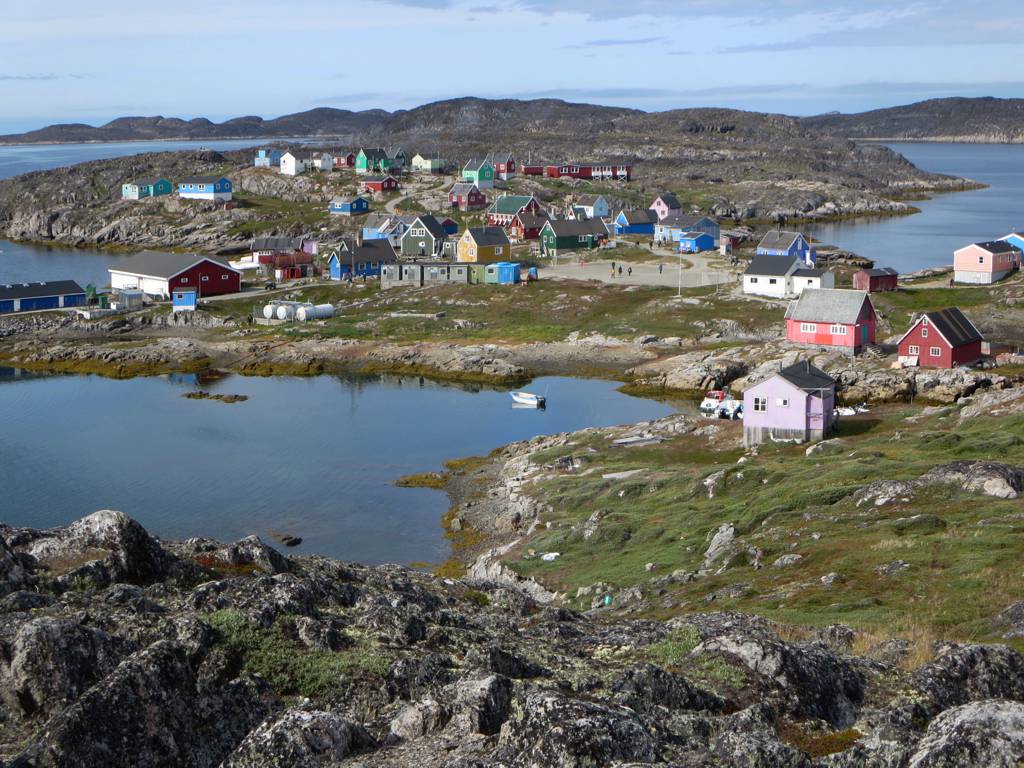 The Inuit village of Itilleq, Greenland. David Stanley/Flickr
Earlier this month, leftist pro-independence party Inuit Ataqatigiit (IA) emerged as victors in Greenland's elections, winning 37% of the vote against social democratic rivals Siumut who have been in power for all but one government since the island won home rule from Denmark. Subject to ongoing negotiations with Greenland's smaller parties, the result is a triumph for IA's anti-mining stance, with the previous Siumut-led administration pushed into calling the election over plans to significantly expand mining across the southern end of the island, promising investment and jobs as the route to full independence.
Opposition Wins Elections In Greenland, Casting Doubt On Future Of Rare-Earth Mine https://t.co/GPhGIWLvWx

— NPR World (@nprworld) April 7, 2021
But this victory is about more than IA's demands around Greenland's next steps to "independence and a sustainable society". The result will be watched with keen interest in Washington, Beijing and across the globe, as the Arctic – and Greenland in particular – emerges as the next frontier for great power competition in a new 'Great Game' contest over essential raw materials.
As Arctic ice sheets retreat, with summertime ice coverage down to 20% its 1970s levels, deposits of valuable mineral reserves in the far north that were previously uneconomic or impossible to exploit are opening up for mining and drilling. In the last decade, attention has focused on the possibility of significant new sources of oil and gas. The Arctic is estimated to have as much as one fifth of the world's remaining oil and gas reserves, and a previous administration in Greenland expanded petroleum companies' licenses to operate offshore. Donald Trump's administration removed restrictions on drilling off Alaska in 2017, with the first rigs set up by the end of that year viewed as a precursor to expansion across the Arctic. China National Petroleum Corp and China National Offshore Oil Corp have both previously expressed an interest in drilling in Greenland in a further licensing round expected later this year (the status of which is currently uncertain).
However, plunging oil prices since 2014 and questions on the long-term viability of carbon fuels have slowed rates of exploration. Amongst the flurry of executive orders signed by Joe Biden as he entered the Oval Office in January was a revocation of the permission to drill in Alaska's wildlife reserves. With both China and the US now pledging faster action on decarbonisation ahead of November's COP26 summit, the longer term prospects for extreme oil and gas exploitation are becoming increasingly uncertain.
There is another natural resource in the Arctic that's increasingly drawing interest, however: the region's huge deposits of rare earth minerals. This group of 17 metals are essential to the production of electronic goods like mobile phones and batteries, but currently China, with its huge domestic reserves, is estimated to hold 50% of known reserves and is responsible for 90% of global production. Restricting access to these supplies would have major knock-on effects in critical industries, and US ambitions to maintain its technological lead and rapidly expand its renewables capacity – both of which are at the centre of the Biden administration's $2tn "American Plan for Jobs" – are at risk if supplies of rare earth minerals cannot be guaranteed for manufactured products. What's more, China is reported to be considering restrictions on its domestic exports of rare earths, apparently with a view to undermining the US defence industry.
Xi highlights China's dominance of rare earths market https://t.co/fIP8AfFuYj

— Financial Times (@FinancialTimes) May 21, 2019
New rare earth sources, independent of Chinese control, are therefore essential from a US point of view. This places Greenland, estimated to hold 38.5m tones of rare earth oxides – over a quarter of estimated reserves globally – at the frontier of the new trade and tech war. China, however, holds the advantage: Shenghe Minerals is pushing to open a joint-venture uranium and rare earth mine at Kvanefjeld in the south of the island, capitalising on Chinese expertise in processing. Only a plant in Malaysia currently has the capacity outside of China to perform the complex task of separating the rare earth minerals – although US-based rare earth miners are seeking to expand their capacity.  
There are also two separate major mining proposals currently on the table for Greenland. Australia-listed Greenland Minerals, in which Shenghe holds a 10% stake, is seeking to expand its Kvanefjeld site, where $100m has already been spent preparing to mine rare earths and uranium. Royalty payments to Greenland were expected to come to $245m a year, or around 15% of Greenland's government budget. An alternative proposal, expected to generate similar royalties that is also run through a privately-held Australian company – Tanbreez Mining Greenland A/S – is known to have close ties to the US, with its owner seeking to raise capital in New York and meeting US officials the week before Trump made his 2019 purchase offer.
The truth is that the US is lagging behind competitor nations in the Arctic, and is running to catch up. Much of its attention has focused directly on Greenland. The US consulate in Greenland had been closed since 1952, but reopened its doors in June 2020. What's more, in June that year the Trump administration signed a memorandum of understanding with Greenland on conducting surveys for rare earth deposits, while the US also has its northernmost military base on the island. Trump provoked bemusement when he speculated about actually buying Greenland (although he was not the first US president to float the idea). More seriously, however, the US Department of Defense has raised specific concerns about the weak US Arctic presence, arguing in a June 2019 report to Congress on the nation's Arctic strategy that as the geography of the Arctic changes, it is becoming "a potential avenue for expanded great power competition and aggression". Already, the DoD argues that "Russia and Canada claim the right to regulate Arctic waters in excess of the authority permitted under international law", threatening US interests. They conclude that "the US Arctic deterrent will require agile, capable, and expeditionary forces with the ability to flexibly project power into and operate within the region."
Is it possible to decarbonise the Global North's energy supply chains without yet more wealth and resource extraction from the Global South? Only by prioritising flourishing for all, argues @HarpreetKPaul

Part of Novara Media's Climate Focus. https://t.co/QHHh3fM1o6

— Novara Media (@novaramedia) December 2, 2020
The US has already turned the screws on Greenland over its Chinese ties. Plans for expanding the capital's airport, using Chinese funds, were dropped after Denmark stepped in "under heavy pressure" from the US. For its part, IA has strongly opposed the Kvanefjeld plans – but has hinted at remaining open to other mining schemes, with party leader Mute Egede previously telling the Financial Times that US interest in mining could help the island win more freedom from Denmark in the "balancing act" Greenland must play between the major powers. The climate crisis, and the drive to decarbonise the world's economies, are further factors contributing to instability and conflict globally. Outside of great power competition, the solution for the rest of us is to insist that plans to decarbonise are tied in to the expansion of the circular economy – reusing, reprogramming and recycling wherever possible.
James Meadway is an economist and Novara Media columnist.