Vaccine Passports Aren't Just Unfair, They Don't Work
Boris Johnson's medical apartheid wouldn't even be effective.
26 July 2021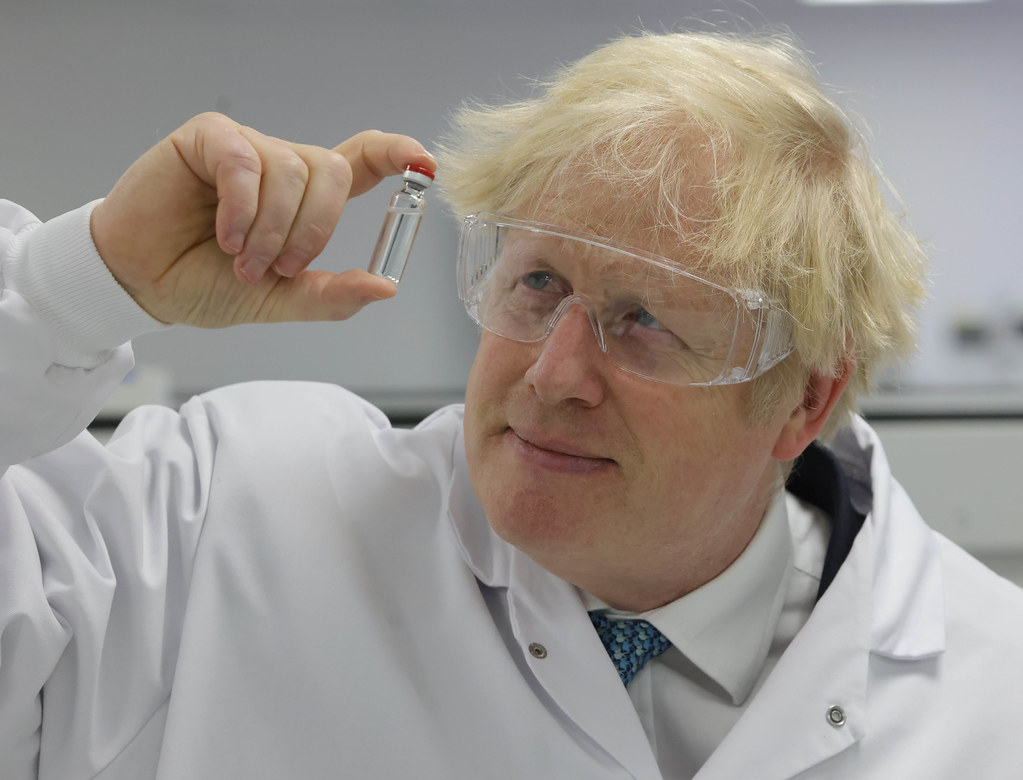 Prime minister Boris Johnson holds a vial of the Oxford/AstraZeneca coronavirus vaccine at a pharmaceutical manufacturing facility in north Wales, November 2020. Andrew Parsons / No 10 Downing Street
Boris Johnson's shock announcement last Monday that he intends to make vaccine passports compulsory for nightclubs and "large public events" from September has understandably been greeted with consternation, and not only because it breaks the promise vaccines minister Nadhim Zahawi made in January and that a government review reiterated barely two weeks ago.
With clubs off-limits for the past year, it's no surprise Johnson's u-turn currently enjoys public support, seeming as it does to offer a route back to normality. And to the government, such incentives may appear a useful carrot with which to tempt the young into getting their jabs (though they could be wrong about this).
All the evidence, however, suggests that vaccine passports will fail.
To be effective, vaccine passports will require more than a simple digital or physical certificate, as even the world's more technologically advanced states have found out the hard way. Vaccine leader Israel's "green pass" scheme, in operation since February, has been beset with reports of fraud; over 100,000 people have flooded Telegram groups that sell forged certificates.
But building in more security requires more sophisticated technology, and more sophistication entails more risks to data security, as millions of people's intimate health data is stored in online systems vulnerable to hacks and leaks. It also creates opportunities for concerted data harvesting by states and private companies, as a review of vaccine passports by the Royal Society noted earlier in the year.
Given the amount of times I've had my passport or provisional drivers license scanned to get into a club, vaccine certification for the riskiest events (like nightclubs) just doesn't seem very dystopian to me. Am I being complacent?

— Michael Walker (@michaeljswalker) April 4, 2021
But there's an even more fundamental problem: vaccine passports cannot guarantee safety.
In February, data technology experts at the Ada Lovelace Institute found that "vaccination status does not offer clear or conclusive evidence about any individual's risk to others via transmission […] therefore any roll-out of a digital passport is not currently justified."
Both expert reviews stressed the need to gather more evidence before proceeding with any passport scheme. The government's own review, published just a few weeks ago, came to the same conclusion. It is not clear what could have shifted in the last fortnight to change the government's mind. If a vaccine passport is to be a reliable guide to safety, we would have to also know that vaccines are effective at preventing not only illness but also transmission. But as is becoming painfully clear, vaccination is not a magic shield against the virus.
The vaccines we have are scientific marvels: researched, tested and manufactured to innoculate against a virus that we didn't even know existed 18 months ago. They radically reduce the risks of hospitalisation and death – and appear to reduce the risk of transmission, too.
It is the problem of transmission that is most pressing. Here, the medical evidence is becoming somewhat clearer. A study of more than 365,000 households by Public Health England, published in April, found that the Pfizer and AstraZeneca vaccines reduce the risk of transmission by 40-60%. This is very good news, but it's not the same as a complete block on transmission: even halving the transmissibility of a highly infectious virus and its even more infectious variants still leaves you with a pretty infectious virus.
We know vaccines reduce your risk of infection, but they aren't *perfect.* Then what fraction of transmission in the population is from the vaccinated? How might this change with new variants?

In the thread below, I share a mental model with worked examples. 1/11 pic.twitter.com/KROyff6CCr

— Natalie E. Dean, PhD (@nataliexdean) July 23, 2021
By treating vaccine passports as a ticket to freedom, we may be paving the way for large events to become the kind of "superspreader" events – "prolonged indoor gatherings with large numbers of people present" – that drive Covid-19 infections across the globe (10% of initial infections responsible for 80% of those subsequently). With the government saying that vaccine passports would eliminate the need for testing (itself not completely reliable), they are creating the conditions in which asymptomatic vaccinated people spread the virus.
Even assuming we can put the technology in place, and that vaccines are better at blocking transmission than we think they are, the differential distribution of vaccines across the population creates the danger of discrimination. In addition to those who can't receive a vaccine for medical reasons, the government's own research shows significantly lower vaccine uptake amongst Black African and Caribbean Britons than their white counterparts. And with just 2% of sub-Saharan Africa fully vaccinated, and the government still refusing to recognise foreign vaccines, we're hurtling towards "medical apartheid".
Finally, as I've written before, function creep is a real threat. Once widespread health status flagging is accepted for one purpose, there is little to stop it from being put to other uses. This isn't just about passports being required for the pub, too. The business model of big tech depends on accumulating and processing ever-expanding quantities of data. Data collected by a vaccine passport scheme would be a goldmine for the likes of Palantir, a firm already providing data logistics for the NHS vaccine rollout.
Far from being a simple solution to reopening society, vaccine passports are likely to automate discrimination, invite data-grabbing and, crucially, leave us unprotected from coronavirus. Labour is absolutely correct to suggest testing is a viable alternative: tests are not perfectly reliable, but are not open to the kind of fraud, discrimination and privacy infringements that vaccine passports are.
The truth is, there is no return to pre-covid normality: with the prospects of even herd immunity receding, we will have to find ways to live with the virus, rather than devising increasingly questionable ways of "defeating" it. Rather than securitising our social lives, better to find ways to manage risk: reducing time spent in poorly ventilated offices and classrooms, clubs and trains would be an obvious one. Support for more home-working would be another. None of this is easy, of course – it requires thinking creatively about how we organise our society around this new danger.
James Meadway is an economist and Novara Media columnist.