Dance Music Took to the Streets This Weekend, But for What?
Ravers have reason to be angry, but 'no politics, just music' won't get them anywhere.
30 June 2021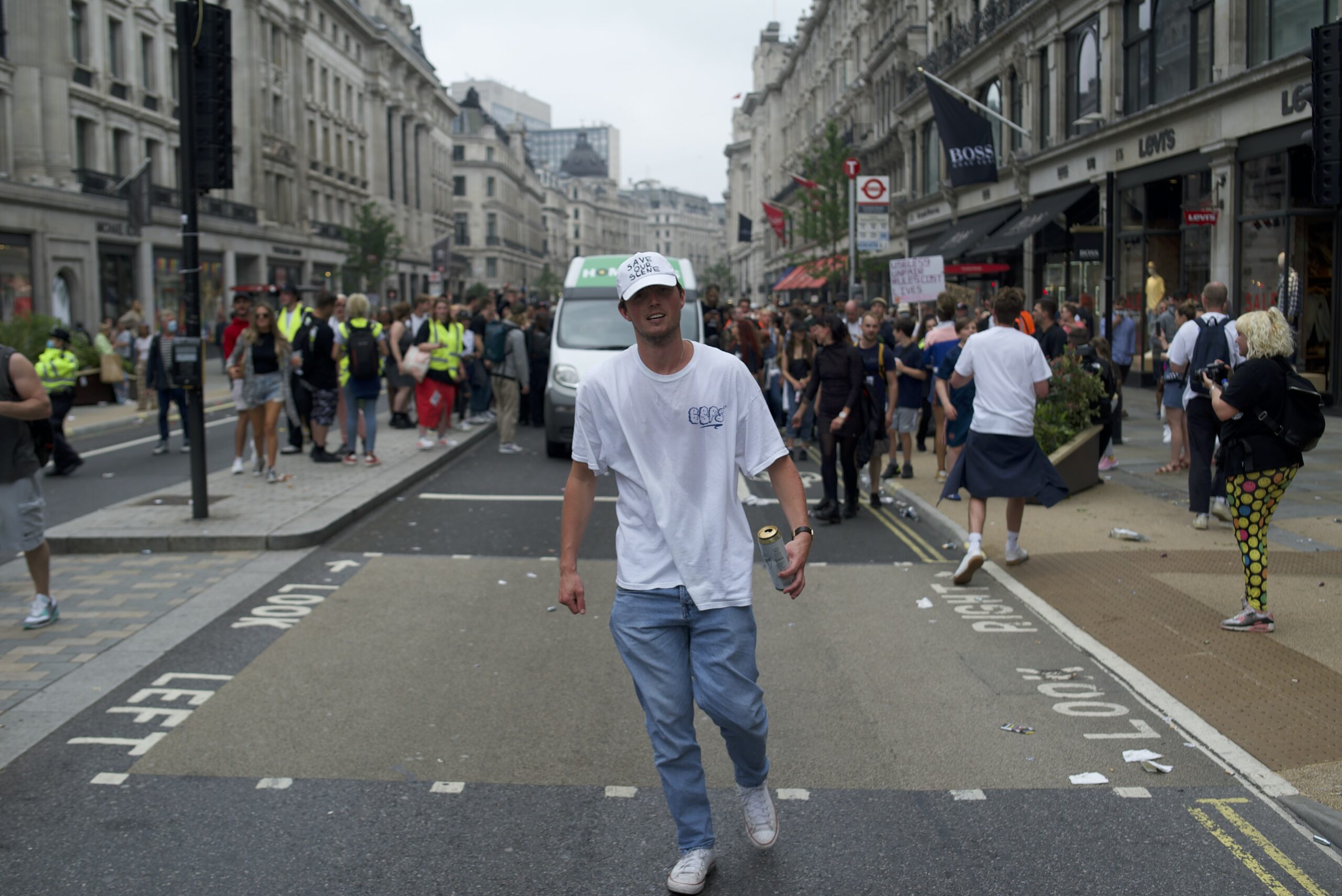 (Ed Gillett)
When's a protest not a protest? Arguably, when it's just a party – but the boundaries between the two aren't always distinct. This weekend's Save Our Scene march, which saw 10,000 ravers and multiple sound systems gleefully cutting shapes through central London, raises complex questions about the ambiguous relationship between dance music and political action.
The brainchild of multimillion-pound Ibiza club magnate Kai Cant and charity campaigner George Fleming, Save Our Scene billed Sunday's march as a chance to stick two fingers up at the government's continued indifference towards nightclubs and dance music. Unlike the billions spent on the restaurant and hospitality sectors via "eat out to help out", clubs have remained shuttered since the start of the pandemic. Their only meaningful source of state support has been a competitive funding pot administered by Arts Council England, announced months after lockdown began, shared across the entire cultural sector, and which didn't even cover dance music initially. Forced to compete against institutions with deeper experience of applying for public funds, from community art galleries to the National Theatre, a substantial number of dance music applicants missed out entirely.
The sense of nightlife being hung out to dry has been compounded by the government's delay in easing lockdown restrictions. Like so much of its decision-making during the pandemic, an uneven and poorly communicated process has left many wondering why certain sections of society have been so transparently prioritised over others. As punters in top hats and ballgowns returned to Epsom races and the Royal Opera House, and 140,000 spectators were confirmed for the upcoming British Grand Prix, nightclubs discovered they'd have to tear up their reopening plans and remain closed for another month. A third round of Arts Council funding was announced to try and cover this gap, enraging applicants who either still haven't received the money they were promised earlier in the year, or didn't get any in the first place.
No details of how to apply, no confirmation that previous grantees have received the money, no acknowledgement that this is only needed because of the government's own mistakes, no explanation of why sporting events can go ahead while cultural ones remain banned. Useless. https://t.co/PtOoFp8lWf

— Ed Gillett (@ehgillett) June 25, 2021
In taking to the streets, Save Our Scene echoes nightlife's historic place at the heart of conflicts between the individual and the British state. Most famously, the introduction of the criminal justice act in 1994 – which clamped down not only on unlicensed raves but squatters, environmental protestors, hunt saboteurs and Traveller communities – was met with huge protests. At the height of the Aids epidemic in 1987, amidst virulent homophobia from the Thatcher government and wider society, the Met Police raided infamous queer venue the Royal Vauxhall Tavern with officers conspicuously wearing rubber gloves. The police's similarly vicious persecution of Black communities at the Mangrove in the 1970s was a key flashpoint for British anti-racist activists. Late-night spaces are an expression of cultural identity, and a proxy for the communities they serve: when the government demeans or discards specific sections of society, it's their cultural venues that invariably get targeted first, or in this case left to rot.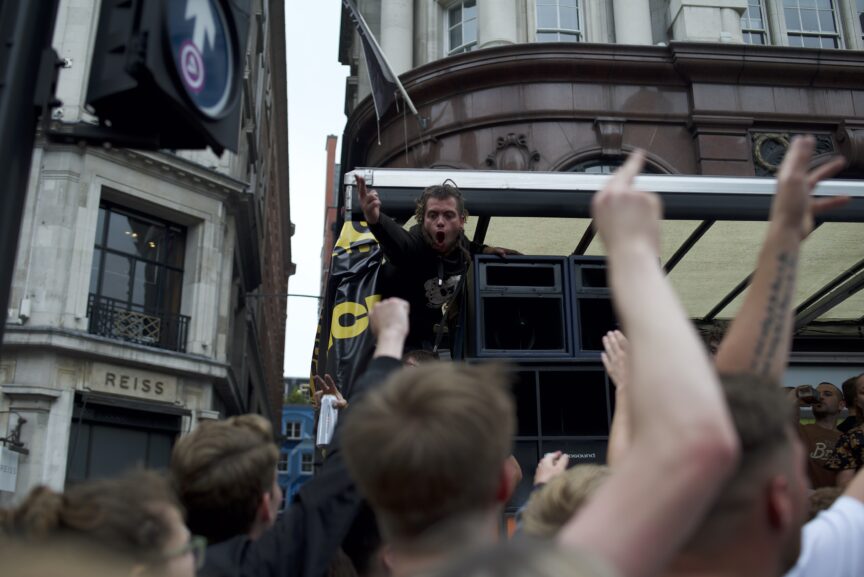 In other ways, though, Save Our Scene marked a distinct break from these earlier protests. Standing amongst the crowds filling Whitehall with the sound of breakbeats and airhorns, it felt less like political action than a bog-standard street party. People were primarily focused on the tunes, dancing, and being with their mates; plenty were huffing nitrous oxide balloons, doing little bumps of powder, or otherwise swept up in the sensory pleasures of the moment. Where other marches invariably build up to a crescendo of outrage as they pass Downing Street, there was little to no shift in mood here; a slogan on the side of the lead truck in the convoy read RIOT SQUAD, with an anarchist A, but was an advert for a brand of vape liquid rather than anything more radical. Despite bringing more dance music fans onto the streets than any other campaign since 1994, it was in many ways the most apolitical "political" protest I've ever experienced.
Other aspects of the march suggested not an absence of political intent, but something more uncomfortable. It was surreal to hear the MC of a protest designed to confront the actions of the state shouting: "Make some noise for the police! You've been working really hard, we appreciate you!" and being met by entirely unironic cheers. At one point, the march crossed paths with a cluster of transphobic protestors; the mixed reception their bigotry received suggested that dance music's roots in queer and trans communities have been forgotten by some.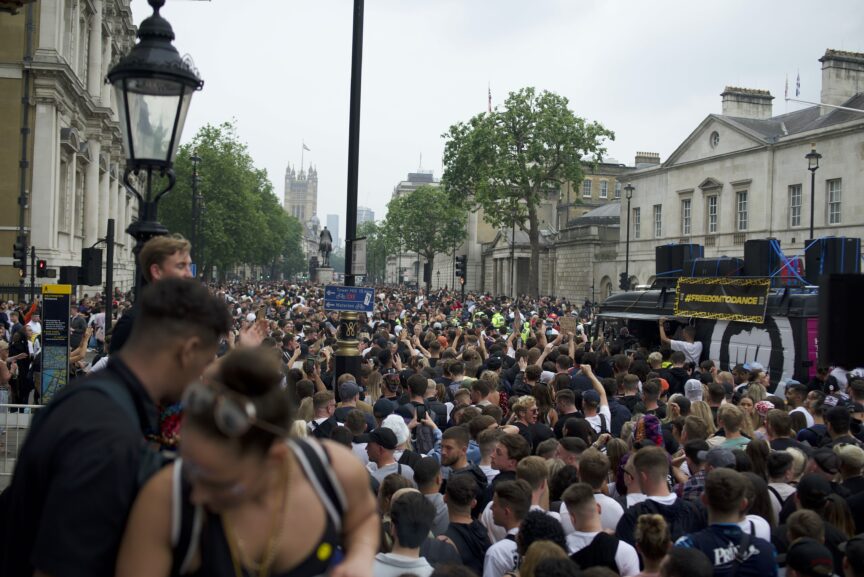 Save Our Scene's overall political messaging regularly felt clumsy and open to problematic interpretation, with their central demand that all nightlife venues should reopen immediately feeling bafflingly unrealistic while the Delta variant continues to surge. They emphasised results from the government's Covid-19 test events which showed a limited number of new Covid-19 infections after a rave at Circus nightclub in Liverpool. However, this glossed over massive caveats in the government's report – only 6% of Circus attendees returned both pre and post-event tests, but even with this limited data the rate of infection was notably higher than for any of the other sporting or music events monitored.
Save Our Scene's lineup of DJs also included a worrying number of people who've either ignored lockdown safeguards to continue playing parties throughout the pandemic, or who've engaged in unapologetic anti-vaccine rhetoric on social media. Hannah Wants, one of the biggest DJs appearing at the march and quoted extensively in Save Our Scene's press materials, spent the week beforehand reassuring her followers that the march's organisers weren't troubled by her anti-vaccine views, and encouraging people to attend the preceding day's conspiracy-heavy "Freedom March", which called for an immediate end to all lockdown restrictions. However valid Save Our Scene's frustrations at the government might be, their credibility undoubtedly suffered from their choice of representatives and half-baked politics.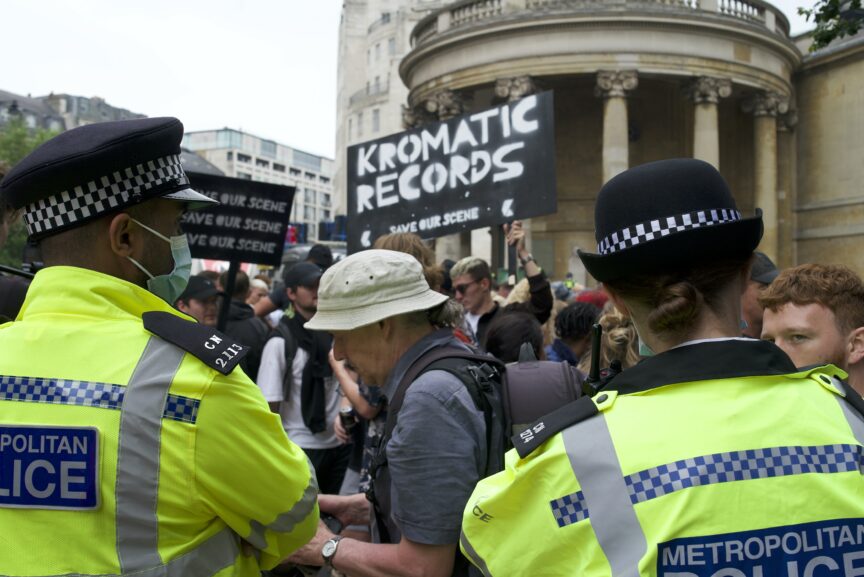 In his opening address to the crowd, former Radio 1 DJ Judge Jules suggested a shift in Save Our Scene's objectives, calling not for the immediate reopening of nightclubs but for the government to stick to its revised 19 July opening date. This felt like an over-correction, from an impossible demand to one that Westminster is already committed to delivering. This singular focus on reopening ignored issues where public pressure might have had a chance to change government policy: better support for creatives unable to work, public underwriting of events insurance for festivals, protection from eviction for venues, or the intersection of these questions with other challenges facing marginalised communities. The absence of any discussion on these topics perhaps reflects Save Our Scene's lack of campaigning experience, their seemingly limited coalition-building efforts with trade unions, community groups, political activists or the wider dance music industry, or perhaps even a lack of interest in the details.
And yet despite all of these shortcomings, there was still something undeniably inspiring about watching sound systems and dancers occupy the heart of the city in their largest numbers for a quarter of a century, offering a direct rebuttal to years of barely-disguised neoliberal disdain for people's desire to dance. It's worth remembering that the political power of rave has always been emergent rather than deliberate: the assertion of our right to hedonistic release is inherently a threat to state control, regardless of whether it's expressed in radical leftwing terms by collectives like Spiral Tribe, or via the dodgy libertarianism of rave promoter turned rightwing gossip merchant Paul Staines. Someone coming up on a pill and rinsing out jungle tunes as they pass the Cenotaph speaks for itself, no further rhetoric needed.
The question of what Save Our Scene and the wider dance music industry does with that subversive energy remains uncertain though. Sunday's march successfully mobilised huge numbers of people, and got them to understand that the music they love is intrinsically tied to systems of political power. But when they shouted "Freedom!" it was unclear precisely what they were thinking of, or being encouraged to imagine. Is this the starting point for rethinking and rebuilding post-Covid dancefloors along genuinely liberatory lines, connecting them to wider fights against racism, sexism and other injustices, or is the only "freedom" being offered a return to the pre-pandemic status quo?
A since-deleted tweet by Hannah Wants, posted the day after the march, indicates the scale of the challenge ahead. "Y'know another great thing about yesterday?" she wrote to her 77,000 followers: "No politics, just music".
Ed Gillett is a writer and filmmaker. His work on music and politics has appeared in the Guardian, the Quietus and the BBC. His first book, Party Lines, will be published by Picador.