Finally, a Green Party Leadership Race Worth Following
Don't clear your diaries just yet, though.
16 September 2021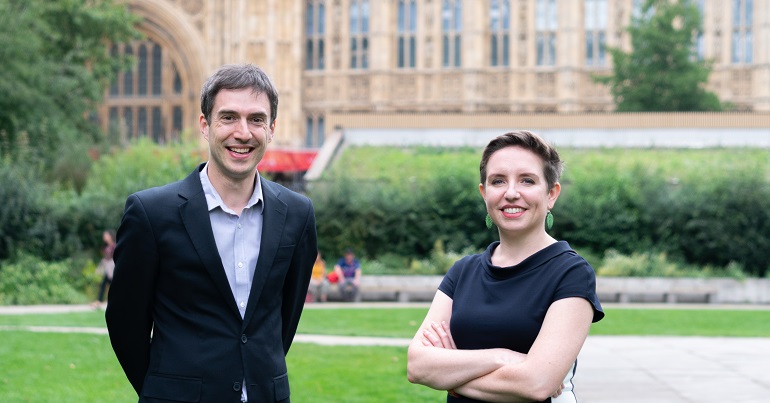 Leadership elections in the Green party used to be a quiet affair. Well, not anymore.
Following the sudden resignation of co-leaders Jonathan Bartley and Sian Berry, the Greens are holding a snap leadership election just 13 months after their last. The field of candidates is the largest ever, and they're promising big changes.
Previous election campaigns focused on relatively small differences over strategy and personality. This leadership campaign, however, has been dominated by a debate over transgender and non-binary rights. The issue has divided the party for months, and in hustings, leadership candidates have clashed intensely over the issue. But this isn't all that has divided them.
The candidates also differ over what – as a small party without a serious prospect of governing – the Greens should be for: winning power through electoral politics, or building a movement. Add to this the long-running divisions over ideology, and you've a recipe for the most dramatic leadership election in Green history.
Who are the candidates?
As LBC host Ian Dale observed during a leadership hustings, the question of trans rights has played a significant role in the contest. The party is bitterly divided over the issue: at the party's spring conference, a pro-trans rights motion was only narrowly approved, with 43% of delegates voting to reject it. In particular, the views of leadership candidate Shahrar Ali have emerged as a point of contention.
Ali, who served as one of two deputy leaders from 2014-2016, was appointed the party's home affairs spokesperson in June. This prompted controversy due to his view that "trans women retain their sex, which is male". Ali has pledged that, as leader, "I will defend and champion … the sex-based rights of women and girls, some 52% of the population". He has been endorsed by former TV writer Graham Linehan, whose views on trans rights have invited widespread criticism.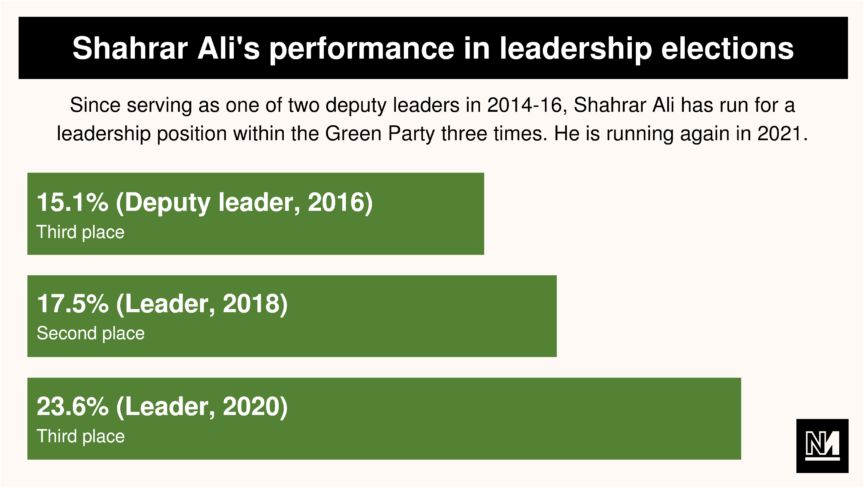 Just weeks after his appointment, Berry quit. In her resignation letter, she wrote: "There is now an inconsistency between the sincere promise to fight for trans rights and inclusion in my work and the message sent by the party's choice of front bench representatives."
Ali's views were challenged in the LBC hustings by deputy leader Amelia Womack, who has stated that "trans women will always be part of my feminism". Womack, who has served as deputy leader since 2014, is now running for leader on a joint ticket with Extinction Rebellion co-founder Tamsin Omond, who is non-binary.
Trans rights have also been vocally backed by Bristol councillor Carla Denyer and former deputy leader Adrian Ramsay, who are also running together. Denyer has pledged she and Ramsay "would take a clear and consistent line in support for trans rights."
Martin Hemingway (a former councillor) and Tina Rothery (an anti-fracking activist) are also running as a joint ticket – think Omond/Womack, but with less name-brand recognition. When it comes to trans rights, the two leadership tickets differ: Hemmingway reportedly told a hustings that if elected, he and Rothery would take no position on transphobia.
Finally, actor Ashley Gunstock – who ran against Caroline Lucas in the party's first leadership election – has said that trans and non-binary rights are "important". Bright Green editor Chris Jarvis felt Gunstock's responses to the issue lacked "practical steps".
Yet though perhaps the most prominent, trans rights are not the only issue hanging over the contest. Two others, less headline-grabbing though not unimportant, are being battled over through it.
The first is an old one: should the Greens be a party that focuses solely on winning and using political power, or one that bolsters environmental activism and social movements?
Denyer and Ramsay are focused on the former strategy. The two describe themselves as having a combined "33 years' political experience", and their pitch for the leadership focuses on internal party reform, with the two calling for a "professional" party with "a clear targeting strategy".
Womack and Omond, however, favour a strategy of winning "hearts and minds" through a grassroots movement. The Guardian has described their campaign as "geared more towards the priorities of younger, more recent members".
Ali's leadership campaign focuses on what he perceives as the party's slow progress and on his media performances, which to me indicates that he would be focused on elections. The same seems true of Gunstock, who has said "we must not let doctrinal purism stand in the way of our aim of electoral advancement"; Hemmingway and Rothery, meanwhile, would focus on environmental activism.
The second and last question overshadowing the contest is an ideological one: should the party align itself with the left, or focus on environmentalism?
'Left', of course, is a relative term; all the candidates feel that the party is anti-capitalist. But Womack/Omond and Denyer/Ramsay have emphasised their opposition to austerity, their support for a Green New Deal and their support for a "just transition", placing them firmly on the left. By contrast, Ali, Hemmingway/Rothery and Gunstock have all pledged to prioritise climate change and environmentalism.
Who will win?
Because the Greens aren't a major party , there's been no polling of the contest. However, we do have some data that might indicate the candidates' likelihood of success, including their endorsements.
Inspired by FiveThirtyEight's Endorsement Primary, I have weighted the candidates' major endorsements on a 1-10 scale. The guiding principle is that those who have (or had) the most power and influence within the party receive the most points.
10 points – Leaders/deputies (current and former)
8 points – Parliamentarians (current and former)
6 points – Council leaders
4 points – Green Council Group leaders
2 points – Councillors
1 points – Former leadership/deputy candidates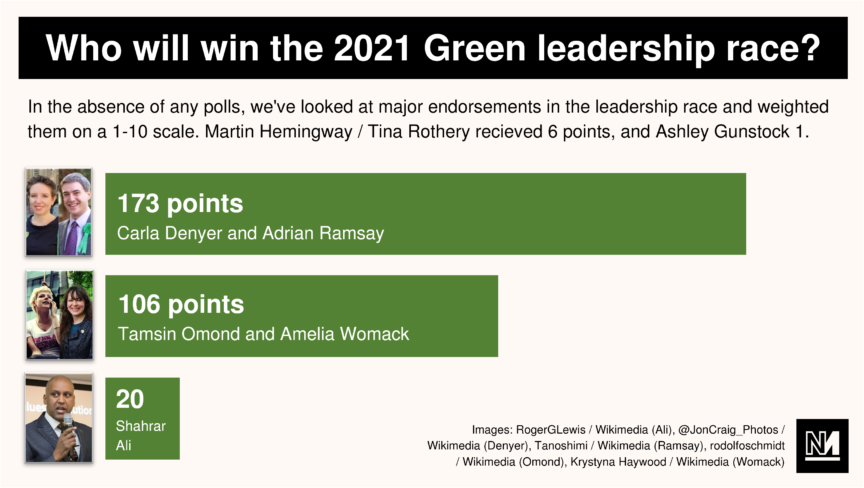 In my calculation, Denyer/Ramsay come out on top, with Omond and Womack not too far behind, and Ali a distant third.
Hemmingway/Rothery (6 points) and Gunstock (1) barely get a look in. Here are the full calculations.
In short, this Green leadership race – unlike most of those before it – is a high-stakes, dramatic contest. With the party's support growing exponentially, Labour voters leaving for the Greens in droves and Greens exercising real power across the UK, the result will impact on British politics in a way previous contests never did.
Personally, I think Denyer and Ramsay will swing it. But with the Greens, nothing is certain: in 2012, Liverpool lecturer Peter Cranie was regarded as the frontrunner. He lost by 19 points.
Ell Folan is the founder of Stats for Lefties and a columnist for Novara Media.
This article has been updated to reflect the differences between Hemmingway/Rothery and Omond/Womack's positions on trans rights.