The Government Wants Green Homes. Big Oil Has Other Ideas
The government's Heat and Buildings Strategy could be dead in the water.
24 September 2021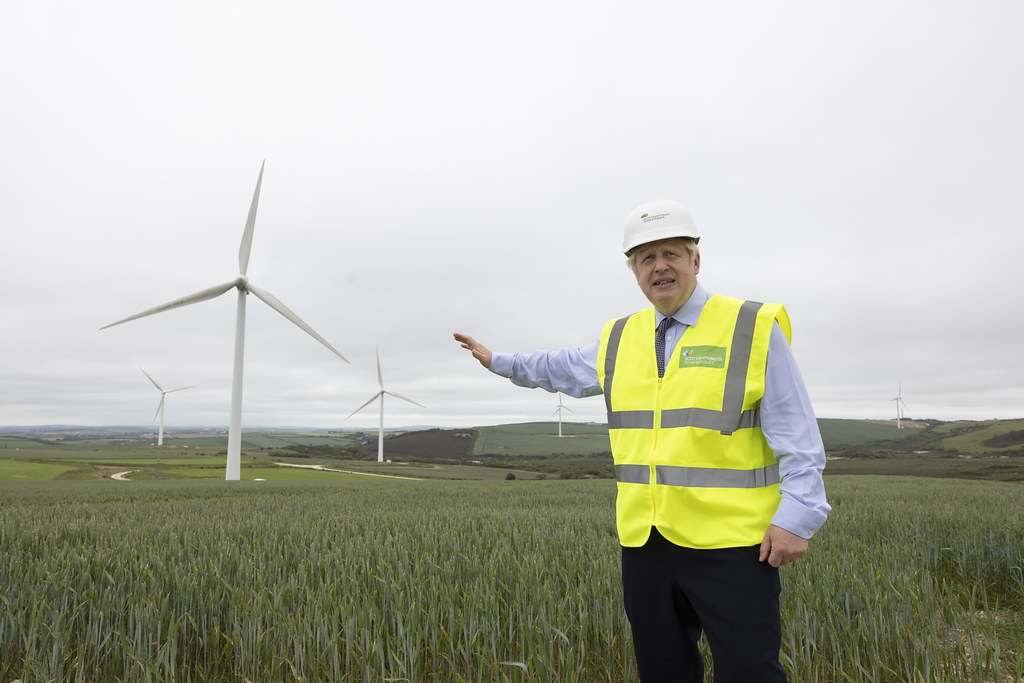 Simon Dawson / No 10 Downing Street
This summer was a sobering reminder of the desperate need to mitigate climate change. With temperatures reaching levels 'beyond human tolerance' and the oceans set ablaze, the United Nations secretary-general declared a "code red for humanity".
This age of climate extremes, while obviously unsettling, isn't unavoidable if we act decisively. Governments around the world are, belatedly, beginning to realise this, setting ambitious targets to reach net-zero greenhouse gas emissions by 2050, in line with the recommendations of the UN's Intergovernmental Panel on Climate Change (IPCC).
The built environment is a key part of this: heating our homes accounts for 14% of the UK's carbon emissions.
The government is well aware of this, but for years has refused to act. When it finally did, it botched it: the Green Homes Grant, destroyed confidence in the retrofit industry, and ultimately set back sustainable housing years.
The government wants to be seen as taking a more strategic approach this time. It is currently in the process of compiling its Heat and Buildings Strategy, a roadmap for climate-proofing the country's buildings. Due later this year, the strategy is expected to build on pledges made in the government's 10-point plan for a Green Industrial Revolution. Crucially, it will decide which energy sources the government decides to major on to heat our homes in the future.
The prospect terrifies Big Oil and the energy companies, who foresee their own obsolescence if the UK majors on renewables. No surprise, then, that they, along with their friends in the Conservative Party and the rightwing press, are doing all they can to influence the Heat and Buildings Strategy and embed themselves in the UK's zero-carbon economy of the future.
The end of hydrogen?
The strategy will likely aim to incentivise householders to embrace one of three main sources of low-carbon heating: renewables, heat pumps and hydrogen gas. The strategy "will have a direct effect on which technologies get deployed on the path to net-zero," Oxford University honorary researcher Jan Rosenow told Novara Media. "The government could ban gas boilers in the 2030s, or impose a carbon tax on natural gas. All these things would have huge ramifications for the industry."
Which route the government takes is of the utmost significance to Big Oil and the energy industry. Fossil fuel companies cannot countenance renewables or heat pumps, because this would mean households can produce and store their own energy, taking them off the grid and rendering grid infrastructure obsolete. Refitting the grid to hydrogen gas has become oil and gas companies' best bet for staying in business.
The problem is, as the government's recently-published Hydrogen Strategy admits, there won't be significant quantities of low-carbon hydrogen (as opposed to high-carbon, or 'blue', hydrogen, which comes from fossil fuels) for some time.
This means that either we have to use renewables and heat pumps to heat homes in the meantime, or use fossil gas.
The UK hydrogen strategy is finally out. My take on it in this thread. https://t.co/vMQkjlAY0Z

— Jan Rosenow (@janrosenow) August 17, 2021
How big oil and energy are lobbying the government to ensure they get what they want.
Faced with the threat of extinction, the oil and gas giants are fighting back, aggressively lobbying the government to nurture the UK's nascent hydrogen industry.
In July 2018, peers and MPs set up an unofficial All-Party Parliamentary Group on Hydrogen. Its funders? Oil companies Equinor and Shell; gas boiler manufacturers Baxi and Worcester Bosch; and gas distributors Cadent, the National Grid, Northern Gas Networks and Scottish Gas Networks.
The APPG's chair is one Tory MP Jacob Young, a former employee of a petrochemicals firm who in a recent report suggests that the Heat and Buildings Strategy presents "exciting opportunities for the Government". In the report, the APPG called on the government to incentivise hydrogen production through "[c]hanges in regulation" and by "mandating the development of hydrogen-ready boilers and meters."
Such companies, we know, have close relationships with the government through their former and current employees. In July, Greenpeace's investigative branch Unearthed revealed that big oil companies had met with government trade minister Conor Burns MP to champion natural gas as a "transition" fuel. Conveniently, Burns once worked for Trant Engineering Limited, an engineering firm in the petrochemical industry.
These companies have far stronger relationships with the government than their renewable energy counterparts. Analysis by environmental investigation group DeSmog shows that ministers from the Department for Business, Energy and Industrial Strategy (BEIS) held 63 private meetings with fossil fuel and biomass energy producers between July 2019 and March 2021. They held just seven with renewable energy generators during that period. Bankrolling the Tories has, undoubtedly, helped Big Oil get ministers' ears.
The press digs in.
While big oil and gas companies have been lobbying to defang the Heat and Buildings Strategy, the rightwing press has backed them up, primarily by laundering hydrogen as a clean alternative to natural gas and smearing low-carbon solutions as impractical, expensive and unfair.
This year we saw a slew of articles highlighting the cost of transitioning to a zero-carbon economy devoid of grid infrastructure. "How the gas boiler ban will increase your energy bill," the Daily Telegraph reported; the Daily Express made a similar claim for heat pumps. Meanwhile, Spiked magazine warned that Boris Johnson's plans to ban gas boilers will "bankrupt Britain". "Gas boilers are to be banned in favour of heat pumps, which are three times as expensive, more costly to run and will only adequately heat the most modern homes," writes Conservative MP Steve Baker, who in May became a trustee of the climate denial group the Global Warming Policy Foundation. "Ordinary families … are going to suffer most."
Jade Lewis, CEO of the Sustainability Energy Association, suggests this concerted effort from the press and the fossil fuel lobby could well influence the Heat and Buildings Strategy. "The government will react to the press, we've seen that happen before," she recalls. "We only need to look back six years ago when the government made a huge U-turn on their green policies and cut back the Energy Company Obligation (ECO) [an obligation placed on energy suppliers to help households with energy efficiency measures]."
Indeed, their pressure has already been working. After the media backlash against the government's announcement in May that it would ban gas boilers in new homes from 2025, it wasn't long before it was briefing newspapers that it would backtrack. "Ministers could downgrade plans to ban the installation of new gas boilers from 2035 to an ambition to ensure that homeowners do not face significant costs," The Times reported inauspiciously.
The Tories divided.
Such lobbying is particularly effective because it plays on existing divides in the Tory party on climate breakdown.
The party contains two seemingly contradictory ideological strands on climate change. Fiscal disciplinarians like Rishi Sunak, set on balancing the books, are sceptical of the net-zero agenda as soon as it involves raising taxes. Then there is what James Meadway terms "red-green Toryism", whose proponents, like mayor of Teesside Ben Houchen and former BEIS secretary Alok Sharma, favour investment in climate-resilient infrastructure as part of "levelling up" the regions.
Different government departments are beholden to these two ideological strands; while the Treasury reportedly blocks funding for decarbonisation measures, BEIS advocates significant climate investment.
The Treasury has long been a block on climate action, from Osborne's attempted 'dash for gas', to Sunak now wavering over alleged 'cost of net zero'.

Maybe the Chancellor should revisit a certain Stern Review commissioned 15 years ago by HM Treasury…
https://t.co/JqprAhDHVJ

— Guy Shrubsole (@guyshrubsole) August 13, 2021
Disagreements between departments over decarbonisation have delayed the strategy's publication, one current government special advisor on climate told Novara Media. They explain that despite BEIS having a full draft of the strategy "ready to go … it wasn't signed off by other ministers who needed to sign off on it". "The strategy was expected in 2020, then it was pushed back to February or March 2021. Then there was talk about it being released by the end of June. Then it was July. Now it's autumn." A shadow cabinet source corroborates this claim, and even suggests BEIS retaliated against the Treasury for stonewalling on the issue.
"In July, there was a front-page splash on heat pumps being key to decarbonisation in The Times," they told Novara Media. "It would be reasonable to assume that this had been leaked by BEIS to put pressure on the treasury to accept the heat pump proposal."
When asked by Novara Media why the strategy had been delayed, a government spokesperson said it "do[es] not comment on speculation", and that it would "publish the Heat and Buildings Strategy in due course".
But with buildings emitting 87m tonnes of carbon dioxide a year, the need to green our homes is both urgent and decades-long.
"We're running out of time, we only have ten years left to avoid runaway climate change," Rosenow remarks. "We can't continue as we have until 2049, and then stop burning gas one day and be net-zero. It has to be a gradual transition, and reducing emissions as much as we can in the meantime."
Alex D King is a freelance journalist based in Manchester.