This Year's the World Transformed Is the Perfect Opportunity for the Left to Rebuild Itself
It's time to get strategising.
24 September 2021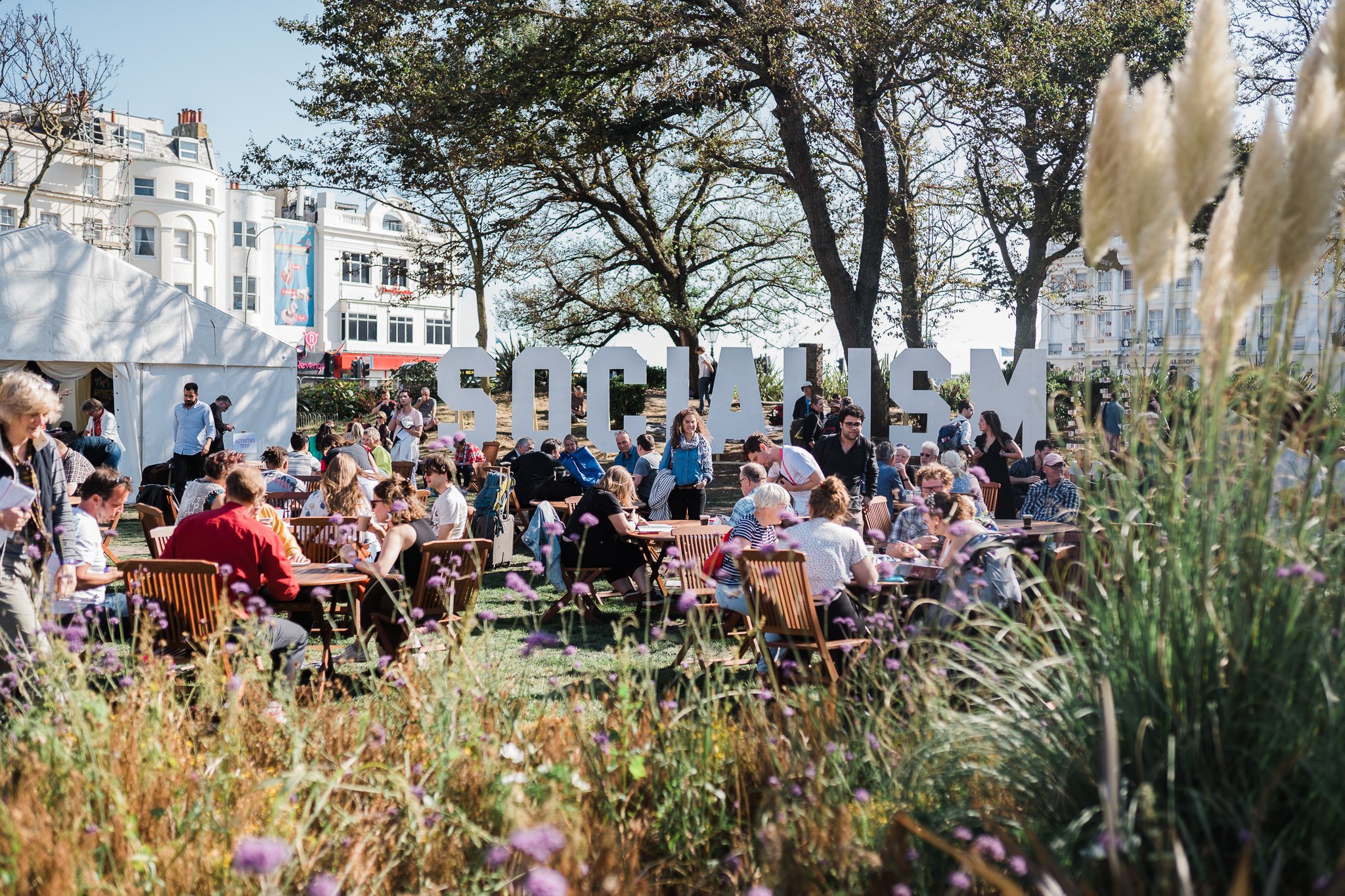 TWT (beckypaynephotography)
For the first time since 2019, the left will be coming together at this year's The World Transformed (TWT), the biggest leftwing multiday event in Britain. After election defeats, the decimation of the Labour party and a devastating global pandemic, the left has been rendered fragmented and incoherent. TWT offers a much-needed opportunity for us to come together to build a strategy to win back power. 
🚨BERNIE @ #TWT21 🚨@BernieSanders is speaking at #TWT21.

He'll be video calling in live for a discussion with @johnmcdonnellMP, in his first public conversation with a UK Labour politician since running for presidency.

Get your ticket now 👉 https://t.co/W75rH5O1NT pic.twitter.com/vKrzAqNfG3

— The World Transformed (@TWT_NOW) September 17, 2021
While Corbynism was able to briefly expand the left's political horizons, uniting us in the pursuit of a more socialist Britain, the Labour party losing the 2019 general election to the Tories, combined with Jeremy Corbyn himself stepping down as leader, severely weakened the British left. 
As academic Oscar Berglund argues, great as it was, the Corbyn project "killed the imagination of much of the British left in terms of what constitutes counter-hegemonic politics", imbuing a significant number of activists with a disproportionate faith in both social democracy and electoral politics and making it "harder to build effective alliances in the wake of its demise".
This picture has gotten even bleaker thanks to the coronavirus pandemic and the Conservative government's reckless and cruel response to it, which has led to the UK having one of the highest coronavirus death rates in the world and a skyrocketing unemployment rate. 
UK to suffer more economic pain from coronavirus crisis than any other leading economy apart from Argentina – OECD. Towards end of next year, UK economy forecast to be still 6.4% smaller than in q4 2019. https://t.co/PcqscHNly3 pic.twitter.com/PdFBwoyCsa

— Brian Groom (@GroomB) December 1, 2020
But where the government's callous, ideologically motivated response to the pandemic has demanded a strong Labour opposition, the party, under Keir Starmer's leadership, has instead decided to fall in line with the Tories. At one point, Starmer even used PMQs as an opportunity to congratulate Boris Johnson on his dismal pandemic response.
Labour's rightward drift under Starmer has alienated thousands of the people who helped make it the biggest political party in Europe, with the party now containing 120,000 less members than it did at the peak of Corbyn's leadership. 
4 years ago, Labour was debt-free, had over 500,000 members, a popular manifesto, a healthy poll lead over the Tories, and a leader who could inspire 120,000 people to sing his name at Glastonbury.

Thank f*ck "centrists" put an end to all that nonsense.
https://t.co/23SXCHFbTO

— Frank Owen's Legendary Paintbrush 🟨🟥🥀🇵🇸 (@WarmongerHodges) July 19, 2021

But there is still reason to hope. While establishment politics offers precious little comfort, the success of grassroots movements like Black Lives Matter and Kill the Bill prove that there is still a clear appetite for leftwing politics in the UK. This was made clear even at the lowest points of the pandemic, with people coming together to launch rent strikes, set up mutual aid groups and resist deportations. Meanwhile, the Guardian reported earlier this week that eight in ten young people blame capitalism for the housing crisis, while two-thirds are in favour of a socialist economy. 
The left must take advantage of this energy to build the momentum and the movement we lost. TWT was set up in 2016 with the aim of doing just that. 
It has consistently been the place for leftists in the UK to come together and connect with struggles across the country, sharing tactics and advice in working out how to achieve victories in their respective campaigns.  
Past events were effective in bridging the 'Westminster gap' by including voices both inside and outside of the political establishment. In doing so, grassroots activists were able to push the Labour leadership further left on issues such as climate, migration and democracy. While over 30 local 'Transformed' groups have been set up across the country as a result of the TWT's political education workshops. 
Looking forward to being part of #TWT21 🗓️https://t.co/vCidaYAClx https://t.co/F5k2n70vcH

— Jeremy Corbyn (@jeremycorbyn) August 11, 2021
Now, with over 100 speakers ranging from socialist leaders from Jeremy Corbyn and Bernie Sanders, to leftwing journalists like Owen Jones and Ash Sarkar, the debates at TWT will chart the course for the future of grassroots leftwing politics in the UK. 
Such an event, which brings together thinkers and activists who have occupied predominantly online spaces for the past two years, is a vital part of the left's movement building – and one that we have been without for too long. 
At least 25 organisations on the British left – from Momentum to Unite the Union  – are coming together to take part in TWT. The diverse nature of the left has for too long been used by the right to divide us. Our intersections and differences are our strengths, and by recognising this, we can re-unite the left, sharing skills and knowledge in order to build a strong and coherent movement. TWT21 provides the perfect opportunity to do this important work. 
We cannot wait for a leadership vacuum or for Westminster to make mistakes to reignite the left. We cannot wait for a fleeting opportunity – the time is now. We must build a radical alternative, from the ground up – and there's no time like the present. 
Mark Montegriffo is a socialist writer and organiser. Adele Walton is an International Development student and writer.
There are still a few tickets for The World Transformed 2021. Get yours here.