Keir Starmer Is Dragging Down Labour in the Polls. Is It Time the Party Cut Him Loose?
The leader doesn't need a focus group to understand what happened in May - he needs a mirror.
25 May 2021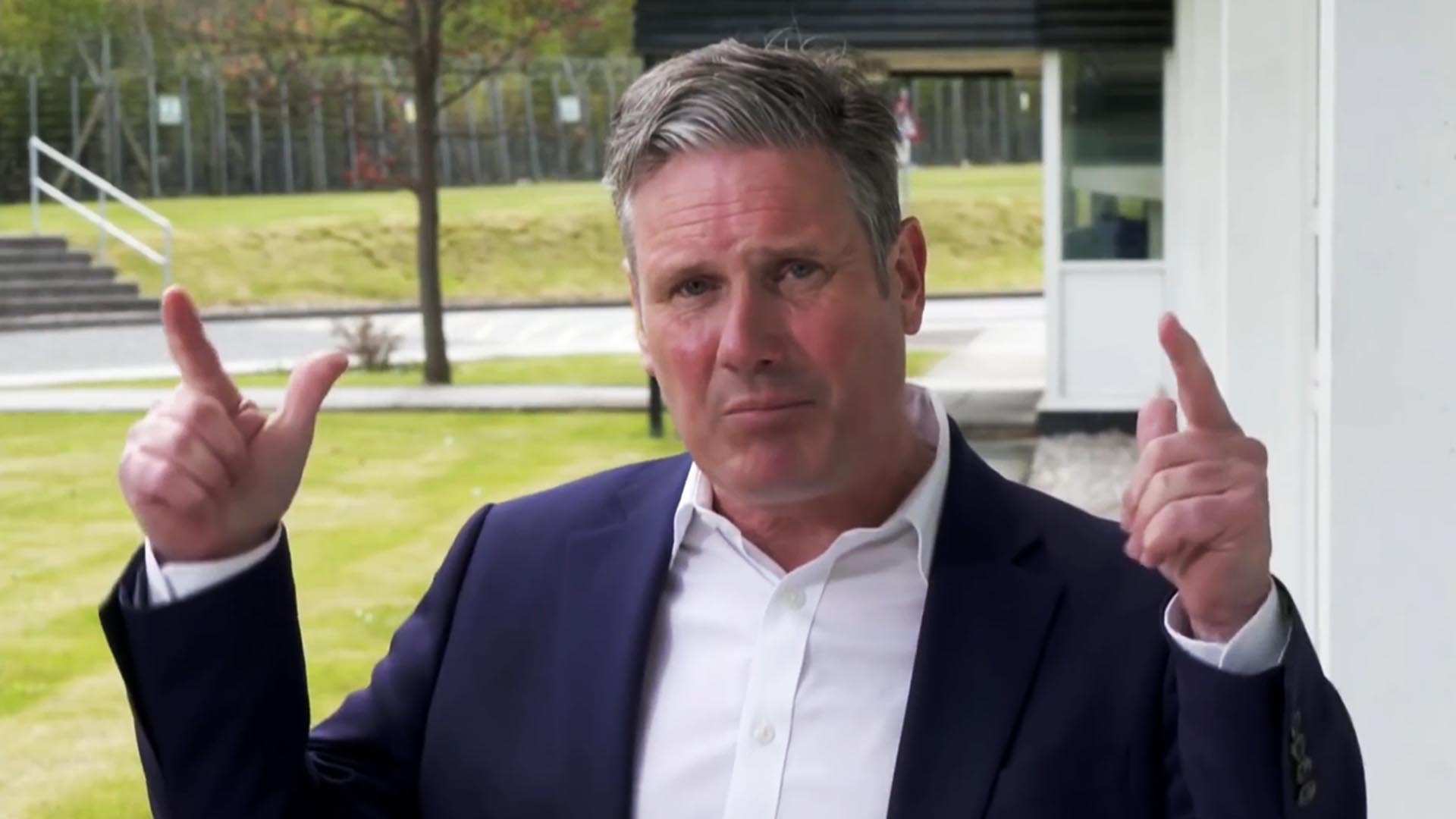 In the aftermath of the recent elections – in which Labour lost over 300 council seats, six police commissioners and Hartlepool – a variety of reasons have been put forward for why the party did so badly. In fact, the party leader had got his excuses in early: weeks before the elections, Keir Starmer was already attributing the poor results he anticipated to a "vaccine bounce". His ally, former Blair aide and ex-Hartlepool MP Peter Mandelson blamed Jeremy Corbyn, who he said was "still casting a very dark cloud over Labour". Others cited Brexit.
Starmer seems to agree that the left is to blame for these poor results. Following the defeat, he demoted his soft left deputy Angela Rayner and sacked his similarly inclined shadow chancellor Annelise Dodds, replacing the latter with Blairite Rachel Reeves. Brexit divisions are clearly also on Starmer's mind, as he has suggested since the elections that his party will move its HQ out of London to show that it represents the whole country. Yet both the Labour leader and many of his supporters seem to be ignoring the overriding cause of Labour's defeat: Starmer himself.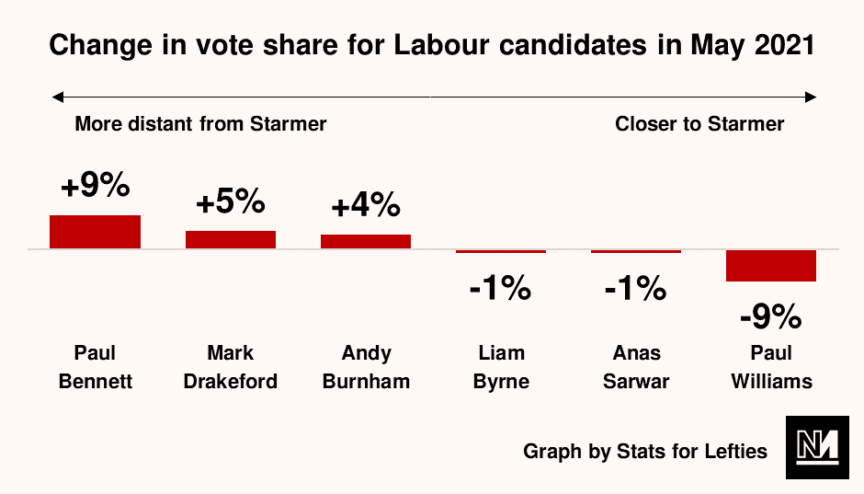 The data is stark: in the recent elections, candidates associated with Starmer generally performed disastrously. Paul Williams lost Hartlepool in a landslide, whilst Liam Byrne decisively lost the West Midlands mayoralty. Starmer threw his weight behind both candidates, visiting the areas in which they were standing three times this year. In Scotland, centrist Anas Sarwar led Scottish Labour to its worst-ever election result.
By contrast, those who distanced themselves from Starmer to run on leftwing manifestos won big. In the Liverpool city region, leftwinger Steve Rotherham won a decisive victory even as the party struggled in the city mayor election. In Greater Manchester, Andy Burnham won all 215 wards in the region and over 67% of the vote. In Wales, Corbyn ally Mark Drakeford won 30 of 60 seats, Welsh Labour's joint best result. In Salford, meanwhile, leftwing mayor Paul Dennett increased his vote share to 59% (+9).
All of these winning candidates proposed clear leftwing policies: Burnham brought bus services into public ownership; Drakeford pledged a living wage for care workers, Dennett more insourcing of public services. Contrast this with what Byrne himself conceded was a lack of a clear message from Starmer.
One need only look at the Labour leader's personal polling to understand why candidates associated with him failed.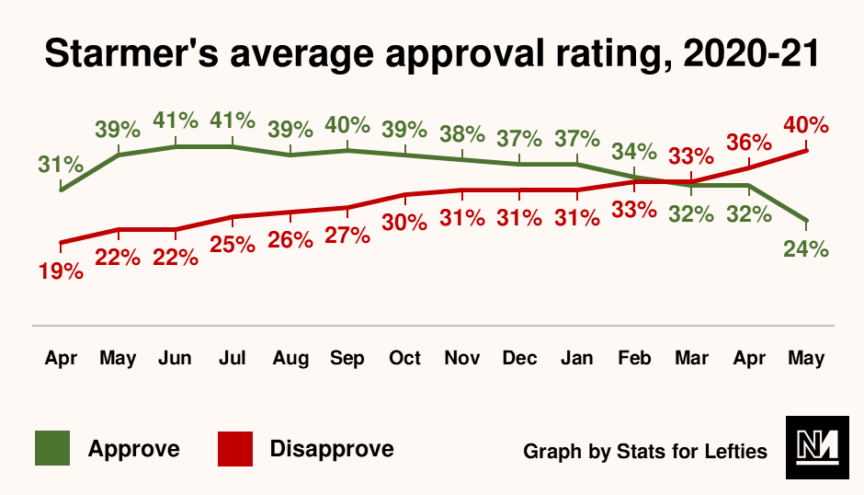 As recently as September, Starmer's approval rating was pretty good. His average net approval was +13, better than anything Miliband or Corbyn ever achieved; he was ahead of Boris Johnson in best prime minister polls; and YouGov found that 38% of voters thought he looked like a PM-in-waiting, compared to 34% who didn't (a net rating of +4).
As we know, this didn't last. Over the past six months, Starmer's approval ratings have collapsed. The decline started in November, around the time the whip was withdrawn from Corbyn. It's been falling ever since.
When he first became leader, voters mostly were apathetic about Starmer; they simply didn't know who he was. Now, that neutrality has turned to negativity.
His best prime minister polling is even worse: Starmer is now 21 points behind Boris Johnson on average, much further behind than Corbyn was in December 2019.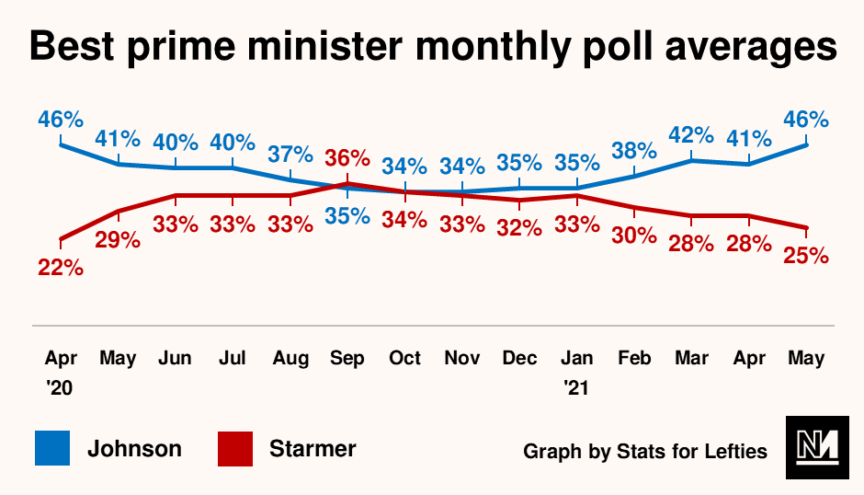 Given how often many Starmer supporters describe him as looking like a prime ministerial, it's important to highlight that voters overwhelmingly don't think that he looks like a PM-in-waiting. Not even Labour voters do: his net rating among them is -30.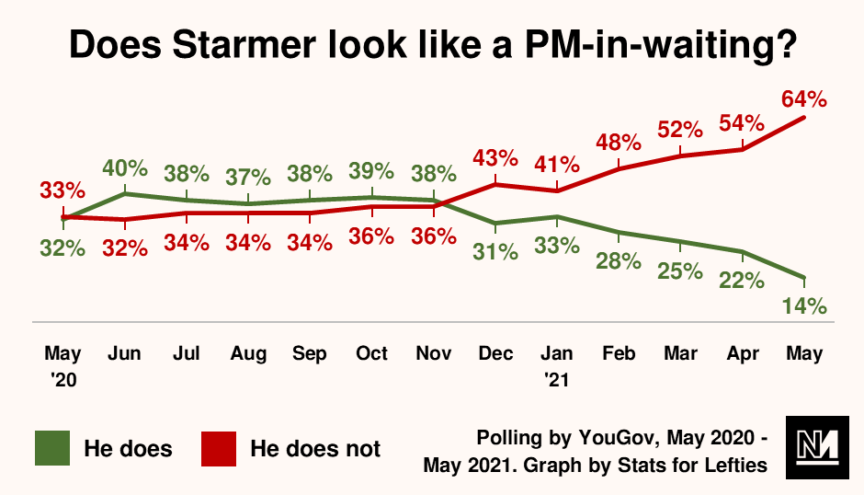 Ever since he became leader, Starmer supporters have consistently argued that he is more popular than his party. As I have pointed out before, Starmer is now far less popular than Labour. The party is currently 10 points behind the Tories, whilst Starmer is 21 points behind Johnson in best PM polling – a substantially worse performance than his party.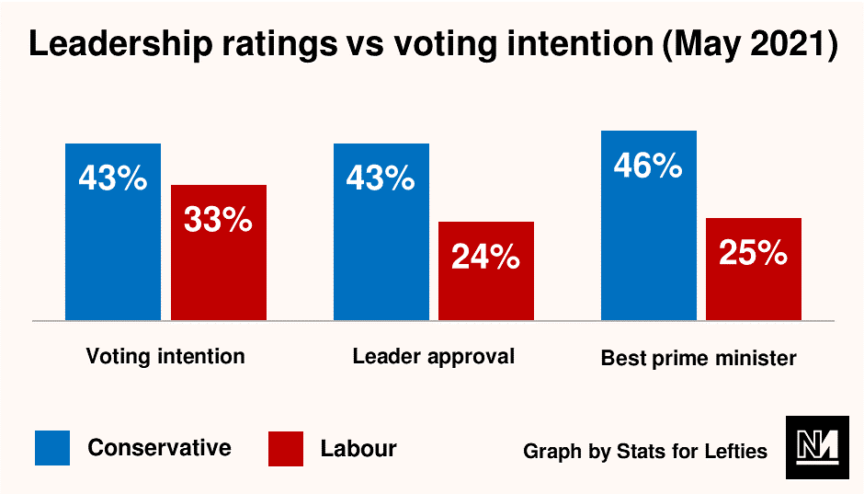 More than that, it is notable that as Starmer's popularity has fallen, so has Labour's. As the below graph shows, Labour's decline in the polls since September has mirrored Starmer's.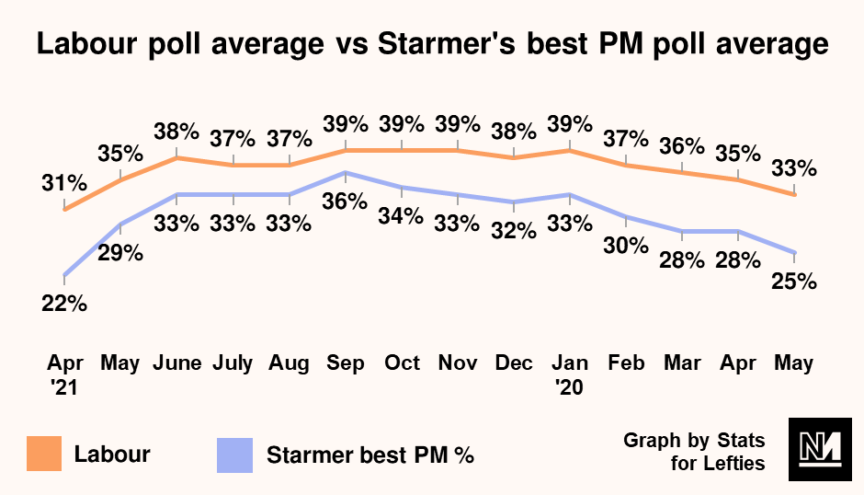 But correlation is not causation. How can we know that the collapse in Starmer's polling has caused Labour's?
Well, we know that it isn't Labour's policies that are the problem. In fact, those proposed in the 2019 manifesto retain huge support from voters: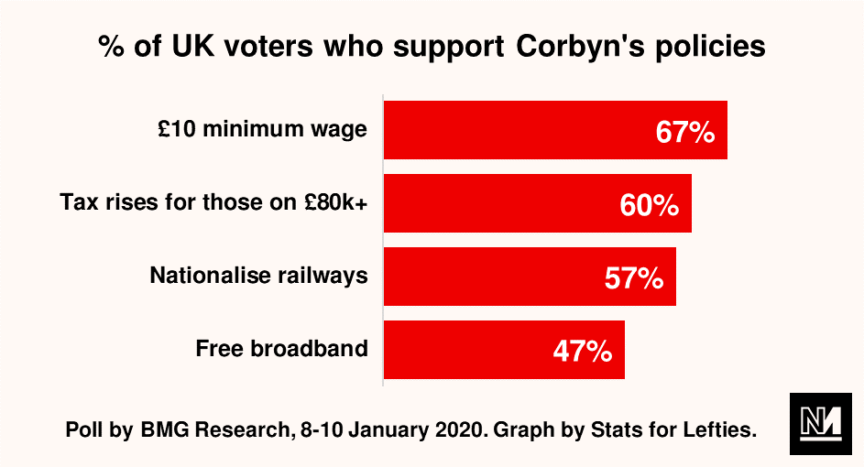 Furthermore, two polls from JL Partners suggest that Starmer himself is the issue.
Firstly, a March poll of Red Wall voters showed that the main reason people gave for not backing Labour was that "it is unclear what Keir Starmer stands for" – 55% of voters cited this. Secondly, a poll of local election voters conducted earlier this month showed that the top reason why voters didn't back Labour was Keir Starmer, with numerous respondents saying that it was unclear what he stood for and complaining that he wasn't proposing any policies.
One respondent, a 54-year old Conservative voter from Yorkshire, said:
"Don't think Kia Starmer is proving to be a good leader and never seems offer any alternative policies to Boris Johnson even though he always critical of everything he does"
In one fell swoop, this respondent sums up the main problem facing Labour. The party has spent a year talking about how it is "under new management", but virtually no time thinking about what that management stands for. Keir Starmer constantly claims not to offer "opposition for opposition's sake", but that is precisely what this particular respondent appears to think he is doing: expertly cross-examining Johnson at the despatch box, but failing to propose any ideas of his own.
I am not convinced that a new leader is the solution to this problem. With YouGov polling showing that 70% of Labour members believe Starmer should remain in-post, he will almost certainly survive a leadership challenge, just as Corbyn did in 2016. Even if Starmer resigned, his influence would remain. The party overall has shifted rightward since Starmer became leader: 57% of members now say that they are willing to make large or moderate compromises on Labour values in order to win, up from 41% in January last year. Members would simply elect another centrist.
My view is this: Starmer's approval ratings are low not because voters hate him for what he has done, but because they are frustrated by what he hasn't done. This is something he can fix. Starmer can rebuild his approval ratings, and the party's, by presenting a popular leftwing vision for society and articulating specific policies that voters can get behind.
That's what Mark Drakeford did – and he just led Welsh Labour to its sixth consecutive win.