Sarah Everard's Killer Isn't One Bad Apple – The Whole Police Force is Rotten
Misogyny is writ through the DNA of the country's police forces.
1 October 2021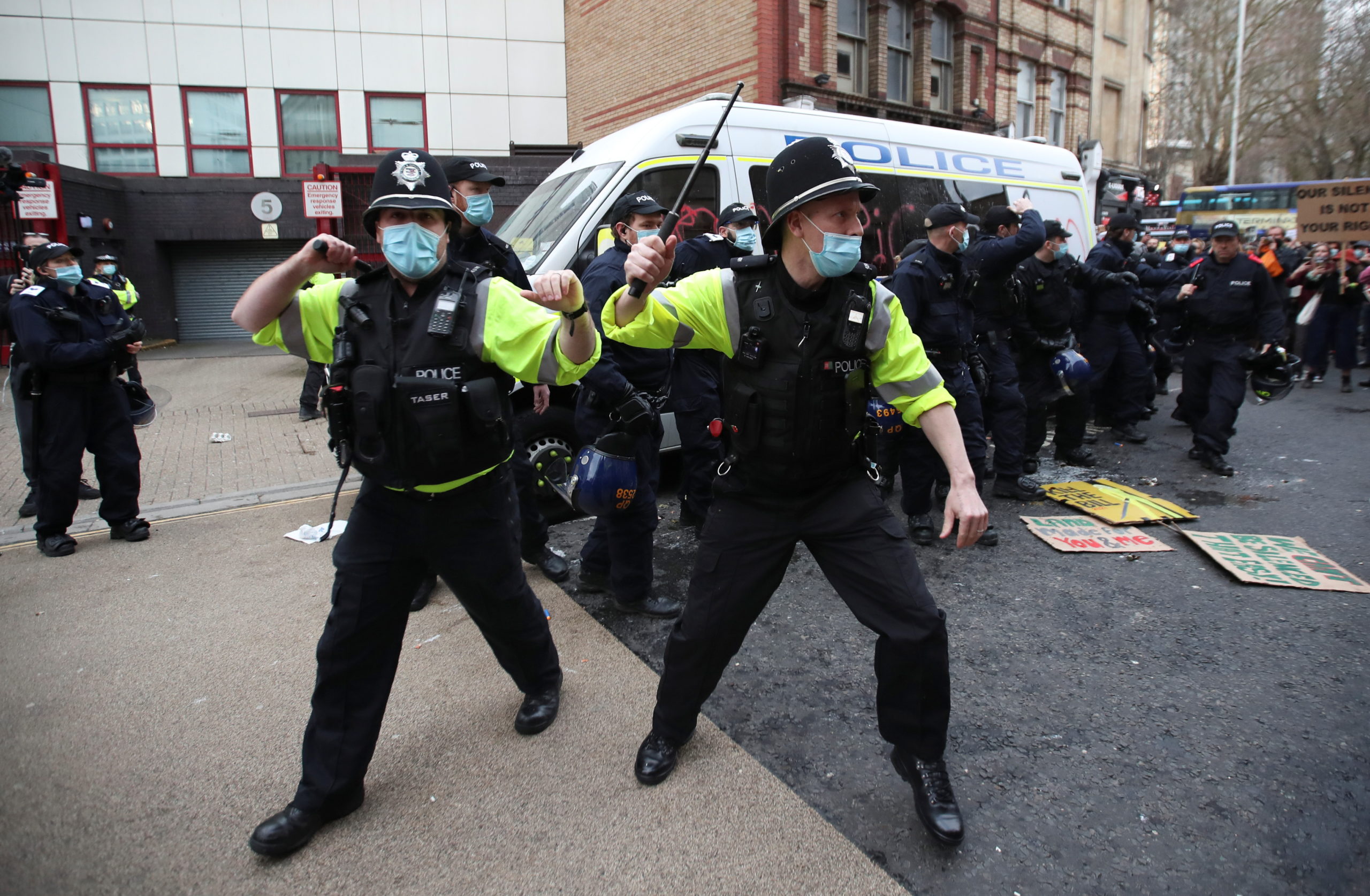 (REUTERS/Peter Cziborra)
Yesterday, Sarah Everard's killer – serving police officer Wayne Couzens – was sentenced to a whole life order. In kidnapping her, Couzens, who was a firearms officer at the time, showed Everard his warrant card and placed her in handcuffs, having 'arrested' her under Covid-19 powers. The 48-year-old then drove Everard 80 miles, before raping and murdering her.
The whole life order handed to Couzens, meaning he'll never be eligible to leave prison, reflects Lord Justice Fulford's assessment that "the misuse of a police officer's role such as occurred in this case […] is of equal seriousness as a murder for the purpose of advancing a political, religious or ideological cause."
The Metropolitan police are keen to establish their distance from Couzens. Met chief Cressida Dick, while acknowledging the "shame" brought on the force by Couzens' actions, stopped short of admitting institutional culpability for his abuse of police powers.
Meanwhile, former detective Simon Harding, who investigated the Everard case, said that "police officers do not view Wayne Couzens as a police officer. They view him as a murderer who happened to be a police officer, rather than the other way around: a police officer who is a murderer […] He doesn't hold the same values as a police officer, he doesn't have the same personality as we do. He's a very sick, dangerous individual who should never have been near a uniform."
"It's something that will stay with me for the rest of my life."

A senior investigator on Sarah Everard's case, former DCI Simon Harding, says police officers "do not view" Wayne Couzens as a police officer and he "should never have been near a uniform".https://t.co/teF0TdWC8q pic.twitter.com/Cwgpaf0fH9

— Sky News (@SkyNews) September 29, 2021
But, this morning, it has emerged that five of Couzens' colleagues are facing criminal investigation after sharing racist, misogynistic and homophobic material with him over WhatsApp. This follows earlier reports that Couzens had been nicknamed "the rapist" by former colleagues for making women feel uncomfortable. Numerous incidents of indecent exposure, including two at a McDonald's, which should have been linked to his vehicle just 72 hours before the kidnap, rape and murder of Everard weren't properly investigated. Couzens' criminality was facilitated by the incompetence and blasé attitude to misogyny embedded within the institution that he worked for.
Wayne Couzens was nicknamed 'The Rapist', shared racist and misogynistic messages with colleagues, and committed indecent in a car registered to him 72 hours before murdering someone.

But it's Sarah Everard who should've waved down a bus.

— Ash Sarkar (@AyoCaesar) October 1, 2021
The police have pledged 650 new officers and increased patrols in order to tackle violence against women. But Couzens' employment as a police officer wasn't incidental to the murder he committed – it was central to it. It was central to Jeffrey Davies' sex offences as a detective in south Wales, to Erling Leask's sexual exploitation of domestic violence victims, and to Derek Winston Seekings' rape of a woman while on a meal break at work. And it was certainly central to the actions of undercover police officers such as Mark Kennedy, who infiltrated leftwing activist groups and conducted sexual relationships with women under false pretences.
After having been ignored and dismissed by police officers when reporting her daughters missing, the mother of Nicole Smallman and Bibaa Henry discovered that two officers had posed for a selfie with their murdered bodies and distributed the image on WhatsApp. Yesterday, a former Met chief superintendent admitted on Radio 4 that female police officers are discouraged from reporting suspicious or abusive behaviour as their colleagues will close ranks, and deliberately leave them unassisted in violent situations. 52% of London police officers found guilty of sexual misconduct between 2016 and 2020 kept their jobs; meanwhile, one woman a week reports being a victim of domestic violence perpetrated by a police officer or a member of staff within the institution.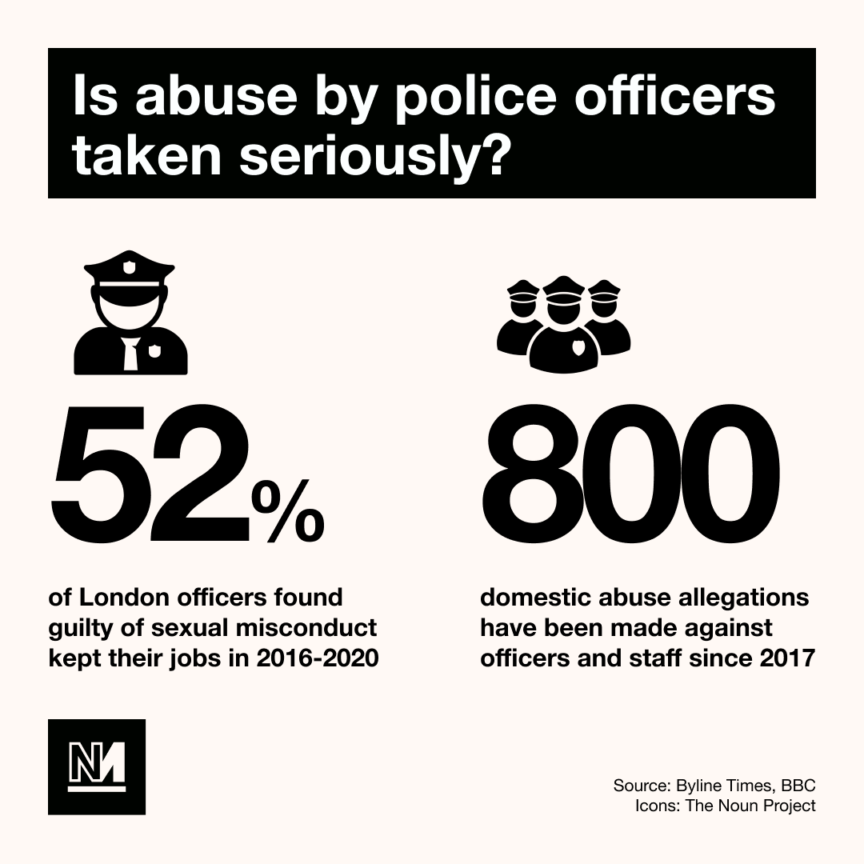 The culture is rotten to the core, built to facilitate, rather than mitigate, abuses of the unique power that is handed to police officers. The sentence handed down to Wayne Couzens alone is not justice. Though his crimes were particularly extreme, violence against women and a tolerance of misogyny is writ through the DNA of the country's police forces. Nothing less than a root and branch overhaul can be seen as a meaningful response.
This piece was originally published in The Cortado, Ash Sarkar's weekly newsletter. Click here to subscribe.
Ash Sarkar is a contributing editor at Novara Media.