The Cop Who Killed Dalian Atkinson is in Prison – But That Doesn't Fix Our Justice System
Burn it down and start again.
7 July 2021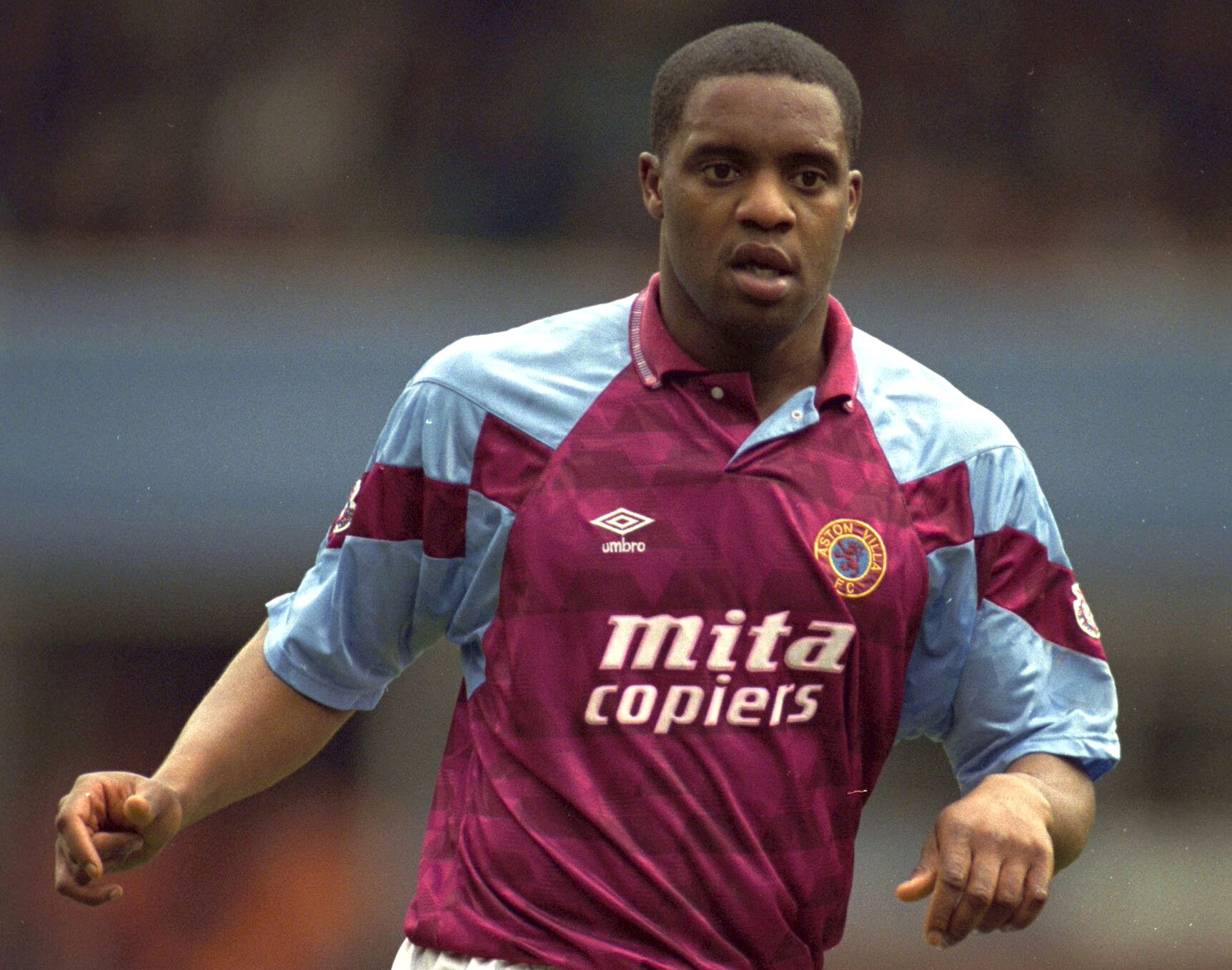 (Action Images via Reuters)
Dalian Atkinson should be a household name. Last month, PC Benjamin Monk was found responsible for the unlawful killing of the former Aston Villa striker, becoming the first serving British police officer to be convicted of manslaughter in 35 years. That his victim was a Black man only served to heighten the dreadful poignancy of the statistic. 
Monk, who was a constable attached to West Mercia police, received eight years in prison for his role in Atkinson's brutal 2016 killing. Called to Atkinson's father's home in Shropshire, Monk repeatedly Tasered and kicked the former footballer, who was in the grip of an "acute mental health crisis", in a six-minute assault that culminated in his death.
For half a decade, Atkinson's family fought to see consequences for the crime, and in June, the courts finally delivered. But why did Monk's conviction, which was technically a historic event, not feel like one at all? 
What even is justice? 
From the start, chatter around Atkinson's trial was muted. Indeed, neither his nor Monk's names provoke the same dull thud of horrifying recognition amongst the public as that of George Floyd or his police officer murderer, Derek Chauvin. This is perhaps due, in part, to the suppression of details surrounding Atkinson's death – the horrific particulars of which were not made public until the case came to trial five years later. But even now, armed with the knowledge of exactly what Monk did to cause Atkinson's death the reactions to this so-called justice remain tepid. 
Even for Atkinson's family, Monk's conviction seemed to be a hollow occasion. Far from celebrating the ruling, they condemned the five-year wait for the case to reach trial, calling it "unacceptable", and criticised the apparent link between Atkinson's public profile and the eventual success of the prosecution against Monk. "We pay tribute to all the bereaved families of Black men who have died at the hands of the police and whose fight for justice has not led to successful prosecutions," Atkinson's family said in a statement after the sentencing. "It shouldn't take the death of a famous footballer for the criminal justice system to work properly and we hope that more families can secure justice in future regardless of whether the deceased is a high profile person." 
Hickman & Rose partner @KateMaynard2 reads out statement on behalf of her clients, the bereaved family of Dalian Atkinson, following sentencing of police officer found guilty of his manslaughter pic.twitter.com/5E2m8ijByc

— Hickman & Rose (@hickmanandrose) June 29, 2021
Justice delayed, as the maxim goes, is justice denied. But looking at the quiet, weary response to Monk's conviction, it seems the central question now is: what even is justice? 
A statement from INQUEST, a UK charity that campaigns for justice on behalf of families bereaved by the state, seems to sum up the issue. "The imprisonment of one police officer does not stop systemic racism and police violence […] True justice requires structural change across our society to address racism and state violence and better respond to mental ill-health."
Our director @DebatINQUEST spoke to BBC Politics Midlands @bbcmtd about the prosecution of PC Monk for the manslaughter of Dalian Atkinson last week, on the importance of accountability and broader need for change.

Watch the report in full from 17.10: https://t.co/Q3yRE3vRKR pic.twitter.com/Sq0glNrivQ

— INQUEST (@INQUEST_ORG) July 5, 2021
The global, grassroots educational campaign that came in the wake of George Floyd's death has instilled a much broader and deeper understanding of what systemic state violence and racism actually means. Abolitionist perspectives are filtering through to the mainstream, even if they are diluted. It is impossible right now to believe that the criminal justice system – from the police on the street to judges in the courtroom – is not fit for purpose, while still having faith in that same system to deliver a satisfactory form of justice when one of its own is up in the dock. If you subscribe to one belief, the other follows.
By this logic, it is difficult to celebrate Monk's sentence. Firstly, because a man is dead, and putting the person responsible in prison won't bring him back. Even those who still have faith in prison as a form of justice would find it difficult to see Monk's conviction as little more than an outlier, or an attempt to appease those demanding wider change. Monk tasered Atkinson three times. He stamped on him with such force that his laces were imprinted in the retired footballer's forehead. And yet Monk was acquitted of murder, instead receiving a lesser conviction of manslaughter. 
Secondly, there is a burgeoning knowledge that individual punitive punishments – such as jail – do nothing to tackle the broader issues that lead to deaths like Atkinson's. One police officer spending the better part of a decade in prison is not going to address how people of colour in need of mental health support are criminalised. It won't undo the institutionalised racism that leads officers called to support a Black man in crisis to perceive him as such a 'threat' that they kill him instead. Prison sentences individualise; they take the pressure away from systemic failures. 
A broken system.
Monk's conviction was a necessary sacrifice by the police, an institution that is currently facing mounting public scrutiny and distrust in its ability to deal with everything from sexual assault to general crime. This, sadly, does not mean that the public at large has lost faith in policing. Following the abduction of Sarah Everard by serving officer Wayne Couzens, YouGov polling in March still found that 70% of the Brits questioned thought that the police were generally doing a "good job". That said, there is a stronger vein of anti-police sentiment in the UK than was previously detected even three years ago, thanks in part to the spotlight placed on the force, along with the wider criminal justice system, during lockdown. 
During that time, endless stories about racial profiling under Covid-19 regulations and police brutality against protesters led to widespread criticism of Priti Patel's plans to expand police powers further under the police, crime, sentencing and courts bill. The knowledge that the criminal justice system, which is already subject to terrible backlogs, has further buckled under the weight of lockdown, has also exposed just how feeble the version of justice it delivers really is. Detainees held on remand recently told human rights organisation Fair Trials that they planned to plead guilty – even while expressing their innocence – just to escape the limbo. 
The third reading of the Police, Crime, Sentencing and Courts Bill was passed by a large majority in Parliament tonight. If it becomes law, it will criminalise effective protest, target minorities, and restrict many workers rights. #KillTheBill pic.twitter.com/cSFeK4Mwt7

— Real Media (@RealMediaGB) July 5, 2021
Considering all this perhaps sheds some light as to why those who cared about the life and death of Atkinson may not have found cause to loudly rejoice upon the sentencing of his killer. Our justice system is broken and, rather than course-correct, the police are being entrusted with further social responsibilities by a government that believes in punitive solutions over all else. 
In his death, Dalian Atkinson joins the pantheon of Black men murdered by a state that sees them as less than human – and that has no interest in fixing that perception. There is no victory to be found here, merely the knowledge that the battle for real justice has only just begun. 
Moya Lothian-McLean is a contributing editor at Novara Media.