9K for What: A Fresher's Guide to Renting in Halls
Rule number one: Your uni is not your friend.
by Zac Larkham
4 October 2021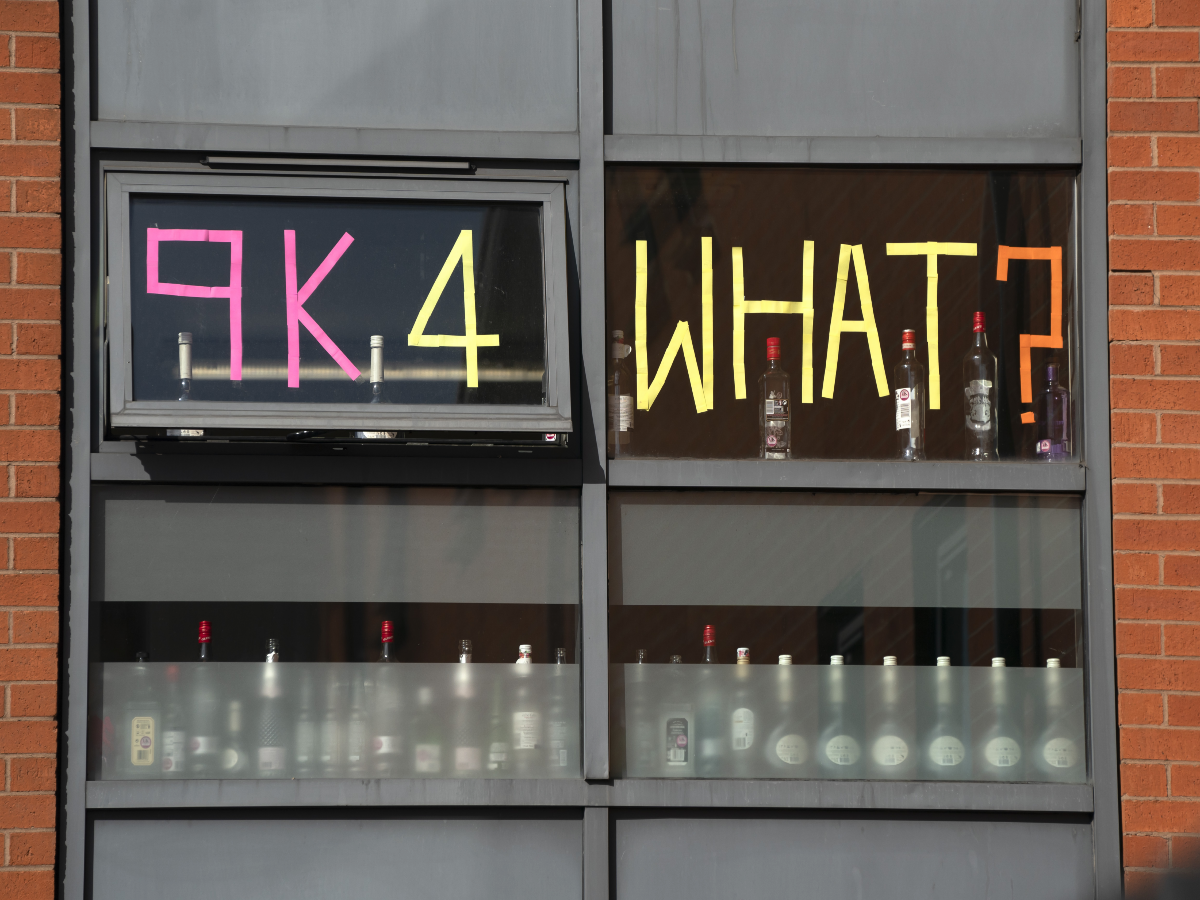 Congratulations! You made it through a pandemic, survived Gavin Williamson messing up your grades and now you're going to university. Since almost 361,000 students rent accommodation from their university, and over 175,000 from private companies like Unite Students, this likely means you'll spend a year living in university halls. And it most probably won't be cheap. 
The cost of renting for students has risen by around 20-30% over the last few years, according to the 2018 NUS and Unipol accommodation costs survey. In 2020, universities invested around £5.77bn in purpose-built student accommodations (PBSAs) – compared to the less than half a billion pounds they shelled out in 2010 – because renting to students is so lucrative. 
Rising rents – price of university accommodation 'doubles' in ten years http://t.co/5d0vGRIb

— BBC Newsbeat (@BBCNewsbeat) November 9, 2012
Freshers are a captive market for universities and private landlords because they know you need to stay somewhere in first year – plus, what student doesn't pay their rent?
Living independently for the first time can be a daunting and confusing experience, particularly when understanding the relationship with your landlord – and even more so if your landlord is also your university. 
It's common to go into higher education thinking that the university is your friend. But that facade is quickly shattered when you realise that it's far more interested in your fees and collecting rent than in fostering your personal and intellectual growth. 
This was made abundantly clear in January 2020, when students were forced into lockdown but told they must keep paying rent for empty rooms. In response, students in 55 universities across the country rose up to pull off the largest rent strike in 40 years, winning hundreds of millions of pounds back for renters.
.@rentstrikeUoM have just won a 30% first term refund for every student in halls, amounting to £12 million.

This is the BIGGEST ever win for a student rent strike and, once again proof that RENT STRIKES WORK 🔥🔥🔥 https://t.co/jO1Lz59gHq

— RENT STRIKE (@rentstrikenow) November 25, 2020
As a result of this experience, student rent strikers have compiled some helpful tips for those of you renting in halls – ones that your university definitely forgot to mention. 
Join or start a tenants union. 
Most first-years live in halls owned by their university, which makes your university your landlord. The remainder of students live in halls run by private companies that the university often has a 'nomination agreement' with. This essentially means the university promises to promote the halls it has an agreement with, sometimes promising a minimum number of students for them to house each year. In return, the university can outsource accommodation and collect a small amount of profit. 
Of course, the problem here is that when your university is either your landlord or has a vested interest in having a good relationship with your landlord, they have no reason to help you with your housing problems.
You found mice in your kitchen when you moved in? The university isn't interested. Damp on the ceiling? Private companies want nothing to do with it. Halls are notorious for their poor build quality and expensive rents. On average, university rent prices are higher than in private houses or flats, but landlords get away with it because students often don't have the knowledge to protect themselves against this exploitation. 
Floods, pests and smashed windows — students in University of Manchester accommodation say they've been plagued by "unsafe" conditions. They are now threatening a rent strike.
Read more: https://t.co/fRYqXwA6QV pic.twitter.com/8RzrolQaKE

— The Big Issue (@BigIssue) October 19, 2020
But don't worry, help is at hand! The National Union of Students (NUS) recently passed a policy calling for a national student tenants union, and there are already unions set up across the country, like Acorn and the London Renters Union, who promise to stick up for their members and help them fight their landlords. 
At some universities, like Sussex and Dundee, students have set up their own tenants' unions, with Sussex Renters Union securing over £3m of rent reductions for students this year. To join, you have to pay a small monthly fee, but becoming a member and organising in the community is one of the best ways to make sure you are being treated fairly as a tenant.
Thank you to everyone who came to the [re]launch of the Renters' Union yesterday. After success last year by winning £3M back from Sussex, we have high hopes set for this year.

For cheaper rents, an accountable uni management & an end to dodgy landlords in B&H + more! Join us pic.twitter.com/mkN9naG5EW

— Sussex Renters' Union (@SussexRU) October 1, 2021
Learn your rights. 
Last year, we saw cops and security all over our campuses, intimidating students and walking into flats to catch out those throwing parties. At Manchester University, students were racially profiled and handed unfair fines, which led to activists training as legal observers, and working on Friday and Saturday nights in freezing cold temperatures, in order to observe the behaviours of police and security guards on campus. Hopefully, you won't have anything like that on your campus, but it's still important to know what police and security can and can't do.
Police cannot enter your accommodation without a warrant, unless you invite them in. If they try to come in, ask them under what power they are doing so – there isn't one, but they're relying on your ignorance to allow them in. The same goes for security guards. Despite universities putting clauses in their contracts that say staff can enter whenever they like, legally, they shouldn't just let themselves in, and you have a right to refuse them entry.
This year we have seen far too many cases of cops harassing and mistreating students in halls.
Check out & share the amazing work @MUCopsOffCampus have been doing to prevent students from being unlawfully policed in their own homes ✊ https://t.co/NNj5ZR9l9z

— RENT STRIKE (@rentstrikenow) March 12, 2021
And remember if staff are coming round, take those socks off the smoke alarms – Queen Mary University of London used this against one rent strike organiser last year to evict them.
(2/6) Student strikers have been made homeless with no warnings for…COVERING A FIRE ALARM WITH A SOCK…once! Its clear they are using minor rule breaches as excuse to suppress student protest. #StopEvictingStudentsQMUL

— RENT STRIKE (@rentstrikenow) April 7, 2021
RENT STRIKE!
Feeling like your rent is too high? Maybe everyone in your building is sick of the poor build quality and vermin running round? Starting a rent strike is always an option – especially since being a student gives you a distinct strategic advantage over your landlord. 
Given that you and your friends all share the same landlord, you have the ability to organise collectively in a way that is nearly impossible in rented houses and flats. Everyone in a building withholding rent from the same landlord can quickly mean millions of pounds of revenue kept from landlords.
And our specific COVID-19 rent strike handbook can be found here:https://t.co/f6QZ0dcYzD

— RENT STRIKE (@rentstrikenow) September 25, 2020
There is, of course, some risk in launching a strike. In extreme circumstances, universities will fight back. We've seen them threaten to withhold post (illegally), place academic sanctions on students and even threaten to send round debt collectors. But they only do this because they know that students can win.
Protect your friends. 
Unfortunately, sexual harassment is widespread at universities, with students at Warwick and Sheffield Hallam universities staging protests over the "huge culture of fear" around sexual abuse and the universities' failure to support victims. 
Given that there are lots of students living in close proximity, halls can be a prime location for predators. Flat parties are an easy way to get spiked or assaulted, while at Sheffield Hallam students alleged sexual harassment from security guards at a number of halls.
TW:// Sexual abuse

Once again Warwick University has failed its female students. Having someone admit to 3/4 counts of sexual abuse against you and still be permitted on campus & allowed to continue their degree is just wild

— ALAINA (@alainaejx) December 8, 2020
Being a victim of sexual harassment is a horrific experience and trying to get justice through university disciplinary procedures can be traumatic for students. In most cases, very little action is taken, so make sure to record any interaction with the police or security for your own safety.
And remember, whether you're going to a flat party or out clubbing, always look out for your friends. 
Zac Larkham is a student and rent strike organiser at Sheffield Hallam University.