Will the Tory Sleaze Scandal Finally Nix the Party's Polling Lead?
The PM may not be able to bluff and bluster his way out of this one.
24 November 2021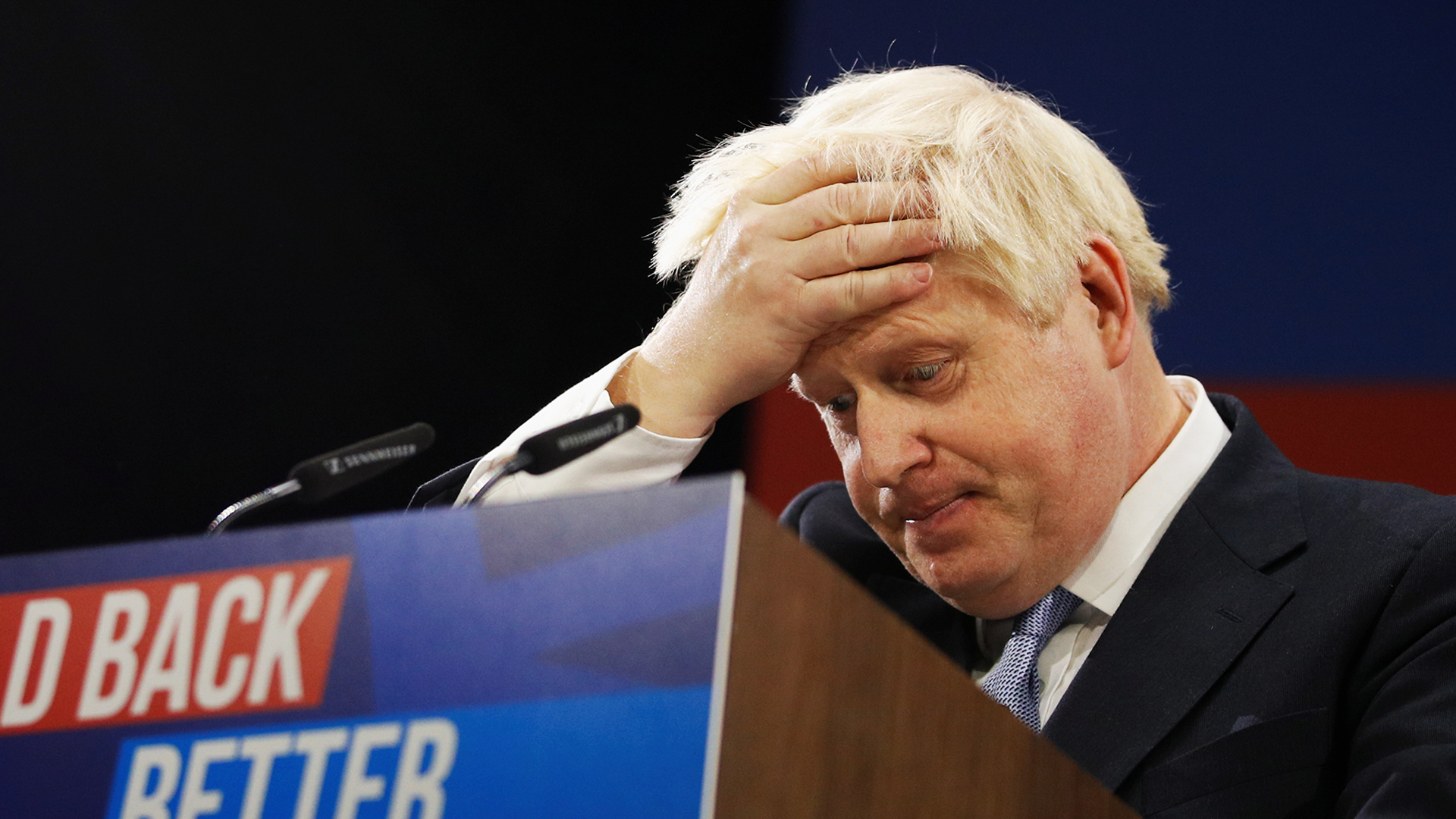 In the decades since Harold Wilson first said it, "A week is a long time in politics" has become an almost embarrassing cliché. Yet looking at Boris Johnson's current difficulties, I find myself forced to indulge in it. Because if a week is a long time in politics, the last month has felt like an eternity.
In October, Johnson was riding high. His party was firmly ahead in the polls; Johnson himself was consistently besting Keir Starmer in best PM surveys; and Tory MPs were largely united behind the prime minister. Today, the picture could hardly be more different: the Tories trail Labour by up to six points; Starmer is nudging ahead in some best PM polls; and Tory MPs are reportedly uneasy. It's not a good time to be Boris.
The major cause of the sudden decline is the Tory sleaze scandal, which began in October when the commission tasked with enforcing MPs' standards ruled that Owen Paterson MP had breached advocacy rules for lobbying on behalf of Randox and Lynn's Country Foods, two companies he was paid to advise, and the Commons standards committee called for him to be suspended for 30 days. Johnson's government attempted to delay this suspension; after a backlash, Johnson reversed course. This then escalated into an all-out scandal about MPs' second jobs. At its height, there was a new front-page story virtually every day; MPs were inundated with complaints, and Paterson himself quit the Commons entirely.
We have been here before. Previous controversies have seen the Tory lead narrow, only for it to reassert itself within days or (at most) weeks. So are the Tories' sleaze troubles another temporary setback, or have voters finally snapped?
One thing that's certain is that voters are souring on the Tory party and its leadership at the present time. As recently as October this year, Johnson had a better net approval rating than Labour leader Keir Starmer and he had a 9-point lead over Starmer when it came to who would make the best PM. The controversies that erupted have reversed these advantages. Johnson's net approval is now his lowest since becoming PM (-19), and his lead over Starmer on who would make the best PM is down to just 4 points.
But is this happening because of Tory sleaze, or is it just the usual mid-term blues? Two things point to the former. Firstly, voters have paid a lot of attention to this story, which combined with the timing of the poll decline suggests a connection. As the graph below shows, the Tory vote began to decline shortly after the Paterson story first broke. From an average 5-point Tory lead in October, Labour has now edged slightly ahead as November draws to a close.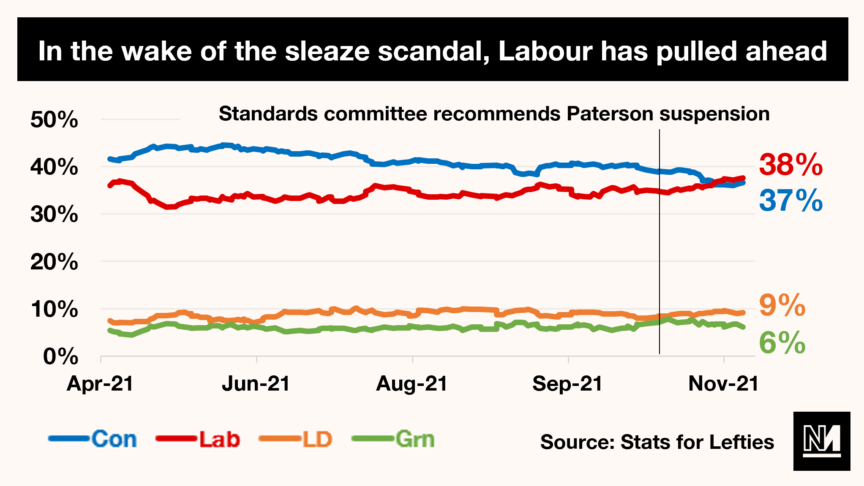 Secondly, the percentage of voters who think the Tories are sleazy has risen from 51% in April to 60% now. Perhaps most significantly, a plurality of Tory voters now say the party gives the impression of being sleazy (in March 2015, just 44% of all voters felt that way).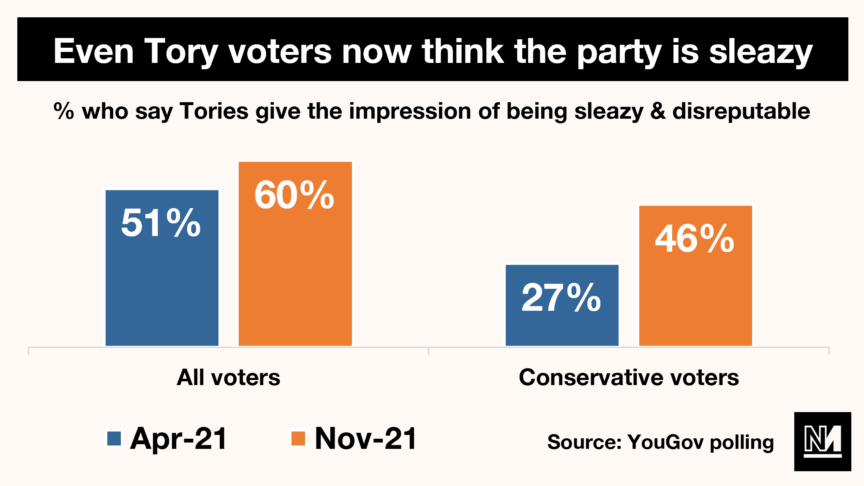 And yet these stats should give us pause. After all, a majority of voters felt that the Tories were sleazy back in April, yet just one month later Boris Johnson achieved stellar results in the local elections (including gaining Hartlepool with a massive swing). The 44% of Tory voters who felt the party was sleazy and disreputable still handed it its first majority in 22 years just two months later. Sleaze didn't stop Brits voting Tory then – why would it be any different now?
This is not to say that voters are happy about the sleaze scandal: clearly, their opinion of the Tories and Johnson has been dented by it. But there is much to indicate that this episode of Tory decline, whilst more dramatic than others, will be just as brief. This is because of the Tories two greatest assets: one being Boris Johnson, a man seemingly impervious to decades of criticism, the other being his opponent.
Keir Starmer's current approval rating – whilst better than Johnson's – is hardly impressive. A mere 28% of voters approve of him, an 11-point decline from September 2020. Starmer has not been the beneficiary of the public's discontent with Johnson; instead appears to have been dragged down with him. Johnson's best PM rating has declined, but so has the opposition leader's – his current 4-point deficit is a far cry from the 1-point lead he enjoyed last September.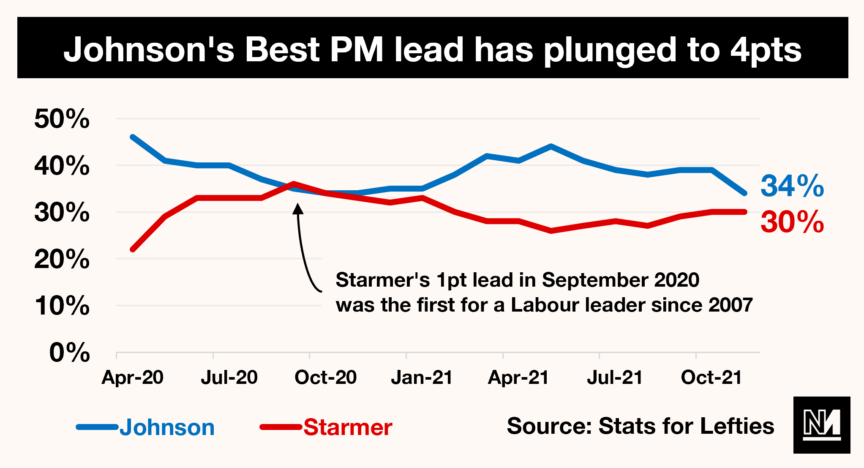 But even away from personal ratings, a possibly temporary dip in Tory support doesn't change certain broader factors that make a Conservative victory likely.
Firstly, the first-past-the-post electoral system makes it very difficult for Labour to win the most seats even if it beats the Tories in vote share – a disparity which the new boundaries are set to widen even further. Second, Labour will find it virtually impossible to win a majority in 2024, allowing the Tories to once again spread worries about a "coalition of chaos" supported by Scottish nationalists. Finally, the Tories have shown no compulsions in recent years about dumping an unpopular leader and bringing in another one – so there's little reason to think they won't simply replace Johnson with Rishi Sunak if the polls get particularly concerning – especially since the chancellor remains one of the most popular politicians in Britain.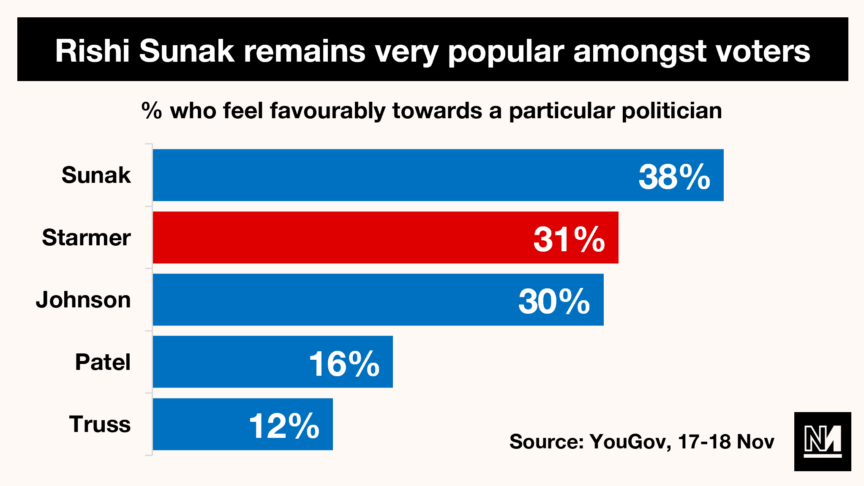 However, the Tories' recent poll troubles should also prompt us to recall an important fact: no British party has ever won five elections in a row. After achieving victories of varying margins in 2010-19, the Conservatives face the challenge in 2024 of convincing voters that their term in office should be extended to a total of 19 years – longer than any single party has ruled Britain since the Liberals' 22-year run in the nineteenth century. That's a tough sell. Over such a long period, voters tend to get tired of one party running the country; demographics shift; and unexpected events can dent the governing party's popularity. To achieve an unprecedented fifth term, Boris Johnson needs everything to go right. And right now, he isn't.
Even so, a part of me remains sceptical that the Tories' poll difficulties will last. Tory controversies have come and gone, but the party has proven unassailable. And even if the Paterson controversy ends up bringing down Johnson, there's a whole cabinet of Tory hopefuls eager to replace him. Meanwhile, the main opposition party remains divided, its leader is barely less unpopular than Johnson, and the Greens are surging at Labour's expense. Stranger things have happened than a Johnson defeat, but I still expect the Tories to bounce back before 2024.