Should Bosses Pay for Workers' Travel Home Late at Night?
A Unite campaign in Glasgow says so.
2 December 2021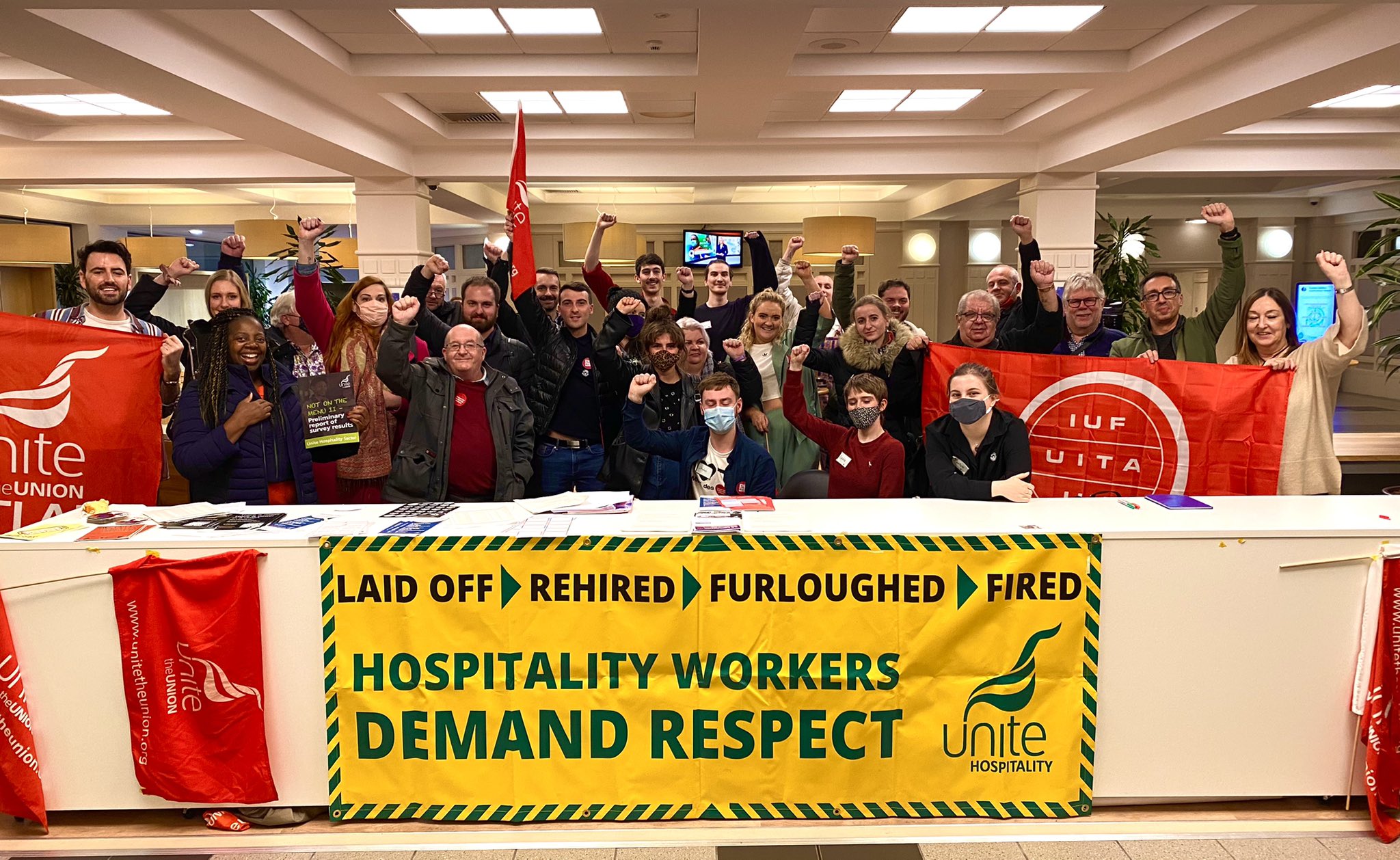 A meeting of Unite Hospitality, November 9, 2021. (Unite Hospitality)
Forced to work late at a luxury hotel in Glasgow in July, Caitlin Lee's employer refused to pay for a taxi home. Walking home in the dark when the last bus failed to arrive, she was sexually assaulted.
For late-night hospitality workers like Caitlin — predominately low-waged, employed on zero-hour contracts, and unlikely to own a car — accessing transport home can be difficult and even dangerous. Under the current system, if late-night workers can't make it home, that's not the employer's problem.
Frustrated at repeatedly having to spend their wages on costly taxis or risk making their own way home, workers are taking matters into their own hands. That's why the Glasgow branch of Unite Hospitality has launched its Safe Home campaign, demanding employers provide staff with free and safe transport after the last bus, train, or tram has departed.
For Caitlin, who is also chair of the Glasgow branch of Unite Hospitality, the issue is directly connected to the industry's endemic poor pay. It cost her £10 to get home from Kimpton Blythswood Square Hotel, the employer that left her to walk home that July night. "That's an hour's wages," she told Novara Media. "A cocktail at the hotel is £10. This is ultimately a financial decision for a company. How much does an employee's safety cost?"
After the assault, Caitlin raised a grievance with the InterContinental Hotels Group (IHG), the multi-million hotel chain that owns the Kimpton Blythswood, over its duty of care. The hotel group refused to uphold the grievance, ruling instead that "IHG is not responsible for your health and safety once you leave the place of work." The company's refusal to uphold her grievance and support workers beyond the workplace disappointed but didn't surprise Caitlin. "It's just about money for them. They don't want to cough out an extra fiver per worker to get them home."
🚨BREAKING 🚨@IHGCorporate have refused to uphold the grievance submitted by @GlasgowUnite Chair after she was assaulted walking home at 12am. They remain adamant that they have no obligation to their workers beyond workplace.

We will see them in court & on the picket line. pic.twitter.com/YlbumsZe2D

— Unite Hospitality (@FairHospitality) October 29, 2021
Unite Hospitality's tactics.
When the grievance system failed Caitlin, her union branch took to the streets, protesting during COP26 outside the IHG's flagship Scottish hotel, the Grand Central. Amid chants of "Hey Hey IHG, get your workers home for free," members from a variety of Unite Hospitality branches, as well as the recently elected general secretary Sharon Graham and officer for hospitality Dave Turnbull, held posters that read: "£6.56 per hour, £12.80 for a taxi: We Deserve Free Transport Home." Speakers noted that IHG – which owns the Holiday Inn brand – is refusing to pay for employee transport, despite turning a sizeable profit in the first half of 2021.
Caitlin and her union aren't just demonstrating. The branch has been leveraging the need for all alcohol-serving venues to obtain an operating license from the council. To gain a license, venues have to adhere to a set of conditions. Unite Hospitality is fighting for these conditions to include a company's responsibility for staff safety on the way home.
It's an approach that's already convinced one council: the East Dunbartonshire Licensing Board has made it mandatory for licensed premises to provide transport arrangements for late-night employees. Jim Gibbons, convenor of the Licensing Board, explicitly tied the decision to Unite's Safe Home campaign.
Not all councils are acting as proactively: in Glasgow, the Licensing Board allowed venues to stay open for an additional hour throughout COP26. For Caitlin, the source of this decision — to boost the economy — failed to consider the question: "What about the workers staying for that extra hour?" This question is central to the campaign, designed to highlight the costs workers are required to pay simply to attend their jobs.
Women are defending themselves.
That the Metropolitan Police happened to be staying in the Grand Central Hotel, the site of the Unite protest, for the duration of COP26 was not lost on Caitlin. Back in March, the disappearance and murder of Sarah Everard – and subsequent policing of the outcry – sparked discussions at union branch meetings. Women members reported feeling worried about customers waiting for them once they finished their shifts, or about the sexual harassment they'd encountered walking through the night. For them, women's and workers' safety issues are inseparable. As Caitlin says: "What we want to do as trade unionists and hospitality workers, it's not just for us, but for all women."
In this way, Unite's campaign is emphasising the active role women in the trade union movement can play in fighting gendered violence. In connecting the dots between sexual harassment in the workplace and in the world at large, Unite can challenge repeated affirmations of women's helplessness, their need for the state's paternal protections – whether in the form of plain-clothed officers in bars and clubs, or a possible amendment to the Police, Crime, Sentencing and Courts Bill that would make misogyny a hate crime.
By refusing to separate their experiences as women from their experiences as workers, Unite is able to push back on an overly simplistic public narrative that presents all women as vulnerable, without attending to how race, class, and in this instance, precarious employment, affect women's experiences of harassment and violence. On this year's International Day for the Elimination of Violence against Women, the Glasgow Unite branch will be continuing their walkabout approach of visiting workplaces to ask workers the simple question: how do you get home?
An indication of Unite's future?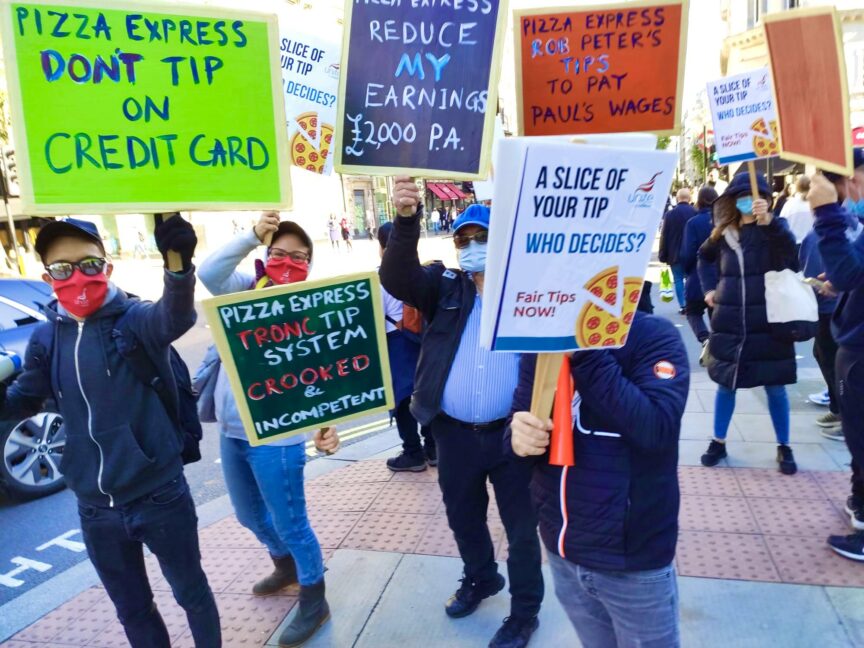 Workers like Caitlin have traditionally been written off as 'unorganisable,' as mainstream unions have directed their energies towards conserving membership among traditional bases rather than risked venturing into unorganised sectors. What's more, as unions have focused their attention on long-term contractual issues like pensions or pay, organising around sectoral-specific demands – such as payment for trial shifts or consultation over rota changes – has been avoided.
The realisation that this kind of official union structuring wasn't working for precarious workers led to the establishment of Unite Hospitality in 2017. Bryan Simpson – Unite's sole full-time hospitality organiser – has been working and organising in Scotland ever since. It's perhaps unsurprising then that, with the notable exception of getting Marriott Hotels to backdate two months worth of wages to 'casual workers,' many of the union's notable achievements in hospitality – forcing the G1 Group to reinstate hundreds of sacked workers, or the similar reinstatement of sacked Scottish Events Campus employees – have happened in Scotland.
It's this combination of a full-time organiser and the engagement of members, Caitlin believes, that has allowed Unite Glasgow to do what unions should: channel resources into individual casework while using specific issues as the basis for collective struggle. "Currently, Brighton, Manchester and Liverpool don't have [Unite Hospitality] branches. For me, that's because they don't have hospitality-specific organisers."
Graham recently promised that each sector will be allocated funding and people – whether for organising, research, communications or legal advice – to help build long-term bargaining plans. The union's recent campaign against Pizza Express after the company decided to deduct 50 per cent from waiting staff tips is an indication of this kind of approach among more precarious hospitality workers.
Caitlin, who is in the process of taking her ex-employer to a tribunal, insists: "This isn't about me." Instead, "It's about time. What are we sacrificing in getting to and from work? Because workers don't just appear at the door, fed, washed, roof over their head, ready to work. We have lives."
Polly Smythe is Novara Media's labour movement correspondent.