Sheffield Food Couriers Are Waging the Longest Strike in the History of the Gig Economy
'If we want to win, it's down to us.'
16 December 2021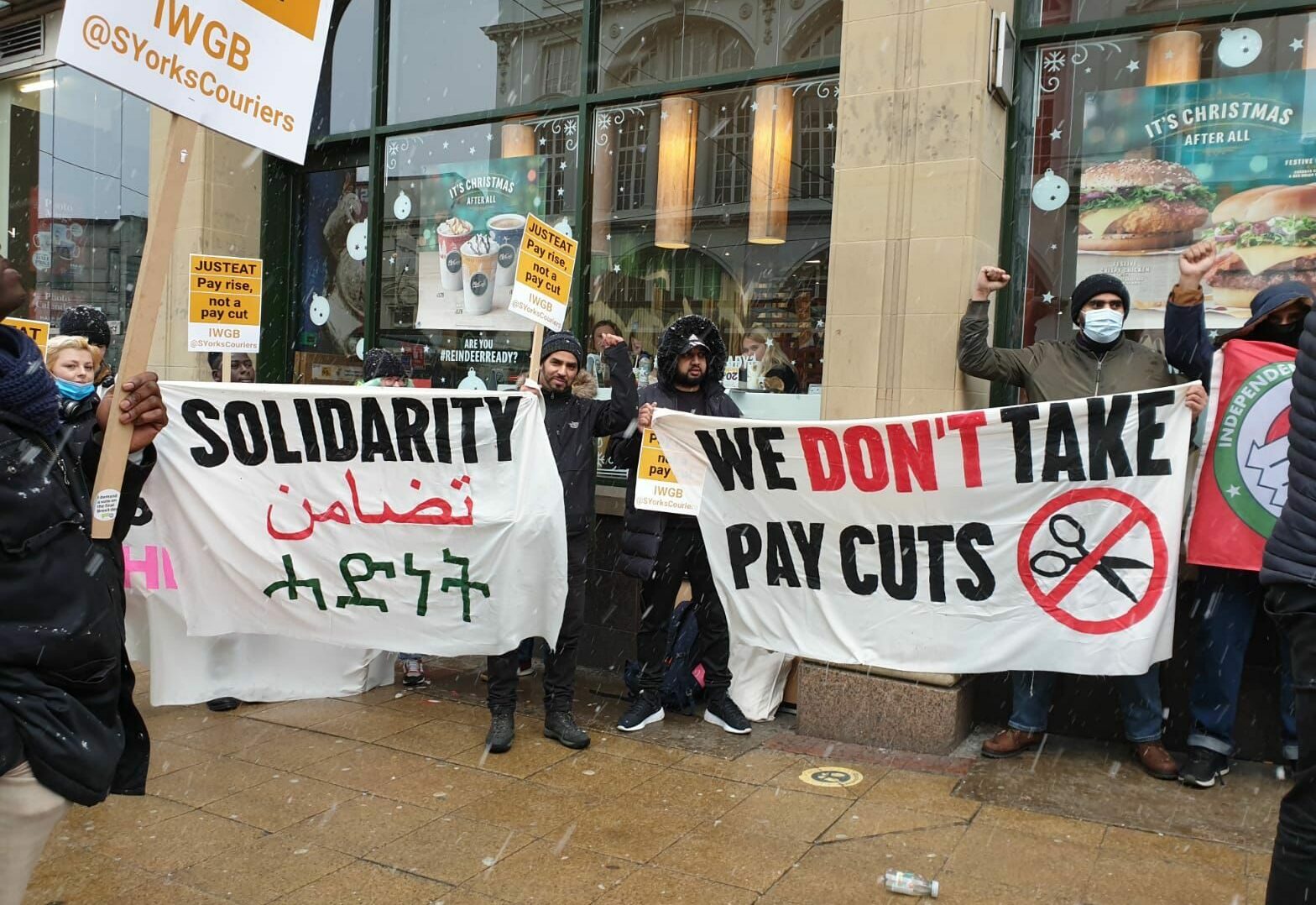 Food couriers picket a Sheffield McDonald's branch. Photo: IWGB
For the last ten nights, delivery drivers in Sheffield have been on the picket line. Enduring the cold, they have gathered outside six McDonald's branches across the city in a fight against a massive Christmas pay cut. 
This is by far the longest strike in the history of the UK gig economy. There have been bigger actions, such as the joint national Uber Eats/Deliveroo strike in 2018 – but none that have lasted beyond a week. The Sheffield strikers are entering uncharted territory.
🔥📢WE'RE GOING ON STRIKE!!!📢🔥

We food couriers worked for @Stuart_Delivery through the pandemic. We just fought off a pay cut but we deserve more.

Today we wrote to Stuart with our demands (see thread).

Here's our strike fund, we'd ❤️ your support:https://t.co/t01oANM0Tq pic.twitter.com/aMjYkAn8sb

— IWGB Couriers Sheffield (@SYorksCouriers) November 1, 2021
Just Eat in Sheffield have outsourced their deliveries to Stuart Delivery, a platform that operates on a very similar model to companies like Uber and Deliveroo. Its workers are all defined as self-employed and they work via an app.
But while the strike is impacting Just Eat's ability to deliver Big Macs, its real target is the outsourcing company. Stuart did well out of the pandemic, posting record profits last year. Its top bosses did even better, with its highest paid director taking home a pay package worth over £2m. 
Stuart's delivery workers are not getting the same kind of deal. The Independent Workers' Union of Great Britain (IWGB) claims Stuart's new payment system amounts to a 25% pay cut for workers, as it reduces the value of the most common short distance deliveries from £4.50 to £3.40. Stuart, however, told Novara Media its new pay model will mean couriers are "paid more fairly based on the distance they travel per delivery", claiming it will "continue to guarantee pay per hour that is among the highest in the sector".
But a brutal pay cut isn't the only thing drivers have to worry about. Inflation is now running at over 5%, and that increase is being reflected in an increase in the costs borne by couriers, as the price of fuel and vehicle maintenance rises fast. Couriers are being squeezed by a combination of wage cuts and price rises. 
That's why the union is demanding a minimum of £6 per delivery, plus additional pay for longer-distance deliveries and paid waiting times after 10 minutes. Sheffield is now the front line in the battle against the race to the bottom.
🔥❤️🔥 STRIKE WEEK 2 AND WE ARE STRONGER THAN EVER!!! 🔥❤️🔥

Sheffield delivery drivers are united, focused & not backing down. @Stuart_Delivery @JustEatUK, listen to your workers and implement a pay rise now so we can return to serving our communities.#WeDontTakeNoPayCuts pic.twitter.com/nCDS6lthlP

— IWGB Couriers Sheffield (@SYorksCouriers) December 13, 2021
Parirs Dixon is president of the Sheffield IWGB couriers branch. The 24-year-old started working for Deliveroo four years ago, before moving to Stuart in search of higher wages. He currently works over 70 hours a week, driving round the city in a car making deliveries, the bulk of them from McDonald's. He believes the new pay structure would cut his pay by £700 to £800 a month, making his average hourly earnings fall below minimum wage after costs.
As soon as he heard about the potential of a pay cut, he decided enough was enough. "For many drivers, that would be the difference between making rent and being able to feed their kids and not." So, he started a WhatsApp group and began to add Stuart couriers to it, floating the suggestion of an indefinite strike. The idea took off. 
He estimates that strike participation amongst Stuart drivers is around 70%. "Picket lines have been fun, I'm not gonna lie. We've been out there, any weather – cold, rain, snow – to show our dedication. The students have come out to support us and we've even had customers supporting, McDonald's staff supporting." Even when McDonald's managers have called the police on the pickets, things have remained calm. "They've left us to do what we do," he adds.  
Dixon is confident about the strike's prospects: "I love to win, and I feel like this is a winning case. Saying that, it's not just about me now, it's not about the union, it's about the drivers who work for Stuart that are willing to sacrifice and do what's best. If we want to win, it's down to us."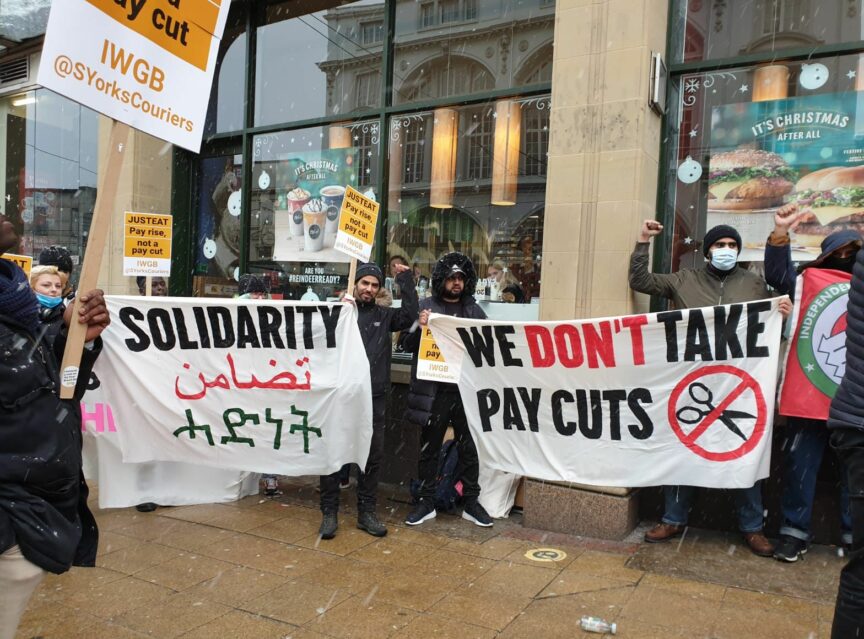 Sitting in the passenger seat alongside Dixon as he visits the six picket lines is IWGB veteran Alex Marshall. After years of successful trade union organising as a courier, Marshall knows how to strike and how to win. He's been having long conversations with Dixon about the theory and practice of workplace organising in which they try to apply the lessons the union has learnt in its near-decade of fighting for low-paid workers to this latest challenge. 
The big difference Marshall sees between this strike and others in the gig economy is its sustainability. What's happening in Sheffield is targeted action: rather than going for an all-out work stoppage, the strikers are only picketing McDonald's between 5pm and 10pm. They're taking out the busiest restaurant at the busiest time, but continue working for the rest of the day. For low income workers living paycheck to paycheck, this tactic means they can continue the action for far longer than they could in an all-out strike.
It also means that Just Eat and McDonald's will both be putting Stuart under huge pressure to resume normal service. Marshall reckons the bosses are already feeling the heat – but in order for the strike to win, they will need to escalate further. "This strike has landed a punch on Stuart, but to knock them out you need more than one strike in one city," he explains. "The way to win is by spreading strikes, we're taking on multinational companies. You're not going to beat them by being super organised in one city – it's got to be a multi-city attack." 
That's why the IWGB is helping the drivers to escalate. The pay cut has been applied everywhere in the UK outside of London, leaving thousands of workers worse off. Key strike leaders like Dixon have been jumping in their cars and heading to mass meetings in towns and cities across the country in an attempt to spread the action. Workers in Chesterfield joined the strike earlier this week, Huddersfield will be joining from Friday, and others in Blackpool and Sunderland may be joining shortly after.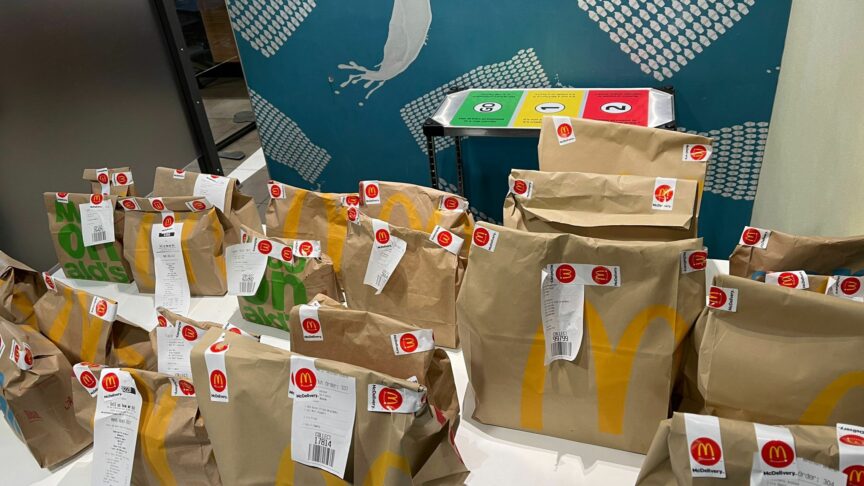 Ultimately, to win on an issue as big as pay, that's the kind of leverage the workers will need. Marshall is confident they can get it. "I thought they'd be getting tired by now, but they're not, they're all keen. They're all thinking, right, we need to escalate it, we need to make it bigger. They've bought into the idea that getting more political support, getting more public support and getting more cities involved is the way to win."
Everything now rests on the strikers' ability to spread their action to other workforces around the country and build a bigger coalition behind their demands. 
Just Eat told Novara Media: "We are keen to maintain an open dialogue on issues that are important to couriers. We are working with our third party delivery partner and are having ongoing discussions with them and couriers on this matter." 
Callum Cant is the author of Riding for Deliveroo: Resistance in the New Economy.