Tory MPs Calling Out the Whip Only Care About Ousting Boris, Not Changing the Corrupt System
They say whips are ramping up their intimidation tactics to quell votes of no confidence in the prime minister.
21 January 2022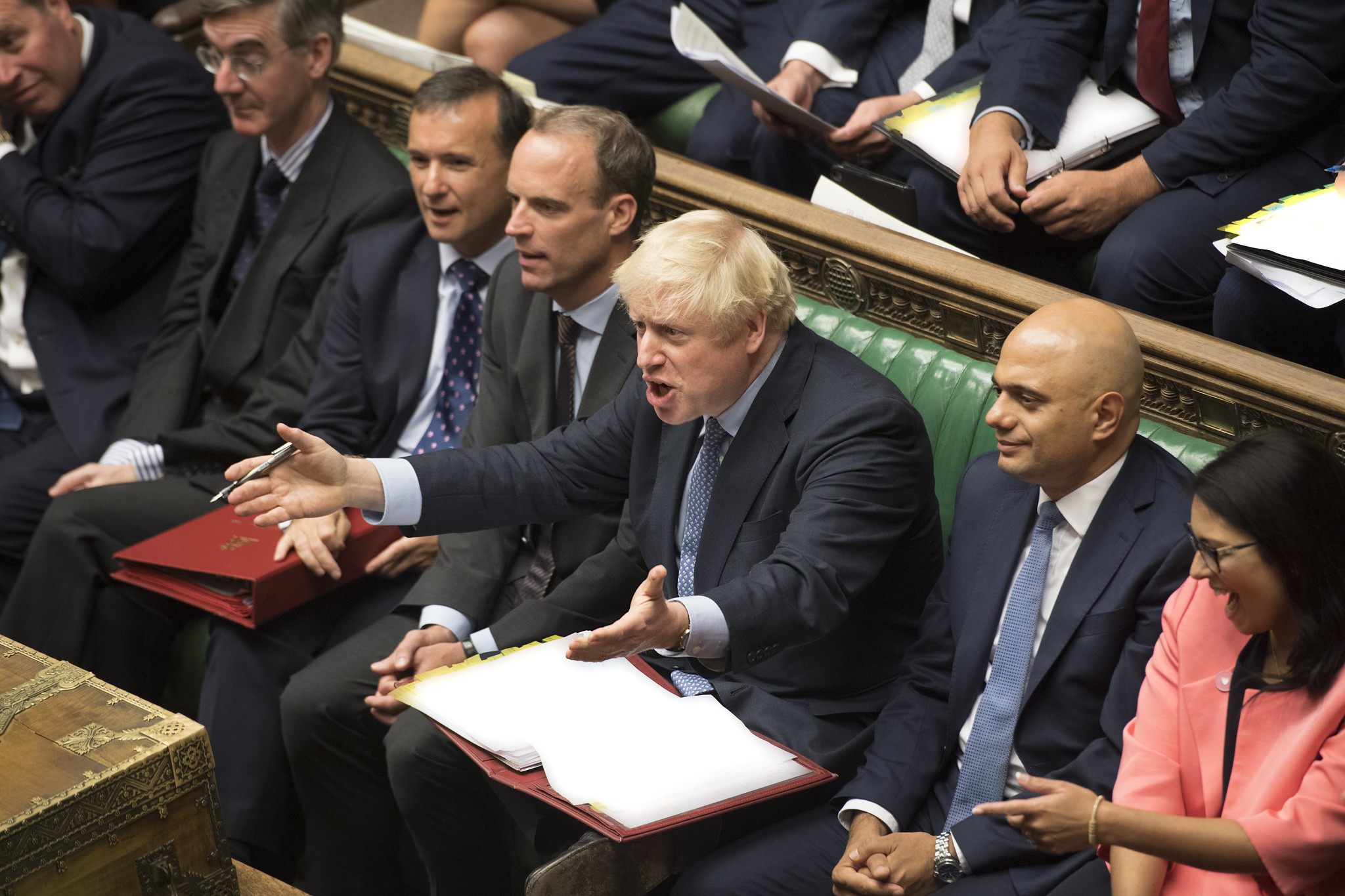 UK Parliament/Flickr
Yesterday, Tory MP William Wragg, the chair of the public administration and constitutional affairs committee, encouraged his colleagues to report the machinations of the whips to ministers, or even to go to the police, in the face of an increasingly aggressive government whipping operation intended to save prime minister Boris Johnson.
Wragg, the chair of the public administration and constitutional affairs committee, said that "a number of MPs have faced intimidation" in recent days after declaring, or assumed to have declared, their desire for a vote of no confidence in Johnson.
Rebel Conservatives (known as 'pork pie' plotters, for reasons which are tedious) have alleged that whips have threatened to release embarrassing details of their personal lives to the press, or even cut funding to their constituencies.
Rebel Conservative MPs are poised to publish 'heated' secret conversations with the chief whip and texts linked to allegations of 'blackmail' from the prime minister's supporters, according to reportshttps://t.co/Yeit2Pxt7r

— ITV News Politics (@ITVNewsPolitics) January 21, 2022
As all eyes turn to the chairman of the backbenchers' 1922 Committee Sir Graham Brady's inbox – it is Brady who receives letters of no confidence in the prime minister – the government's allies have gone to the mattresses in order to prevent the 54 letters that would need to be submitted to the committee to trigger a vote of no confidence in Johnson's leadership.
These heavy-handed tactics have, however, backfired. In a what's being described as a stunning move by people who don't have hobbies, former Tory MP Christian Wakeford recently defected to the Labour party, crediting Conservative party whips threatening to pull funding for a school in his constituency if he did not back the government as the reason (and not – crucially – his slim majority of 400, delivered in 2019 by ex-Labour MP Ivan Lewis taking 1,700 votes off his opponent by running as an independent).
Definitely crossed the floor because he beleives in Labour, not just believes he can hang on to an MPs salary because of it pic.twitter.com/NfbX7XUife

— Solomon Hughes (@SolHughesWriter) January 19, 2022
You can see how being told that tying your reputation to a prime minister who is tanking in the polls is the equivalent of a political safeword might be something of a turn-off. Johnson found himself being asked awkward questions about whether colleagues were being threatened and intimidated, which he denied seeing any evidence of.
The brutality of the whip system is nothing new.
The parliamentary dark art of whipping isn't exactly a secret – indeed, most A-level politics students could tell you about the little black book wielded by the whips' office to keep their flock of perfidious narcissists in line. A list was circulated a few years ago, purporting to link MPs to various personal misdeeds, from the innocuous (consensual romantic relationships) to the downright evil (coerced abortions to conceal affairs). While none of the claims have been substantiated, it painted a vivid picture of a political enforcement operation powered by shame, and a sense that a personally compromised MP was more valuable than one with a spotless record.
But the brutality of the whip system doesn't only have utilitarian value. Indeed, some might argue that you attract more flies with honey than arsenic. The nastiness seems to have its own appeal.
A Tory whip explaining how the whips blackmail MPs.

" It might be a scandal involving young boys "

It just trips off the tongue as if it's nothing. pic.twitter.com/Sr7fXFImOp

— Keith Stalin useless barsteward (@davjam8) January 20, 2022
Writing in the Telegraph during the Cameron years, former New Labour advisor John McTernan described the macho culture of the Blairite whipping operation. One cabinet minister (rumour has it, Jack Straw) spoke of being pinned to the wall as a new MP and having his balls viciously twisted by a Labour whip. "Son, you've done nothing to annoy me," growled the enforcer. "Just think what I'll do if you cross me." Most grotesquely, in the Commons bar on the day of the Iraq War vote, an MP is said to have remarked "Hear that noise, John? It's limbs being broken."
It doesn't take a psychiatrist to think that the gleeful sadism of parliamentary whipping operation is pretty revealing. People who get into politics are, objectively, dweebs. But joining the whips' office is a thrilling opportunity to metamorphosise from a once-bullied nerd to a fearsome, seizing tormentor. The most tyrannical of chief whips would be no match for five minutes with a therapist. As Giggs might have said: you're not a gangsta, you're just a parliament version.
Armchair psychology aside, the whipping operation can only work when shielded from public view by the media's willful blind eye. The spotlight shone on Johnson's whips' office presents yet another weakening of his already-wobbly authority. You can't wield someone's secret over them if they're talking to the press first. Indeed, the writing has been on the wall for chief whip Mark Spencer since the failed plot to save the now former MP Owen Paterson resulted in mutiny on the Conservative backbenches.
No. 1 on Mark Spencer's Spotify Unwrapped: https://t.co/bh5xG8mLnj

— Ash Sarkar (@AyoCaesar) January 21, 2022
The whips' office has been accused of "arrogant complacency" by Tory MPs in recent days, and of fatally mishandling Wakeford's defection. It's easy to look like a big man in the tiny corridors of Portcullis House, but a tough guy reputation shrinks under the glare of public attention.
But don't mistake the lobby's sudden interest in the whipping operation for a desire to see it meaningfully reformed – after all, how else would they get their scoops? The problem being highlighted is the incompetence of the whips' office under Johnson, not its existence.
Ash Sarkar is a contributing editor at Novara Media.