Anti-Vax Canadian Truckers Deserve Our Solidarity
Justin Trudeau's protest crackdown is a grim echo of Priti Patel's.
23 February 2022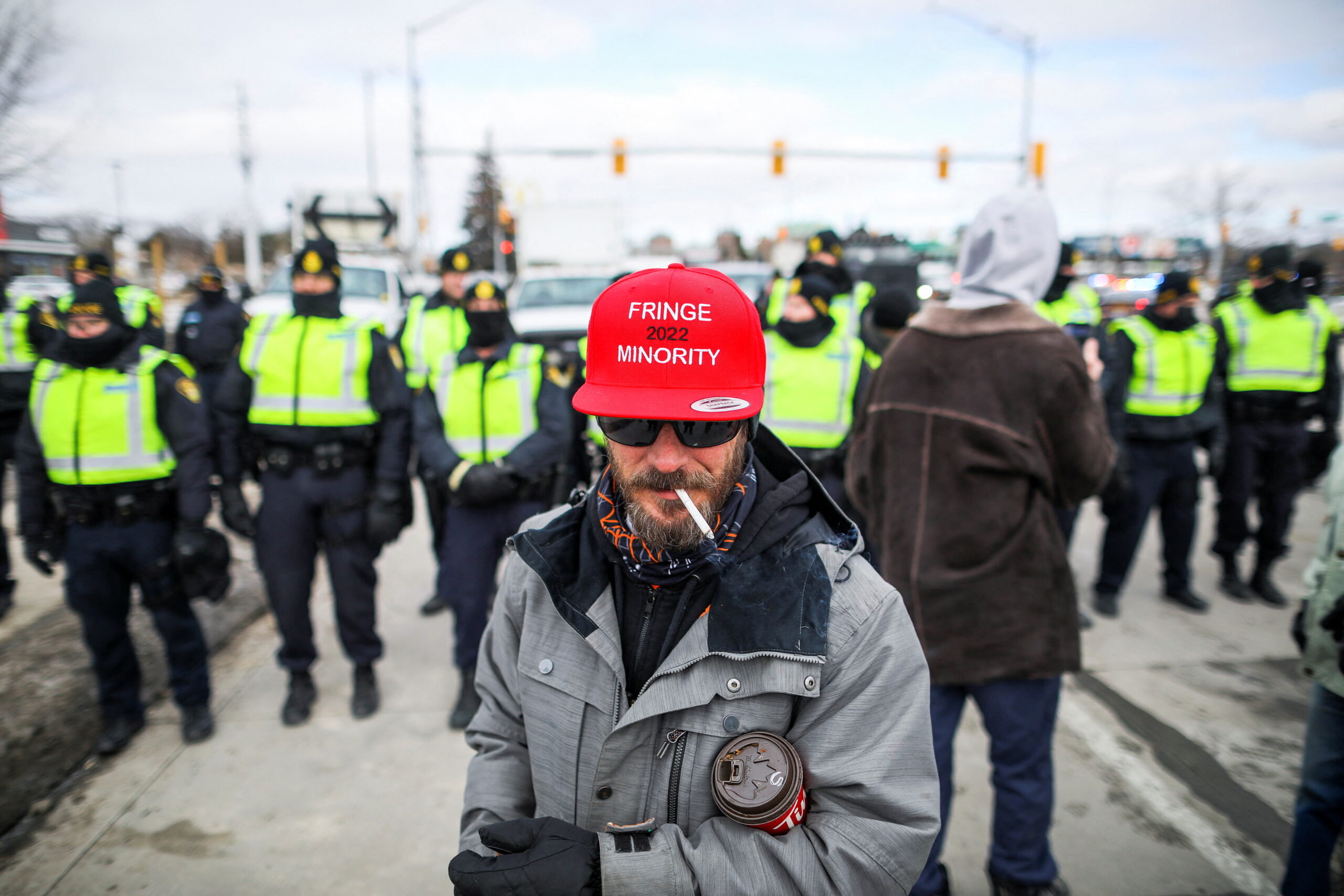 Carlos Osorio/Reuters
There's that old saying: your enemy's enemy is your friend. But what happens when your enemy is the state and its enemy is racist? Since late January, large-scale protests and disruptive direct actions have rocked Canada, following the extension of statutory vaccine mandates to truck drivers arriving from the US.
Beginning with a rally outside the national parliament and culminating in a "freedom convoy" that blocked key economic infrastructure, the truckers – who import billions of dollars worth of supplies from the US each year, and are indispensable to the Canadian food system – are facing serious state repression that should solicit solidarity from the left. And yet this solidarity feels strained given that, besides being anti-vax, some of the trucker organisers are openly antisemitic, Islamophobic racists – even, in some cases, fascist.
While the views of some of the truckers are abhorrent, we cannot allow this to obscure the power dynamics at play. The invocation by prime minister Trudeau, who constructs himself as a fresh-faced liberal and friend of the people, of emergency legislation to crack down on the truckers should worry us all.
Anyone on the left saying this is fine must surely realise they have zero credibility when it happens to causes they happen to agree with. Authoritarian 'liberalism' is a hell of a drug. https://t.co/5e77W8RW9Q

— Aaron Bastani (@AaronBastani) February 17, 2022
The draconian measures introduced by Trudeau – which he claims are "reasonable and proportionate" – include freezing protesters' bank accounts, suspending their vehicle insurance, banning public gatherings and blocking travel to or from protest zones. Though the prime minister insists the measures are temporary, across the world emergency powers are creeping into the everyday, as crisis and conflict are used as cover by so-called liberal democracies to transition into authoritarian states.
Across the Atlantic, the police, crime, sentencing and courts bill is currently making its way through our parliament in an attempt to criminalise protest. In the US, pipeline protestors face jail time for attempting to protect the environment from unscrupulous businesses. Power brokers across the world are lurching towards authoritarianism to manage the protests their regimes provoke. It's in this context that we should view the emergency powers being introduced in Canada. Today it's the truckers, but how long before these powers are used against environmental or antiracism protestors?
There is a long history of powerful people using emergency powers to quash dissent. In colonial Jamaica, hundreds were murdered by British forces after martial law was imposed to stamp out a rebellion in Morant Bay. When the British miners went on strike to save the coal industry in the 1980s, police used roadblocks to disrupt industrial action and banned people from travelling to pickets, even before these powers had passed through parliament.
Let me be clear: the truckers aren't the tribune of the oppressed. But the state has a monopoly on violence and this is never in the interests of ordinary people.
We know that a key tactic of the powerful is to turn the people against one another to expand their own power; that the state has frequently used moments of rupture, where there is a common enemy against whom the state can unite ordinary people, to diffuse policing into everyday life. Take the Trojan Horse scandal. The government used accusations that Muslim extremism was being cultivated in British schools, made in a letter widely understood to be a hoax, to justify the surveillance and criminalisation of British Muslims; most notably through the Prevent duty that turned teachers, doctors and social workers into counter-terror police. Fast-forward seven years and Prevent is now being used to target environmental, animal welfare, pro-Palestine and migrant rights activists.
While we should have no truck with racists, the solution cannot be to support the slow march of authoritarianism; it is always the most marginalised who will be punished for it in the end. When the police in the UK were given new powers under Covid-19 regulations, they used them to stop and search more than a quarter of London's Black 15-24-year-olds in three months. Black people were twice as likely to be fined for Covid-19 breaches, while the prime minister and his pals got boozy in Downing Street. Public health was the rationalisation for these increasing police powers, racism was the end result.
Which brings me back to the original question: is my enemy's enemy my friend? How do we relate to ordinary people with anti-establishment sentiments but also oppressive ideas? There are a lot of complicated questions related to the trucker protests the left needs to answer, but in the meantime, there's a simple one: should we support draconian state powers intended only to repress protest? Never.
Shanice McBean is an activist and writer.