A Kill the Bill Protester's Court Case Is All the Evidence You Need for Police Abolition
We need a system that prioritises social justice.
14 February 2022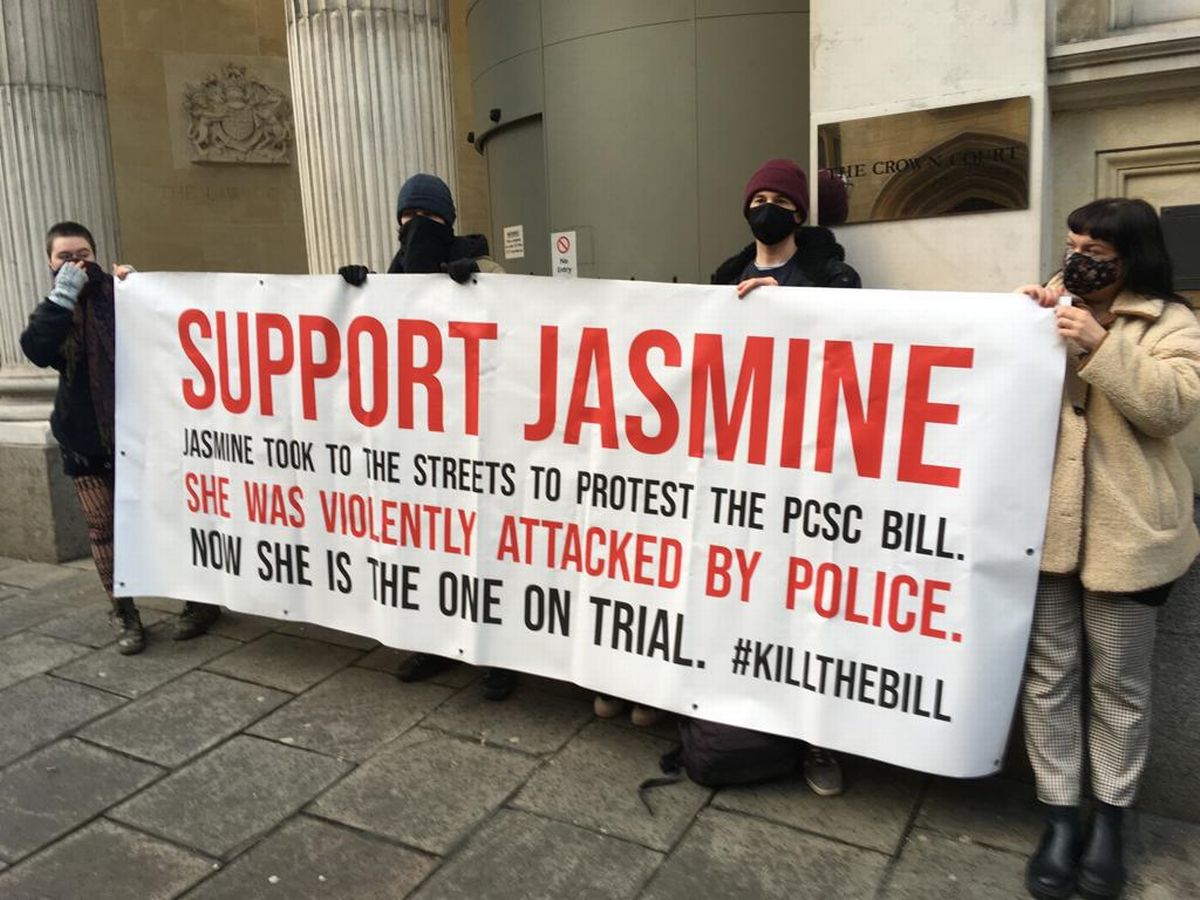 Bristol Defendant Solidarity
Content note: The following article contains descriptions and images of violence.
A Kill the Bill protester in Bristol won a partial court victory last week after being found not guilty of riot, but guilty of a lesser charge of arson. 
Jasmine York was one of the thousands of people who took to the streets to protest the police, crime, sentencing and courts (PCSC) bill on 21 March. The bill would give the police more powers to halt protests and increase sentencing. 
During the protest – which took place on the same day as a vigil in Bristol for Sarah Everard, who was murdered by a serving police officer – York and her fellow demonstrators experienced disproportionate violence at the hands of the police. 
With criticisms of the force mounting – especially in relation to its treatment of women – York's case compounds the glaring issue of police violence and highlights the ways the institution abuses its powers, both on the frontline and in court. 
Can't wait for Jasmine to be FREE and RICH when she sues the fuck out of the police for what they did to her 🆓🆓💰💰💰 https://t.co/ZWeskW2GDw

— Mirry (@chadgadya) February 7, 2022
As York said during the trial: "I can't believe that the day started with me trying to remember Sarah Everard, who was killed by a police officer, and by the end of the day I had been beaten by a police officer myself. I was heartbroken, to be honest." 
York's situation is far from an anomaly. Many others are facing prison sentences for their involvement in Bristol's Kill the Bill demonstrations, as part of a concerted push to criminalise protest and crush dissent. York's case is yet another example of the untenability of the police as an institution, and why we must reinvigorate our calls to abolish it. 
The police were needlessly violent.  
York's trial makes a compelling argument for why the police are not fit for purpose. During the hours-long altercation, officers attacked demonstrators using the edge of their riot shields in a technique known as "blading". As independent legal observer Kathryn Hobbes told the court: "[blading is] a very controversial thing […] and can cause very serious injury." 
At least 62 people reported injuries during the protests that took place in Bristol between 21 and 26 March – likely due to tactics like blading – although the actual number is much higher.
York herself sustained a number of injuries during the protest. In a call to 101 in the midst of the demonstration, she reported being struck three times by a police baton, resulting in severe bruises and hematomas, and what she believed at the time to be a broken hand; she was also bitten by a police dog. However, shortly after making the complaint, the investigation into her injuries was stopped and she was arrested. 
"I had my knees up to my chest and my arms over my head. I had two policewomen on my left using their shields to batter me, and two men on my right and they were hitting me with batons."

Injuries suffered by Jasmine York, 25, at #KillTheBill protests in Bristol this week. pic.twitter.com/9iSy2GCgYi

— Damien Gayle (@damiengayle) March 27, 2021
The police peddled a false narrative in court. 
The police took a similarly aggressive stance in court, painting the protesters as a "mob", and York as a "leader" and "instigator" of a "riot". The prosecution's argument relied on an unfounded and illegitimate attack on her character, in which they even claimed she may have "taunted [the] police dog" to invite the attack – something York, a passionate advocate for animal rights, denied. 
This depiction of York, however, was soon exposed as a fallacy. The defence showed the jury footage of her filming the police with her phone throughout the demonstration, which she told the court was "for [the] safety of myself and others". York is also shown shielding women, as they are struck with batons, kicked, and rammed with riot shields by the police. 
While York was convicted of arson for pushing a commercial rubbish bin towards a burning police car – which the prosecution claimed added fuel to the blaze – the verdict can be called into question. York insisted she didn't push the bin towards the police car but towards the police themselves to create an obstacle between the protesters and the police. There was also no evidence that the bin in question was ever on fire.
Peddling questionable narratives is nothing new for the police. The Avon and Somerset police recently made national headlines after the 21 March protest, when they released a press release stating three of their officers had been seriously injured by protesters; two with "broken bones", another with a "punctured lung". However, the claim, which has come to dominate the public narrative of the Kill the Bill protests in Bristol, turned out to be false. A few days after releasing the statement, the police quietly published a retraction, which clarified their injuries did not exist. 
Avon and Somerset Police lied about their injuries and were gleefully aided in doing so by the BBC, newspapers and politicians of all parties.

The full extent of the injuries inflicted on the protesters by police batons, horses, dogs and pepper spray may never be known. https://t.co/nTb9bgKOCL

— Simon Whitten (@Simon_Whitten) March 25, 2021
It's a question of culture.
These kinds of aggressive and duplicitous tactics are all part of the same violent culture that underpins the institution. There have been 1,804 deaths in police custody or following contact with the police in England and Wales since 1990; while, the number of people who have taken their own lives in prison has increased by 28% in just one year – from 67% in 2020 to 86% in 2021. 
There is also the serious issue of police violence against women – a problem that York's case brings sharply into focus. At least 15 women have been murdered by the police since 2009 in the UK – the majority of them by their partners. In the last four years, 2,000 police officers have been accused of sexual misconduct – and this only includes reported cases. Of these, only a third of guilty officers were dismissed. 
Considering the police's track record – from the murder of Sarah Everard to the officers who took selfies with the dead bodies of sisters Bibaa Henry and Nicole Smallman – it is clear they are not a protecting force in society but often the perpetrators of the very harm and violence they claim to prevent. 
Former @metpoliceuk officers Deniz Jaffer & Jamie Lewis who took photographs of the bodies of murdered sisters #NicoleSmallman💔& #BibaaHenry💔 & shared them on social media with other officers, were jailed today at the Old Bailey for 2 years & 9 months pic.twitter.com/Us2pOQsXtL

— Aamer Anwar✊🏾🏳️‍🌈#BlackLivesMatter (@AamerAnwar) December 6, 2021
And while it can ultimately only be a good thing that Met commissioner Cressida Dick has resigned, this will never be enough. The problems with the police are deep-rooted and systemic; the institution, after all, was set up – in the words of Sir John Woodcock, the former chief constable and HM chief inspector of constabulary – as "a mechanism set up to protect the affluent from what the Victorians described as the dangerous classes". The UK's  first police force was also a colonial police force, having been set up to enforce the state's imperial will in Ireland. In this context, it's not about a few bad apples, when it comes to the police, the whole barrel is rotten. It is for this reason that we must renew our calls for the institution to be abolished. 
We must build an alternative. 
As the Bristol Anti-Repression Campaign – an organisation comprised of people arrested at protests against the PCSC bill and their supporters – said in a statement in the wake of York's verdict: "We are proud that people in our community stood up against the violence of the police. We need to build real community power, and grow our strength to resist against state control."
Despite a rising prison population, violence and harm in society continues on a massive scale. Violence against women and girls is endemic, racism and the far right are on the rise in Britain, and rates of murder and violent assaults are increasing. Our current justice system – of which prisons form an integral part – is reactionary and punitive and does nothing to address the root causes of such violence. 
It is therefore vital we strive to create a system which prioritises social – rather than criminal – justice. This means building structures like community care networks, and creating institutions, both social and economic, that are life-affirming, rather than punitive, and managed by the collective rather than the ruling class. 
🚨🚨JOIN US!!! 🚨🚨

Cressida may be gone but the racist, sexist, police are still on our streets, brutalising our communities.

Join us on March 12, on the 1 year anniversary of the vigil for Sarah Everard, to tell the Met: WE DO NOT CONSENT!! pic.twitter.com/S6rvR4efbd

— Sisters Uncut (@SistersUncut) February 11, 2022
The need for such transformation couldn't be more urgent given the current political climate. Despite being acquitted of the more serious charges, York could still end up with a custodial sentence. At least 25 more people have riot cases at Bristol crown court up until September 2022, and more are being charged every few weeks – at this point, 42 people have been charged and 86 arrested. Some have already received sentences, ranging from three months to 14 years in prison for their participation in the demonstration. 
In the short term, we should support those facing trial through grassroots community self-defence, while also continuing to oppose the PCSC bill and other repressive pieces of legislation. Beyond that, we must keep organising and building alternatives to the relentless violence of the UK police state.
A crowdfunder set up by Bristol Anarchist Black Cross has been raising money to distribute to prisoners that are inside for Kill the Bill demonstrations. You can donate here. 
Vala Z Francis is an organiser in Bristol.