So Long, Cressida Dick
The Met's top cop should have gone years ago.
11 February 2022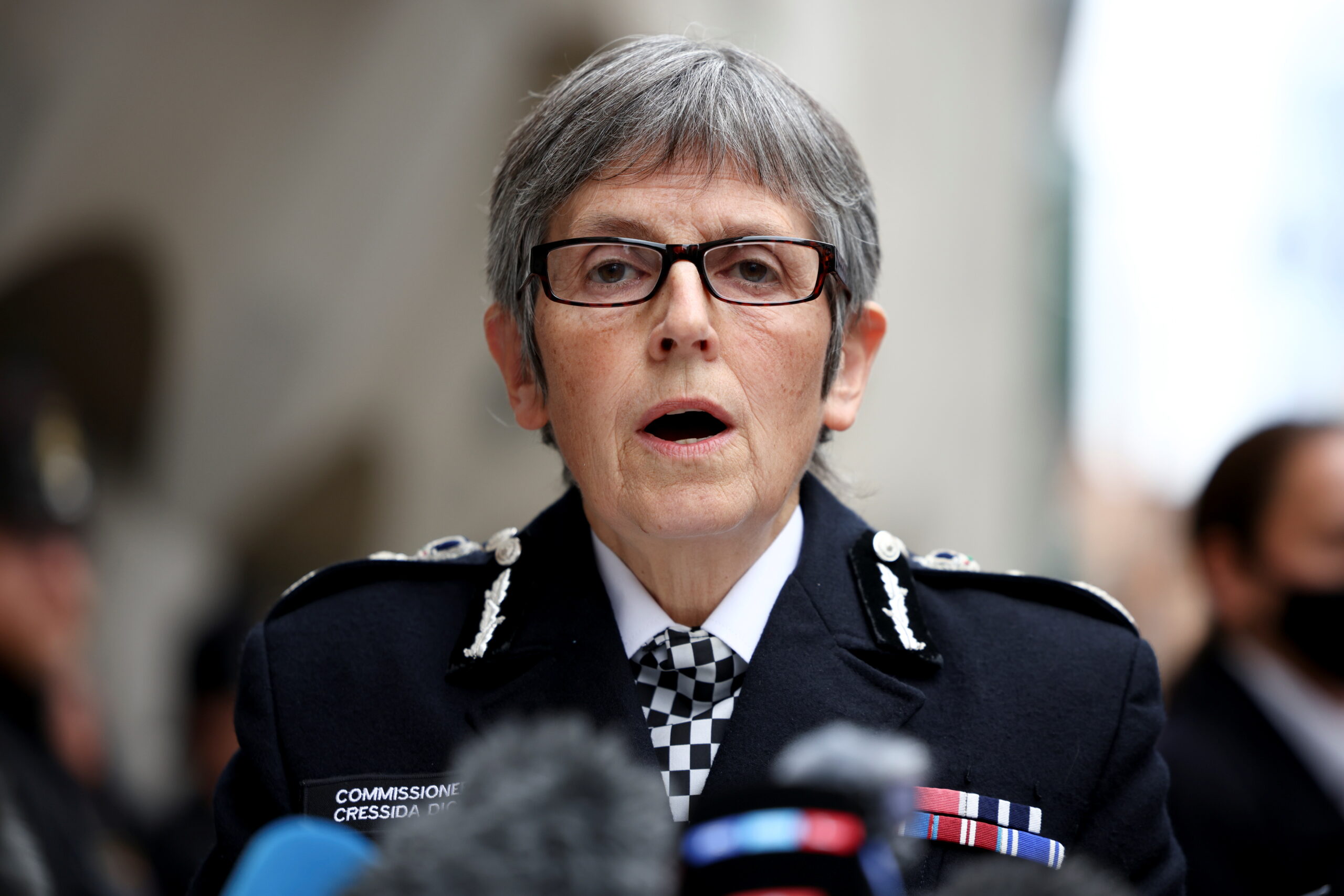 Henry Nicholls/Reuters
Cressida Dick, the beleaguered commissioner of the Metropolitan police, and the most powerful cop in the country, resigned yesterday after London mayor Sadiq Khan made it clear that she no longer enjoyed his confidence.
Dick's exit came just a few hours after she had boldly declared she was going nowhere on Eddie Nestor's BBC London show. Khan's move is said to have come as a surprise to home secretary Priti Patel (who had reappointed Dame Cressida, extending her term by two years to spring 2024), and won't be music to the ears of the embattled Johnson government.
I'm genuinely impressed by @SadiqKhan forcing Cressida Dick's resignation. It's been a long time coming: any one of the scandals from the Daniel Morgan report, Sarah Everard, Charing Cross messages, Stephen Port, or Nicole Smallman and Bibaa Henry should've done it.

— Ash Sarkar (@AyoCaesar) February 11, 2022
Dick, Boris Johnson and Patel formed something of a beast with three backs in the British establishment: each protecting the other's interests, and shielding one another from having to resign in disgrace. Dick covered Patel's right flank, who in turn did the same for the prime minister. With the Met's so-called partygate investigation still underway, Johnson and Patel will look warily at what this new job vacancy might bring.
If standards in public life were still a thing (and if it wasn't solely Patel who had the power to sack the Metropolitan police commissioner), Dick would have been told to clear her desk long ago. The independent report into the 1987 murder of Daniel Morgan accused the force of being "institutionally corrupt" in how it concealed or denied its failings in the investigation, and blasted the then-assistant commissioner Dick for being uncooperative and obstructive.
The Met was accused of institutional homophobia in its handling of the Stephen Port case, as the families and friends of Port's victims alleged that police prejudice meant that they weren't listened to and opportunities to catch the serial killer were missed. The abduction, rape and murder of Sarah Everard by serving Met police officer, Wayne Couzens, and the violent policing of a vigil held at Clapham Common in her memory drew a wave of criticism and further decimated public trust.
As commissioner, Dick has presided over a culture of misogyny and racism within the police force. Officers at Charing Cross station were found to have exchanged a litany of sexist and racist messages; two officers were sacked after posing for selfies next to the murdered bodies of Nicole Smallman and Bibaa Henry; a policeman kept his job after sexually harassing a victim of crime; reports have been made of police officers having sex with prostitutes they had arrested and CCTV emerged of officers mocking Koshka Duff, a woman who had been punitively strip-searched.
Meanwhile, the Met's eleventh hour rescue of Johnson (announcing an investigation in partygate, having steadfastly refused to do so at a time which meant that the Sue Gray report was stifled) made explicit the corrupt relationship between politics and policing.
Any one of these events should have been a career-ending matter. But there is the deeper question of why Dick was able to ascend to such lofty heights in the first place. In 2005, Dick was gold commander during the operation which led to the fatal police shooting of Jean Charles de Menezes.
Menezes had been a victim of mistaken identity. Wrongly identified as a suicide bomber, he was followed by plainclothes police officers onto a bus, and then onto the tube at Stockwell (contrary to reports in the media, he neither jumped the barrier nor behaved in an evasive manner). Shortly after boarding the train, he was shot dead. There are many (and this author is one of them) who would suggest that presiding over an operation that led to the fatal shooting of an innocent man should automatically disqualify anyone from holding public office.
Dick may be gone, but questions over the Met's institutional culture remain. Patel is said to have extended Dick's term precisely due to the lack of an obvious replacement: Neil Basu, otherwise the most likely successor, is known to have fallen out of favour with Patel due to disagreements about racism. Johnson's government will surely miss the best friend in policing it ever had.
Ash Sarkar is a contributing editor at Novara Media.