Can the Right Just Believe in Climate Science Already?
They're back at it with the denialism.
14 March 2022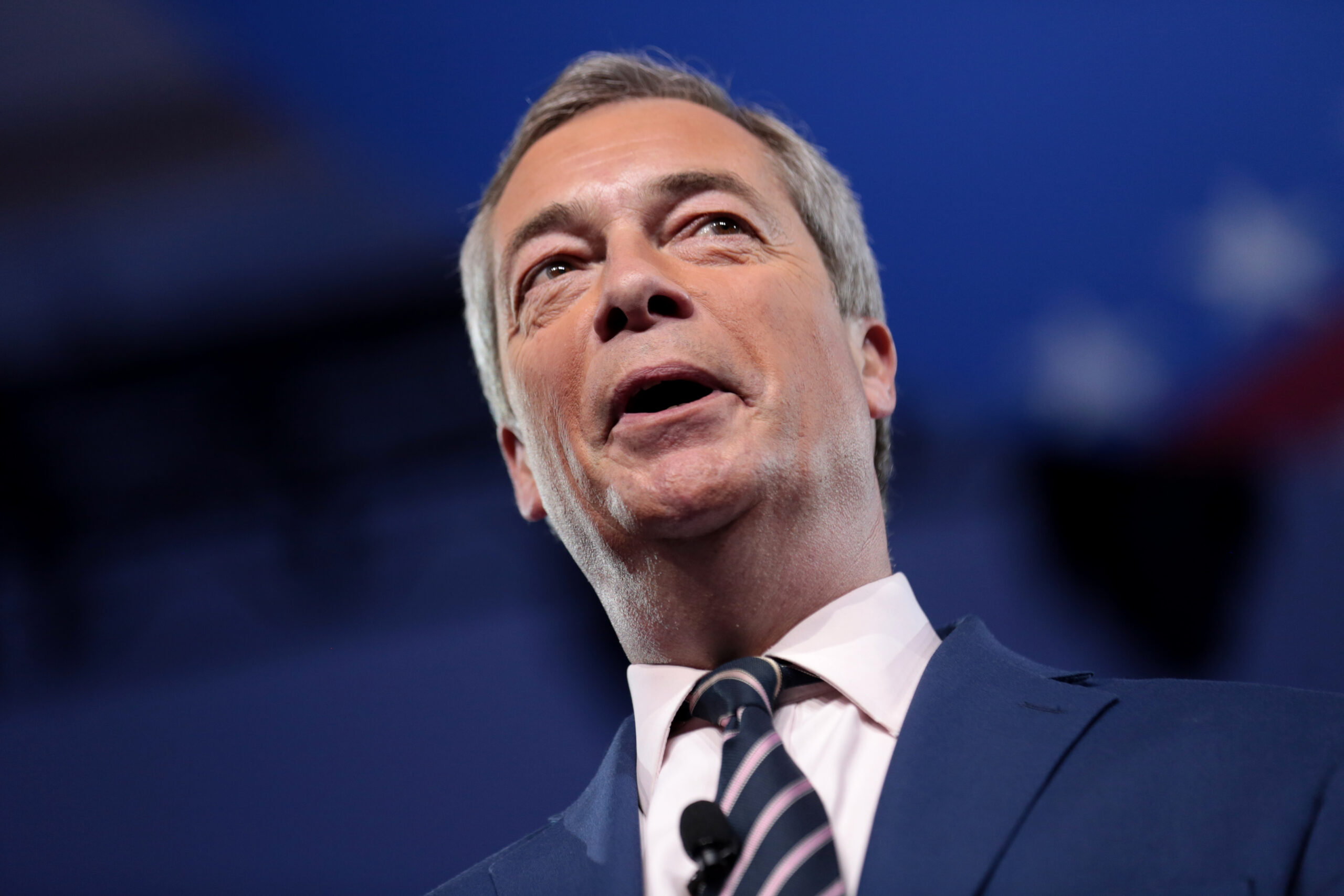 Gage Skidmore / Wikimedia Commons
With time fast running out to prevent the worst excesses of environmental breakdown, the very foundations of climate policy are now under attack. A group of Tory MPs, flanked by Nigel Farage's odious new anti-net zero political movement, are cynically linking existing, inadequate climate policies to declining living standards. Despite their protestations to the contrary, the Net Zero Scrutiny Group (NZSG), along with Farage's latest vanity project, must be understood as the vanguard of a new, insidious form of climate denialism. Yet they also inadvertently demonstrate the incompatibility of effective climate action and the broken economic system that they venerate.
The NZSG is a collection of around 20 Conservative MPs and unelected lords, mostly comprised of former European Research Group Brexiteer hardliners. Their exact number is unknown, as, although they are noisy when publishing their demands on the need to abandon moderate climate policies and reinstate fracking in right-wing newspapers, they are reticent when it comes to sharing their full membership. This lack of transparency has not stopped their policies from getting a hearing in government, as this week Downing Street confirmed it is reviewing Britain's ban on fracking. Chancellor Rishi Sunak is also reportedly sympathetic to the group's concerns about the cost of net zero.   
The climate denial revivalist movement is gaining pace. Nigel Farage recently launched the latest campaign in his lifelong struggle for political relevance; a referendum on the government's plans to decarbonise the economy by 2050. Farage, like the NZSG, has got the Brexiteer band back together by forming the campaigning body Britain Means Business along with Richard Tice, with whom he co-founded the Brexit Party and the pressure group Leave Means Leave. Britain Means Business has set its sights on the government's modest climate policies, calling for a "plebiscite on this act of appalling self-harm". In the inverted logic of Farage, this so-called self-harm is not man-made irreversible climate change, but rather the policies designed to ameliorate its devastating effects.  
Dear @Nigel_Farage and @TiceRichard,

You campaigned for a Brexit which is costing every UK household up to £3,600

And now you want us to believe you're concerned about the cost of Net Zero to UK households?

Looks like that Brexit money ran out quickly…

— Marina Purkiss (@MarinaPurkiss) March 6, 2022
NZSG's leading members include the self-described "Brexit Hardman" and "radical moderate" Steve Baker MP – whose egotism is matched only by his love for column inches – former UKIP leader Craig Mackinlay MP, and Lord Peter Lilley. Despite the NZSG's claims to not contest the reality of climate change, these three figures have strong links to denialism. 
Baker is a trustee of the Global Warming Policy Foundation (GWPF), launched by Lord Nigel Lawson in 2009. GWPF hosted a scientist at its 2021 conference who expressed hope that "authoritative bodies […] stand up and say there is no climate crisis". There is no equivocation in Lawson's denial of climate change; Thatcher's former chancellor recently wrote that "global warming is not a problem", "the current climate scare is a quasi-religious hysteria" and "climate catastrophism" has taken the place of Christianity in the western world.
Tory MP Steve Baker claims his Net Zero Scrutiny Group "follows climate science", yet now he's been found taking money from climate deniers

The mask has truly slipped – why won't Steve and the other group members come clean and admit their intentions?https://t.co/zf5xNZWa9I

— Caroline Lucas (@CarolineLucas) March 9, 2022
Mackinlay, who is NZSG's spokesperson, recently recruited two members of staff from Net Zero Watch – the campaigning arm of GWPF – one of whom has said that "the 'climate crisis' is a religious belief, nothing to do with science" and that "climate change is not a threat, it … is something we can perfectly well live with". Before moving to the unelected chamber, Lilley was one of only five MPs to oppose the Climate Change Act in 2008 and was previously vice chairman and a director of Tethys Petroleum. Farage also has a long history of climate science denial.
If its leadership is anything to go by, the NZSG's claims to be only concerned with the cost of net zero are at best flagrantly cynical, and at worst a flat-out lie. Robert Halfon MP summed up the group's sudden passion for poverty alleviation, stating: "millions are now being hit desperately hard by the cost-of-living crisis with heating and fuel bills soaring. We cannot sacrifice any further their ability to cope on the altar of climate change." Similarly, when launching Britain Means Business Farage argued: "the only zero will be the amount in people's bank accounts" and that "energy bills have been loaded with green subsidies."
This is, of course, nonsense. The energy crisis is largely driven by rising gas prices, not environmental policies, which is why energy companies have made eye-watering profits. Shell quadrupled its annual profits to $19.3bn in 2021, while BP's chief executive recently described the company as a "cash machine". Rather than advocate for a windfall tax on these companies to fund environmental policies, Farage and the NZSG have manipulated the cost of living crisis to cast doubt upon the necessity of the government's already inadequate climate agenda. 
Last year, @Shell *quadrupled* their profits to $19.3billion.
Let that number sink in.
Today, @ShellEnergyHome told me that they were more than doubling my annual domestic energy bill.
The level of corporate greed is utterly sickening. pic.twitter.com/NGQ1ubFiNO

— John Sutherland (@policecommander) March 9, 2022
The NZSG and Farage's outsider status also risks further narrowing the already perilously thin parameters of acceptable climate policy. Both campaigns are targeted against an imaginary establishment consensus on sweeping climate action. Yet the independent Climate Change Committee found that to achieve net zero by 2050, UK government spending must increase five-fold to £50bn a year by 2030. The same committee has also identified a gaping chasm between the government's climate targets and the policies required to achieve them. 
Despite this, and the fact that he displayed climate scepticism as recently as 2013, prime minister Boris Johnson has obtained unwarranted environmental credentials. Now, due to NZSG and Farage pulling the centre of political gravity back towards climate scepticism, the government and its outriders – including the Conservative Environment Network group of MPs – have been forced to defend or even dilute existing, inadequate climate policies. This new constellation of right-wing climate sceptics is contributing to a narrative that the government is a bastion for climate action at a time when its ambition must be expanded and accelerated. 
As Farage and the NZSG have spent their careers not only accepting but actively deepening the unequal distribution of wealth and opportunities, it is tempting to dismiss their contrived arguments that net zero "would mean the end of the comfortable lifestyles we have enjoyed for generations […] only the well-heeled will be able to afford private cars or foreign holiday". Yet it is important to push back on this framing, which values the consumer choices of British residents over the safety of people in countries that have contributed the least to, yet are at most risk of, climate breakdown. 
This focus on declining living standards also touches on an important contradiction within the resurgent climate denial movement, and was on full display in a recent report condemning the government's decision to ban the sale of new fossil-fuelled vehicles by 2030. The tirades of NZSG members run like a streak of oil throughout the paper. Julian Knight MP wrote that the decision to phase out petrol and diesel vehicles was "dreamt up in the kitchen diners of Notting Hill, with no understanding of real people's daily lives". For Mackinlay, the ban displayed a "new devotion to a new environmental doctrine, with this great sacrifice again falling on the poorest in society – not the richest. It's fine for the super-rich to buy their Tesla, but that's not the case for the just-about-managing majority who elected the Conservative Government". Separately, Farage argued: "Forcing motorists to drive electric cars and buy heat pumps … [is] an idealistic dream that bears no relation to the hard realities of life for the majority."
Yet it is only in the rigidly conservative, zero-sum worldview of the NZSG and Farage that climate policies will inexorably lead to further impoverishment of working people. Whilst all lifestyles will have to change to become more sustainable, the super-rich and large corporations have deep resources that could be taxed to fund climate policies – starting with fossil fuel companies and the record-high number of billionaires that have been created during the pandemic.
With this disingenuous and selective anti-poverty rhetoric, the NZSG and Farage have, in their own warped and cynical way, unintentionally identified that our current economic system and a liveable future are incompatible. Yet when faced with the choice between breaking neoliberal shibboleths and taking even moderate action to halt climate catastrophe, they are choosing to throw their weight behind armageddon.
Mark Fisher's famous quote that "it is easier to imagine the end of the world than an end to capitalism" has never sounded so prescient; for Farage and members of the NZSG it is not only easier, but preferable, to imagine environmental breakdown than it is an alternative and sustainable economic system that benefits working people. 
As even the most fervent cheerleaders of capitalism inadvertently recognise its incompatibility with a liveable future, the case has never been clearer for adopting a holistic response to the climate crisis, one that radically reorientates our society along the lines of equality and sustainability. 
Joe Duffy is a writer with a particular interest in climate justice, radical history and fiction.