Cold Homes Kill 10,000 People a Year. Why Isn't Retrofitting Higher on the Agenda?
Insulate Britain is bang on the money.
2 February 2022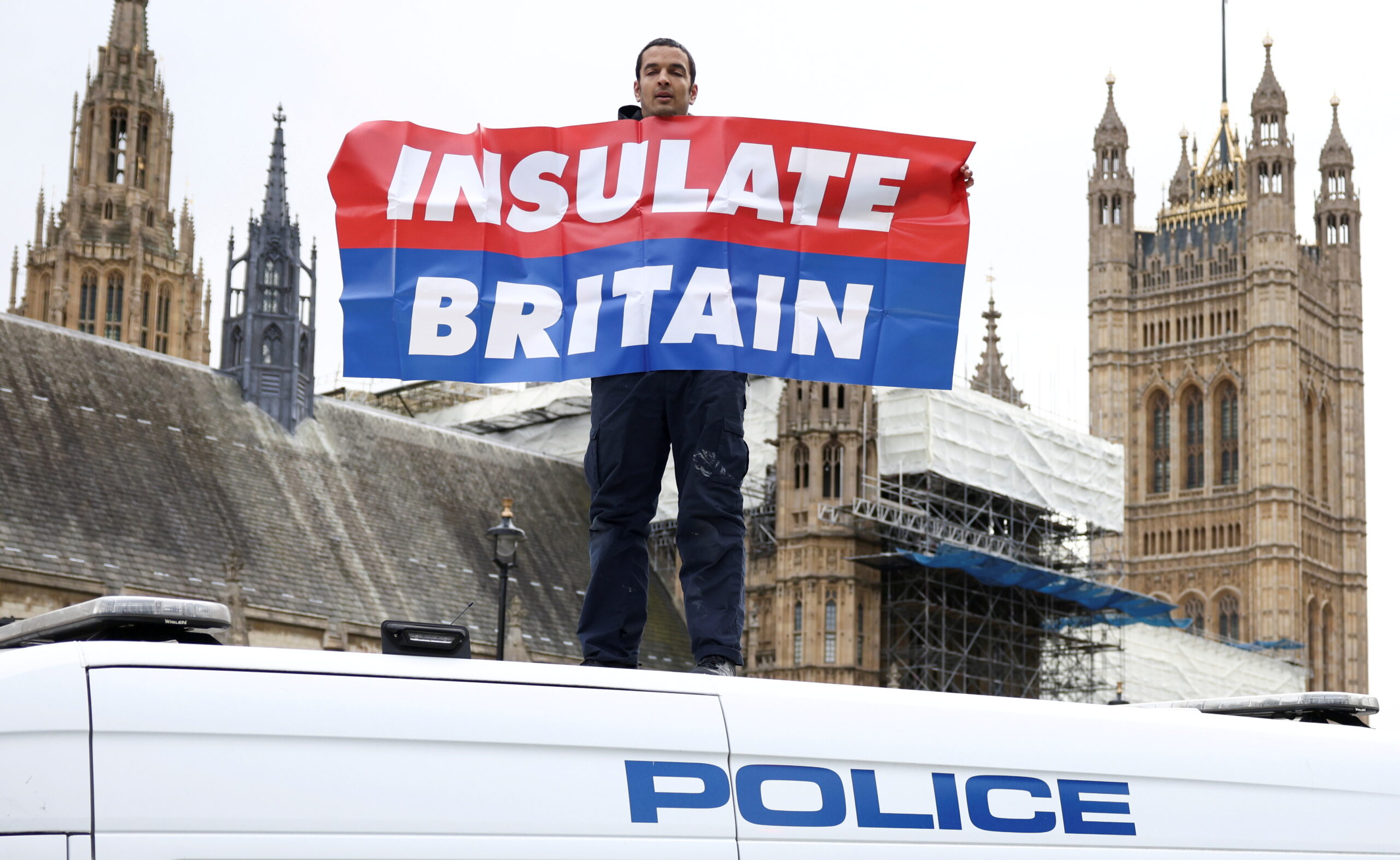 Insulating Britain is one key climate adaptation necessary to navigate extreme weather conditions. Henry Nicholls/Reuters
While the Covid-19 pandemic has eclipsed news of almost anything else over the last two years, another killer has quietly spread across the UK. Around 10,000 people in England and Wales die every year from living in cold homes, and fuel poverty is to blame. Three million low-income UK homes must choose between eating and heating their homes each winter – a scandal in a country as rich as ours.
The cold is set to claim thousands more lives in the coming winters, as energy bills continue to soar. Standard variable tariffs are currently capped by Ofgem, the energy regulator, at £1,277 a year for a typical household. This is forecast to rise by a staggering 50% in April when the regulator's new price cap takes effect, trebling the number of households spending at least 10% of their income on energy bills overnight.
Haunting graphic from @resfoundation on the scale of the impending fuel poverty crisis. Even with major intervention, increase could be 6-18% from current levels. Difficult period ahead for millions. pic.twitter.com/YvsN4D88yD

— Josh Buckland (@jbuckland13) January 24, 2022
In characteristically haphazard fashion, the government is scrambling to find ways to shield struggling households from this oncoming standard of living catastrophe. Ideas being touted include cutting VAT on energy, paying energy suppliers not to pass increased costs on to consumers, and scrapping environmental levies on electricity. 
These tweaks will no doubt deliver some short-term benefits, but they won't have the urgent, transformational effect required to arrest the downward spiral of fuel poverty nor climate breakdown. Insulating homes, however, would lift millions out of fuel poverty, catalyse socio-economic transformation and, crucially, keep climate breakdown at the top of the political agenda.
As analysis by Carbon Brief shows, removing VAT on energy or paying policy costs via general taxation would have a "relatively small impact on bills – even in combination – compared with the expected increases due to wholesale prices". In short, what the government is proposing won't protect us from future wholesale energy price increases.
What few seem to be talking about right now, least of all the government, is reducing our demand for energy to heat our homes in the first place. As things stand, without state intervention, domestic retrofit is too expensive for the vast majority of people – least of all people in fuel poverty – costing somewhere in the region of £35,000. And instead of intervening to help those in need retrofit their homes, successive Tory governments have slashed support for home energy efficiency measures since 2013, reducing uptake from 2.3 million insulation installations in 2012 to 72,000 in 2021 – a precipitous 97% drop. 
Insulate Britain, the new kid on the activist block, is quite rightly insisting the government retrofit every home in Britain by 2030. While some might not like the group's tactics, it is making the right demand, borne out of a critical acknowledgment that climate activism is failing to further the decarbonisation project. 
Indeed, home insulation is conspicuously absent from the demands of the key organisations in the climate movement. But we should be putting retrofit – the process of making existing homes energy efficient and warm through insulation and the low carbon heating systems – at the forefront of the climate agenda for a number of reasons, some political, some tactical.  
@NewStatesman daily chart showing Cameron's decision to cut the 'green crap' has added £2.5bn to UK energy bills..using @CarbonBrief analysis: https://t.co/1W75I49L1o pic.twitter.com/AP1rtagDbe

— Polly Bindman (@pollybindman) January 20, 2022
First, based purely on the numbers, housing is an obvious place to start cutting greenhouse gas emissions. Housing accounts for 18% of UK greenhouse gas emissions, or 65.9 million tonnes of CO2, every year, third only to energy generation and transport. It will therefore be extremely difficult to reach net zero emissions any time soon unless we insulate, draught-proof and install renewables and heat pumps in our homes. A mass programme of home insulation is a prerequisite for decarbonisation – one which anyone serious about protecting the planet should place front and centre of their campaigning.
Secondly, retrofit should be a key pillar of an economically transformative Green New Deal. Across the UK, nearly 19 million homes are below the Energy Performance Certificate rating of C – the band at which homes are considered reasonably eco-friendly – and are therefore in need of an upgrade. This is a huge opportunity to create lots of low carbon work; we could create 455,000 full-time jobs for construction trades alone, more than three million jobs in other sectors aiding the transition to a green economy, and boost national income by up to £36bn.  
Skills are in short supply, of course, but the economic rewards of repurposing higher education construction curricula and reskilling contractors are potentially immense – something architects and construction professionals were keen to highlight as they lauded an Insulate Britain activist on his release from prison last month.
Relatedly, home insulation could produce a series of public health and macroeconomic co-benefits. Living in warmer homes which are affordable to heat ultimately improves occupants' health. This would mean fewer people going to hospital with conditions such as respiratory diseases, which would reduce demand on the NHS and save taxpayer money (by some estimates, the NHS saves 42p for every £1 spent retrofitting fuel-poor homes). In this sense, retrofit places people at the heart of the zero carbon agenda, while effectively neutralising the right's tired charge of the left's fiscal profligacy. 
Retrofit also carries the promise of democratising the energy system. It would enable people to have small-scale renewables (solar panels or wind turbines) and heat pumps in their homes to produce energy, the means of storing that energy, and the means of federating that storage in the form of community energy schemes. Retrofit could thus totally redefine the terms of decarbonisation, increasing households' access to and control over energy while also decarbonising heat – a key political battle of the 2020s.
Insulate Britain's jailed architect says government should pay to retrofit every home 🏡

Released from prison, James Thomas warns that the state of our homes is 'as serious as the Blitz' 🔥https://t.co/Sqexqq7FdB

— Insulate Britain (@InsulateLove) January 17, 2022
Finally, tactically speaking, retrofit is an obvious starting point for keeping climate change at the forefront of politics. It's crucial we build narratives that relate the abstract problem of climate change to everyday concerns like soaring energy bills. The recent volcanic eruption in Tonga may underscore the acute climate risk facing countries that have contributed the least to climate breakdown, and we can all agree on an abstract level that that's deeply unfair. But the reality is that many people struggle to care about things that are abstract and far away, much less to take action against them. By linking the climate crisis to our livelihoods, we can break out of the green ghetto of climate consciousness and make sure climate action broadens beyond the niche of activist concern and into the concrete immediacy of everyday life.
Insulate Britain has correctly identified that conventional climate activism is failing on this count. The climate movement to date has remained steadfastly committed to a general call to treat climate breakdown like the emergency it is – but without saying exactly how. This has served to an extent; the UK is now halfway to meeting its target of being net zero by 2050 thanks to our tireless agitation. 
But that was the easy part. The next phase of decarbonisation will be far more intrusive. Consumers barely notice when dirty power sources are replaced with renewable ones. However, measures to decarbonise other sectors of the economy which rely on this power, like heat and transport, will require changes to how we live, and how we get around. We will need to frame these changes as something that benefits people, as both consumers and voters. As we've seen, retrofit ticks that box.
It is high time we take a leaf out of Insulate Britain's book, and coalesce around the key demand of domestic retrofit. Doing so will cut emissions, reduce fuel poverty, transform the economy and keep climate breakdown at the forefront of our politics. Climate activists must push for this new common sense.
Alex D King is a freelance journalist based in Manchester.