Musk Buying Twitter Would Be the Defining Deal of Our Era
The Tesla CEO is reportedly set to purchase the company for $43bn.
25 April 2022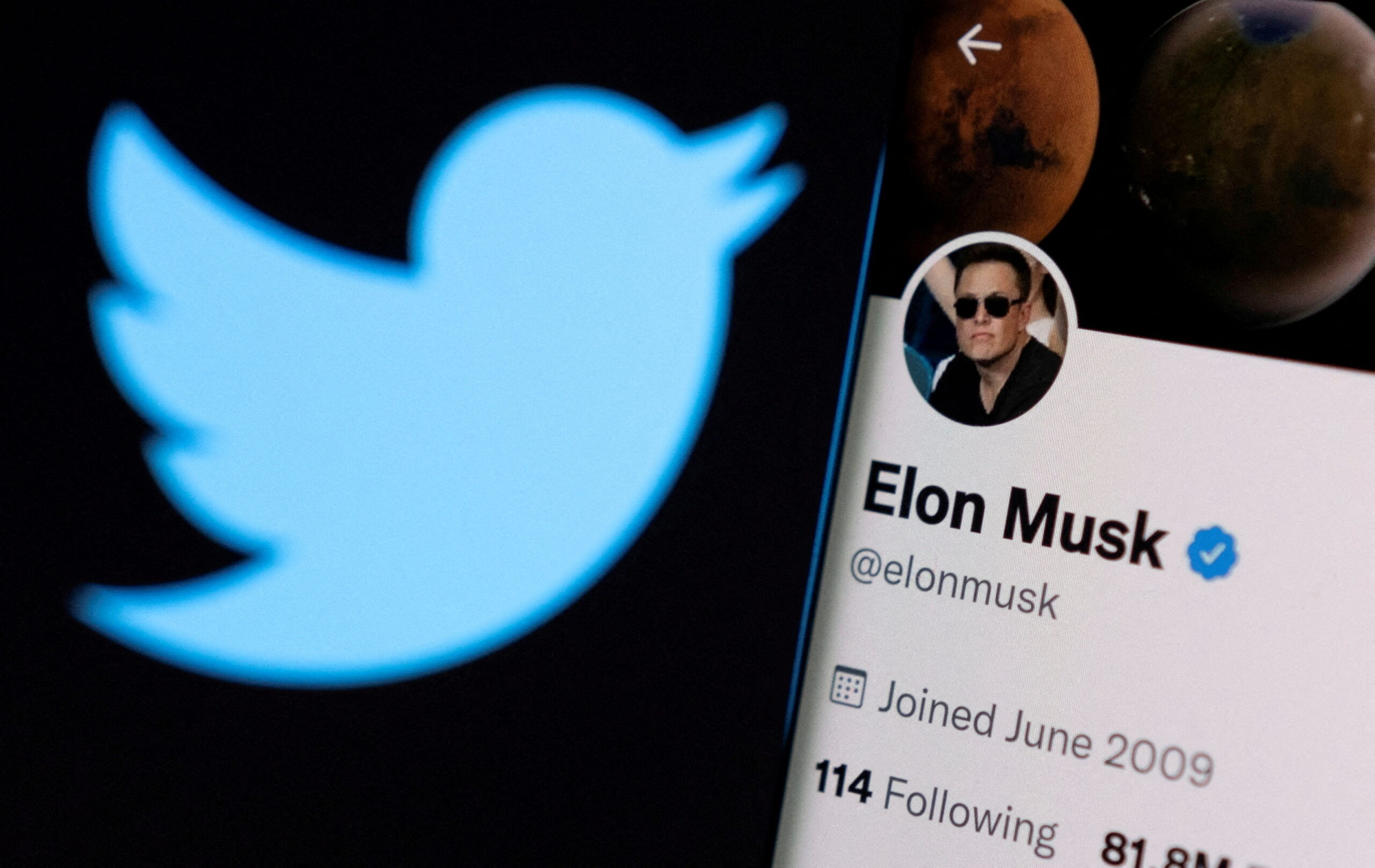 Twitter is reportedly set to accept Elon Musk's $43bn offer to buy the company. Dado Ruvic/Reuters
"I'm obsessed with the truth," Elon Musk told a packed Vancouver audience earlier this month. For the man who labelled Vernon Unsworth – the cave diver who rescued 12 children in 2018 – "pedo guy" for having the temerity to criticise his idea of using a mini-submarine to save them, this felt like something of a stretch. 
Regardless, Musk certainly is obsessive – and generally gets what he wants. Earlier this month he lodged a bid to buy the social network Twitter at $54.20 a share, valuing the company at $43.4bn (£33bn). Just days earlier, the SpaceX and Tesla CEO revealed he had bought a 9.2% stake in the company, making him its largest shareholder.
If – and it remains a big if – Musk does indeed buy Twitter, he is on record as saying he wants the maximum number of shareholders permitted for a private company. Rather than a crazed billionaire wanting to singularly re-forge a global company, it seems he wants to gently steer it in a different direction – at least initially.
Billionaires buying assets in the media is nothing new. But while lotharios like Rupert Murdoch, Silvio Berlusconi and Robert Maxwell made their fortunes in publishing and news, the industry is increasingly a playing field for billionaires who make their fortunes elsewhere. Jeff Bezos has the Washington Post, John W Henry the Boston Globe and Carlos Slim – the Mexican telecoms billionaire – is the largest shareholder at the New York Times. In Britain, the Telegraph, Times, Mail, Independent and Evening Standard are all answerable to billionaire owners. 
Musk buying Twitter, however, would be a whole new level. The world's wealthiest person, whose personal value is presently more than $260bn (more than the GDP of Portugal or New Zealand), would be the driving force behind a social network with hundreds of millions of monthly users and which politicians – from Donald Trump to Narendra Modi – see as an essential part of their public image. If it goes through Musk's purchase would arguably be the defining deal of our era, illustrating how the ultra-rich have more influence now than during the years of 'robber baron' wealth at the twilight of the nineteenth century.
Indeed, such a purchase could have near-immediate political implications, namely Trump's return to the platform before next year's Republican primary. Polling already suggests Trump would trounce both Joe Biden and Kamala Harris in any run-off in 2024. With a favourable CEO at Twitter this would only be more likely, as Musk has hinted at Trump's return to the platform, speaking of how he would like the company to be very "reluctant to delete things […] very cautious with permanent bans. Timeouts I think are better than permanent bans."
While Musk's relationship with Trump was hardly plain-sailing (he left the president's advisory group after the withdrawal of the US from the Paris Agreement), earlier this year the Tesla CEO tweeted that Biden was a "damp sock puppet in human form". With Biden promoting the likes of GM and Chrysler, Musk feels Tesla has been consistently overlooked by a man he views as a weak politician. Buying Twitter, and allowing Trump to return to the platform, would certainly be one way of getting the White House to show him more respect. 
For a long time, those in favour of de-platforming on social media have argued that private businesses don't have a duty to protect freedom of speech. While it's true that denying someone a platform isn't the same as removing their right to express themselves, more nuance is needed if an ever wealthier billionaire class isn't only going to purchase newspapers, TV stations and websites, but the social media platforms that hundreds of millions of us use.
Musk buying Twitter, even more than Jeff Bezos flying into space, would perhaps be the greatest statement of plutocratic intent in history. In a capitalist economy, money is power. The question is how much of this we are willing to give to individuals if it undermines the voices of millions of others. Indeed, the rest of the 2020s will be a race to see whether liberal democracies can hold on as wealth is funnelled from the poor to the rich. To achieve this, and reverse stagnating living standards, will require a new media.
Aaron Bastani is a Novara Media contributing editor and co-founder.