French Muslims Overwhelmingly Backed Mélenchon. Will the Left Take Note?
Persecuted by centrists and the far right alike, Muslims want more.
29 April 2022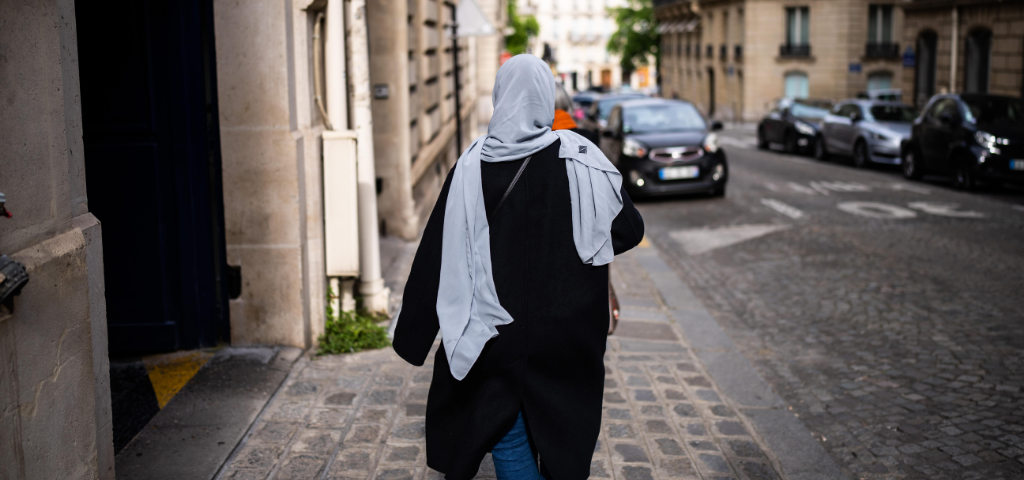 French Muslims are contemplating a hostile political landscape. Xose Bouzas/Hans Lucas/Reuters
Last Sunday was Groundhog Day for millions of French voters. They stood in line to choose between the same two candidates who faced off five years prior: far-right Marine Le Pen, and centre-right Emmanuel Macron. For the second election in a row, the French left was shut out of the final round after far-left candidate Jean-Luc Mélenchon lost second place to Le Pen by just 1.2%.
Yet despite national defeat, the French left overwhelmingly won the votes of one key demographic: French Muslims. According to IOFP polls, 69% of Muslims voted for Mélenchon, while Le Pen received a measly 7%. What does the overwhelming endorsement of this group mean for the future of the French left? 
A 'Muslim' vote?
Thinking of a 'Muslim' vote in religious terms (such as directed by an imam or doctrine) is inaccurate. Muslims in France are legally not allowed to organise politically (Macron's first term resulted in the implementation of  a charter that saw the "instrumentalisation of Islam to political or ideological ends" banned). But, like any other demographic, the five million registered Muslim voters in France use their ballot to protect their interests – in this case, their right to exist and practice their faith.
Most of these Muslims have African backgrounds, descendants of post-World War II waves of immigration from the likes of Algeria, Senegal, Morocco, Mali or the Comoros Islands. The majority live in Paris and its banlieue, its oft-demonised suburbs. In these poorer urban sectors, being part of a religious minority defines voting tendencies. While low-income voters in French overseas territories with majority Black and Creole populations overwhelmingly voted for Le Pen in the final round, in mainland France, persecuted Muslims plumped for the left.
Lina, born in France to North African parents and raised in the Paris suburbs, has backed the left for years. "Mélenchon, for all his character flaws, gave me an unexpected surge of hope by the end of 2021, and I truly believed there was a chance for a positive change at last," she tells Novara Media. "It pushed me to talk about politics with my family and friends. Some of them didn't read the programmes [manifestos] and had little to no idea about what candidates offered." For Lina, Mélenchon's La France Insoumise (LFI) was the best hope for low-income Muslims.
Muslim support for the LFI was not viewed positively by all, however. Following polling, many mainstream media outlets from across the political spectrum blamed Mélenchon for creating a "communitarist vote" and for fuelling "Islamo-leftism". Leftwing magazine Marianne went so far as to accuse Mélenchon of promoting a "fundamentalist entryism". But in a country where everything Muslims do is viewed as extreme, how could French Muslims not feel alienated by other candidates? "As a French Black Muslim man, I've never been listened to or represented," says 24 year-old Awad, who is of French-Comorian descent. "Mélenchon's party was the only party that made us feel like we were legitimate French citizens." 
Five more years.
The disillusion of young French Muslims is the culmination of five years of a presidency which further inflamed public perception of Muslims. From Macron's statement that "Islam is a religion in crisis all over the world" to the creation of an anti-separatist law that grants him power to shut down any Muslim organisation, Macron has fuelled the overt Islamophobia rampant in France since the colonial period.
"I lost hope years ago," says Imane, a Moroccan-born Muslim who obtained French citizenship at 13. "French politics upsets me more than anything. I don't feel represented." As a woman wearing the hijab, she feels insulted by the constant political fixation on 'veiled woman', the phrase being the direct French translation of 'hijab' – telling in itself. 
"This obsession with our hair, this fabric, it sickens me," says Imane. "I am drained. I just want my sisters and I to live life like normal people, to study, go out, enjoy life. But instead, we're seen as monsters, Islamists or oppressed women."
This hopelessness was shared by many Muslims told to choose between Le Pen and Macron last Sunday. Some even described the decision as choosing between "plague or cholera". But ultimately, for many, Le Pen's form of Islamophobia posed the bigger threat due to proposed policies including fining hijab-wearing women.
"Macron and Le Pen are definitely not the same," says Donia, a 24-year-old French journalist of Algerian-Egyptian descent. "Marine is the heir of the Le Pen heritage. Her father was a French soldier and torturer during the Algerian war, a man convicted of Holocaust denial. Her party was founded by Nazi sympathisers. To me, Le Pen is the greater danger." Donia – who says that for the first time she "felt drained" by politics – chose Mélenchon for her first round vote despite not feeling aligned with his party or programme because she felt that "as a Muslim woman, [she] had no choice".
A fractured left.
Mélenchon was the only candidate in this election who defended Muslims' rights, calling out Macron's anti-separatism legislation as "a law against Muslims". But as Donia's vote indicates, the Muslim support Mélenchon achieved was perhaps more the result of a lack of options than the product of 'Islamo-leftism'. Muslims felt they didn't have much choice but to back the only person to seemingly recognise their basic rights. The question is: will this prompt the birth of a new French left, one with marginalised voices at its heart? 
The French left has historically been associated with anti-religious "bouffeurs de curés" (priest-eaters) committed to republican ideas of laïcité (France's strict version of state secularism), universalism and assimilation. It's therefore difficult for French Muslims to put their faith in France's parliamentary left. "The left isn't pro-Muslim. I don't trust a single leftwing politician enough to believe [they're] on our side," says Jihad, a 25-year-old German teacher who acquired French citizenship from her French-Moroccan parents.
If the French parliamentary left is to make gains, something needs to change. Despite the LFI winning third place in the first round, other traditional leftwing political parties now seem defunct. Notably, the Socialist party (PS) hasn't recovered since François Hollande's divisive administration left him polling as the most unpopular French president ever. The party's 2022 candidate Anne Hidalgo, current mayor of Paris, didn't even secure 2% of the vote in the first round.
The future of the French left will be decided during June's National Assembly elections, where the LFI plans to create a new left coalition called the 'Popular Union' with the Communist party (PCF) and the Green party (EELV). This union, however, appears to be founded on principles of republican universalism – the idea that a nation should be one single homogenous bloc and not the sum of diverse demographics. Despite Muslims' voting power, the French left still prefers to appeal to its traditional electorate of white middle-class French voters.
But if the French left really wants to reinvent itself, it should be willing to reinvent its principles too. It needs to bake anti-racism into its foundations – not just preach it – to include marginalised people of colour and Muslims as voices that need to be heard and represented. The rise of the far right in France, and discontent with a weak centre, has opened up an opportunity for the left to forge a new path. Without the likes of French Muslims, however, it'll be facing a dead end. 
Hanna Bechiche is a French-Algerian writer with a focus on postcolonial politics and philosophy.