Germany is Projecting Its Holocaust Guilt Onto Palestinians
Germany wants us to believe antisemitism is an Arab problem.
13 June 2022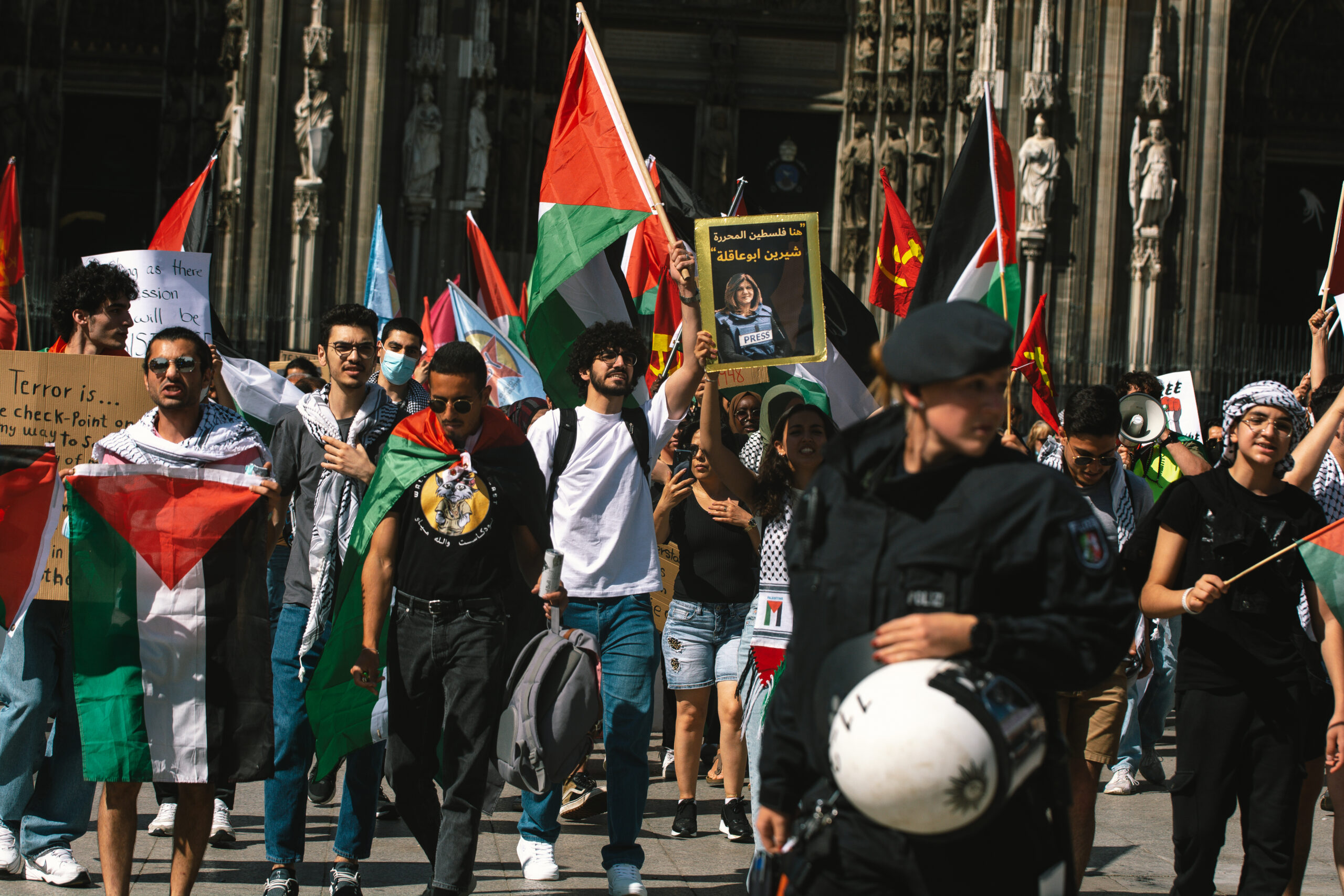 German is offloading historical guilt onto pro-Palestine movements. Ying Tang/Reuters
On 16 May – Nakba Day – I was riding a train from Heidelberg back to Berlin when friends sent me photos of two people I knew being strip-searched by police, just off Hermannplatz, Neukölln. A video followed. "They took my ID without permission," one woman screams in the footage, as officers pin her to the wall. "I am living here legally." I began frantically searching Twitter and checking in with friends. It was only later that I learned that the video showed two of 170 arrests made by the 1,000 police officers deployed in Berlin that day, with prominent Palestinian activists Majed Abusalama and Ramsy Kilani among those detained.
The police claimed the arrestees were breaching the ban on pro-Palestinian protests put in place for Nakba Day, despite the fact that no organised demonstrations had taken place (even requests to hold a vigil for Shireen Abu Akleh, the American-Palestinian journalist murdered by Israeli forces that week, were denied). It appears that the only crime committed by activists was to stand on Hermannplatz while wearing their keffiyehs. Just another day in the German capital, home to the largest Palestinian population in Europe.
The Nakba Day protest ban is part of a larger German campaign to prosecute and silence any and all support for Palestine. The police are adamant that the ban does not violate the constitutional rights to freedom of expression and assembly, since there was an "immediate risk" based on the "inflammatory, antisemitic exclamations" at an earlier pro-Palestine protest on 23 April.
According to media reports, several journalists were physically attacked and subject to antisemitic slurs at by demonstrators. Die Welt reported that a journalist from another German newspaper, Bild, was kicked twice, while the managing director of the German Union of Journalists said he saw attacks on other journalists; one was removed by police after they claimed his safety could not be ensured.
Yet the difficulty of gauging whether an antisemitic incident actually took place is particularly acute in Germany, where all forms of public support for Palestine are considered antisemitic. 
The situation in Berlin is extremely tense. Police are literally arresting anyone they seen on the street who even says "free palestine" or wears a keffiyah. An hour ago German police arrested one of the most important Palestinian activists in Germany, @RamsyKilani

— Hebh Jamal (@hebh_jamal) May 15, 2022
In 2017, the German state, its cultural and academic institutions began adopting the International Holocaust Remembrance Alliance working definition of antisemitism, whose illustrative examples state that it is antisemitic to deny Israel's right to exist. Within this framing, Israel is seen as a Jewish collectivity, any criticism of the state an attack on Jews themselves. What does this mean for Palestinian activists in Germany? What does it mean for Palestinians in general in Germany?
Antisemitism is seen as the most unacceptable form of prejudice in German civil society – for good reason. There is no doubt that Germany continues to be a very antisemitic place. In fact, there has been a rise in antisemitic incidents in recent years: Swastikas spray-painted on walls; synagogues attacked; Jewish cemeteries desecrated. The question is not whether the fight against antisemitism is an important one, however; it is whom this fight is against. 
While the history of antisemitism in Germany needs no retelling, this past has never been fully reconciled in the national identity. Besides repeating the trite phrase "nie wieder" (never again), Germany does little to stop structural antisemitism that threatens the lives of Jews across Germany. Instead, the government expresses responsibility for the Holocaust by unflinching support for Israel – and, by extension, brutal repression of Palestinians.
Nor is it solely the state that metes out this repression. Ordinary Germans – including the Anti-Deutsch movement, an antifascist splinter which has adopted strong support for Israel as one of its central tenets – routinely carry out smear campaigns against pro-Palestinian academics, artists and cultural workers, with career-derailing consequences.
Just a few examples from recent years: In 2015, the so-called Humboldt Three (two Jewish Israelis and one Palestinian activist) were charged with and later acquitted of antisemitism for interrupting a lecture by an Israeli politician (Majd Abusalama, the Palestinian activist among the three, was hospitalised recently due to injuries inflicted by police on Nakba Day). In 2018, the pro-Israeli nightclub ://aboutblank disinvited the DJ collective Room4Resistance from an event for taking part in the social media campaign #DJsForPalestine.
In 2020, the pro-Palestinian block at the pride parade was intimidated and eventually broken up by police. In 2021, the "School for Unlearning Zionism", organised by anti-Zionist Israelis at the Weißensee Academy of Art, had its website taken down since the academy is state-funded. In this year's documentary festival in Kassel, a panel on antisemitism was cancelled due to curatorial support of Palestine. And just a few months ago, a number of Palestinian journalists working for German media outlet Deutsche Welle were expelled from their jobs for pro-Palestinian posts on social media.
Refusing to deal with their German guilt, they instead lay the blame for contemporary antisemitism on Muslims, Arabs and most of all, on Palestinians. Conveniently reframed, antisemitism becomes not the byproduct of German history but an import to Germany – the subtext being, by immigrants. What Germans do not seem to understand, however, is that no amount of support for Israel will remedy the fascist ideologies that continue to bubble underneath German society.
On Nakba Day this year, another demonstration was happening across town, this one endorsed by the city of Berlin. The flyer read: "We will find the antisemites and their likes and send them back to the desert". This is not naïveté. It's a calculated policy of sacrificing Palestinians and Arabs to the "fight against antisemitism". As Germany continues to arm occupying Israeli forces, Berlin performs progressivism. For a brief moment on Nakba Day, the mask began to slip.
Nael Ibrahim is a writer based in Berlin. He uses a pseudonym.