How We Won: The Housing Campaigners Who Forced Councils to Protect Renters
Vote-hungry politicians proved easy pickings.
29 June 2022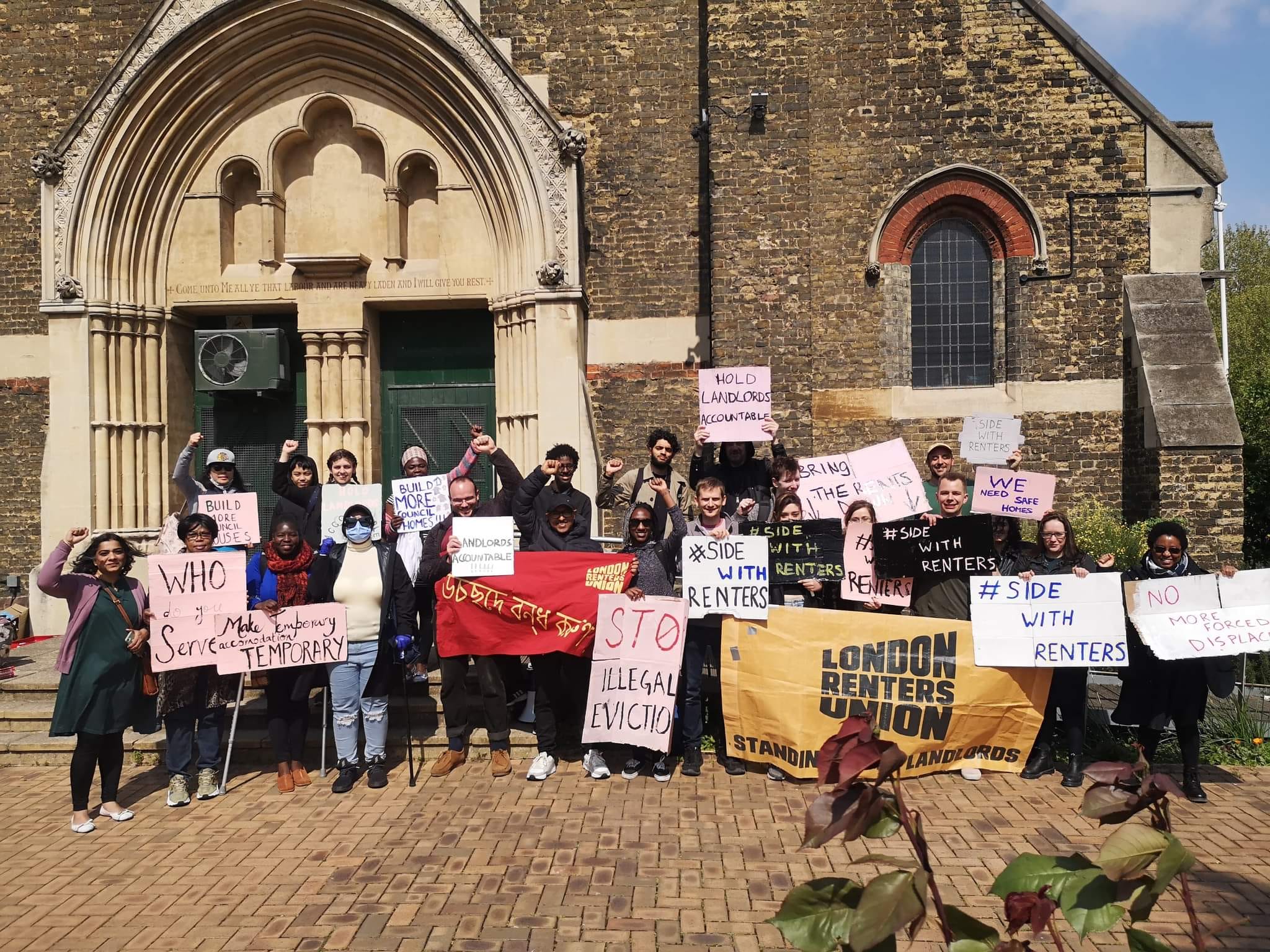 Photo: London Renters Union
Throughout her tenancy, Hannah*, who lives in Newham, London, was "harassed day in and day out" by her "aggressive" former landlord. This year, she faced three eviction attempts – the last involved her front door being broken down, an action that the police supported. Along with fellow London Renters Union (LRU) members, Hannah resisted the first two evictions, before finally being forced into homelessness, her landlord having threatened to move a stranger into the property.
Over the past several months, Hannah has been helping to organise LRU's Side with Renters campaign. Launched in February, the campaign used May's upcoming local elections, in which local Labour candidates were vying for votes, to push housing up the political agenda.
Its demands included: improving enforcement to crack down on illegal, negligent and abusive landlordism; strengthening landlord licensing, including for temporary accommodation providers; raising the standards of temporary accommodation for those facing homelessness; building more homes at social rent; fighting for rent controls; refusing to share data with UK border agencies; and meeting with the LRU on a regular basis.
The campaign mobilised across the six London boroughs where LRU has branches – Newham, Hackney, Brent, Lewisham, Haringey and Tower Hamlets – and combined street stalls with door-knocking and protests, adopted a community organising approach that put local renters at its centre.
Side With Renters has seen significant wins. Local politicians across the six boroughs – mostly Labour candidates who went on to win their races – committed to many of the renters' demands. The housing crisis is often construed as a "really abstract" problem, says Zad El Bacha, LRU organiser for Newham and Leytonstone, when in fact – as Side With Renters demonstrates – "there are lots of things that councils have the power to do, and don't". Comparing Labour manifestos between councils where the LRU was campaigning with those where it wasn't proved this: Labour manifestos in boroughs such as Croydon, where LRU did not have a campaign, hardly mentioned private renting at all.
Amidst the economic and social devastation of the pandemic and the burgeoning cost of living crisis, renters are struggling. Where the pandemic brought short-lived relief from rent rises and evictions for some, landlords are now upping the ante on both counts; private rents are up by an average of 8.7% compared to 2021. The conditions faced by those living in temporary accommodation, used to house those facing imminent homelessness and often outsourced to profiteering companies, are even worse. The stress of renting – often paying most of your income for unfit and insecure housing – has severe impacts on mental health. This torrid landscape enables landlords' abusive practices.
"Because you are desperate, you are bound to take the place," explains Hannah, even if it is "not [fit] for human habitation." And when battling landlords over repairs or facing illegal evictions, the council and police are no help. "Landlords are taking the council for a ride, they do whatever they want," says Hannah.
In fact, Hannah adds, the police consistently side with landlords, as they did during her eviction. "Nobody is fighting for renters, and that's why we are fighting to make the community aware of what is going on."
Building localised, mass movements was central to the campaign. Organisers knew that hundreds of local people co-creating housing demands and collaborating on negotiations with council candidates would be more powerful than a few vocal activists. LRU members prepared for negotiations by meeting beforehand to discuss effective approaches and lines.
Side With Renters foregrounded local people as opposed to LRU staff. "I think unions and social movements often have a small group of particularly activist types who design the demands and lead on the negotiating," says Harry Holmes, an LRU member in the Newham and Leytonstone branch. In contrast, as part of the Side With Renters campaign, the Mayor of Newham, Rokhsana Fiaz, negotiated directly with LRU members who had "come together to work out what [would be] most impactful things for them as working-class renters in the area."
At another point in the campaign, a group of renters attended the council's housing and environment committee meeting and sat in the public gallery holding placards with slogans about housing issues. "It was a really powerful moment," recalls Holmes, "where [local politicians] could feel the public scrutiny, could feel the collective power, could feel the pressure" to take action on housing.
This mass movement building involved "deep organising", a long-term approach that fosters grassroots power in communities via relationships and political education to transform oppressive systems. This deep organising, says El Bacha, entails "go[ing] on someone's political journey with them and empower[ing] them to make decisions about their own situation, and about how we can change things more structurally." LRU organisers built relationships with local organisations – including mosques, churches, schools and charities – in the boroughs where they ran the campaign; many encouraged their communities to join the LRU.
In combining immediate mutual aid with structural resistance, the Side With Renters campaign marks a turning point in LRU's three-year history. "It was the first big campaign that [connected] the member solidarity work that we do with the broader issues," explains El Bacha. It hasn't been easy: all six members leading negotiations with local politicians in Newham and Leytonstone had lived experience of violent landlords, trauma that has both resurfaced and been healed through struggle.
Many of them have told El Bacha that "the reason I'm not dead is because I found the union and realised […] there is hope."
After her own traumatic experience as a renter, Hannah advises others in a similar position to "know your rights and what you're fighting for – a home is worth fighting for […] [and] if you join the renters' union, it's a fight not just for you, it's a fight for everyone -: a fight to change the system."
The commitments made by local councils in response to the Side With Renters campaign's demands could improve the lives of hundreds of thousands of renters. The LRU will now focus on holding them to account, for example by holding community accountability assemblies. The LRU also plans to continue fighting for a fair housing system at the national level.
Whilst the current Renters' Reform Bill includes some welcome elements – such as the banning of section 21 "no-fault" evictions – Holmes argues that so long as the government is "in the hands of landlords", its impact will be severely constrained.
"Unless there's provision for rent caps and serious concern for the way in which rent is being used to absolutely suffocate the working class," he says, "it's not transforming the housing system." In the long term, says El Bacha, that means "abolish[ing] landlordism" altogether.
*Names have been changed.
Sophie K Rosa is a freelance journalist and the author of Radical Intimacy.