Who Could Replace Boris Johnson and How Scared Should I Be?
The ghouls are lining up.
6 July 2022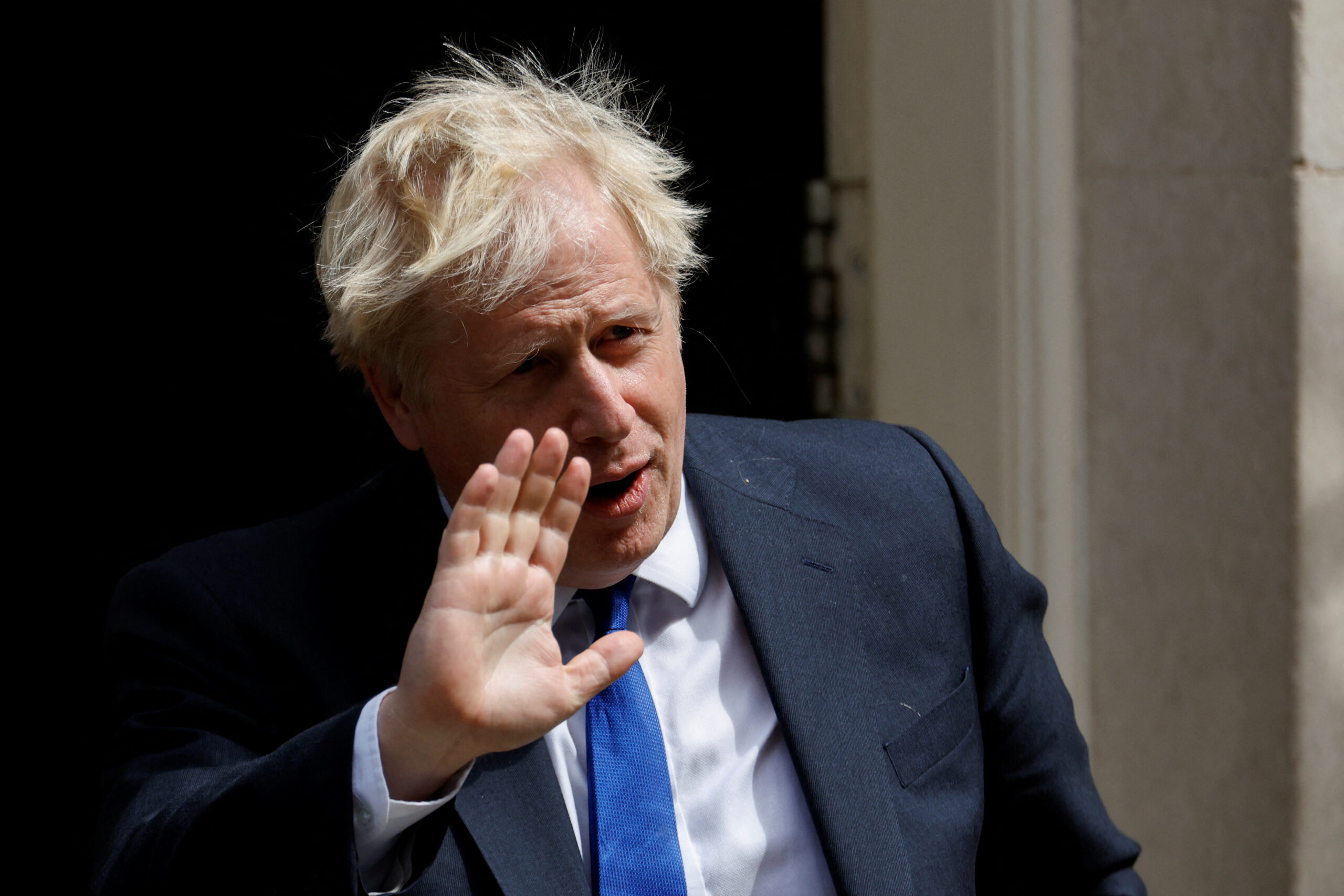 Boris Johnson's premiership is on the rocks. John Sibley/Reuters
Without a doubt, watching Boris Johnson's dreams crash around him as he loses grip on power is first class entertainment. I mean, imagine his face when he actually has to step down.
The main reason this farce has been allowed to go on for so painfully long is that the Tories can't agree on a replacement – none of the current parliamentary Conservative party are leaping out as obviously a better bet than a serial liar beset by so many scandals it's impossible to keep up.
Sadly, this grisly Succession re-imagining isn't just drama and ultimately pertains to real life, our lived experience, the reality we inhabit – that kind of thing. And so, with regret, it's worth looking at who might replace Johnson as prime minister when he is eventually ousted, and just how much they love Margaret Thatcher.
Rishi Sunak.
Multimillionaire Rishi Sunak was chancellor until he quit yesterday, saying that the public expects the government to be run "properly, competently and seriously".
Sunak was once considered the next big thing in the Tory party. On camera he has a kind of "nice guy" charm, if you like that sort of thing. He won plaudits during the pandemic for the furlough scheme, which went against his deeply Thatcherite politics.
His next big idea was Eat Out To Help Out, encouraging people to go to restaurants in the summer of 2020 in order to stimulate the economy. This drove up Covid-19 infections by between 8% and 17%.
Sunak is probably the richest MP in parliament, worth an estimated £200m. His wife is fashion entrepreneur Akshata Murthy, daughter of NR Narayana Murthy, who is worth £3.1bn and is the sixth richest man in India.
Sunak's leadership prospects took a battering when it was revealed that Murthy was living in the UK with a non-domiciled tax status, meaning she could pay less tax. There was further controversy when it was revealed that Sunak held a US green card while he was chancellor, declaring him a permanent resident of the US, while he actually lived in Downing Street.
He once told some school children: "I'm a total coke addict".
Nadhim Zahawi.
Nadhim Zahawi has regularly defended Johnson over the partygate scandals and was promoted to chancellor on Tuesday. He has already announced that he will review government plans to raise corporation tax from 19p to 25p.
He was vaccines minister during the pandemic and was then promoted to education minister. He recently offered teachers a 5% pay rise – a real terms pay cut – and asked them to be "fair" because "parents will be incredibly angry" if they strike. Zahawi has an estimated net worth of £100m.
He recently told The Telegraph: "There are elements of the hard left whose currency, whose politics is to dehumanise their opponents, Conservatives, right-of-centre-thinking people, and to shut down debate."
He is not aligned to a particular wing of the party.
Sajid Javid.
Sajid Javid resigned on Tuesday, saying he could "no longer continue in good conscience", which is quite a funny thing to say having hung around this government for this long.
Javid is a former City boy who got up early to secure a front row seat at what turned out to be Thatcher's last ever Conservative party conference speech, where he chanted supportive slogans such as "ten more years".
Javid was made health secretary in 2021 and was more strongly opposed to further Covid lockdowns than his predecessor Matt Hancock.
Before that he was home secretary under Theresa May, and was promoted to chancellor by Johnson. He resigned in February 2020 after six months having fallen out with Dominic Cummings, went to the backbenches and quickly got a job with multinational investment bank JP Morgan.
Liz Truss.
It's been noted that Liz Truss has been "on manoeuvres" for a potential Tory leadership bid since around December 2021, when she took to social media to wish everyone a merry Christmas ten days early, with a picture in which she looked ever so prime ministerial. She has used her role as foreign secretary to pose with world leaders on social media, and if she just happens to come across as an impressive statesperson, and people start thinking of her as a serious leader, she can't help it – she's just doing her job.
Foreign Secretary Liz Truss has declined to criticise Saudi Arabia over their human rights record, saying that the country is an 'important' UK ally.

See more videos: https://t.co/eh8eNhgpHF pic.twitter.com/u8xfPn8Icz

— Sky News (@SkyNews) June 28, 2022
In a further sign of suitability for high office, Truss was recently invited to criticise the human rights record of Saudi Arabia and refused to do so, calling the authoritarian regime "an important partner of the United Kingdom".
Truss has held a number of cabinet positions and famously slammed cheese imports as a "disgrace". She has strongly backed Johnson throughout his many scandals so far.
Truss was one of the authors of Britannia Unchained, a book of Conservative thought which said that the British were "among the worst idlers in the world".
She has an origin story that the Tory grassroots love about being born in Leeds to leftwing parents but having a mind of her own. She previously claimed that her "favourite" prime minister was Thatcher.
Tom Tugendhat.
Tom Tugendhat, a moderate Tory, seems to have a sincere belief in the bubblegum and sticking plasters that hold together Britain's unwritten constitution: that politicians ought to be decent chaps and do the right thing. As such he has no time for Johnson's shenanigans and has been laying into him for most of his premiership. He was the first MP to openly declare himself a potential replacement for Johnson.
Tugendhat served in the army in Afghanistan and now serves on the foreign affairs select committee. He was sharply critical of the failure to plan for the fall of Kabul to the Taliban.
Tugendhat was among signatories to a letter denouncing the sell-off of Channel 4 because it goes against the founding vision of Thatcher.
Priti Patel.
Priti Patel is still backing Johnson for the moment. She is an – ahem – robust law'n'order style Tory. As home secretary she is responsible for the plan to ship migrants to Rwanda, described as "unspeakably cruel" by the Joint Council for the Welfare of Immigrants – and the new police, crime, sentencing and courts bill, described as a "1984 style power grab" by a former cop.
In 2020 she was hit by claims of bullying behaviour at the Home Office, which she denied. The Home Office spent £370,000 settling a tribunal claim bought by a top civil servant. She is also said to be charming when she wants to be.
In 2017 she was forced to resign as international development secretary because she went to Israel for some undisclosed meetings or "freelance foreign policy".
In 2011 she spoke on BBC Question Time in favour of the death penalty, but no longer holds this view.
Patel shares a love of Thatcher with her father.
Dominic Raab.
Dominic Raab was on Good Morning Britain on Tuesday making a desperate defence of the Pincher scandal, saying the fact that a complaint was upheld is not the same as Chris Pincher being guilty.
The car crash interview of the year as Justice Secretary Dominic Raab shamelessly defends the indefensible

Superb from @susannareid100 @GMB pic.twitter.com/2GWGPVKLux

— Peter Stefanovic (@PeterStefanovi2) July 5, 2022
He faced calls to quit as foreign secretary over his handling of the fall of Afghanistan to the Taliban when he was on holiday in Crete. As justice secretary he waged a war on "wokery" in the prison system.
He has a history of saying things that piss people off. In 2011 he described feminists as "obnoxious bigots" in an article in which he also said men are getting a "raw deal". In 2017 he said: "The typical user of a food bank is not someone that's languishing in poverty; it's someone who has a cash flow problem". In 2020 he told talkRadio's Julia Hartley-Brewer he would only "take the knee" – referring to a gesture of solidarity with anti-racist struggles – for "the Queen and the Mrs when I asked her to marry me".
He was once described by allies as "a male Thatcher".
Jeremy Hunt.
Former health secretary Jeremy Hunt lost the Tory leadership election to Johnson in 2019, and since then he has been on the backbenches.
He recently told the Times Magazine he would "be very open with you that I don't rule out a return in the future".
Ben Wallace.
The defence secretary welled up admitting to LBC that not everybody would be evacuated for Afghanistan, "because I'm a soldier".
He has gained notoriety because of his role in responding to the invasion of Ukraine, but has played down talk of becoming PM.
Penny Mordaunt.
Trade minister Penny Mordaunt was mainly angry at the partygate scandal because it happened while the government was "blocking reasonable requests to relax restrictions". In 2020 Mordaunt said foreign aid money should instead be spent on replacing the Royal Yacht.
She once smuggled the word "cock" into a parliamentary speech six times as a forfeit for something she did wrong in her training as a Royal Navy reservist. It's all just a bit of banter.
Simon Childs is a commissioning editor and reporter for Novara Media.