The 'Uber Leaks' Were No Surprise to Long Suffering Private Hire Drivers
"For years, Uber have shown their true colours."
14 July 2022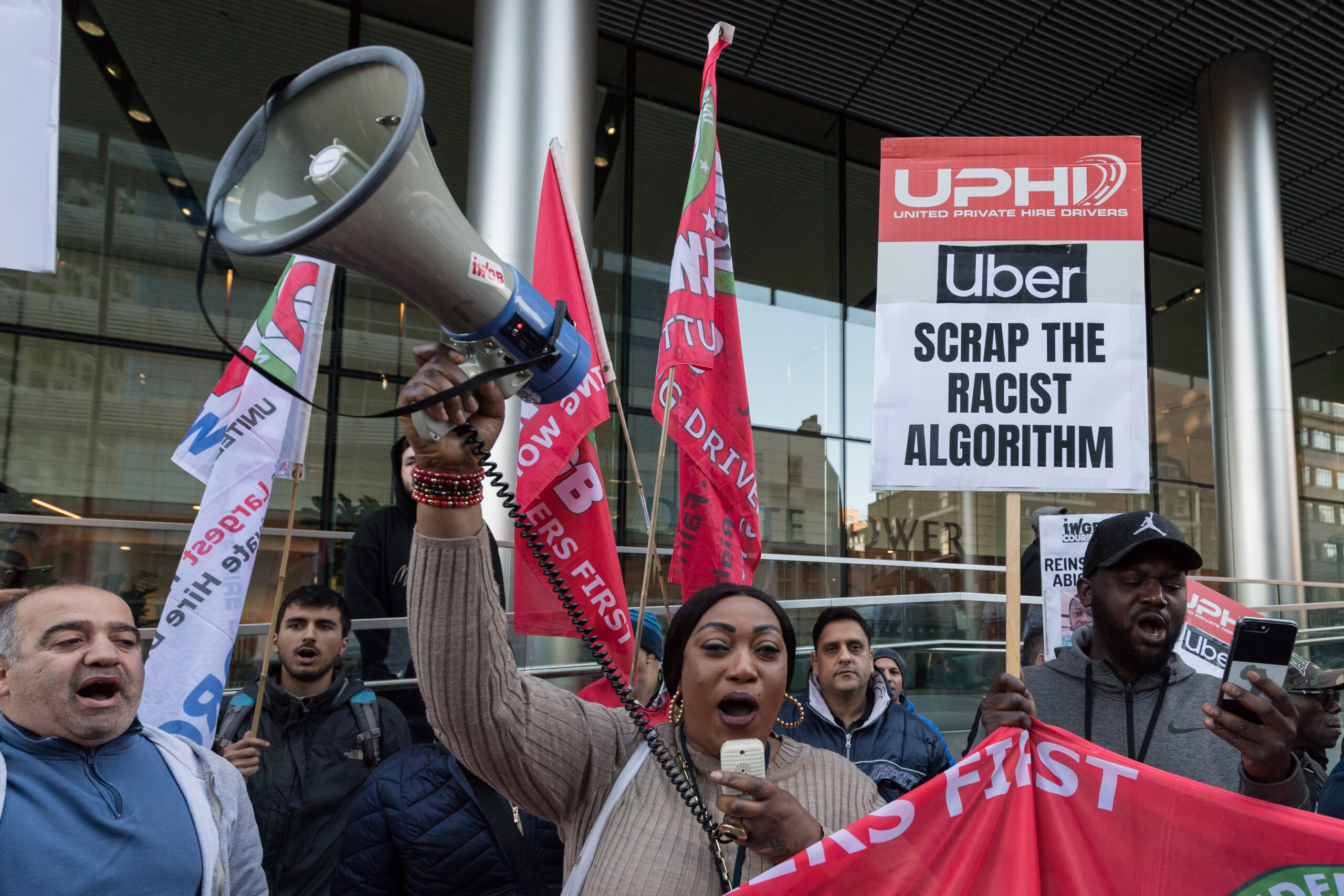 Uber drivers strike in London, October 2021. Wiktor Szymanowicz/NurPhoto
Back in 2015, only three years after Uber had launched in London, Uber driver Hassan Haji began hearing rumours. He'd heard black cab drivers talking about the chancellor of the exchequer, George Osborne, being in bed with Uber. Others joked about prime minister David Cameron putting pressure on then-mayor of London Boris Johnson on Uber's behalf. Somehow, taxi and private hire drivers suspected, the ride-hailing business was up to something.
So, it was no surprise to Haji when, last Sunday, the leaked documents of Uber's former chief lobbyist for Europe Mark MacGann confirmed the company had internally admitted what he and his colleagues had long suspected: "We're just fucking illegal", in the words of one Uber executive.
The documents, leaked to the Guardian, show how Uber entered new markets where they fell outside of the legal framework, then once demand was established, lobbied to have the laws changed. With a mantra of "it's better to ask for forgiveness than permission", Uber systematically created "regulatory and legal shitstorms" in new markets, secured undisclosed meetings with public officials, and "weaponised" drivers by exploiting attacks against them to "keep controversy burning." And so they didn't get caught, Uber installed a "kill switch", where if the police raided their offices, they could hide data.
For Alex Marshall, president of the Independent Workers' Union of Great Britain (IWGB) which organises private hire drivers, this is old news. "We didn't need 124,000 documents to tell us Uber are crooks. My union see it every day in the lives of the drivers who have to live the reality of what Uber have done."
As tech writer Ali Griswold points out, Uber were happy to pretty openly do all sorts of shady stuff in their early years – like citing on their blog that the median annual income of a driver for UberX in New York City was $90,766, then being unable to find a single example of a driver earning that much, and later paying $20m to the Federal Trade Commission over charges it misled prospective drivers with exaggerated earning claims and claims about financing. Uber ran the "SLOG" program, Griswold reminds us, dedicated to sabotaging competitor Lyft, and a senior Uber executive mooted hiring researchers to find dirt on journalists who criticised the company in the press.
What the leaks reveal instead is that executives were under no illusions that their way of operating was "other than legal", as staff put it in internal emails.
Uber's senior vice-president of public affairs, Jill Hazelbaker, says Uber is now a "different company", one that "will not make excuses for past behaviour that is clearly not in line with [its] present values".
For Marshall, however, "there can be no 'the past is the past'." The exit of co-founder and former CEO Travis Kalanick in 2017 isn't the neat bookend current executives so desperately want it to be.
This is because Uber have never really been held accountable for the immense suffering that their business model has created. For Nader Awaad, who chairs the United Private Hire Drivers (UPHD) branch of the IWGB, drivers pay the price for Uber's activities daily. "They're breaking our rights in every direction: reducing the fares during an increase in the cost of fuel and living, deactivating drivers without due process, and failing to ensure the basic health and safety of drivers."
Despite a Supreme Court ruling last year that found Uber drivers are workers entitled to a guaranteed minimum wage as soon as they log into the app, drivers are still having to endure unpaid waiting time between jobs. To add insult to injury, following the ruling, Awwad notes they promptly reduced the pay rate per mile for drivers. "They gave a bit with the right hand, then took a lot more with their left."
What's more, other companies were taking note of Uber's strategies. One leak showed how Uber make targeted payments to academics and think tanks to create a positive image, including a €100k consultancy fee for French economics professor Augustin Landier to produce a report that would be "actionable for direct PR to prove Uber's positive economic role". A close relationship between academics and the gig economy is not unique to Uber: Marshall points to a recent Deliveroo-sponsored Social Market Foundation report on the "needs and experiences of those doing gig work" which found – surprise surprise – that "riders are as happy as other members of the workforce."
All told, the spinning wheels of Uber's PR machine have done their job. While drivers' pay and conditions have steadily decreased – prompting drivers to hold a 24-hour national strike last month ­­– the toxicity of Uber's "pirate" image has gradually been shed. Its once famously fractious relationship with TFL over licensing has given way to one where current chief executive Dara Khosrowshahi can banter with TFL's Twitter over enjoying the Elizabeth line. In February 2020, MacGann reached out to TFL, who were facing an appeal from Uber after they refused to grant them a licence in London. Increasingly concerned over drivers' mistreatment, MacGann emailed the mayor's office offering to share information in a "private and non-sensationalist manner, given my intimate knowledge of the company." He never received a reply.
Uber's corporate purification was achieved in part by its deal with the GMB union. While much fanfare was made over the deal being the first struck between a trade union and ride-hailing app, the agreement signed away collective bargaining over pay. For Awaad, this was a farce. "When you can't discuss pay, what is there to discuss? The weather?"
The GMB's only response to the leaks so far has been a tweet saying "the media love old news." Only days before the leaks were made public, the GMB were the subject of a glossy advertorial in the New Statesman in "association" with Uber, titled: "Unions are helping improve conditions for drivers like me". The piece ended with driver Ali Haydor calling Uber "the best company I have worked [with]".
Haji, who is now an IWGB member and the member engagement officer for UPHD, is sceptical that the leaks will change things for drivers. "For years Uber have shown their true colours, and nobody has come forward to make Uber abide by the law," he says.
"As the dust starts to settle," Marshall notes, "it's the unions operating on a shoestring budget who will continue organising and taking action."
Polly Smythe is Novara Media's labour movement correspondent.