The Biggest Lies About the Rail Strikes, Debunked
Myths about overpaid workers are just that: myths.
27 July 2022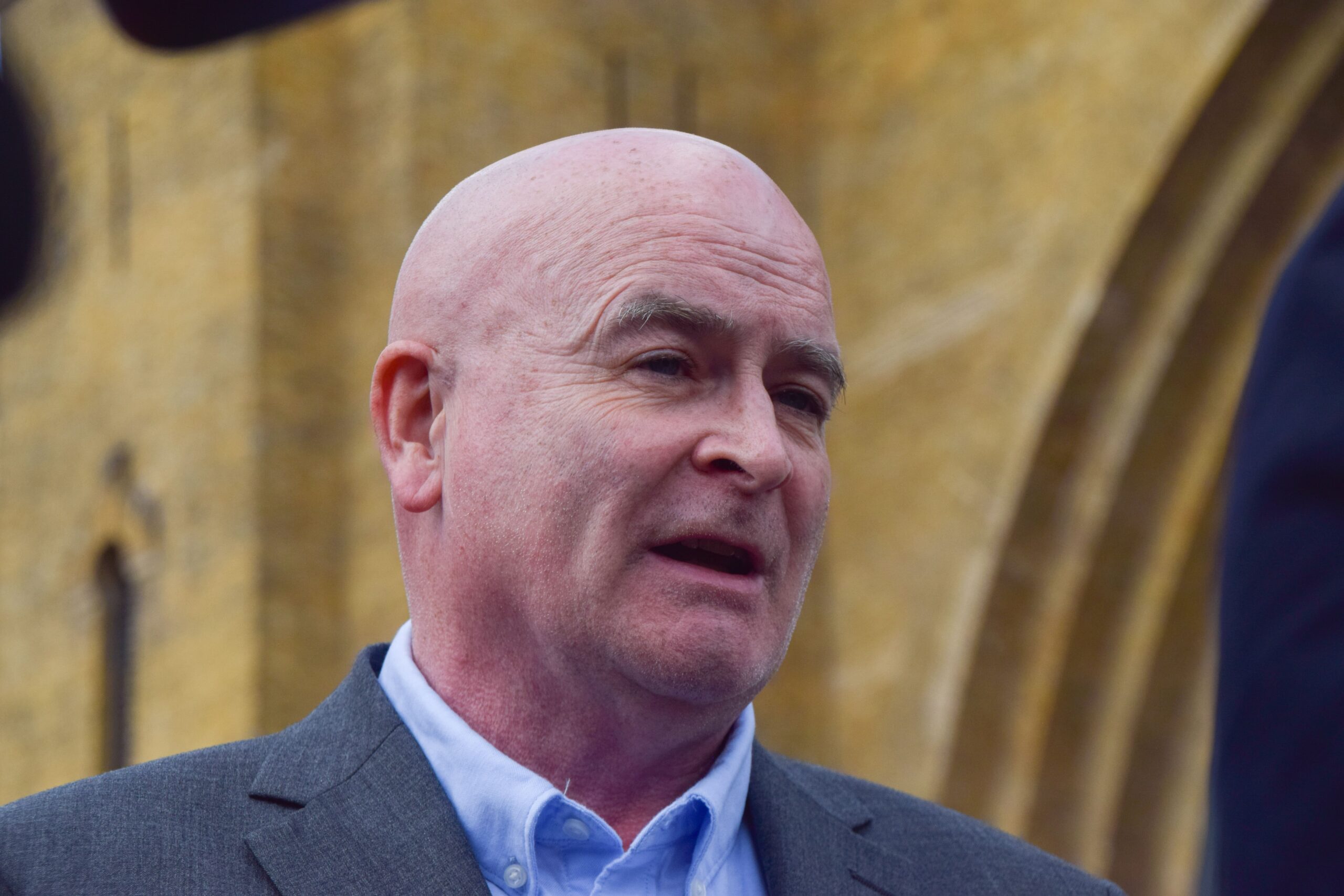 RMT general secretary Mick Lynch. Vuk Valcic / Reuters
Rail workers are on strike again today and on 30 July, either side of the Commonwealth Games. So far the strikes led by the RMT trade union have seemingly blindsided the Tories: rather than turning public opinion against the unions, the strikes have actually led voters to support the workers' cause.
This is partly thanks to the charismatic Mick Lynch (the RMT's General Secretary) who has been winning hearts and minds as part of a whirlwind media tour.
But as we look forward to yet more footage of Lynch explaining basic economics to morning TV presenters, some widespread myths still persist. These range from statements about how much workers are demanding to claims that the public is firmly against the industrial action.
Over the next few days we're probably going to hear some more inaccurate statements about the strikes being aired. So let's take a look at the top three myths, and demonstrate just how wrong they are.
MYTH: Unions are demanding an "inflation busting pay rise".
The first myth we should debunk is that striking rail workers are demanding large pay rises. "Are we genuinely expected to accept that those employed on Britain's woefully inadequate railways are more deserving of an inflation-busting pay rise than nurses, teachers, police officers, firefighters, or numerous other vital professions?" asked Ben Marlow, the Telegraph's extremely deserving chief city commentator recently.
When you examine the facts, the premise of the question doesn't stand up to scrutiny.
Network Rail has offered the RMT a pay rise of 5%, dependent upon "modernising reforms" which RMT described as "drastic changes". In response, the RMT has demanded a pay rise of 7%. But even this is a very moderate demand, because data from the Office for National Statistics (ONS) showed that CPI inflation in June stood at 9.4%. Not only that, but many rail workers haven't had a pay rise since 2019 – meaning their wages are worth much, much less than they were before the pandemic.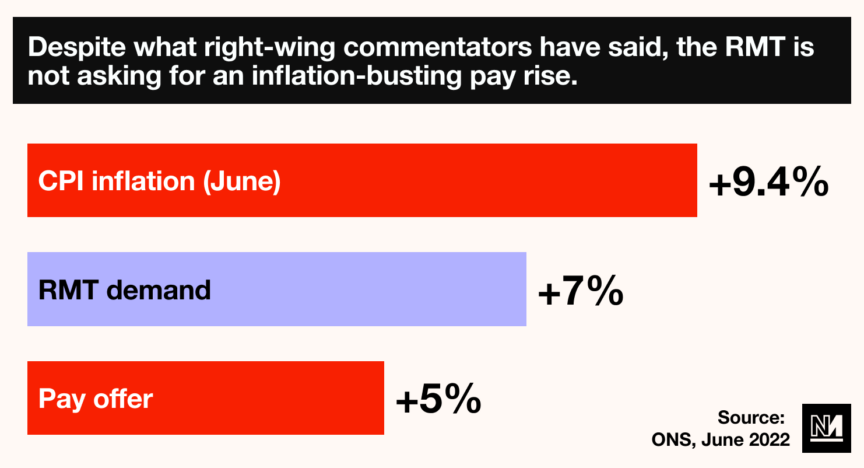 What this means is that RMT are simply demanding that their members avoid a massive real terms pay cut (which is what Network Rail is offering with their 5% pay rise). In fact, even RMT's demands fall short of inflation. In short, there is no demand being made for a "inflation-busting pay rise" – rather, rail workers are simply trying to avoid destitution.
MYTH: Strikes have no popular support.
The second myth about the strike is that it is widely unpopular with the public, and that the tactic of striking has backfired. This is the view of a number of Tory commentators, but unfortunately for them it simply isn't the case. There is widespread public sympathy for the strikers, and Mick Lynch's media tour appears to have won the public round to the tactic of striking itself, as well as the demand for a pay rise.
When asked in late June by pollsters SavantaComRes if they thought the strikes were justified, 6 in 10 voters said they were (compared to 34% who said that they were not). This included 79% of Labour voters, but also a substantial number of Conservative voters, indicating that the Tory government has failed to convince even those who voted for it to stand with them.
But even when asked simply if they support or oppose the strikes, voters now say they do by 45% to 37% (according to Opinium). This is a sharp turnaround: In early June, YouGov asked the same question and found only 35% supported the strikes. This suggests that Network Rail and the Tories have decisively lost in the court of public opinion.
MYTH: Rail workers are already overpaid.
The final major myth we need to confront is the suggestion that rail workers are already paid incredibly well, even earning more than nurses and other key public service workers. This is a claim that has been made directly by Transport minister Grant Shapps, who told the House of Commons that rail workers earn an average of £44,000 a year. This has been compared to the average £31k salary for nurses. But this number isn't representative of the RMT members who are on strike.
The figures used by Shapps come from the Department for Transport, and represent an average of all rail workers – including train drivers, who earn £59,000 a year on average. But what Shapps did not mention is that 96% of drivers aren't even members of the RMT – the major union for drivers is ASLEF, currently engaged in its own separate dispute. The average salary of RMT members excluding drivers is instead £31,000 a year, substantially lower than the figures quoted by Shapps.
In short, the most popular myths about the rail strikes are just that: myths. The RMT's demands for a pay rise are actually very moderate, merely asking for a below-inflation rise that would save their members from a huge real terms pay cut. The public, meanwhile, have rallied behind the RMT's members and turned their back on the rail companies and the government. And the idea that rail workers are taking home huge pay packets is entirely mistaken.
This strike is essentially a test case: if the RMT succeeds in achieving its demands, similar demands and industrial actions will flourish in other sectors of the economy. As former Tory chancellor Ken Clarke told the BBC that if the strikers succeed, "then you are going to have vast amounts of the public sector induced to go in for the same militancy, the same strike action in order to demand at least the same."
This may go some way towards explaining why the Tories are so hesitant to concede on this issue, and it also emphasises the important of uniting behind the strikers.
Ell Folan is the founder of Stats for Lefties and a columnist for Novara Media.